This Cinco de Mayo Printable is a great way to teach kids all about the meaning of the day!
It is a great introduction for young children to learn about the Anniversary of the Battle of Puebla. This annual celebration is in honor of the Mexican Army's victory over the French forces of Napoleon III, which happened on the 5th of May, 1862.
CINCO DE MAYO PRINTABLE PACK
Aimed at children in preschool and kindergarten, this printable pack is jam-packed full of fun math and literacy activities which children are sure to love.
And when I say jam-packed, I'm serious. This printable pack has over 70 pages of learning fun! Your child will be learning so many great things from this pack that they'll be teaching you before it's done.
What's great about having a printable pack of this size is that it keeps your child engaged and learning for long periods of time. Plus, there really is a lot of learning and this printable pack goes over a ton of great and valuable information.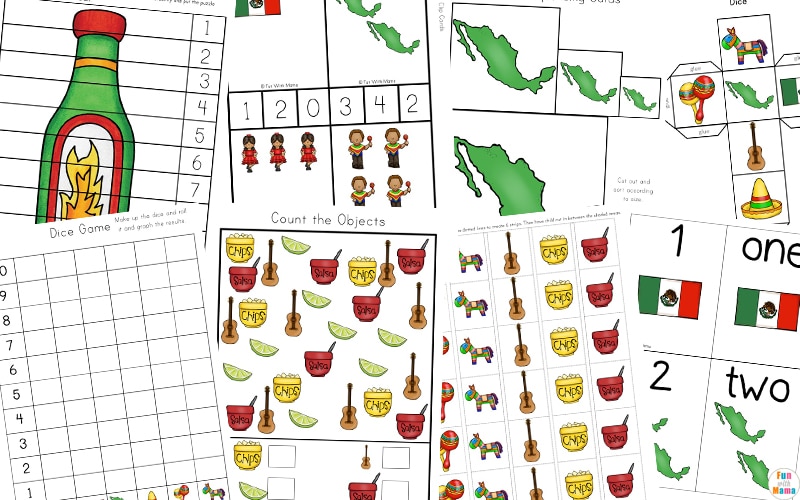 Materials Required:
Please note that affiliate links are used in this post.
Here are some items that pair well with these activities. You will use each of these items over and over during all my printable preschool activity packs.
This Cinco de Mayo Printable pack contains over 70 pages and includes many activities.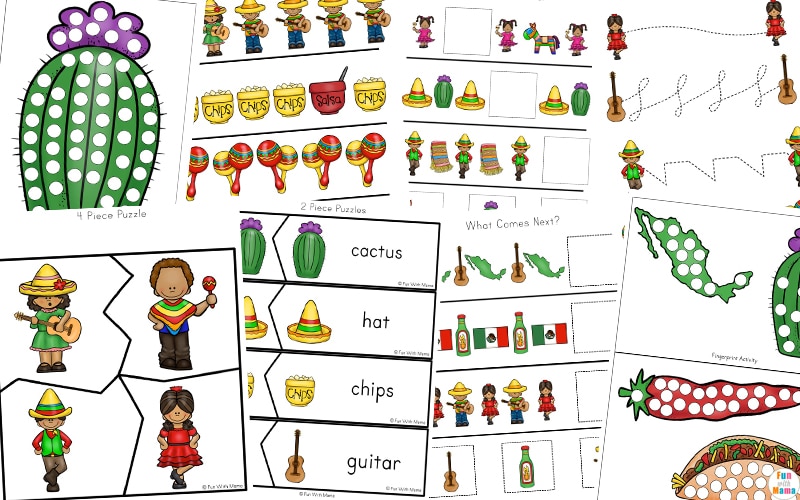 What does this Cinco de Mayo printable pack include?
This printable pack includes a variety of literacy activities such as 3-part cards, handwriting/tracing practice, spot and dot the letter, word building puzzles and an easy read book, which the children can use to practice their reading skills.
There are writing pages which children can use to write down things they have learned about this day or to create their own stories.
This is a great way to practice writing skills as well as punctuation and grammar.
What are the best ways to use this printable pack?
This is where it's totally up to you! Every family and child is different so there's no need to have a one-size-fits-all type solution.
Some families tackle it from the first page while others like to work on various sections first. As long as your child is learning, it's going to be great however you decide to do it.
With it being so many pages, you can do some now and later and spread it out to really help stretch their learning, too.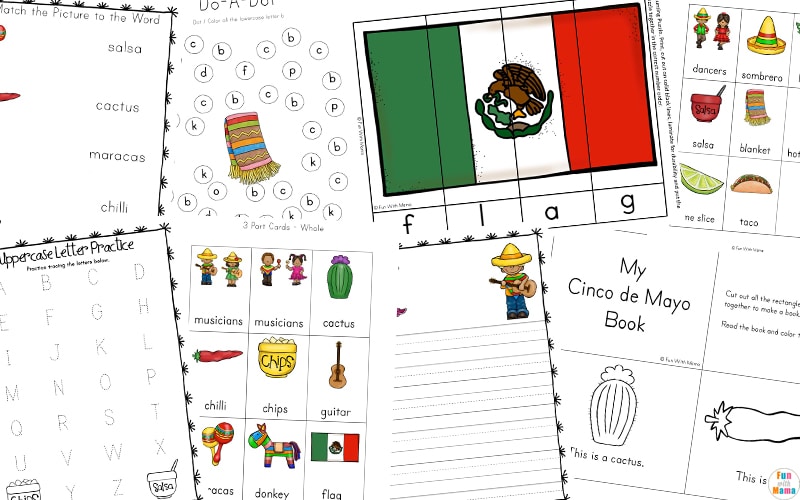 Other activities included in this printable pack are:
I Spy Fun
Line Tracing Page
Count and Clip Cards
Fingerprint letter activity
Number Cards
Bingo Cards
Coloring pages
Puzzles
What comes next?
Finish the pattern
Puppets
Size Sequencing Cards
As you can see, there is a ton of variety and learning in this fun printable for kids.
Where to get the activities?
Get the Cinco De Mayo Printable Activity Pack Here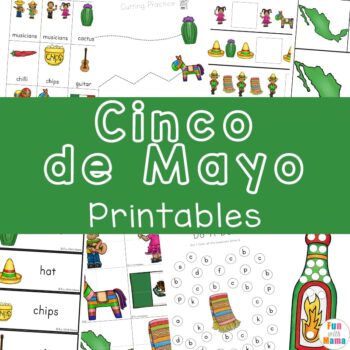 Explore this Cinco De Mayo activities pack that focuses on Cinco De Mayo vocabulary words, literacy activities, math skills, and more!
Like this printable pack? Here are some others to grab as well: