The Ugly Duckling Printables Pack is filled with fun worksheets, clip cards and activities that are suitable for young children in preschool and kindergarten. They will enjoy working on their reading and handwriting skills as well as learning number recognition and practicing their counting skills. This pdf activity includes The Ugly Duckling worksheets for kindergarten and preschool. Just print out the appropriate pages for your child and

The UGLY DUCKLING PRINTABLE PACK
This printable pack focuses on The Ugly Duckling Nursery Rhyme. All of these printable activities revolve around the characters of this story. It also includes a story book, story sequencing strips and character puppets which your child can use to retell the story. The story strips can be laminated and used, placing the cards in order. The story puppets are best laminated then stuck onto a paddle pop stick. This gives your child an easy way to hold the story sequencing cards as they retell the story in their own words.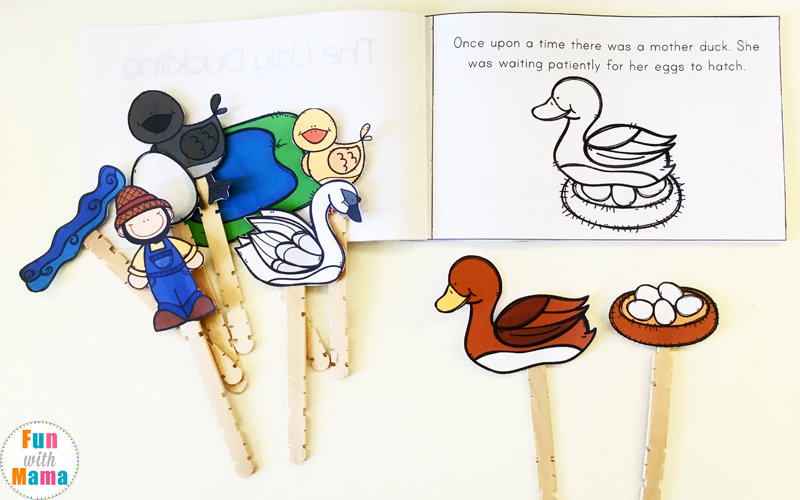 Materials Required:
Please note that affiliate links are used in this post.
Here are some items that pair well with these activities. You will use each of these items over and over during all my printable preschool activity packs.
Add this pack to your themed The Ugly Duckling lesson plans.
This Ugly Duckling Printable pack contains over 90 pages and includes the following activities:
Literacy Activities include:
The Ugly Duckling Story Book
Story Sequencing Strips
The Ugly Duckling Story Sequencing Page
Trace the letters
Story / Creative Writing Pages
Montessori 3 Part Cards
Information cards for characters in The Ugly Duckling about ducks and swans
Color by Letter
Character Activity
Title Cards
Story Setting Activity
All about ducks and swans pages
Number Matching Cards
Cut and Paste the Missing Numbers
Count and Clip Cards
Simple Addition Pages
Simple Subtraction Pages
Cutting Practice page
I Spy Fun
Dice game / graphing
Size Sequencing Cards
Colour by Number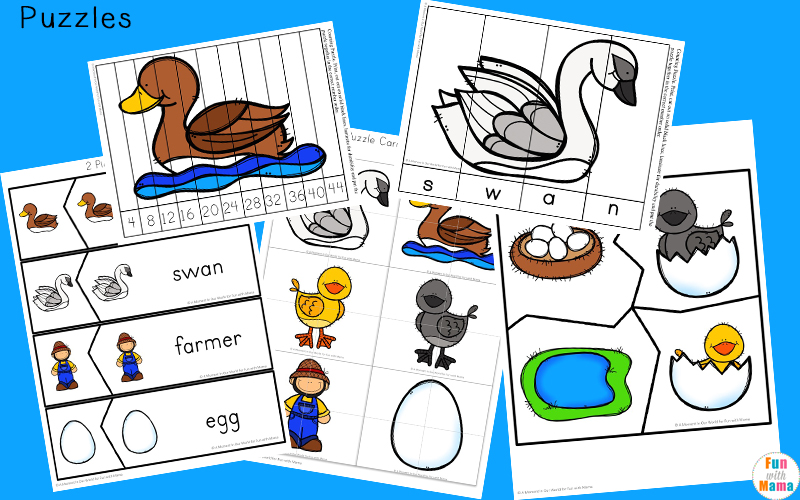 2 + 4 piece puzzles
Build a duck number puzzles
Word and spelling puzzles
Line Tracing Page
Maze
The Ugly Duckling Do-A-Dot pages
See and Stamp pages
Play dough letter activity
Finger print letter activity
Push Pin letter activity
The Ugly Duckling Printables Pack http://bit.ly/2xj2cIN
Kids will love The Ugly Duckling Coloring pages too!
GET THIS ACTIVITY PACK HERE
GET THE UGLY DUCKLING PRINTABLE ACTIVITY PACK HERE
The Ugly Duckling Story activities include fun story-retelling sequencing activities that will encourage growth in math, fine motor, and literacy skills too! The activities are available in color and black and white too.