Check out these 15 Cultural Diversity Activities for Elementary Students to teach children about children of the world.
The world is so large that it can be tough to teach children about places that exist outside of their own immediate physical world. There is so much to learn about other countries and people.
We live in America and we also spent 10 years in South Africa. I was fascinated by the cultural differences and daily norms that were each so very different from the life I lived in America.
Different cultures from around the world have so much that could and should be celebrated.
From music, languages, and food to school, dressing and sports there is so much of beauty and excitement that each country and culture brings to our world.
I am a blog ambassador for Lakeshore and am compensated for my work. I received product free of charge, but all thoughts and opinions are 100% mine.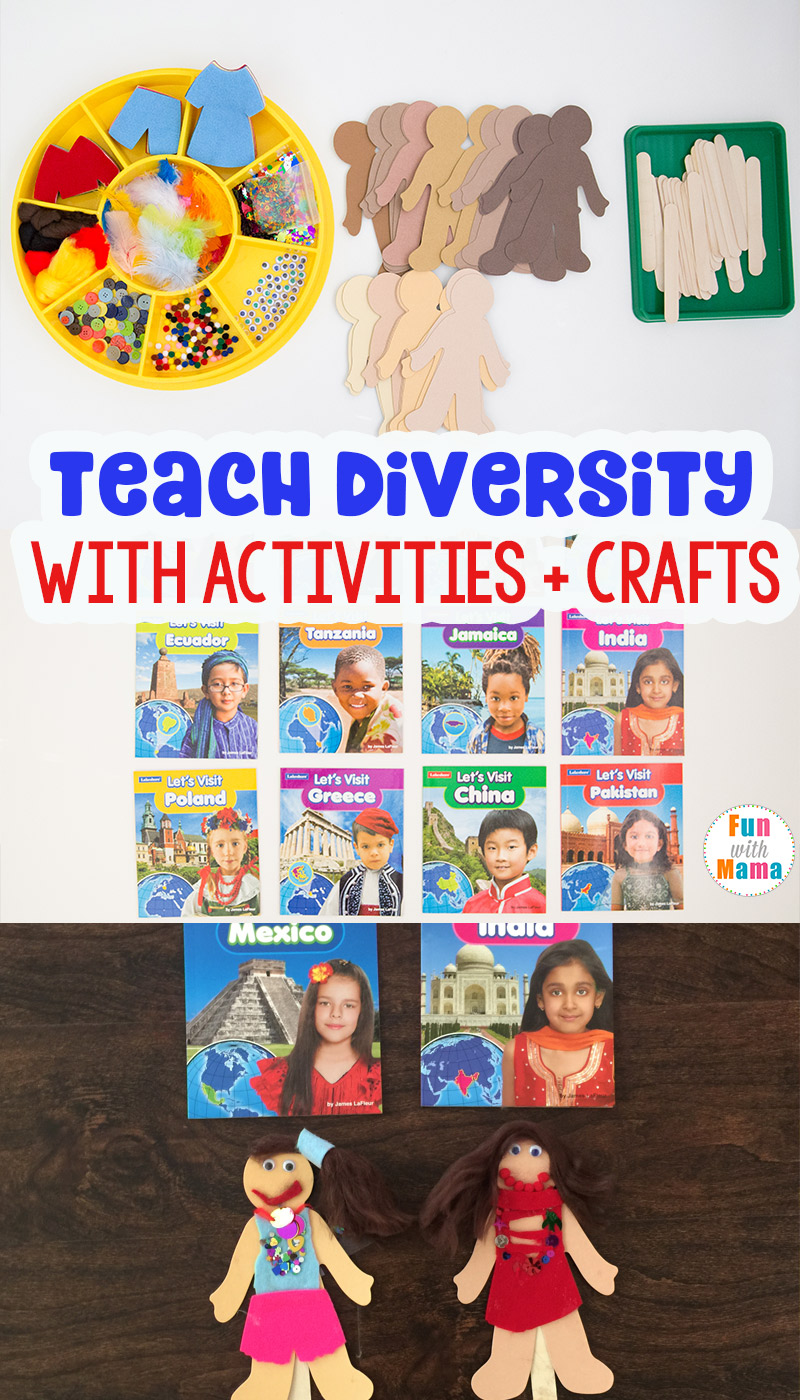 What is cultural diversity?
Cultural diversity is about creating equity, respect, and understanding between people from different cultures..It's about understanding that each of us comes from a specific culture, which has its own history, language, norms, values, and beliefs. It is about inclusion.
When we talk about cultural diversity in the world today, it encompasses many things – race, ethnicity, religion, gender, age, and skills are just some examples.
Why do we need cultural diversity?
Cultural diversity makes a community stronger. It helps create better ideas, more creativity, innovation, and forward-thinking. It allows for better problem solving because it brings together a wider range of perspectives, experiences, and knowledge.
Cultural diversity is important to everyone – regardless of culture or background.
Let's Celebrate Diversity
Add these activities to your lesson plans to promote inclusion.
Choose one country a week and do a small "trip around the world" each week. These cultural activity ideas are great for the classroom as well as for home too.
You could make it even more fun by choosing one particular day a week that you would be 'flying' out to this country to experience some of their cultures.
Here are my favorite activities to teach children about diversity.
15 Cultural Diversity Activities for Elementary Students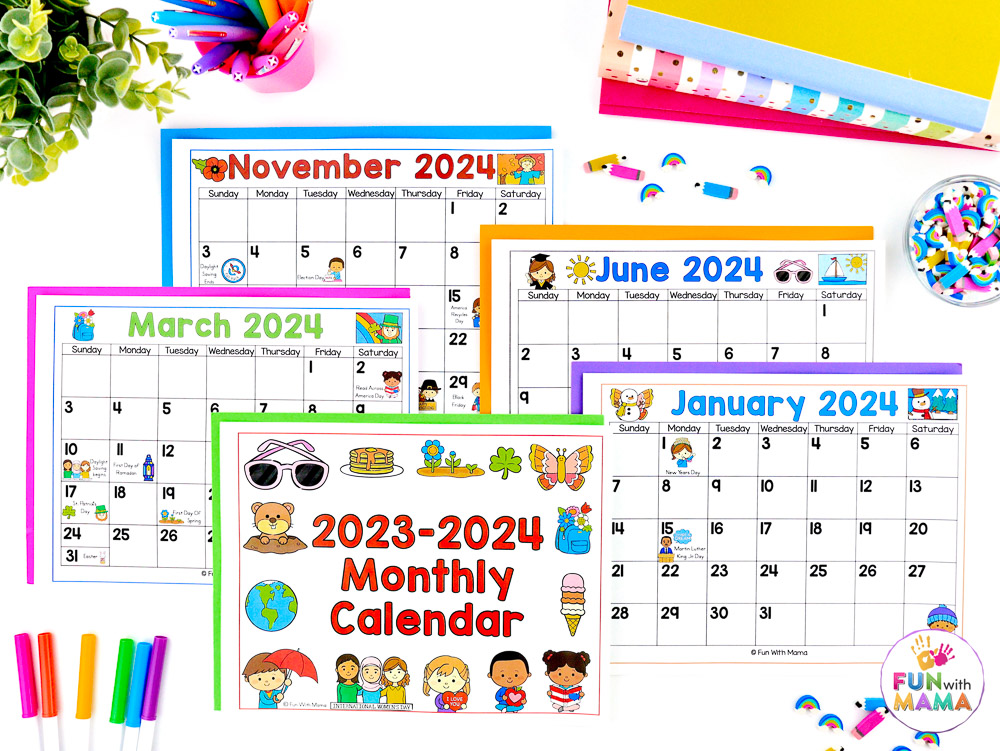 1. Celebrate holidays and traditions from around the world
My kid's calendar includes a variety of holidays. Make sure to acknowledge and celebrate these dates in your classroom. You could even decorate the classroom for different cultural holiday celebrations like Christmas, Eid, Hannukkah, etc.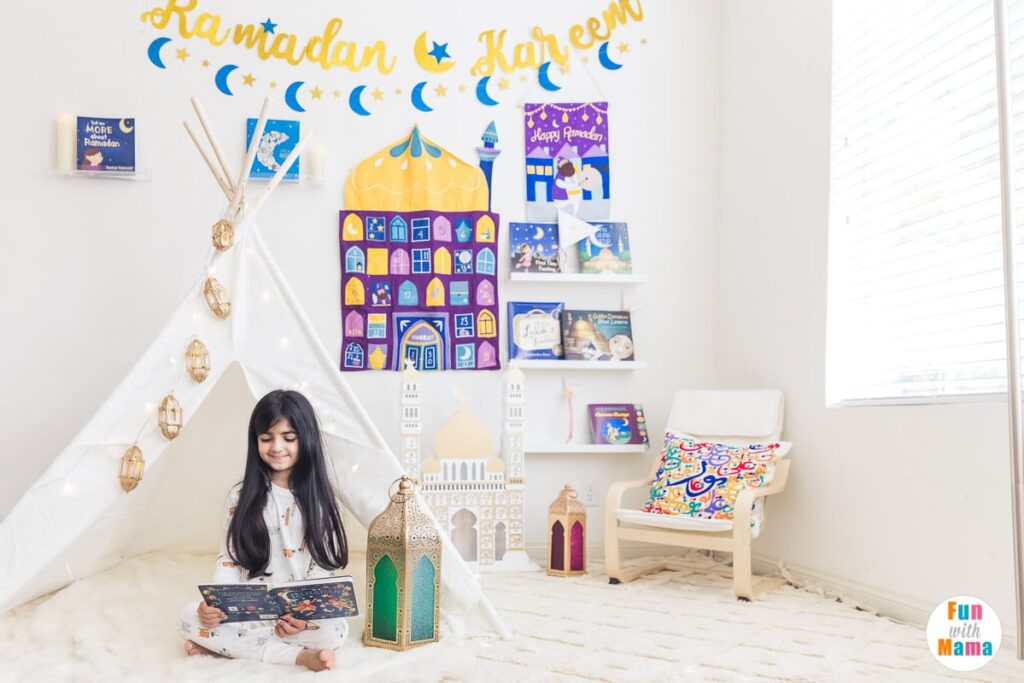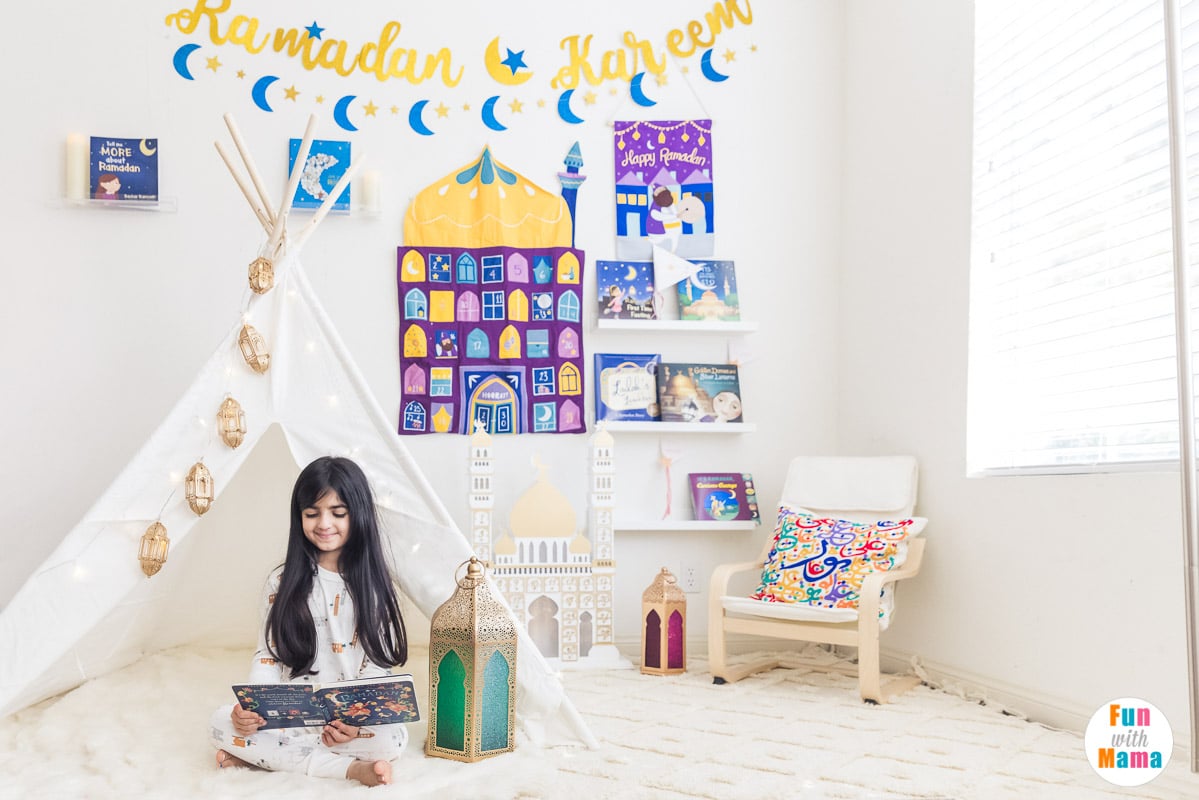 See my post on Ramadan Decorations Ideas For Kids. You could set up a book area that incorporates these books during that week of celebration too. Learning experiences are enhanced through fun decorations, especially in young children.
2. Read books about other countries and their special cultures.
We really love the Lakeshore Children of the World Book Set. The books contain interesting facts, more about the spoken language, what the money looks like and wonderful discussion questions to ask students.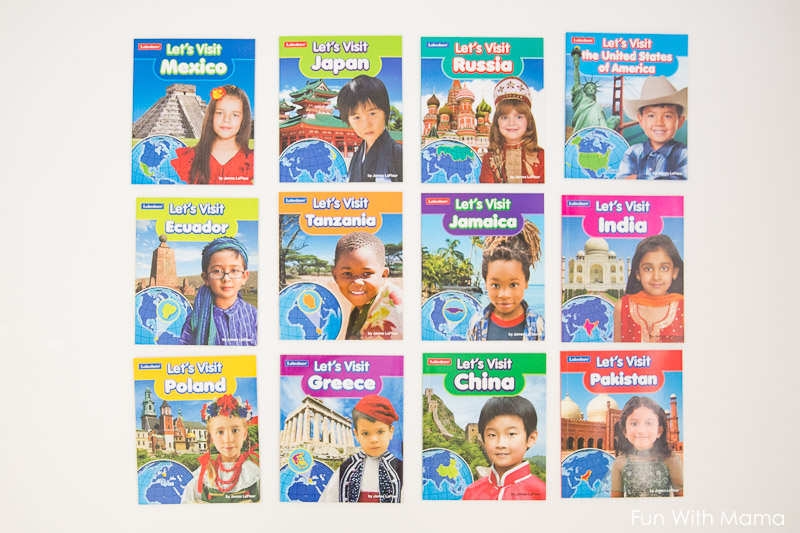 More cultural diversity books
3. Do a craft activity
How are we each the same? How are we a little different? What makes us unique? Do a craft activity that would encourage a child to focus on the different physical features of people from different countries. The People Shapes Project Kit was perfect for this! It included tacky glue and everything you see below minus the trays.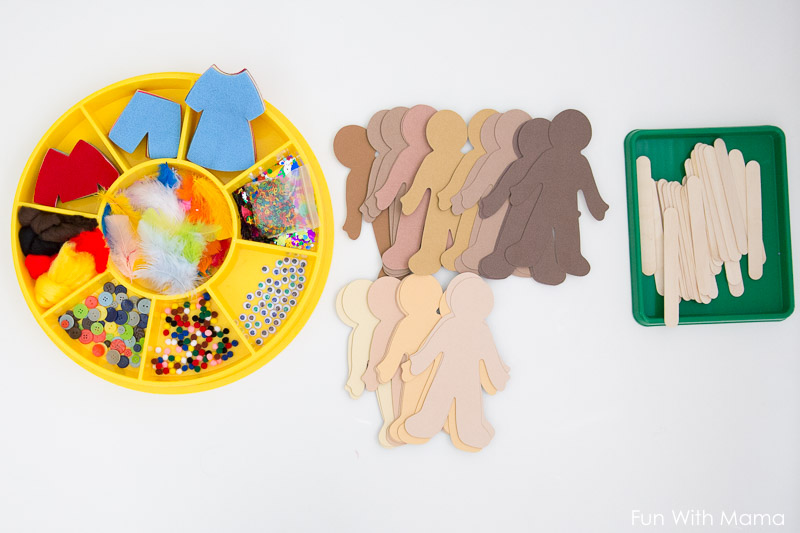 The paper doll set comes in a variety of skin color options so kids can create and celebrate every ethnicity. They are also gender-neutral so can be adapted to a child's own creativity.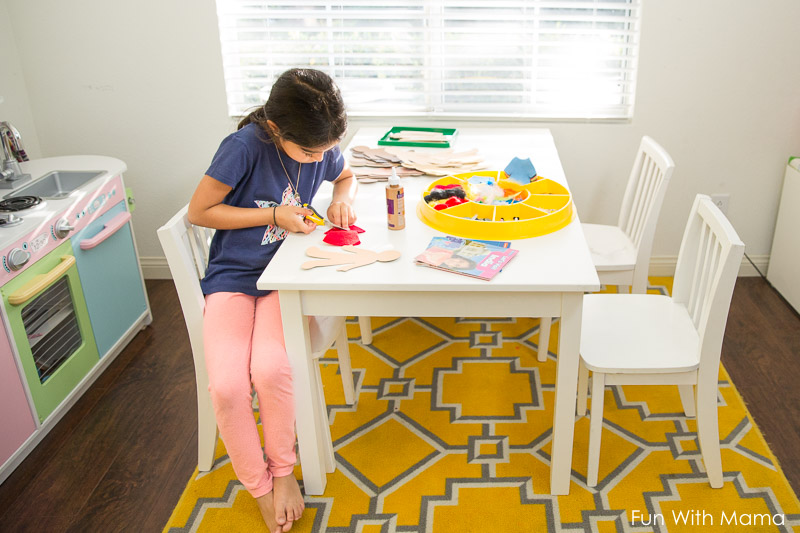 We were focusing this week on India and Mexico. So she set out to create an Indian and Mexican little girl. She noticed that the Indian girl was wearing a lot of sparkly sequins on her outfit and added these to her paper doll puppet.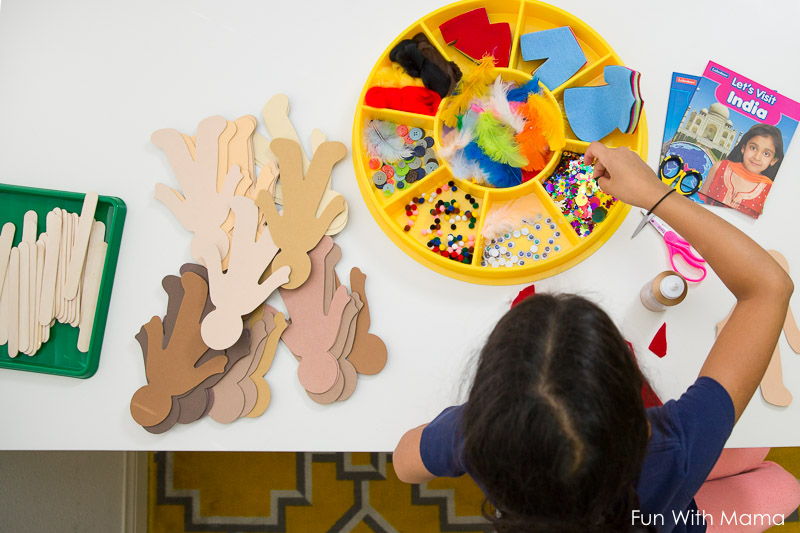 My 8 year old really enjoyed this project. It was definitely a little tough for my three year old to do, as she needed a lot of help with gluing and cutting small parts and pieces. This activity is perfect for elementary aged students.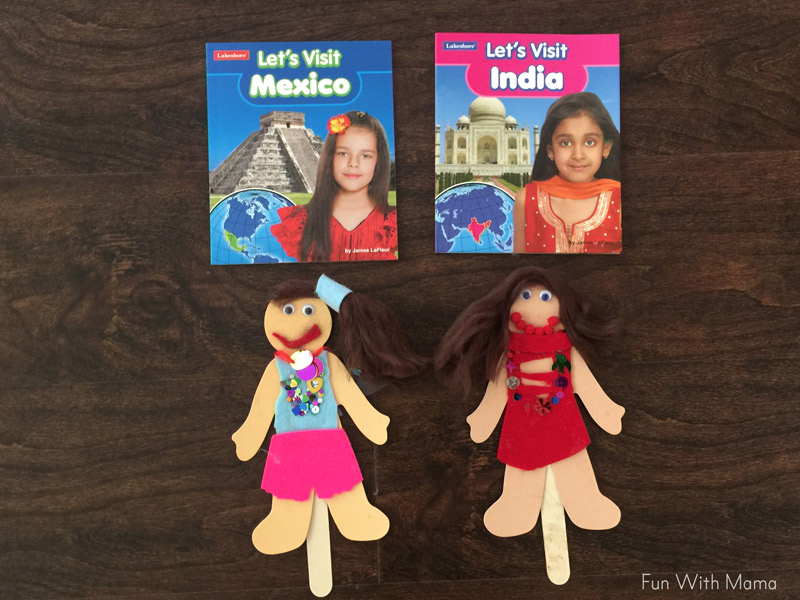 This would be a wonderful classroom activity. You could have each child build a 'puppet' from one country and then stick them around the room.
We may have a few different physical characteristics, but what about on the inside? How are we different? Are our emotions any different? Check out my feelings and emotion chart for kids
4. Print out a world map or use a globe
Show children where each country is located. You could even talk about how many hours it would take to fly to that country.
4. Bake or cook a special recipe from other countries.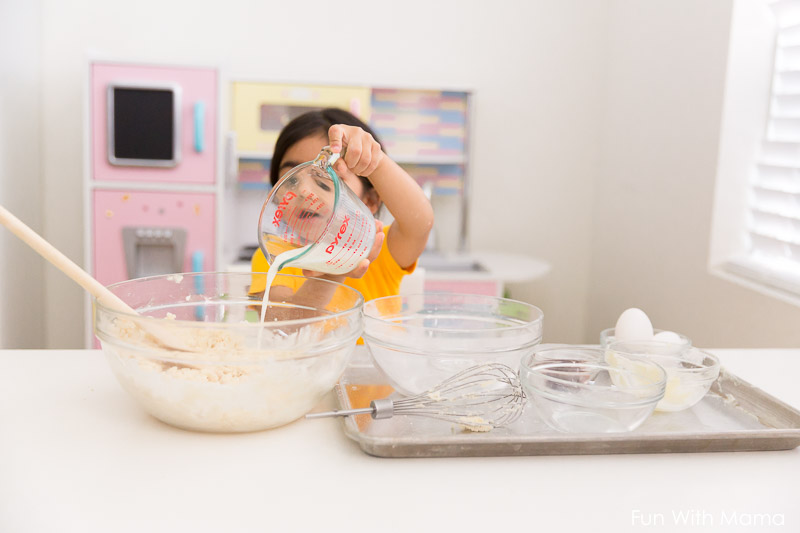 10 Cultural Diversity Activities For Elementary Studentshttp://bit.ly/2gXBCl4
6. Go visit a restaurant that has authentic food from other countries.
Sample cuisine from these countries. For example, have curry at an Indian restaurant. Try a dish that is special to that country. Just be careful because some cultural foods incorporate a lot of spice!
7. Listen to music from other countries –
Ask students what they think of the music. Does it make them feel like dancing? Does it make them feel happy?
8. Spelling the country names –
We used Lakeshore's Sweet Treats! Letter Molds to bake these little cakes together. Once we were done decorating the cakes, we would spell out each country's name before eating them all up. I'm always trying to weave spelling and hidden learning into all the activities we do together.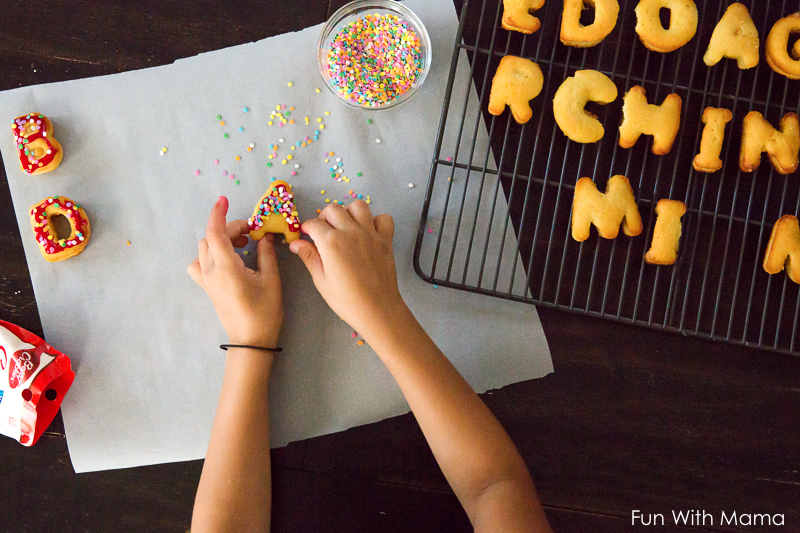 9. Listen to a recording of a person speaking that language.
It would be interesting to see if the children can understand any of the words the person is saying.
10. Cultural Greetings
Learn how to say hello and goodbye in each language.
11. Talk about animals that live in each country.
Children always love learning more about animals.
12. Discuss stereotypes, prejudices, and racism
If it is age-appropriate, then discuss this further. What are stereotypes? Are you defined by a stereotype too? Is that fair? Talk about how each individual can self-define who they are. Build understanding.
15. Create Multicultural Decorations
Do art projects that incorporate cultures. This will be a beautiful classroom decoration and will also serve as a reminder of the inclusive and celebratory nature of the classroom.
13. Expand the resources found within your classroom
Build a culture of celebrating diversity in your classroom. Bring in special toys, music, posters, videos, and even movies. Children will love seeing their own culture represented within their classroom.
14. Have a multicultural day, also known as Heritage Day
Have each student dress up in a cultural outfit. Then, have each student talk about some of the special things they love about their own cultural heritage. They can bring in specialties like special toys, books, music, and even cultural foods and desserts. This. is a great way to encourage diversity in the classroom and even in the school.
15. Create Multicultural Decorations
Do art projects that incorporate cultures. This will be a beautiful classroom decoration and will also serve as a reminder of the inclusive and celebratory nature of the classroom.
16. Sing the Celebrate Our Differences song.
More cultural activities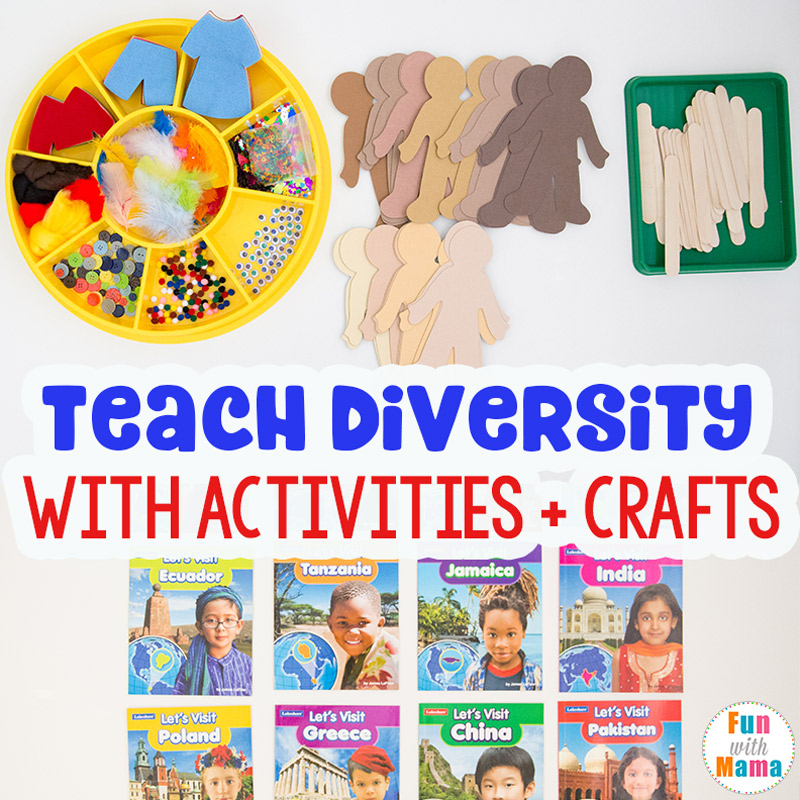 Cultural diversity activities for preschoolers, toddlers, and really, for all ages is such a fun and adaptable activity. It is always filled with beautiful colors and a lot of interesting facts and learning. Let's create a classroom filled with love and unity.