Sensory Play for 1 year old's is all about exploration. Children learn by playing. Babies, toddlers, and preschoolers grow and develop through hands-on experiences. In this post, I will show you some fun and easy sensory activities that toddlers and preschoolers will love!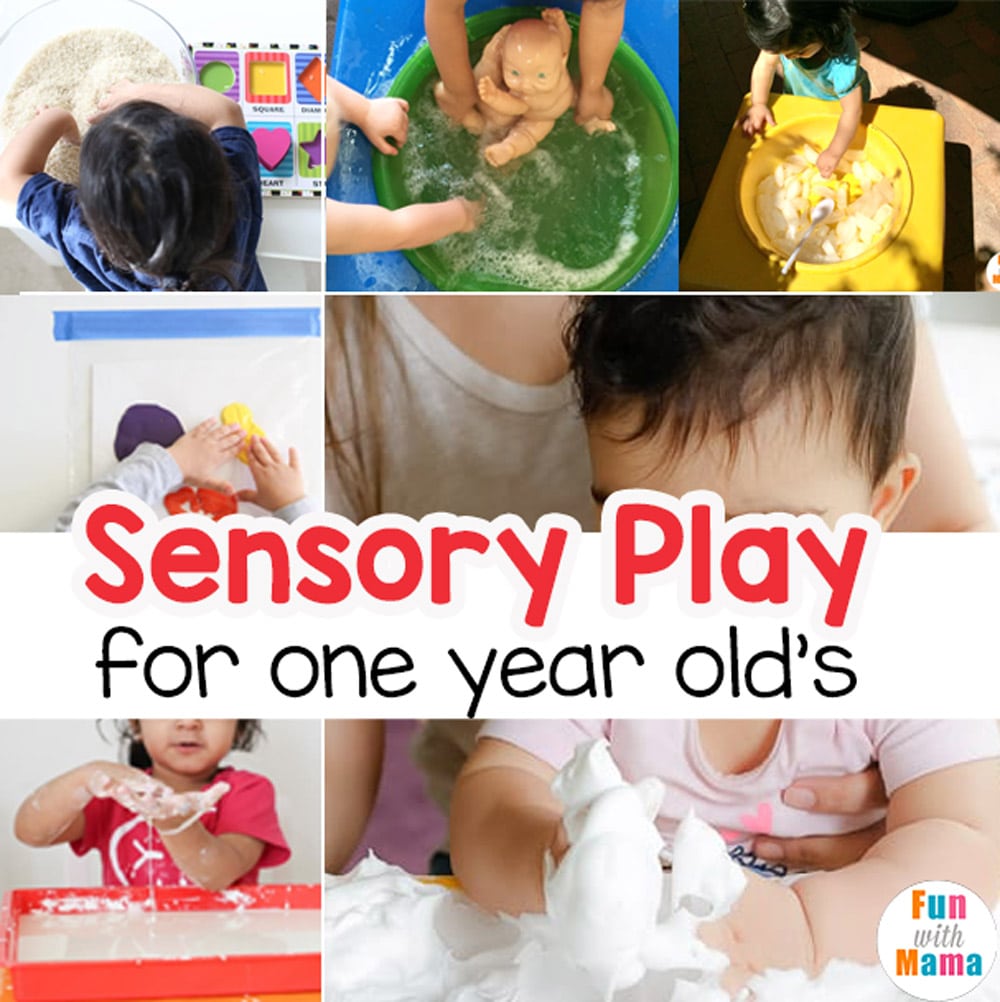 Affiliate links are used in this post. That means if you purchase through one of these links, at no extra cost to you, we will receive a small commission.
What is sensory play?
This is a type of play that is set up to engage children's senses. Young children explore the world through their senses and learn by engaging all of their senses to make sense of their environment. They put toys in their mouths, shake and bang things together, and throw things to watch their path as they fall.
How is sensory play for toddlers different than normal sensory play?
Sensory play for one year old's is often catered to the fact that we know that 12 month old's still often put things in their mouth. All you need to do is adjust what materials you will be using for the sensory play activity so that it is safe and age-appropriate.
Benefits of sensory play for infants and toddlers
Improved fine motor skills
Language development
Increased concentration
Increased focus on a specific task
Strengthens pre-writing skills
Develops creativity and pretend-play
Good for brain development
Related post: Create a sensory table using the instructions in my sensory table ideas post.
Sensory Play Activities for Toddlers
The following list of sensory experiences has something for everyone! Make sure to consider your child's age before choosing a filler or items that they'll be exploring with.
It is also very important that mom or a caregiver is always supervising the child during sensory play time..
Most of these activities are low-prep, easy to set up and we include DIY sensory play activities.
1. Scoop & transfer with ball pit balls
Have the child use a slotted spoon to scoop large balls from one bin to another. You can spread the bins apart to work on gross motor skills!
2. Taste-safe construction site
You can use Cheerios or even graham crackers as edible dirt for a construction site! What kid doesn't enjoy filling a dump truck or front loader with "sand?" Use a blender to blend up the Cheerios or crackers into fine sand. Then place it into a bin and allow your child to explore. Add in construction toys.
3. Jello Dig
Choose your favorite flavor of Jello and hide some toys in it for your one-year-old to dig out!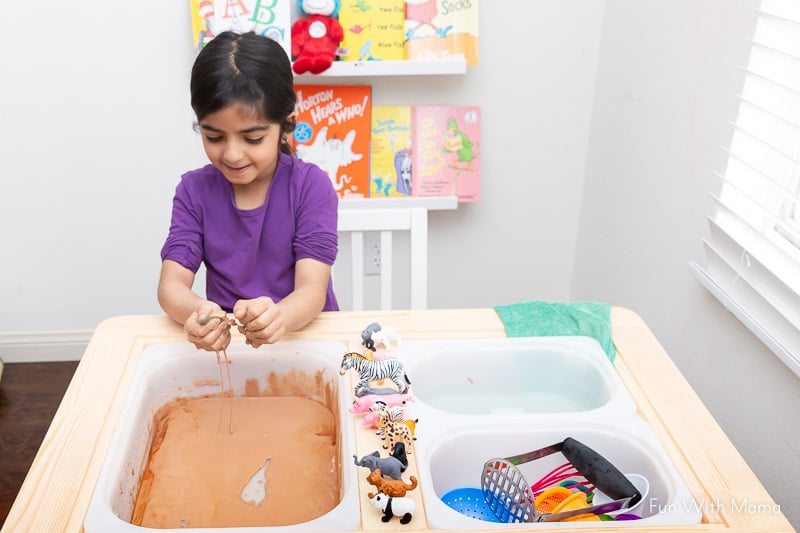 4. Muddy Animals & bathing area
Grab some farm animals for this one and let them get messy in a muddy oobleck field! Chocolate pudding is a great option for this activity. Have a bin with water ready for kids to wash off all that mud.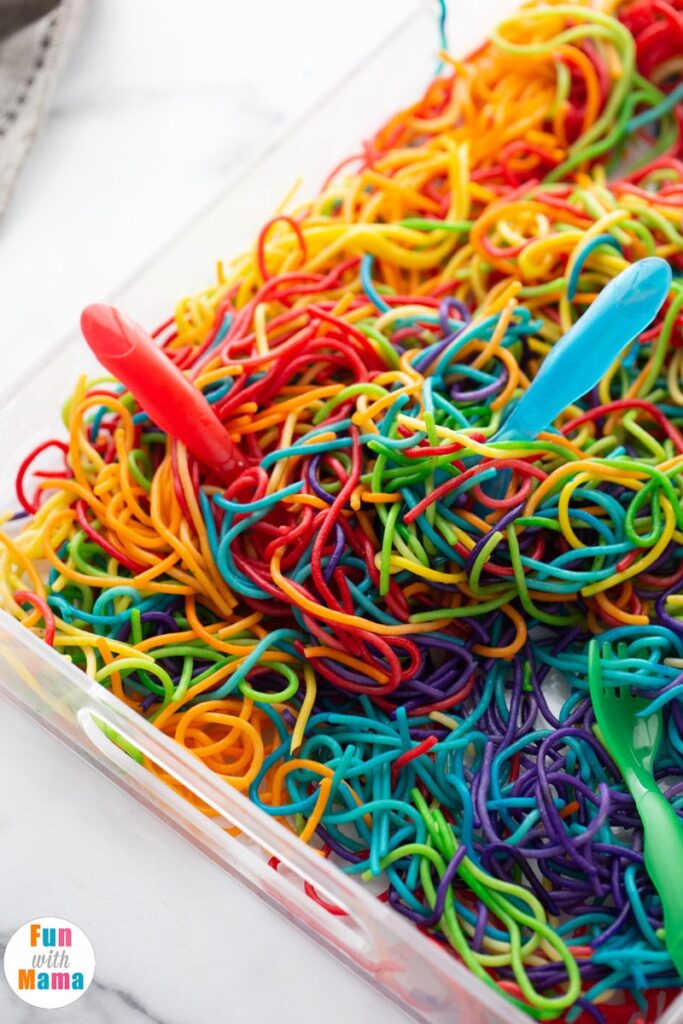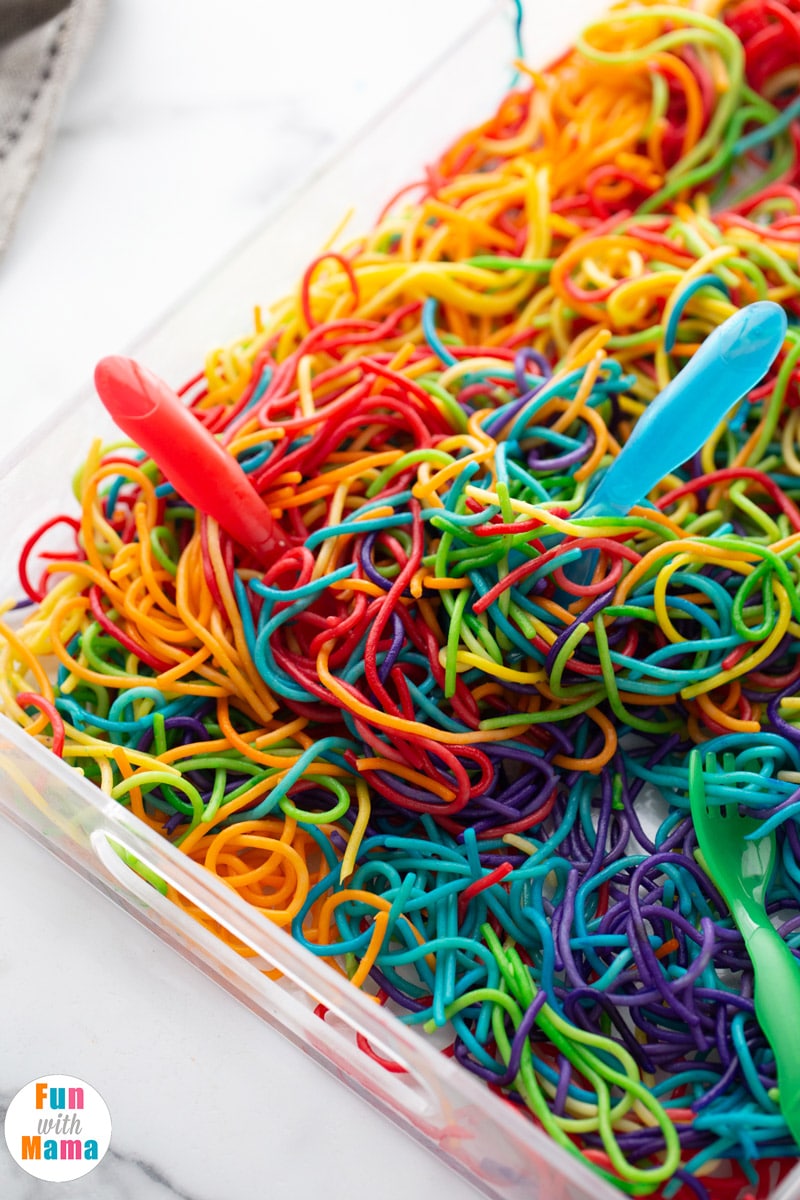 5. Rainbow spaghetti
Dye some spaghetti and throw in a sensory bin for your toddler to explore! Your one year old will love touching and exploring with the rainbow spaghetti!
6. Pom Pom color sorting
Use jumbo rainbow pom poms to make this safe for your toddler. With large, colorful pom-poms, kids can color sort using baskets or even just pieces of construction paper.
7. Rainbow sensory bottles
Fill six bottles with water and add a couple of drops of food coloring to each one. Kids will love putting these in front of a sunny window to see the bright colors!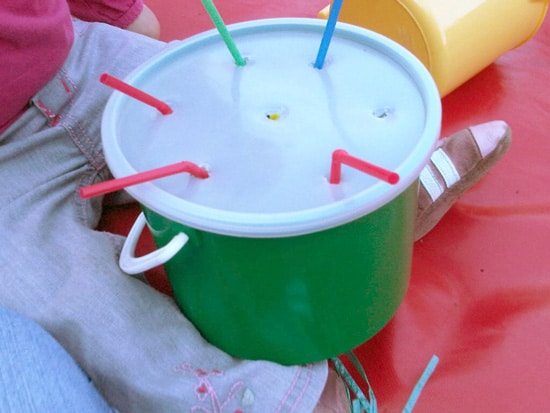 8. Straw Posting
Make holes in the lid of a container and show your child how to straws through the lid.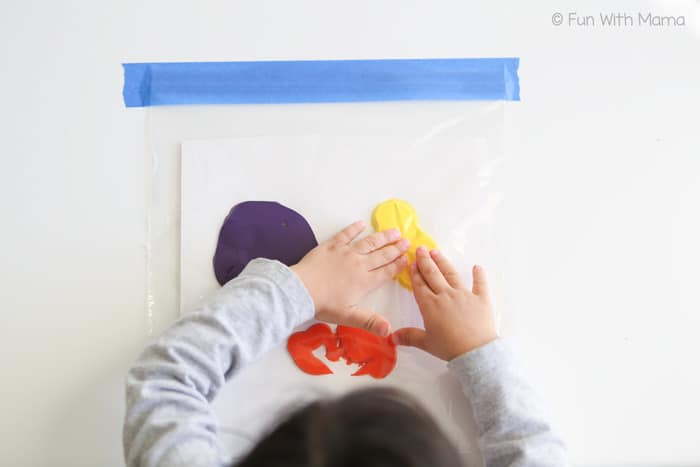 9. Mess-free painting & color mixing
This sensory bag lets children paint mess-free! Just squirt some paint in a bag that is safely taped down to a table and let them squish and push the paint around. Put in primary colors to introduce simple color mixing!
10. Taste-safe playdough
What kid doesn't love play dough? Making your own playdough with your toddler is a wonderful sensory activity in itself. Learn how to make play dough (It's the softest play dough) If you want to make it with your toddler or preschooler then try making this uncooked play dough recipe.
11. Pipe cleaner colander
Thread pipe cleaners through a colander and let your one-year-old work on their problem-solving skills to push and pull all the pipe cleaners out.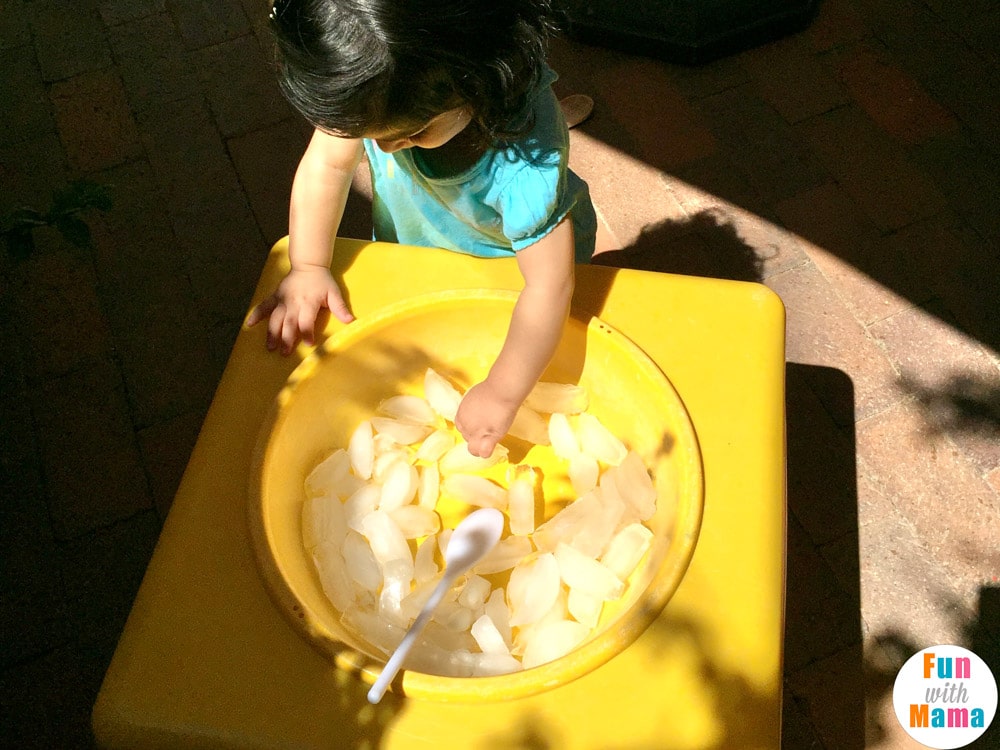 12. Fill a tub with ice
Allow your child to explore. theice. Add a mixing spoon. You could also add a squirt bottle of warm water and show your child how the ice melts.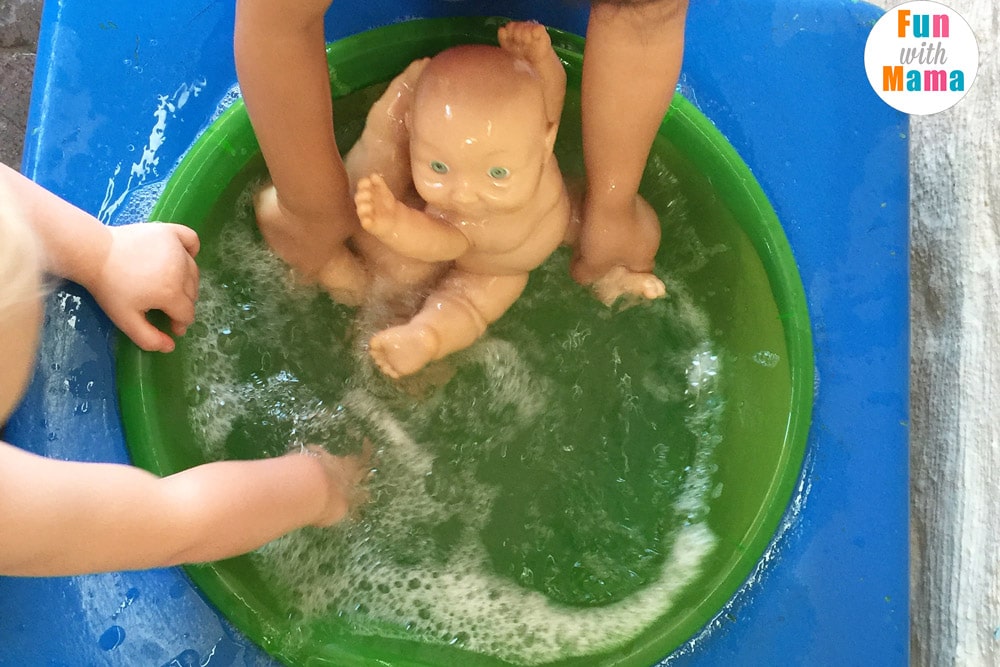 13. Baby Bathing
Fill a container with water and add a bath doll baby. It's simple and fun!
14. Rice play
Throw some rice in a bin, give kids cups, spoons, and funnels and let them scoop and pour! Check out our rainbow rice tutorial to add a colorful spin on this activity! You could also throw some puzzle pieces into dry rice and have your preschooler find the pieces as we did in this shapes rice hunt activity.
15. Toilet paper/paper towel towers
Want a fun, safe, and quiet activity that works on gross motor skills? Have your toddler stack paper towels or toilet paper! It is quiet when it falls and won't hurt anyone.
16. Peek-a-boo muffin tin
Put some favorite toys into a muffin tin and cover to have children see what's inside. You can use magnetic tiles or just Post Its.
17. Holiday sensory bottle
Fill a sensory bottle with small bells and red, green, and white pom-poms and let them explore.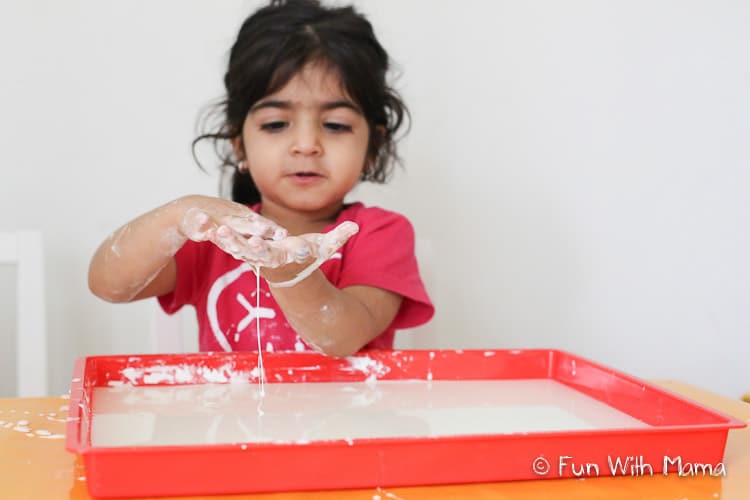 18. Oobleck
Use this fun oobleck recipe to create this non-newtonian fluid. Not only will your toddler have fun playing with it, but you'll also be surprised by how mom and dad and older siblings will want to join in and explore too!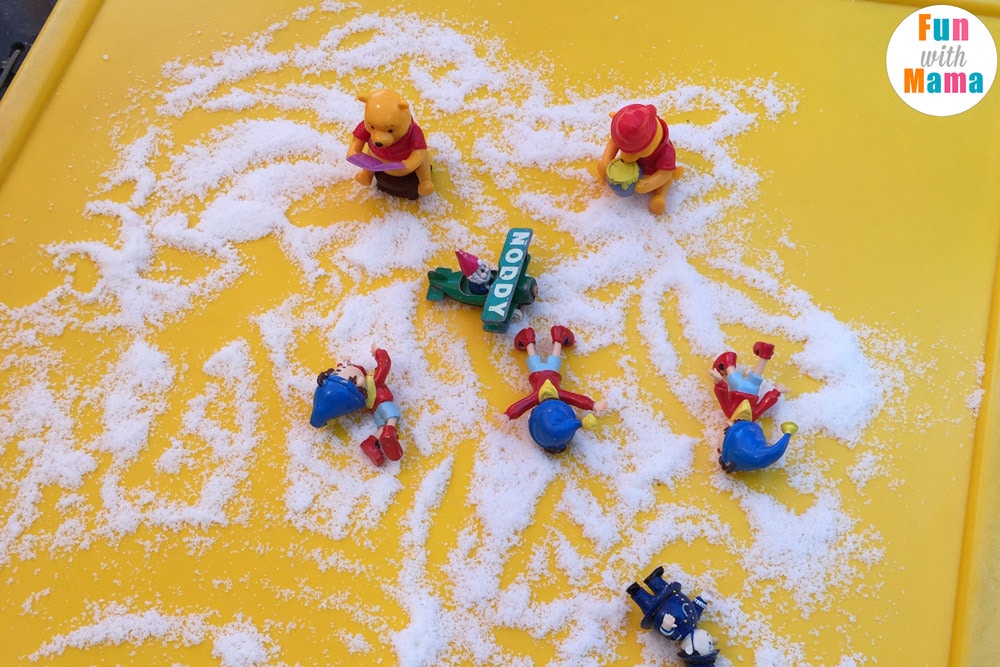 19. Taste-safe snow
For those of you that don't get snow where you live, shredded coconut is a great, taste-safe alternative! Blend it in the blender to create a fine, snow-like consistency.
20. Pumpkin sensory bag
A great fall activity, work together to clear out a pumpkin, and instead of tossing the pulp and seeds, add them to a sensory bag! You can even draw a pumpkin on the outside of the bag and have kids fill the pumpkin.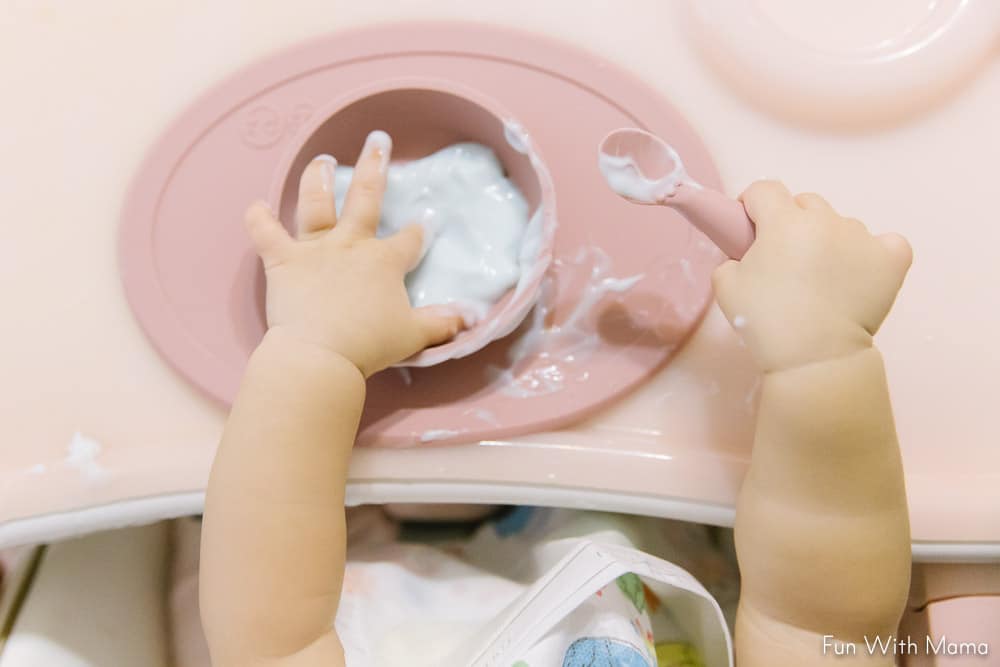 21. Yogurt Play
Babies and one year old's explore the world through their senses, including that sense of taste. They are naturally drawn to touching things with their hands. Yogurt is great for exploration. It is cold, slimey, and edible!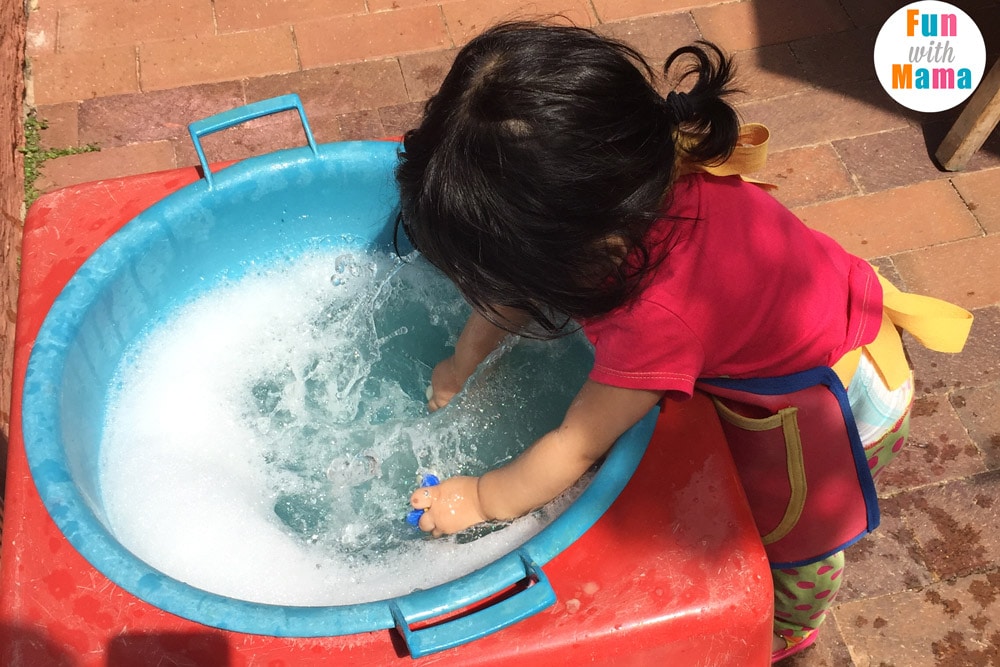 22. Simple water play with bubbles
Fill a container or sensory table with water and bubbles. Add cups. Your child will love it!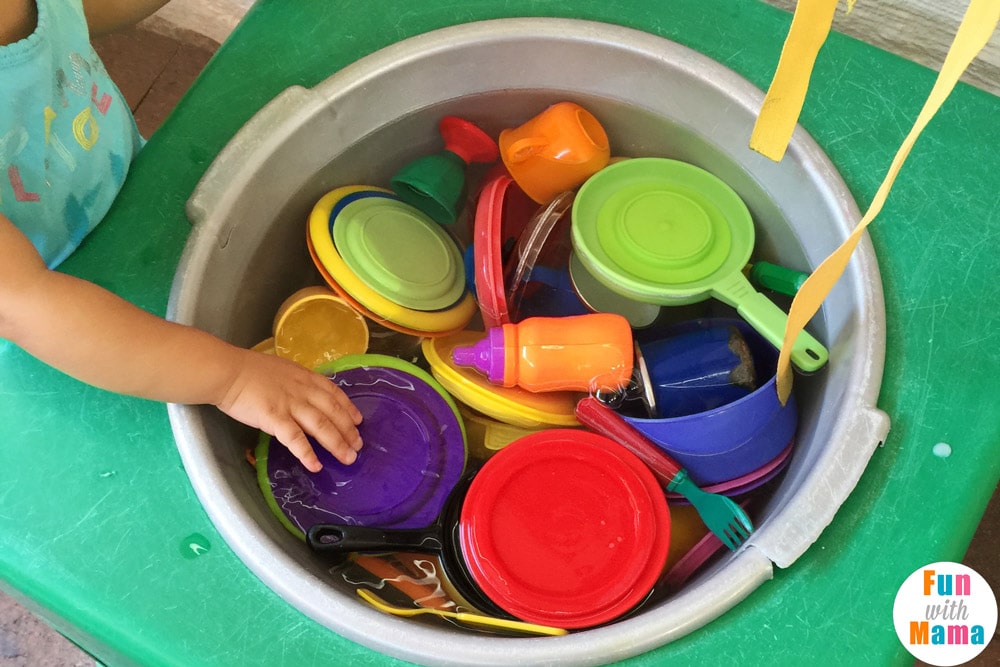 23. Sticky wall art
Clear contact paper can have many possibilities. Set it up, sticky side out, on a wall for sticky play. Provide some shape cutouts and let your child make a masterpiece!
24. Flower soup
If you have some flowers that are starting to wilt this is a perfect way to repurpose them for sensory play. If you don't have flowers around, don't worry. Go on a nature walk with your toddler to collect flowers. Add the flowers to a bin of water, include some bowls, and let them make flower soup.
25. Sponge & water play
Squeezing sponges are a great way to work on hand strength. This is another spin on water play.
26. Tupperware surprise
Kids love to open and close containers. Add some small toys or snacks inside to make this a sensory experience for your toddler.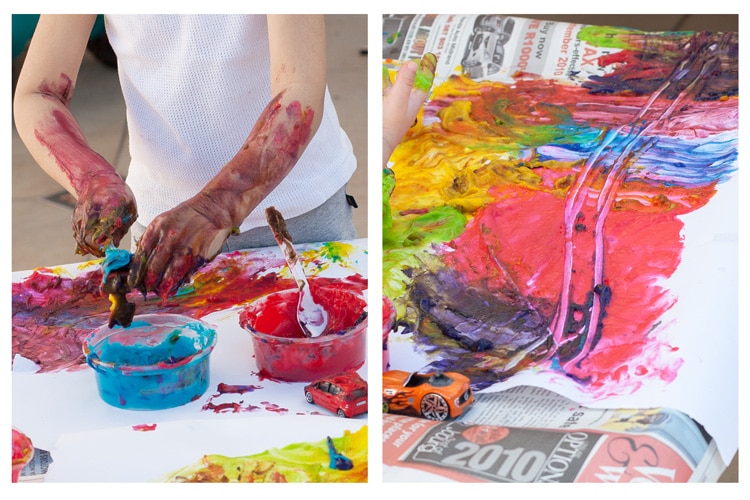 28. Drawing & painting with cars
To draw with cars you just need to tape markers or crayons to the back of cars and let your toddler drive them across a piece of paper. To paint with cars, put some drops of paint on paper and drive cars across.
29. Pool noodle blocks
Cut up some pool noodles into 1-inch pieces for DIY soft blocks that kids can stack and toss around safely.
30. Musical Easter eggs
Use some leftover Easter eggs to make a tool to stimulate the auditory sense. Fill with whatever you have lying around: coins, paperclips, beans, and tape shut. Kids can shake and make music.
31.Aluminum foil puzzles
Here's a fun twist using your child's chunky or peg puzzles. Wrap those pieces in foil paper and watch their fine motor skills at work unwrapping and assembling the puzzle.
32. Mirror play
Give toddlers an introduction to symmetry by using a safe mirror as a play surface. Plus, they will love looking at their reflection in the mirror.
33. Edible mud
There are a few different ways to make taste-safe mud. This sensory filler can be used for all kinds of small-world play including farm life, monster trucks, or bugs and insects. Here is a taste-safe mud recipe that is perfect for making mud balls, crushing with cars, or making animals messy!
34. Planting flowers
Get your child outside with you and have them plant some flowers! Use small pots and a measuring cup so your toddler can participate in planting their own flowers. They will love watching it grow and change.
35. Bugs & Insects
You can use green-dyed spaghetti or green Easter grass as a filler for this one. Throw in some plastic bugs and insects and let your toddler explore this simple activity.
36. Peek-a-Boo board
Here's a great use for all those empty baby wipe pouches you probably have lying around! Remove the lids and assemble them on a foam board or other thick surface. Tape or glue a fun picture under each lid and encourage your toddler to open to see the surprise!
37. Snowman transfer
Draw a snowman face on two water bottles and have your one-year-old use tongs (or their fingers!) to transfer cotton balls into the bottles. Once they're filled up, you'll have two fun snowmen.
38. Holiday bow sensory bin
Throw gift bows into a bin and add small gift boxes and let your child play. They'll love opening and closing the boxes, and putting bows in and taking them out.
39. Scarf pull
Have an Oball lying around? Fill it with play scarves and encourage your child to pull them out! You can do this activity with a shape sorter or even a tissue box!
40. Whipped Cream Sensory Play
Fill a tray with whipped cream and have your child sift through to find different toys and pieces inside of it.
41. Taste-safe gardening
Use flour mixed with cocoa powder (and a bit of vegetable oil) to create a fun "dirt" base for a gardening activity. To make this truly taste-safe, be sure to bake the flour first. Put in some play vegetables and have children "plant" and "harvest" the veggies.
42. Tapioca pearls
Want a safer alternative to water beads? Use tapioca pearls! They have a similar consistency and you can dye them with food coloring to match whatever theme you want to add them to.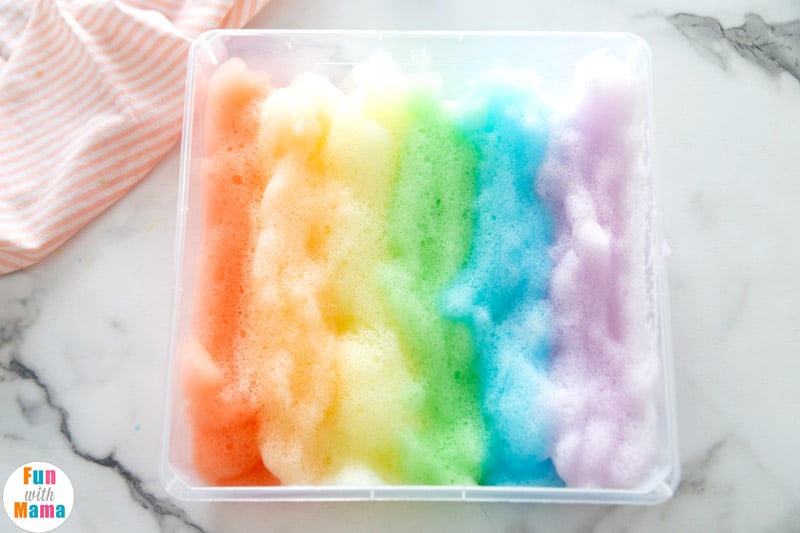 43. Bubble foam
Add an extra fun element to soapy play by making bubble foam. Use ½ cup water and ¼ cup soap and blender together with a mixer, hand mixer or blender. Use tear-free soap to keep your toddler safe.
44. Edible finger paint
Make homemade finger paint and allow your child to explore.. Simply mix yogurt with a drop or two of food coloring to create colorful paints that are safe for your toddler to taste.
45. DIY busy board
Busy boards contain various tools and parts that kids can engage with. You can DIY a busy board with things from your hardware store. Grab various locks, hinges, and switches and glue or screw them into a wood plaque.
46. Citrus water play
Add slices of orange, lemon, and lime to this water play to create a taste-safe citrus sensory bin. Bonus, it smells great too and engages kids' sense of smell!
47. Aquafaba foam
This is a fun substance you make with chickpea water. Drain the water from a can of chickpeas and whip it up into a thick foam. Add a drop of your favorite color of food coloring if desired.
48. Seasons sensory bottles
These bottles are easy to make and give your toddler an introduction to the four seasons. Here are some suggestions on what to include. Winter: cotton balls, snowflake scatter; Spring: colorful flowers; Summer: large, yellow pom poms ; Fall: red, yellow, and orange leaves.
49. Smash bin
Who doesn't have a box or two of stale cereal or crackers in the pantry? Put that in a bin and let your child use a small hammer to smash it! Great for gross motor development.
50. Water bead sensory bag
Water beads can be dangerous on their own, but so much fun in a sensory bag! Tape the sensory bag to a window to enjoy the bright colors.
51. Sensory balloons
Small balloons can become a fun tactile experience for toddlers. Fill them with whatever you have around the house: salt, baby powder, liquid soap, and tie tightly. Then watch your child feel and squeeze the balloons.
52. Rainbow sorting bin
This is so much fun to do with Froot Loops! Pour a bunch into a sensory bin and have your child sort by colors. They'll probably also enjoy a bite or two!
53. Painting with water
Your child will have so much fun painting with water. When it dries, they can do it again and again! Do this activity outside to enjoy painting on rocks, fences, and sidewalks.
54. Pouring station
Kids love anything to do with water play. Add to this sensory experience by adding a drop of food coloring to a few containers of water. Throw in different size cups and scoops, and watch your child mix colors and practice their pouring and transferring.
55. Mystery box
This is a fun way to engage the tactile sense. There are mystery boxes you can purchase, but it's very easy to make one yourself! You just need an empty box with a hole cut out. Place an item inside and have your child feel it with just their hands.
Work on language development by having the child describe what they feel and what they think the item is.
56. Frozen animal rescue
Freeze some toy animals and put them in a bin for your toddler to rescue. Provide warm water and droppers to work on those fine motor skills.
57. Stick masking tape (that isn't too sticky) to different body parts
They will love pulling this off. I use tape that is not very sticky (you can get rid of some of the stickiness by placing it on and off a table or object. Eventually, it loses its stickiness so that it just barely sticks. That's how sticky you want it for a toddler. This is a great activity for body awareness and pincer grip.
58. Play with Play Silks
Babies and one-year old's love play silks. They are so much fun for placing on top of them for peekaboo, creating pretend wings, and really feel pretty cool.
59. Magnetic sensory bottles
Do you have a little scientist? Put together some sensory bottles with magnetic items, give your toddler a magnetic wand and watch their brains develop as they observe cause-and-effect. Some great fillers for these bottles include cut-up pipe cleaners, magnetic bingo chips, and paper clips.
60. Tape rescue
Use painter's tape to secure your toddler's favorite toys to a table or wall and have them use their pincer grasp to rescue them.
61. Fine motor threading with cereal
You can use Cheerios or Froot Loops in a sensory bin with pipe cleaners and have your toddler thread them onto a pipe cleaner. You can tie the ends together to make a yummy edible bracelet.
62. Pumpkin pegboard
This is a fun way to practice fine motor skills and all you need are some golf tees and a pumpkin. Have your child stick the pumpkin with the golf tees. You might want to pre-stick the pumpkin to make it easier for your toddler to get the tees in. Once all the tees are in, you can use rubber bands for DIY pegboard fun.
When to start sensory play with babies?
Sensory play can begin with even the youngest infants! Children are wired to receive sensory input from day one.
Starting from birth, you can introduce high-contrast cards and pictures. These are images in black and white and help to stimulate and develop your baby's vision. Place them about a foot away from the baby's face. This is a great tummy time activity and encourages them to lift their heads to look at the pictures.
To stimulate the sense of touch, use play silks or play scarves and gently run them over your baby's face, hands, and feet. This also works on hand-eye coordination with older infants as they become motivated to reach and grab the scarves.
Combining the sense of touch with the sense of hearing, vision, smell and taste helps build cognitive skills.
These ideas will hopefully give you the confidence to set up some fun and exciting sensory activities for your little one. Kids of all ages love sensory play and these simple setups for toddlers will even engage older toddlers and preschoolers! Anything that boosts brain development, keeps children occupied, and lets the whole family participate is a great addition to your day.
How to Introduce Sensory Play
Sensory play doesn't have to be complicated or require lots of expensive materials. Many of the best sensory setups are simple and use items that can be found around your home.
You will need a sensory bin of some sort. This can be a large, clear container. Many places sell sensory tables that are designed for sensory play such as IKEA's Flisat table.
Water tables and sandboxes are great options for sensory play outdoors!
Here are some sensory fillers you probably already have!
Cheerios
Rice Krispies
Water & food coloring
Shredded paper
Cotton balls
You will also need some tools to add to the sensory experience. Many can be found in your kitchen and there are lots of options at dollar stores as well.
Some of my favorite tools include:
Slotted spoon
Tongs
Droppers
Cups & bowls
Measuring cups & spoons
Sensory Play Tables