Learning how to make play dough doesn't have to be difficult. In fact, this is one of the easiest homemade playdough recipes you'll find. This play dough recipe makes soft, stretchy, and absolutely amazing play dough. All you need are some common household ingredients and your child will be playing with this soft playdough recipe in no time at all.
Be sure to check out our Alphabet Tracing Playdough Mats as well. They are a great way to have your child work on their alphabet letters while also getting to play with the playdough, too.
And if you're really wanting to have fun and be creative, let the kids make a Playdough Rainbow as well!
How To Make Play Dough
Before getting started, it's important to make certain that you have the list of ingredients that are mentioned below. There's nothing worse than starting on an activity and then realizing that you don't have what it takes to finish.
We always go through the ingredient list together to make certain that we have everything that we need. That way, the kids are involved and helping to identify the ingredients as well which is great for also teaching them how to read and follow directions.
You're going to need to have each of these ingredients for each color of play dough that you're going to be making. This is important to remember!
Learning how to make play dough will be one of the best mom hacks you have. There are so many benefits and uses for playing with play dough.
Ingredients needed per color to make your own playdough:
Affiliate links are used in this post. As an Amazon Associate, I earn from qualifying purchases.
1-2 TBSP Cream of Tartar (I used 2)
1-2 TBSP oil (I used 1.5)
1 cup Flour
1/4 cup salt
1 cup boiling water
Optional: Add a few drops of glycerine to make it even softer but it will not be taste safe if you add this.
Here's a how to make playdough video :
How to make homemade playdough
Begin by adding all your dry ingredients:
Then add your liquid (water) and food coloring. I oftentimes mix the water with food coloring and then add it in. You can also just add it directly to the pot.
Begin mixing while you have your flame on low/medium.
It will eventually start pulling away from the pot. Take it out at this point. It will continue cooking out of the pot so make sure not to let it get too hard before you take it out of the pot.
When it isn't too hot, start kneading it.
Create a rainbow of colors.
I hope this simple tutorial showed you how to make play dough and that you will start creating play dough for your little one.
Try this Best No Cook Playdough Recipe too.
Tips for making homemade playdough
Even though this is a fairly safe and easy recipe, there are a few things to keep in mind.
The playdough will need to cool – Don't let little hands try to jump in and help once it's taken from the stove because it does need to have time to cool.
Let the kids pick the colors – Involve them in as much of the process as possible so that they stay curious and want to stay helping as well.
Theme it according to the season. See this Fall Scented Cooked Playdough Recipe.
Ways to use the play dough:
How to store the play dough
You can use a ziplock bag or a container like these that I LOVE. You can also place it in the fridge for it to last even longer.
What can I substitute for cream of tartar when making playdough?
If you don't happen to have cream of tartar, all is not lost. You can opt for using baking soda and cornstarch instead. It might have a bit of a different texture but it should still work the same.
How do you make homemade play dough less sticky?
This is actually a pretty common issue. Just add a bit more flour, slowly, and stir. You don't want to add too much because then your playdough will become brittle and dry.
But if either of those things happens, just alternate the water and flour to get the consistency right.
How long does homemade play dough last?
As long as you keep your homemade playdough in a sealed container or bag, it should last up to 3 months. If you notice that it's crumbling or changing colors, get rid of it and just make a new batch.
How do you revive old Play Doh?
There is still hope for bringing some life back into your playdough if it's old and crumbly. Just add it to a bag with a little bit of water and try to work it around. This might be enough moisture to have your playdough soft again.
I also have a trick on How To Make Slime Stretchy Again that you might want to check out, too!
What are the benefits of playing with play dough?
Using play dough is a good sensory and tactile activity for a child. It also strengthens those fine motor skills and pincer grip.
If you like this simple playdough recipe, here are a few other play dough ideas and activities to try!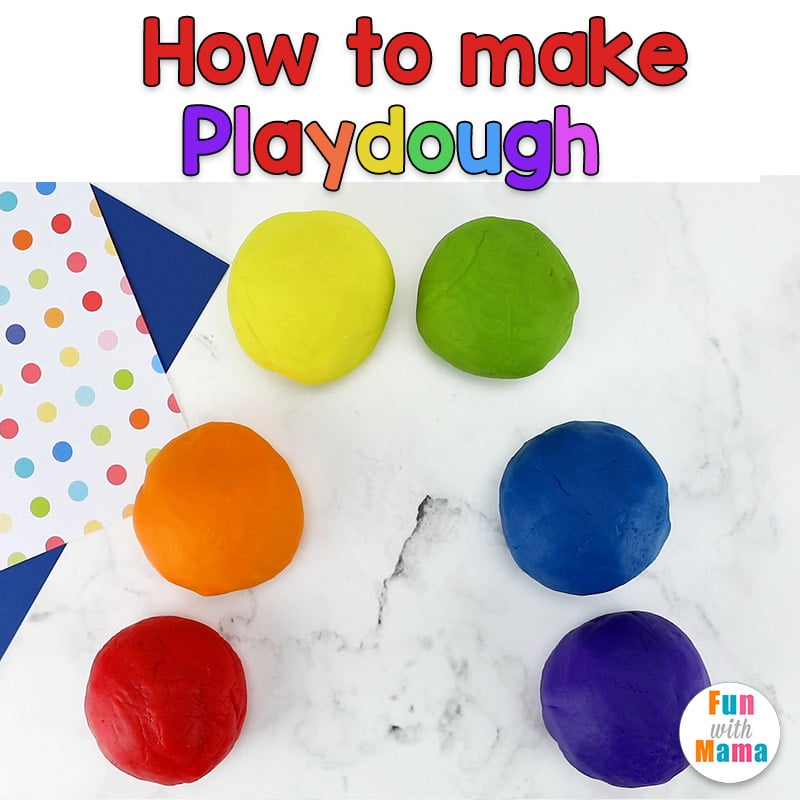 More Playdough Activities
Try these fun play doh activities with your fall-scented play dough!