Toddlers and preschoolers love play dough and its no secret why. Make the best homemade playdough recipe and then have the kids work on their fine motor skills. Playdough has so many benefits for children. Improving prewriting skills is definitely one of the best reasons to encourage your children to work with this squishy dough . We are always looking for playdoh ideas and games to encourage strengthening kids fingers and hands. These fun food plates work perfectly as Play dough Dress Up Plates!
Play dough Dress Up
My kids love dress up activities. My Printable Winter Dress up Busy Bag Paper Dolls were much loved in our house. I also want to encourage the kids to use play dough as much as possible because it strengthens their hands and fine motor skills. I had these wonderful food plates in my kitchen cabinet and knew they would go wonderfully with playdough. The cutters that you can purchase make it so easy to create dresses, pants and clothing. If you don't have these plates or can't purchase them you can use the winter printable paper dolls from here as the bodies to dress up.
Materials Required:

DYLBug Coupon Code
You can get 10% off your DYLBug purchases by using coupon code: funwithmama . The coupon is valid until 2/7/17
Playdough Activities for Fine Motor Skills
Watch my 3 year old's hand movements to see the fine motor skills used here. She is rolling, cutting, poking, manipulating, and more.
The rolling part is always fun. We roll out the colors then place the corresponding cookie cutter on top of the rolled dough.
She loved cutting out the little shapes in different colors.
My son had fun working on a boy plate.
My 7 year old added on more of our cookie cutters to create more shapes. (These are regular kitchen cookie cutters.)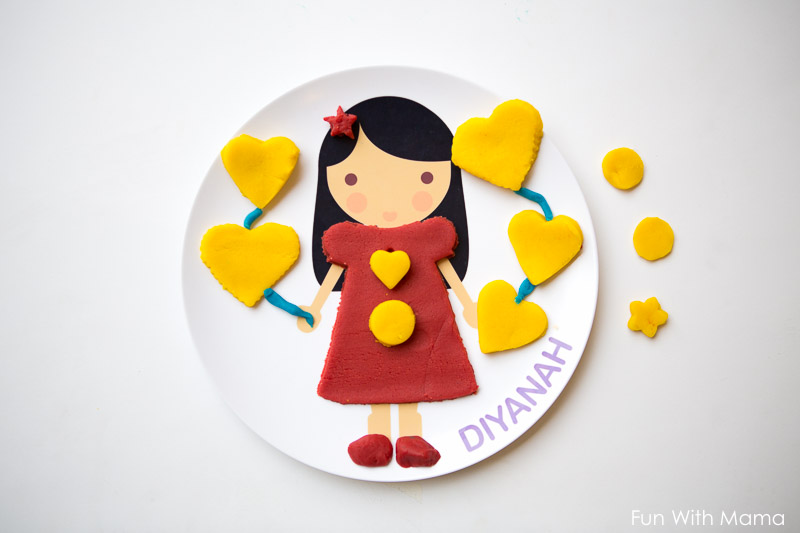 Did I mention that these plates are actually made for food? DYLBug Has agreed to give my readers 10% off orders from today until 2/7/17. You can use the code: funwithmama
I love when we are able to repurpose items at home. This plate is not only great for food but also for play dough too!