Marble painting is one of our favorite kid's art activities. It involves almost no prep time and is a form of action art. Children get their bodies involved as they move the marbles. If you have a child who is looking to get some wiggles out, you need to try marble painting for kids.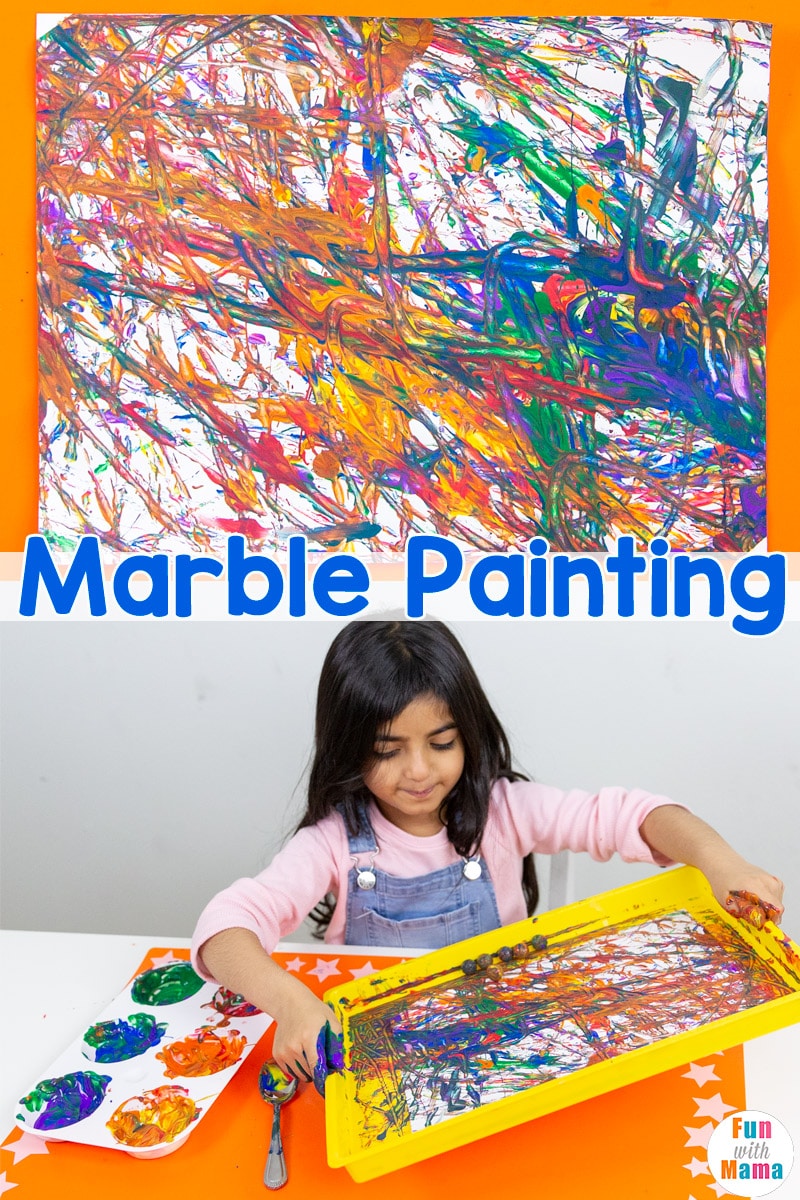 Marble Painting
If you haven't tried painting with marbles yet, you are missing out. Not only is it so easy to prepare it's also a lot fun. If you watch the video, you can see my daughter was all smiles and full of laughter.
If your child likes sensory activities and dives right in, allow them to use multiple marbles (like I did here) and place them on the paper with their hands. This will allow children to explore the feeling of the paint and have some messy play fun. (Don't worry, there's a mess-free version that you can do as well!)
Here is a video of the art activity:
Marble painting for kids is an activity that you will likely be repeating over and over again.
While it might look as though it's geared towards younger kids, our older ones jumped in and loved it just as much. Plus, it's a great way to use marbles other than finding them on the floor and hiding under the couch!
Marble Painting Benefits:
Children use their body to balance the marble (if using a tray) so it doesn't fall off. This works their muscles.
Children can get creative and use their own artistic skills by choosing colors.
It stimulates a child's senses.
It is adaptible to your child's needs and they can take the lead in how they want to do the activity. They can use a box, a tray, one color, multiple colors, one marble, multiple marbles, the list is endless!
Marble painting for toddlers will likely involve using closed containers instead.
Extra careful supervision by an adult (marbles can pose a choking hazard.)is important. Younger kids can make music with the marbles in the box as they shake shake shake to their heart's content.
Marble painting isn't a new concept but it's one that isn't quite as common. We love to use this as our messy plan time because it's unique, fun, and gives their arms a little workout as well. And if they're looking for a way to create their own rainbow, they might just be able to accomplish that with this fun painting activity!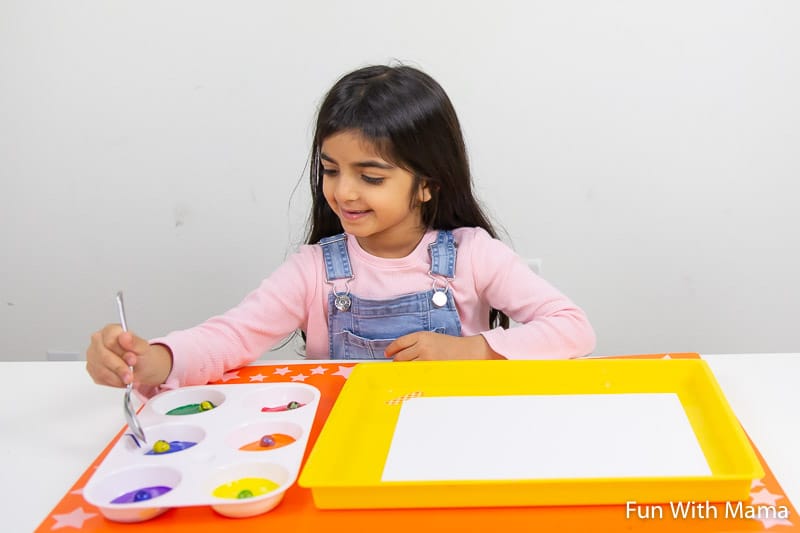 How to paint with marbles the messy play way
The best part? This is so simple to set up!
Step 1: Squeeze paint into your paint dish or paper bowl. We used plastic paint trays that look exactly like muffin tins.
Step 2: Drop in your marbles.(Feel free to use as many or as few marbles as you prefer. Be creative.)
Step 3: Swirl those marbles around using a spoon or your hands until they are paint-filled marbles.|
Step 4: Take a piece of paper and put it into a tray. Then place your paint-covered marbles onto the paper.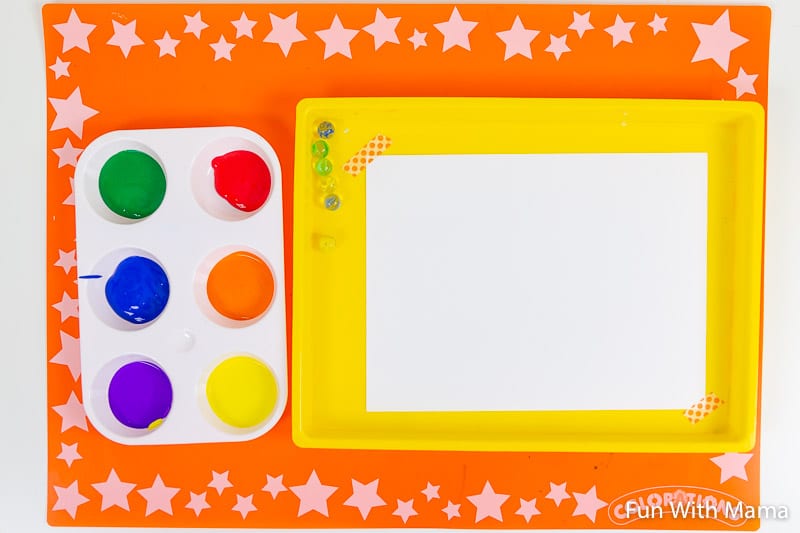 Then, watch your child as she explores her new art material!
I've created a really cool video on our Instagram page as well to show you how it works! (make certain to check it out and follow us for more fun stories and ideas!)
Just be aware it's known to be messy for a reason. Our daughter got overly messy because she kept picking out the marbles and putting them back in the paint to get more so your child may or may not be the same way. Her doing that though did give her a much more colorful painting!
Marble Painting for kids
Not keen on a messy marble painting activity?
All you need to do is make a few alterations to create a mess-free version that is still a ton of fun.
You can use a deeper tray or even opt for using a container with a lid. (like a whipped cream tub or container or even an old ice cream container) You can also use an old Ferrerro box for marble painting, that works great as well.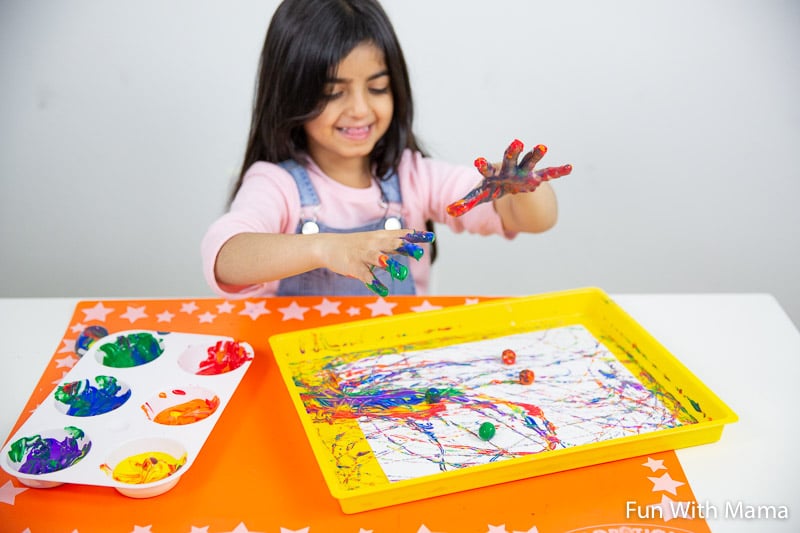 If you are using a container, just add your piece of paper inside of it as well. Using the container means that your child won't have to touch the paint and they can even shake and bounce the marbles around more since there is a lid in place!
Here's an example of a marble painting activity that we did using an old ice cream container! We created an owl by adding feathers and eyes.
If you want to learn how to paint with a marble effect,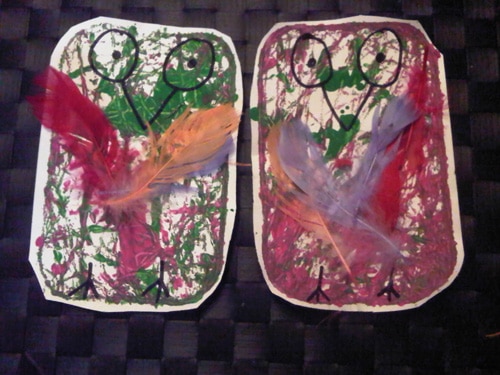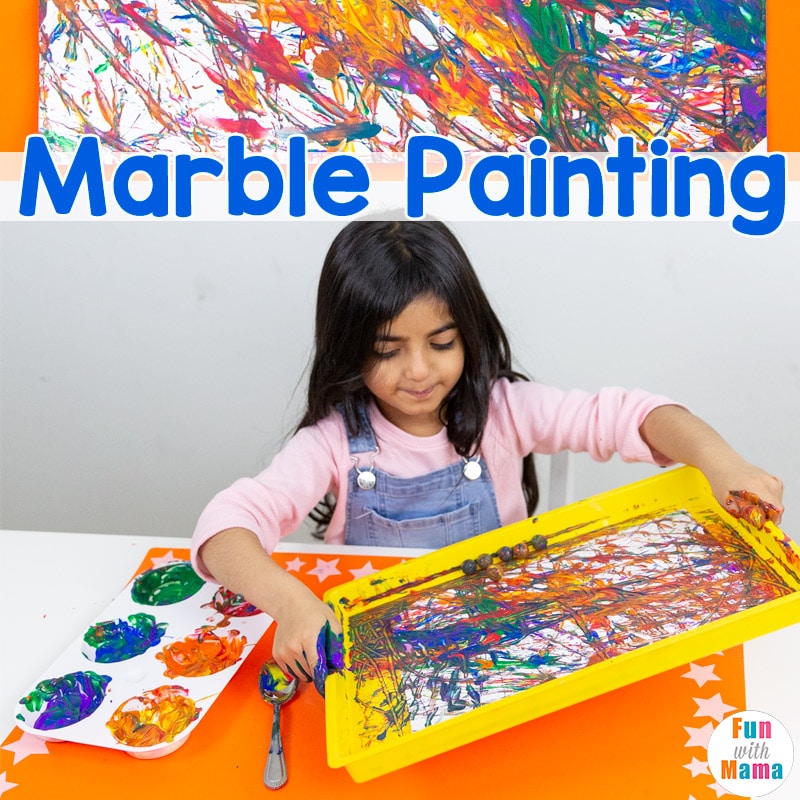 Like this fun and simple messy play idea? Here are some others that you might like: