Spin painting for kids is one of the easiest action art ideas for kids! The Crayola Spin Art spin painter machine includes everything you need to get started and is perfect for children AND adults. Art and painting is an integral part of our family time. When I see my children painting I am always in awe of how much they love creatively exploring art materials and accessories. I LOVE that the spin art machine puts together an easy activity for kids with minimal prep.
Spin Painting
Spending time with family as we paint and do art activities together brings a lot of laughter and genuinely happy smiles to each of their faces. Action Art is also a MUST try with your kids.
If you would like to create a DIY Spin Art Machine then you can create one out of a salad spinner.
Here is my daughter's video telling you all about the Spin Painting Machine
Spin Painter
Materials Required. Please note that affiliate links may be used in this post. See my disclosure policy for more information.
Other Spin Painter Art Machines
We love art in our house. My kids art paintings are all over my walls and I would have it no other way! With an offering of crayons, markers and other craft and art supplies on my Kids Art Cart my children have a variety of things to work with. If you are looking for some recommendations then check out my favorite Art Supplies For Kids
Did you know that painting for kids is considered a stress reliever? I agree! Whenever I am feeling tired, anxious or overwhelmed by my to do list I often pull out an art activity. I either use Ed Emberley's Drawing Books or take out some paint and a paint brush and just begin stroking. The Spin Art machine is an exciting new addition.
The Spin art machine comes with 3 paint colors, the spin art machine, white crayons and paper disks. When paint is done you can refill your bottles with water color paints.
All you have to do is insert the paper and start pushing on the button to make the machine spin. Children can take turns helping each other operate the machine while the other squeezes the paint. This will encourage children to work together.
We operated the spin painter a few times that way and we also created some designs together by all of us squeezing a particular color.
I would have preferred an automatic spin painter that uses batteries rather than having to push it. The good part about it being manually operated though is that I didn't need to wait on buying batteries.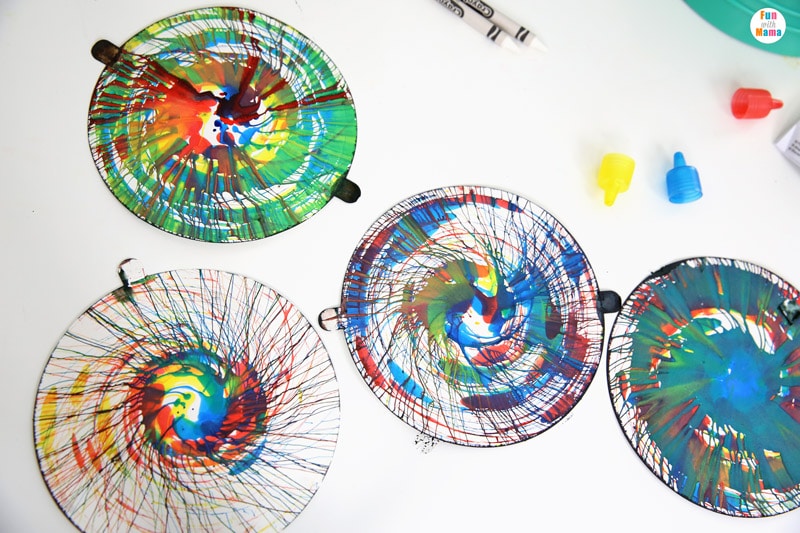 As we do with all of our art projects for kids…. I hung them up using clothespins.
My thoughts:
I am really glad that we bought the spin painter. My daughter has continued to play with the machine and has created different spin painting disks. My 11 year old, 8 year old and 4 year old have all enjoyed using the spin art machine and trying to make different patterns.
If you don't have a spin painter, try out a salad spinner!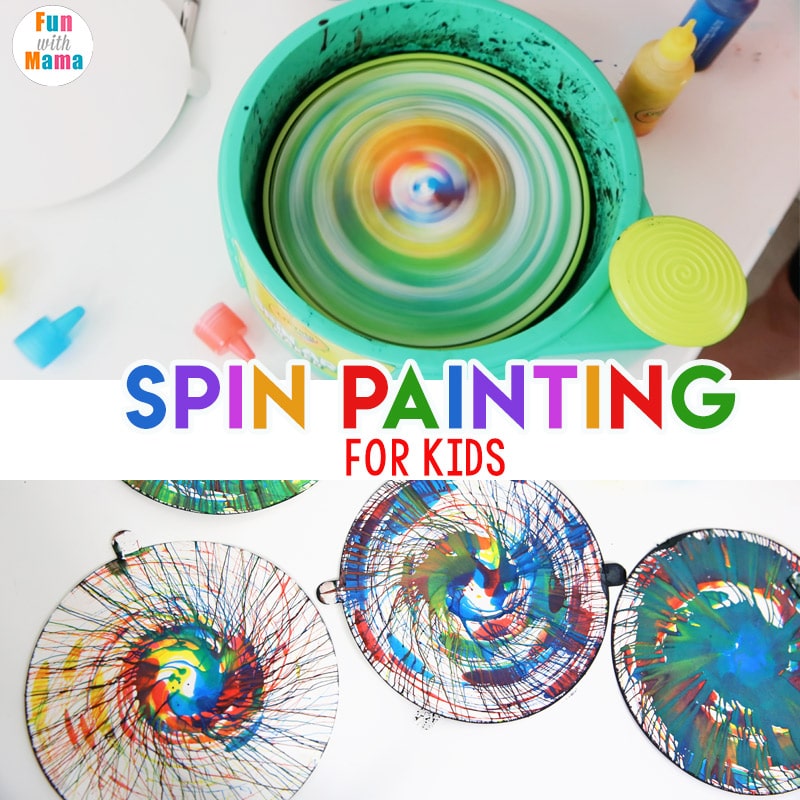 More Art Activities For Kids: