Have you ever made puffy paint? It is a very interesting and unique paint. When you put it in the microwave, it rises! Painting for kids is a must in our home. That's why I have an art cart.. because I want my children to explore and have the ability to be creative when the mood arises. But some art recipe's don't fit on the art cart and have to be made fresh.

Puffy Paint
Puffy Paint is an easy DIY paint that is great for working on those hand muscles. You use bottles instead of paint brushes and so they give your child's hand a workout. I include a recipe and printable activity in this post to enhance the fun! It is such a delight to see the smile on a child's face when they see their painting transform and 'bake'. Plus, it is super easy to make at home.
This is the Puffy Paint recipe that I used today per color:
– 1/2 cup flour
– 2 TBSP salt
-2 TBSP baking powder (if you did not use rising flour above)
-Water to make a paste (I used about 90 mls)
– Food Coloring
Directions: Mix all ingredients until you have a nice paste (not too thick) and pour into sauce bottles. (I purchased mine very cheaply from Plastic Land.)
I have also used this other recipe previously and that was great too but I wanted to be a bit more economical and less wasteful, so I used the recipe above.
I created these outlined shape and number printable activities for my kids which they absolutely loved! Sometimes my kids want direction and ideas on what to do so this enabled them to play with the puffy paint. They were also able to use the paint freely on blank paper to create their own picture.
The printable activity is available at the bottom of this post.
D experimented with a paint brush because he didn't like using the spout of the sauce bottle whereas A loved using the spout and preferred that!
Printable Activity includes Numbers (1, 2, 3, 4, 5 ,6 ,7, 8, and 9), Shapes (rectangle, circle, star, heart, diamond, square), and other random shapes (butterfly, flowers, puzzle piece, sun). Print out on card stock paper (or any paper that is thicker than normal printer paper) for best use!
More Craft Recipe's:
Pin It Below!

Did you like this printable activity? Connect with me on Facebook, Instagram, Twitter and Pinterest.
Puffy Paint activities are amongst my favorite preschool activities and toddlers love them too!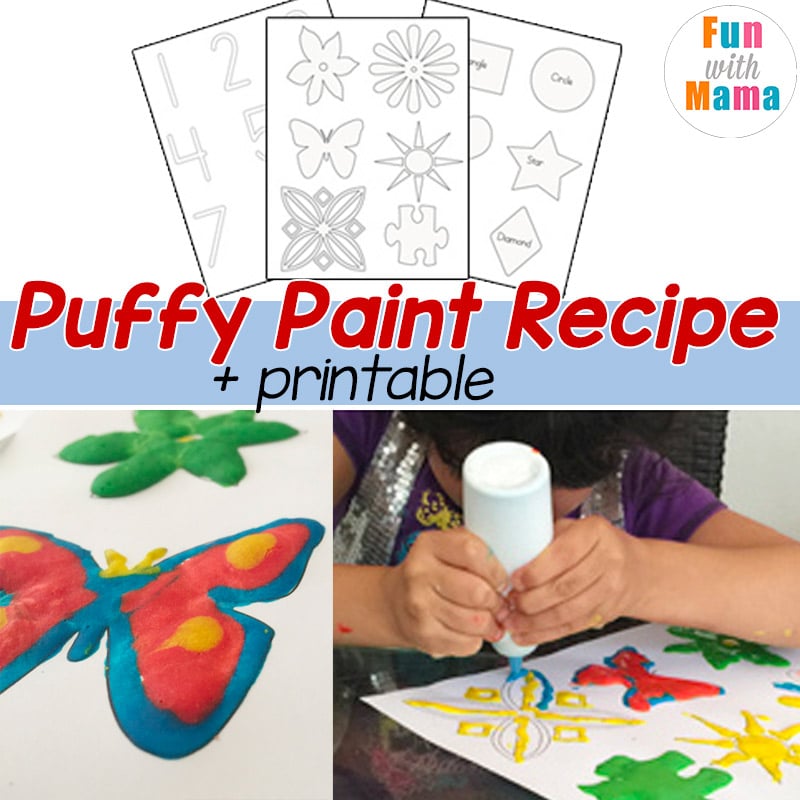 This post was originally published on March 23, 2015.