It is not always the final result, but the process that is most exciting. Sure, the end gives you a goal… but what if the process involves touching, mixing and molding? This past weekend we made sand often referred to as "Moon Sand".
Moon sand looks like normal sand but the magic appears when you get closer and squish it! It sticks together! It does not behave like normal sand… what a special surprise it is!
Ingredients:
6 cups sand (i made a bigger lot so I pretty much tripled this recipe)
1.5 cups water
3 cups corn starch/maizena
Food color to get to your desired color. (I used powder paint)
Mix above ingredients together.
The process is about learning to take turns and to work together.
It is also a tactile experience.
I heard a lot of giggling and saw a lot of smiles!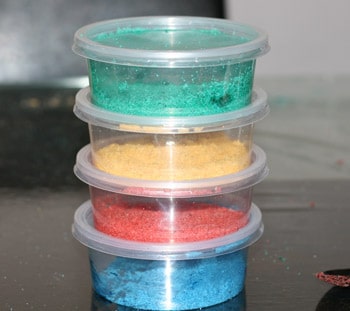 Have you made moon sand? What is your favorite recipe?
You could also color salt (instead of sand) using my colored salt tutorial

Want more moon sand inspiration? Here are some other blogs who have created moon sand:
The Imagination Tree created purple moon sand.
Laughing Kids Learn made multiple moon sand colors.
Little Gene Green Bean created blue sand for her sensory bin.