This sight word sensory table bin activity is one you will likely want to repeat over and over. Get some sight word practice in while playing! You can swap out sight words for alphabet letters, shapes or any toy/figuring you may have. We are always creating sensory tables and bins.. they are a great way to calm down children while exciting them at the same time! See my Sensory Table Ideas post.
This activity can be calming, can give a child sensory input, works on literacy (alphabet letters/ sight words), creativity (flower planting) and math too (shapes/patterns)
Sight Word Sensory Bin
With many schools having transitioned right now to online learning or distance learning.. children need some fun activities to keep them learning while playing throughout the day. I absolutely adore rice sensory bins because they are re-usable. Once you are done with it you can put all the items away and use them at a later day. Colored rice can last for years and years. I also leave out our rice sensory bin for a week- a month because my daughter will find different ways to use it each day. Sometime's she will throw in her fairies , other times she will throw in her animals. Learn how to use your child's toys to create a sensory bin.
Last week we created a Muddy Oobleck Sensory Table With Animals, which was also so much of fun!
We have so many of these tools, figurines, etc. at home for the past few years that I didn't need to purchase anything new.
The only thing I did purchase recently, was the amazing sensory table and bins. I have the medium size bins x2 and the smallest size bins x 4.
What is needed to create the sight word practice sensory bin:
Please note that affiliate links may be used in this post. See my disclosure policy for more information.
You can always find my sensory bin favorites and other tools here in my Amazon recommendations store.
My daughter could not wait to get her hands in this one.
Here is a video of my daughter playing with the bin:
Sight Word Practice
Tips for when you are teaching sight words, shapes and alphabet letters
I also think this was one of her favorite sight word activities we've ever done. I used a list of words that she already did in the past and passed. With sight word practice, it's important to remember to keep changing the words out and going over past words. Unless you are working on a current list… then use those words. Mix a few sight words your child previously worked on (to refresh their memory) along with old ones. You want to make sure your child knows some of the words.. that keeps the motivation up and they will be proud of themselves.
This will actively keep them wanting to learn more words and then they will do sight word practice with excitement.
If your child knows none of the words.. the activity is too difficult and you've removed the fun.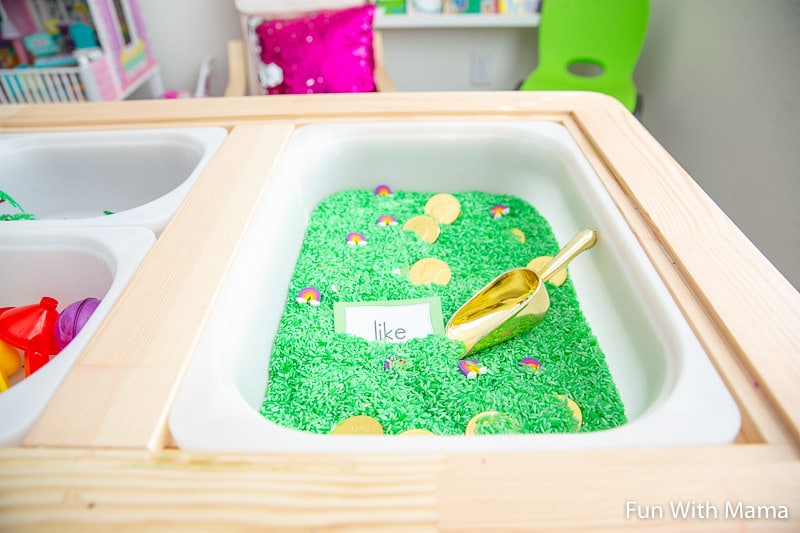 She was loving every minute of it! I've decided to leave this sensory bin out for a week and change up the words each day to work through her whole list. It would be good for some sight word practice.
She lined up her sight words.
She played with the rice.
She thought out of the box and created her own patterns. She was so excited by her pattern discovery. (She is 6 years old.)
Try it out today!
Check out these spring theme sensory bins for more ideas You can get more sight word practice placing your sight words in those bins too!