I am a blog ambassador for Lakeshore and am compensated for my work. I received product free of charge, but all thoughts and opinions are 100% mine.
What if I told you that you can get more use out of the toys you have at home while also encouraging your child to explore, use their imagination, work on their fine motor skills and allow them to play independently for longer periods of times? In this blog post, I am going to show you how you can create sensory bins with existing toys you have at home. As with all activities posted on this website, parental supervision is required.
Sensory Bins
My children LOVE sensory bins and can play with it for hours and hours. You can see more sensory box and sensory table ideas here.
How to make sensory bins
Imagine your child's excitement when they see a surprise play set. Not only does this encourage creative play, you will be amazed by that huge look of surprise and happiness on your child's face when they see it for the first time.
It really is very easy to create a sensory bin.
Please note that this post may contain affiliate links.
Step 1: Choose a sensory bin theme.
Look at the toys you have at home, is there a common theme?
Sensory Bin Theme Ideas
Colors
Shapes
Pirates
Faries
Dinosaurs
Cars and Trucks
Airplanes
Ocean
In this step you will also decide what size tub you would like to use. In this blog post I used this large storage tote and will include a link to my toy choices.
In the first sensory bin, I chose to go with a dinosaur theme. I chose to use the dinosaurs from the Dinosaur Adventure Backpack.
If you haven't seen this toy before, check it out. I chose it because I knew that my daughter would find endless play opportunities with this. I also like having the ability to take this toy on the go when we are waiting for her sister to finish her gymnastics classes.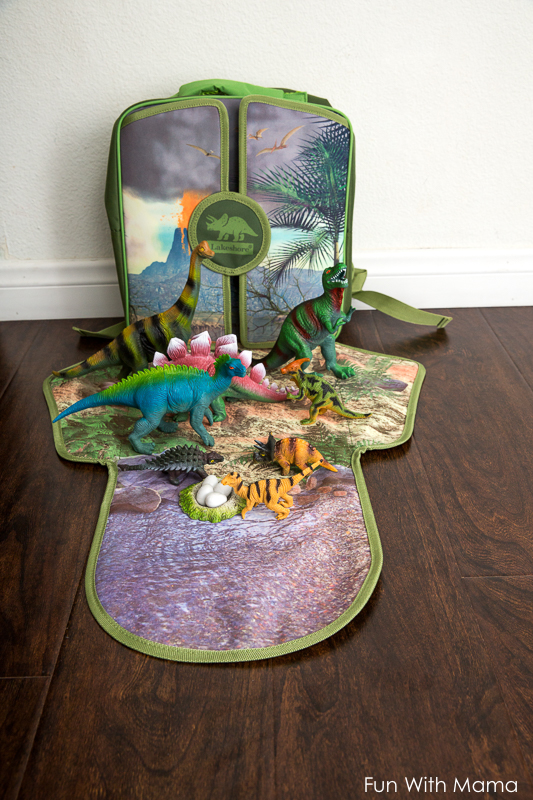 Step 2: Choose what you want the base filler to be.
You have so many options on a base depending on how messy you would like it to be. Also consider how long you want the sensory bin to last. Edible base ideas will only last one day, whereas non-edibles can last for months! Also consider your child's age. If you have a young child that still puts things in their mouth make sure to use safe items. Edible base's would be perfect for this.
Non-edible Base ideas could be:
Dried beans
Pasta
Pom Poms
Plain and colored rice
Water
Water beads
Edible base ideas:
Today, I opted to use rice and to color it green. I did this the day before I wanted to create the actual sensory bin. To create the rice I used the cheapest 10 pound bag of rice that I could find. We aren't going to eat it, so it really doesn't matter what type you purchase.
To color the rice you follow the basic recipe of: 1 cup of rice, 1 tsp of vinegar and add in your food coloring. Mix it then lay it out to dry.
Why I love using green rice as a base:
It acts as grass.
It is versatile because it can be used for a large variety of different sensory bin play sets
It creates minimal mess and is easy to clean up.
It can last for years. Just place it the rice in a closed container so that you can reuse it the next time you want to create a similar sensory bin.
Step 3: Choose tools for your child to use in the bin.
Children love pouring, scooping and playing with the items in the sensory bin. I normally add in funnels, play cups, colanders, spoons and other items we have at home.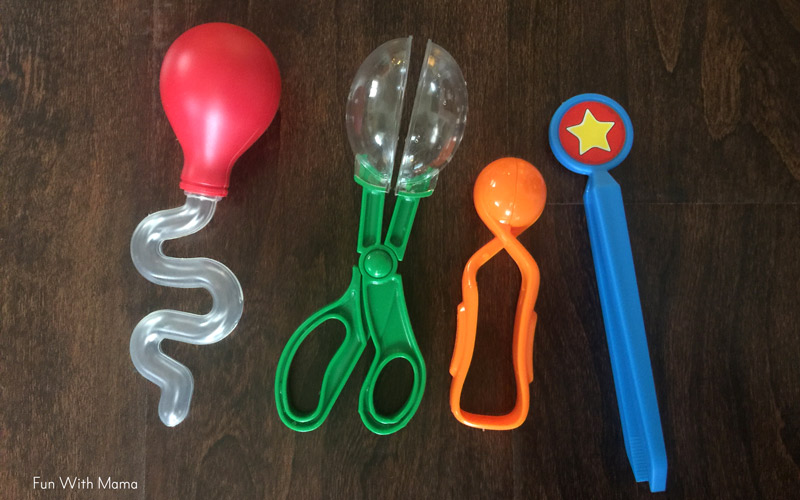 I especially love Lakeshore's Little Hands Fine Motor Tools. They are created in a way that help build fine motor skills and strengthen your child's hands and fingers. That is one of my favorite things about Lakeshore Learning. They create toys that are not only fun to use, but have an added educational aspect to it.
Whatever tools you buy can be used over and over in future sensory bins.
Step 4: Put it all together.
Ta-daa! Doesn't it look amazing?! The hardest part was just choosing the toys… but once you have the tools at home you can create this in under 5 minutes.
Dinosaur Sensory Bin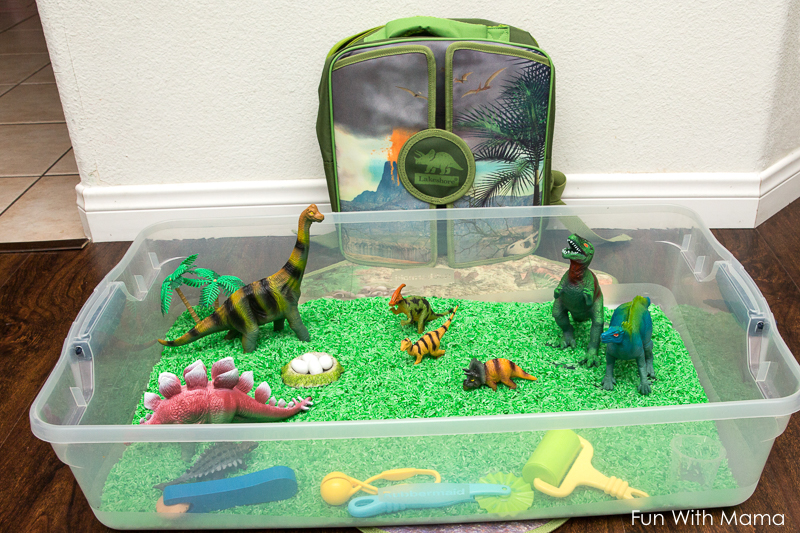 Fairy Sensory Bin
After my daughter played with the Dinosaur bin for a few days, I decided to change it up. I swapped out the dinosaurs for the adorable Fairy Land Play Set and when she saw it I got that amazing happy smile again! She feels so special when I create these bins for her… little did she know that it took me less than a minute to swap these toys out!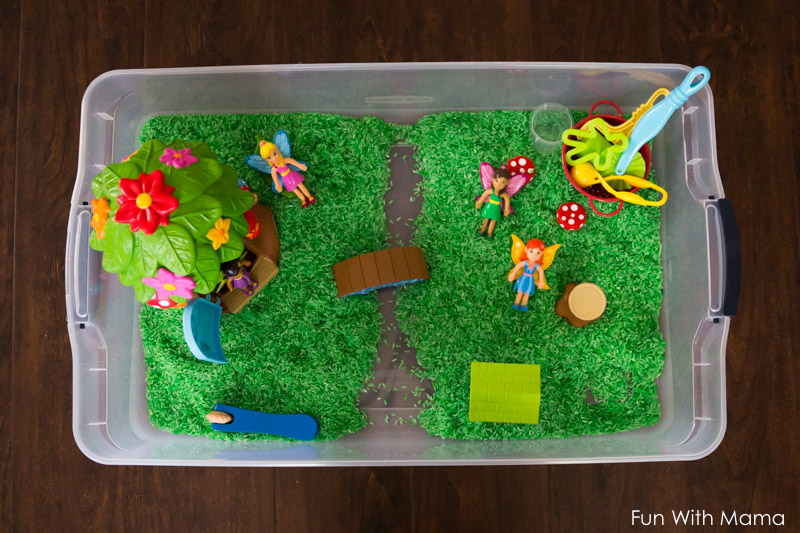 We have a simple rule at home, "If you want Mom to create sensory bins then the rice needs to stay inside the bin. If it goes outside, it is your job to clean it." She likes the bins so she does a great job of cleaning up as best as she can. The mess is minimal and I love seeing her take responsibility for her activity.
She loved the size of the bin so much that she jumped inside of it. Now she was exploring the tub with her whole body. This bin stimulated her four of her five senses: Touch, smell, sight and hearing (the sound as the rice was sprinkled and fell.)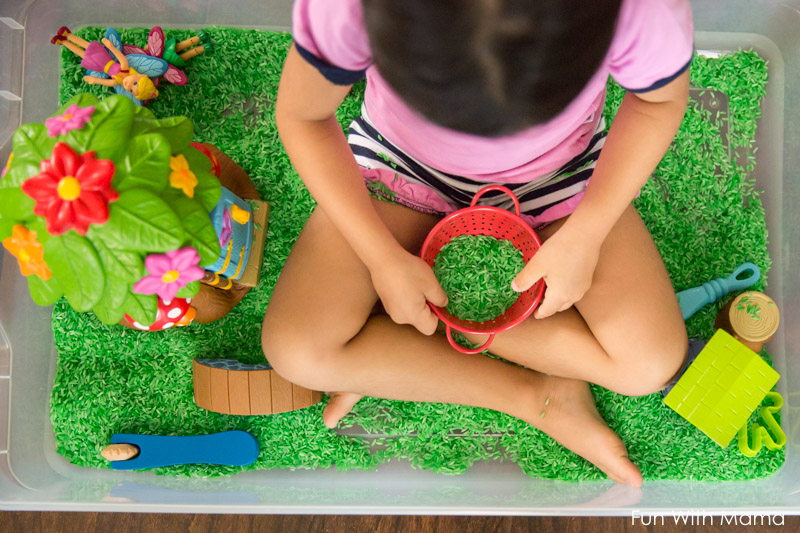 Don't forget to have something nearby.. that your child can climb and jump on.At a preschool age, children can only sit still for a while before they need to burn off some more energy. Their body needs movement.
My daughter really loves Lakeshore's Super-Safe Froggy Jumper. She is naturally a very active child and is constantly in motion. This jumper allows her to jump around in a contained spot. She uses the jumper every single day.
I hope you enjoyed this post on how to create sensory bins. Have you created sensory bins with your child?
Enter the giveaway
Lakeshore Learning has graciously offered to give a $50 gift card to one of my lucky readers.
a Rafflecopter giveaway
DON'T FORGET TO GRAB THE COUPON CODE!
Want to buy some of these toys? You can see some of my favorite Lakeshore Learning toys in action here.
Lakeshore Learning has graciously offered the Fun With Mama community a 20% off coupon code for any one single, non sale item. Click here to redeem that coupon! To learn more about Lakeshore Learning, find them on Facebook, Instagram, Twitter and Pinterest.