Check out this post for fun sensory table ideas that you can do at home, in a preschool or a daycare setting. These sensory activities for toddlers and preschoolers can be used in sensory bins as well as sensory tables. Sensory play is very beneficial to toddlers and preschoolers because they often internalize and learn better through working through each of their five senses. There are also many beneficial preschool social skills worked on during these group table sensory activities.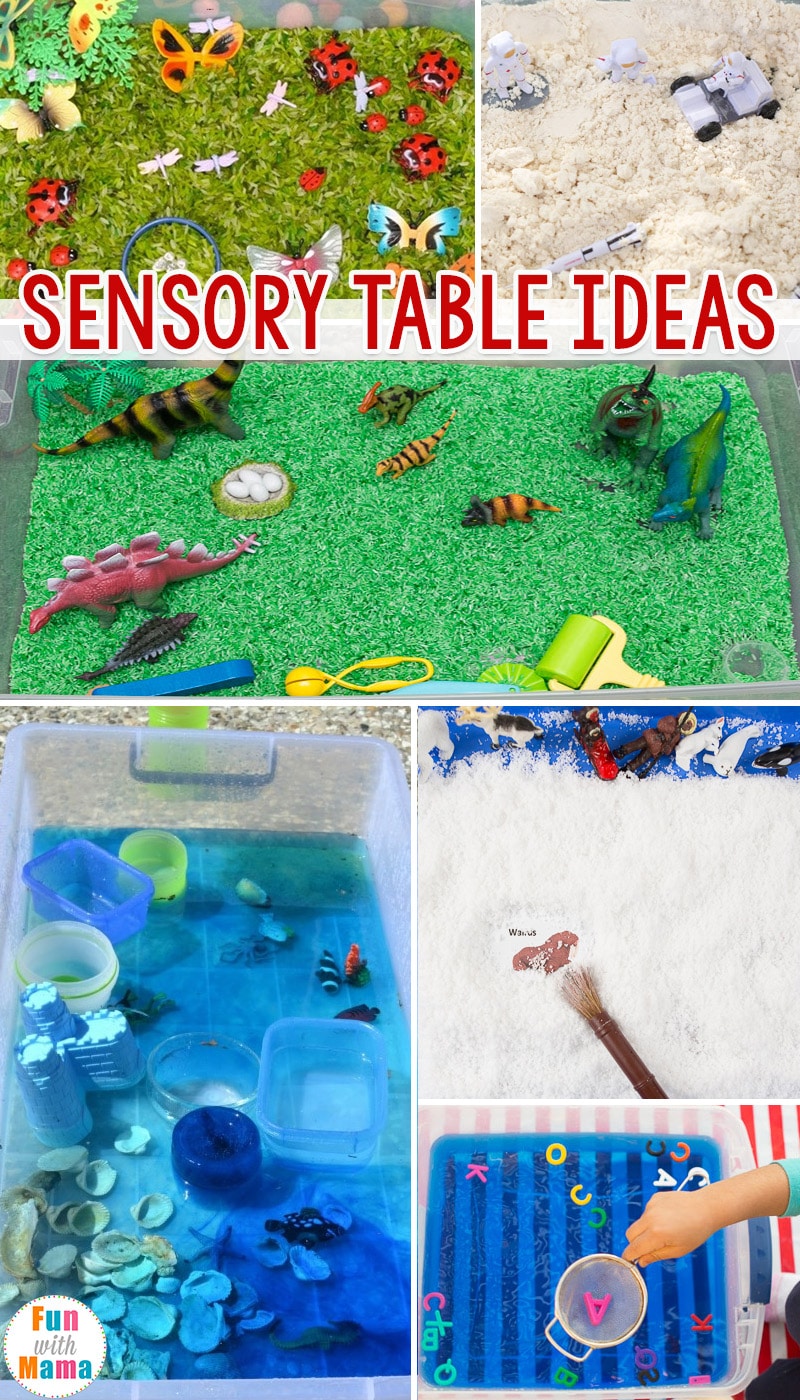 Sensory Table
Please note that all sensory table's require adult supervision when played with.
Each of the sensory bins can be adapted to a sensory table, depending on the size of the table.
You can purchase a specific sensory table or you can use an existing table with a large storage container, as I often did before I went out and purchased a sensory table.
I like that the ECR 4 station table can be used with a variety of different materials at once. I love that the Naturally playful sand table can be used with a variety of different materials (one at a time), is a good size for a toddler sensory table and has a lid. If you would prefer to create your own sensory table then there are so many ideas online. This DIY PVC pipe table one looks amazing.
DIY Sensory Table
We just created these two sensory tables! This will be perfect for our sensory activities for toddlers and preschoolers. I love that the small one can literally just take my actual sensory bin and put it up to a table level.
Can you imagine all the possibilities?! We will update this post with more activities created on these two sensory tables. For this table we used the Hefty 40 QT storage bin and this tutorial.
The one with funnels will be our water play table.
My husband made small holes in the pipes so that it could create a rain shower like droplet as well as a few other creative ideas. I will update this post with pictures of us using it. For the large water table I used the Hefty 52 Qt Storage Tub.
Favorite sensory table tools: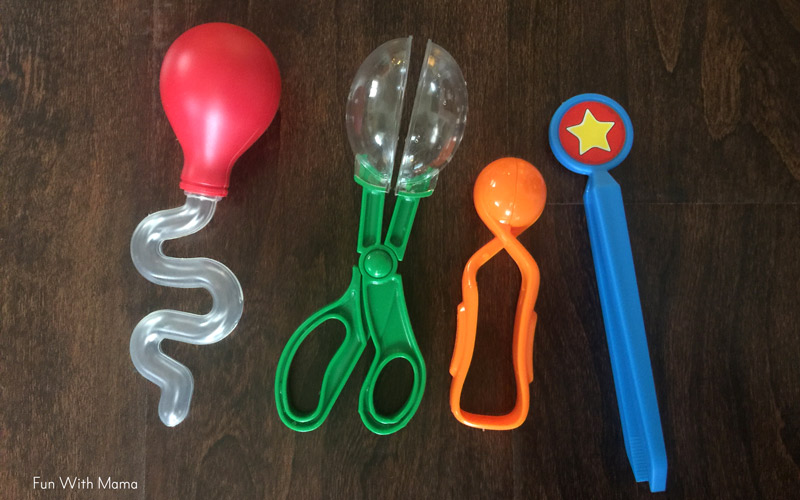 Add in fine motor tools and mini colanders.
Sand + Water Table
I love this diy idea for the water and sand table. Here are also popular sand and water tables:
Sensory Bins
We create monthly sensory bins. These are my MUST HAVE sensory bin items:
Sensory Table Ideas
Add in alphabet letters and hide in items that begin with that letter. Or just hide all the letter a's one week and all the letter b's another week.
Sand pouring station. Add in sand with different pouring cups and bowls. Put in mixing spoons.
Add shampoo into water with some bath safe baby dolls and have children bath the dolls.
You can add toy trucks into beans to make a construction themed sensory bin.
Add water with a small squirt of dish washing liquid and have children pretend they are washing dishes.
Water beads make for a wonderful sensory table, but they are dangerous if eaten… so caution and adult supervision is extra important.
Cooked rice would be fun to play with
Dry rice is always fun especially if you color it.
Fill the bin with dry beans.
Make Goop, also known as Oobleck. Not only is this fun for babies.. children of all ages will love it. Learn how to make goop. This is one of my favorite sensory activities for babies too because it is edible. Goop is liquid and solid and is very fun to play with.
Cooked spaghetti … let the kids play in the cooked spaghetti. Color the spaghetti using food coloring for even more fun.
Throw in some rice. You can theme this according to color or create a rainbow rice bin.
Add in moon sand with some astronauts.
Make cloud dough and add in astronauts. Cloud dough feels AMAZING. Get the cloud dough recipe.

Create a Pom Pom Sensory bin by throwing in a lot of pom poms
Hide puzzle pieces into the sensory table filler. Leave the puzzles out of the sensory filler so that it works as a key. Get the direction for the Shapes Hunt here.
Add in toys

Make a snow hunt sensory table by using fake snow.
Theme your table according to holidays: Valentine's Day Sensory Bin, Halloween Sensory Bin, Christmas Sensory Bin, New Years Sensory Bin

Add cocoa powder and toy building trucks.
Create a book themed story play scene like I did when I created the Three Little Pigs Playscene

Use your current weeks lesson plans to come up with sensory table ideas. Use your theme. For example, here is an insect sensory bin.

Set up a shaving cream painting activity to your sensory table or just let them play with shaving cream. Hide little things inside the shaving cream and have them hunt for it. Shaving cream is amongst our favorite sensory activities for preschoolers.
Add in funnels and tubes.
Water play table
Create a water pouring station by adding a little bit of water to a few pouring containers. You can theme this a color mixing activity by coloring some of the containers with colored water. Children can mix two solid colors in a plain water glass to see what colors it makes.
Alphabet fishing – Add the alphabet lacing letters to blue colored water. Use a strainer as fishing rods and colanders to create a fun alphabet themed toddler water table.
Throw ice into water to have children fish them out.
Create an under the sea ocean table.
I hope that these sensory table ideas will inspire you to create some fun sensory activities for toddlers and preschoolers in your class.