Looking for Easter Crafts? This fun Printable Easter Scavenger Hunt Clues includes printable Easter Egg Hunt Ideas, clues as well as blank eggs for you to write your own clues on. This activity is appropriate for toddlers, preschoolers, kindergarteners and even elementary age kids. You can write in your own clues or if you want you can use the Easter Egg Hunt clues for preschool kids.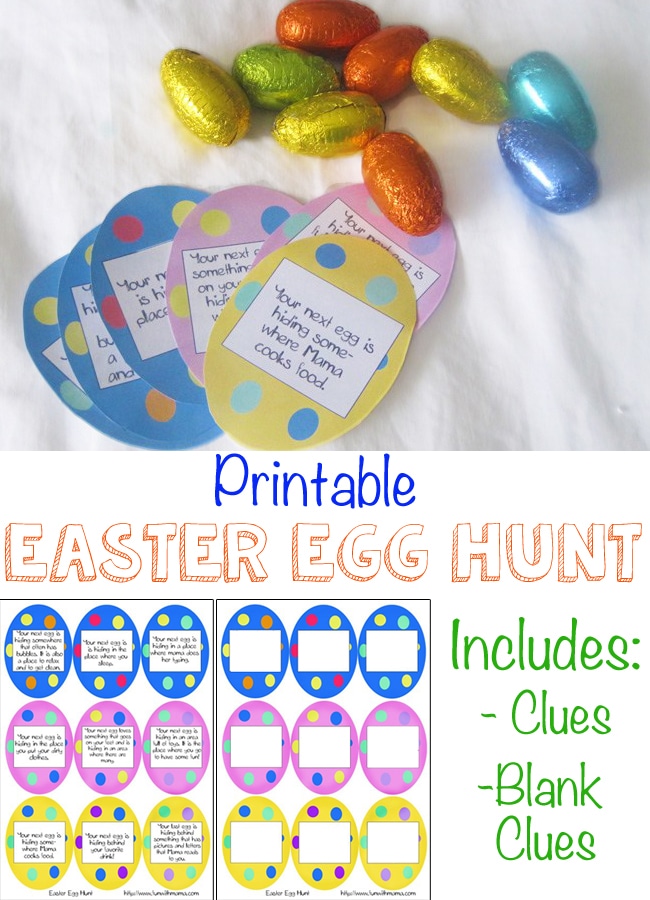 My 7 and 9 year old LOVE creating hunts for us using this printable activity.They have so much fun with it and it inspires open ended creativity!
This week we are focusing on many Easter themed activities and I showcase these ideas daily on my Instagram account. I would really love to see you there. If you use the hunt I'd love for you to tag me @funwithmama in a picture of your child searching for their clues!
Join me on Instagram to see what other Easter Activity we've been up to this week.
Easter Egg Hunt Ideas
Materials Required: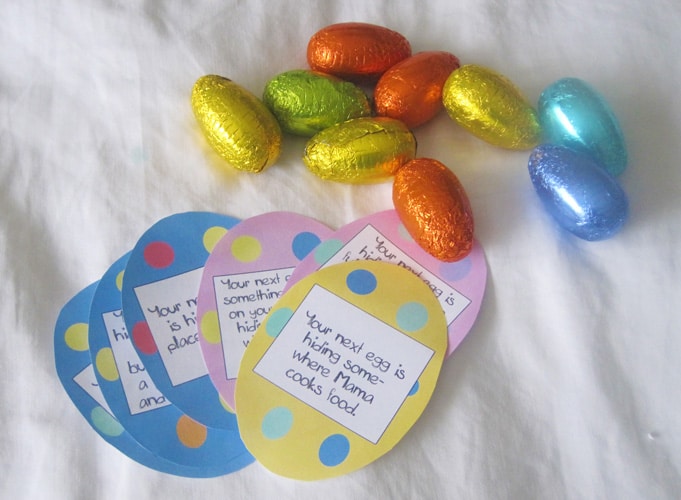 – Printable Easter Egg Hunt Activity/ Template
– Pen or marker to write your own clues
– Card stock (This is to make the printable eggs more firm. We always have cardstock at home for ANY arts and craft activity.)
– Chocolate Eggs


Variations on the Easter Egg Hunt

– Plastic Eggs (You can put the egg clues inside plastic eggs if you like. I know many of us have millions of these at home!
–Glow in the dark eggs. My kids LOVE turning off all the lights and searching in the dark for some Easter Eggs. This is SO much fun and they love making me search for the eggs too!
Easter Egg Hunt Clues
I hid the eggs in their appropriate hiding spot and my son eagerly went searching for his Easter hunt clues.
Because of all the colors in this toy box D didn't actually find the egg at first glance.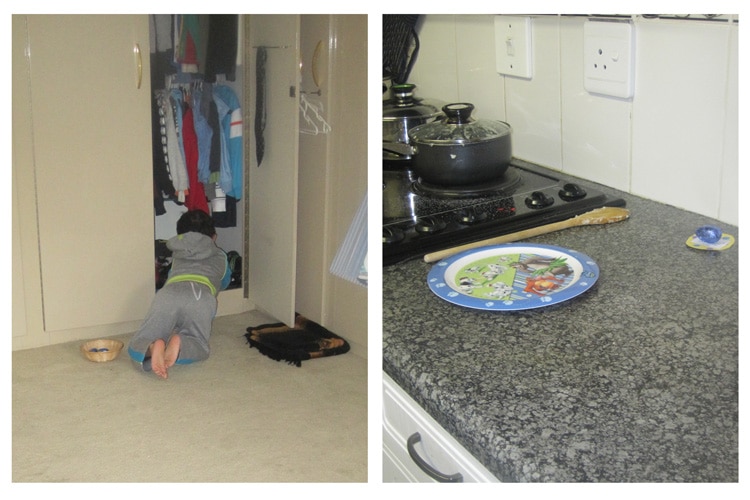 To see the printable eggs in action you can join us on an Easter Egg Hunt we did with blank clues in our house. You may find some ideas for your next hunt.
Also I have just added a new editable Egg Hunt. You can find the new editable Easter Egg Scavenger Hunt here.
Are you looking for some Easter Basket ideas?:
Please note that affiliate links are used in this post. Please see my disclosure policy for more information.
These toys are my tried and tested toys that my kids keep going back to. They would be so special to include in your Easter Gift Basket.
–Do a Dot Markers – I seriously believe every home should have a set of these. They are a great way to get some painting in with a very minimal amount of mess (If any.) Put the paper on a tray with the paints and you will contain the mess.
–Do a Dot Markers Book – You do not need the books.. you can find many pages online including my own website for free do a dot pages but I do however like the books and keep a stack at home. This allows me to literally just pull together an activity while the kids are napping and the paper is a little thicker so it has a better result than normal printer paper.
– Stamps
– Cash register and sandwich set (For hours of endless imaginary play)
– Tea set (you can pour real liquids in here)
– Counting Bears (This one is a MUST have for kids around 22 months till around 3)
– Squirrel Board Game (perfect for the little ones)
– Zingo ( A MUST have game for 3-7 year olds)
– Rush Hour Jr Game (This game is wonderful for working on your child's concentration and problem solving skills. I wholeheartedly can recommend this game.)
I personally give most of our friends Zingo and Rush Hour Jr for birthday presents because I adore them so much.
Where to get the Egg Hunt:
Please note that this printable is made as an A4 page. To print it for US letter, have your printer use 90% scale. You could also use the editable hunt instead. (That one is made for US paper.)
GET THE EGG HUNT HERE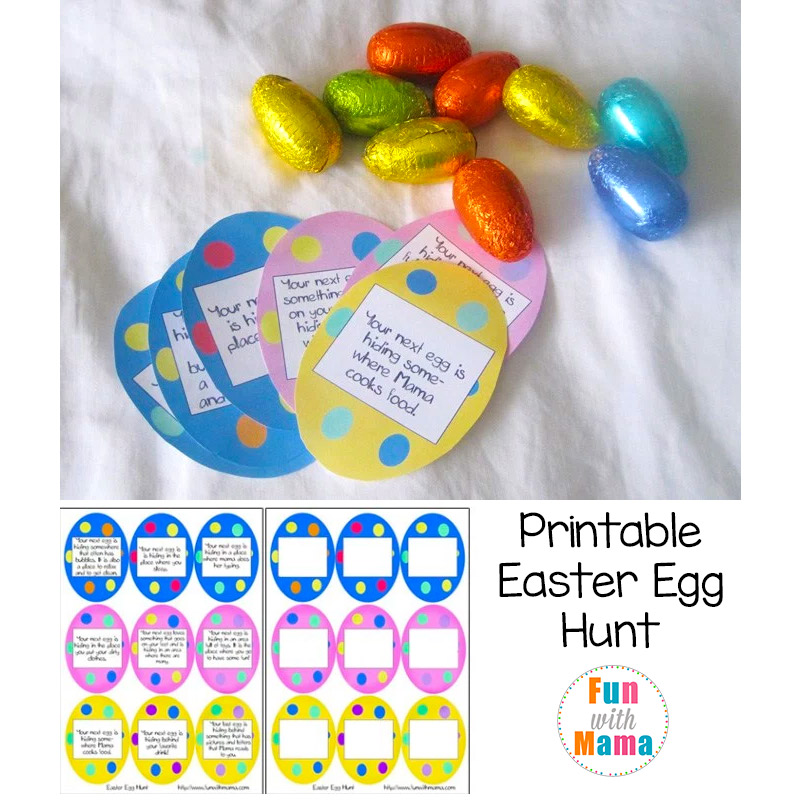 Already a subscriber? No problem. Just enter your details above so we can send this printable right to your inbox.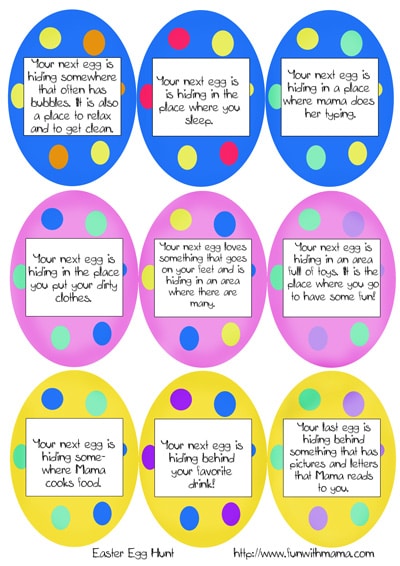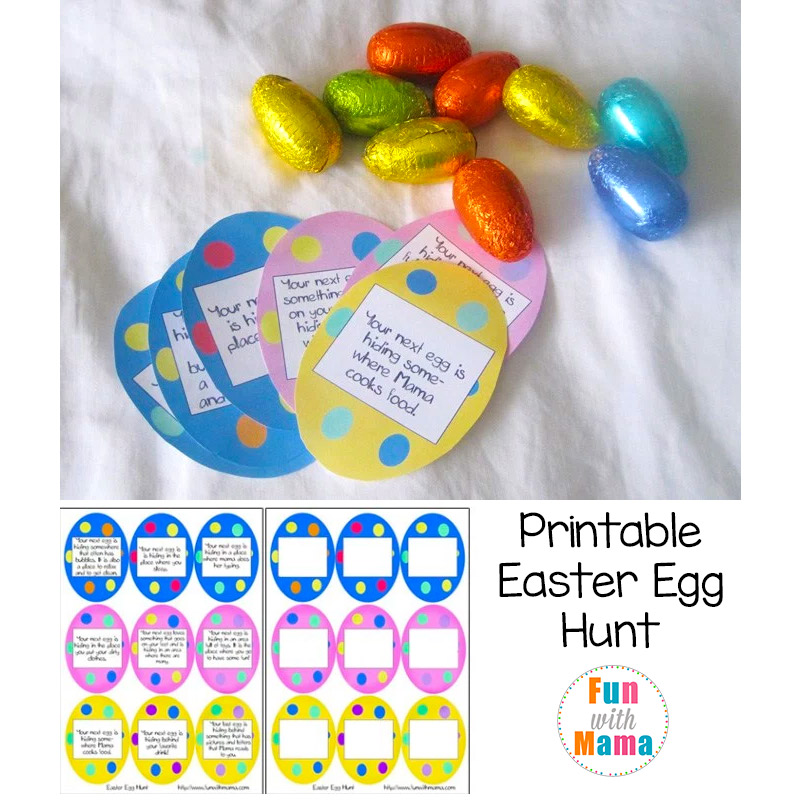 GET THE EASTER ACTIVITIES PACK
GET THE EASTER ACTIVITIES PACK
Explore Easter themed activities while working on fine motor skills, math, literacy, and creativity with this activity pack. It comes in color and black and white and is sure to excite your young learners.
I hope you enjoyed these Easter Egg Hunt Ideas.
More Easter Activity Ideas