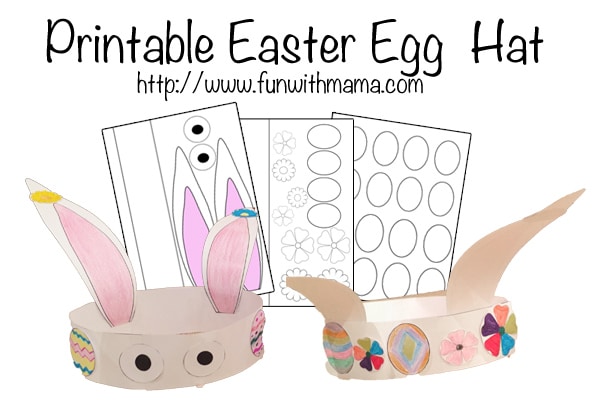 Looking for some Easter Egg or Bunny themed activities to do with your kids? Besides taking your kids on a printable Easter Egg Hunt have a look at this lovely printable Easter Bunny Hat Activity. . It makes a great afternoon craft that will keep kids creative hands and minds busy. Children are encouraged to design and color the pieces to this hat in any way that they would like while working on their fine motor skills (through cutting and coloring).
Here is a video of the activity: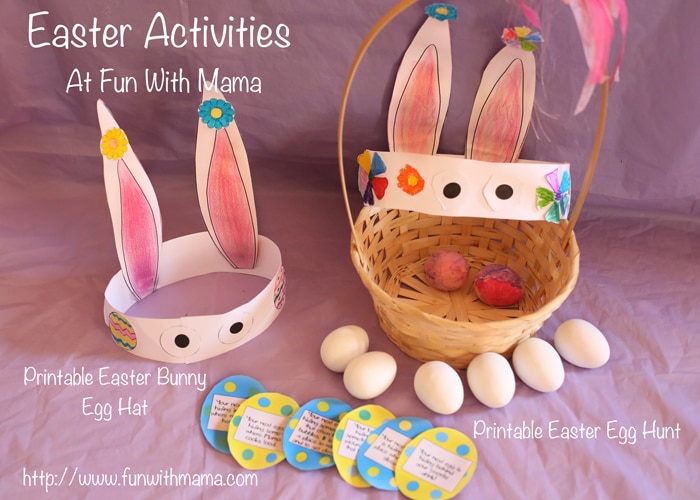 Materials Required:
Easter Egg Bunny hat printable found at the bottom of the post
– Cardstock Paper
– Scissors
– Fun Chalk Markers, Crayons, Markers or whatever coloring tools you have at home.
First I printed out the pieces on cardstock paper and then I put different coloring tools on the table. My kids loved twister crayons. Next time we will try this with fun chalk markers.

Boys might not want flowers on their hat (my son didn't) so he used designed extra Easter eggs.
I knew that I wanted to use the smaller flowers so I did this activity with the kids too. Coloring is so relaxing and soothing. In my defense though, my toddler can't color yet and she needed a hat!
After coloring in, the kids set out to cut the pieces out and then figure out their placement. A went with a pattern of one egg to one flower.
My kids thoroughly enjoyed this activity. I did it tonight before bedtime (we didn't have time to in the afternoon) and both of them went to bed very happy. They were proud of their masterpieces and loved that I joined them in making one hat too.
I've noticed that with other activities it is more about us spending time together, laughing, talking, sharing than it is with the actual activity. Today, however, they enjoyed the activity just as much as the time we spent together.

This was the best picture I could capture of my Busy Toddler (She has A LOT of work to do as a teacher). These hats are so much cuter in person!
Download/Print This Activity:
When printing make sure you press "Scale to fit paper". Sometimes I use US paper sizes and sometimes I use A4. This will ensure that the activity fits your size of paper.

Would your kids like to design and color in some Easter Eggs using their own creative minds?
Download and Print The Blank Easter Eggs Here
Want to do more Easter Themed Activities? Try my Printable Easter Egg Hunt featured here: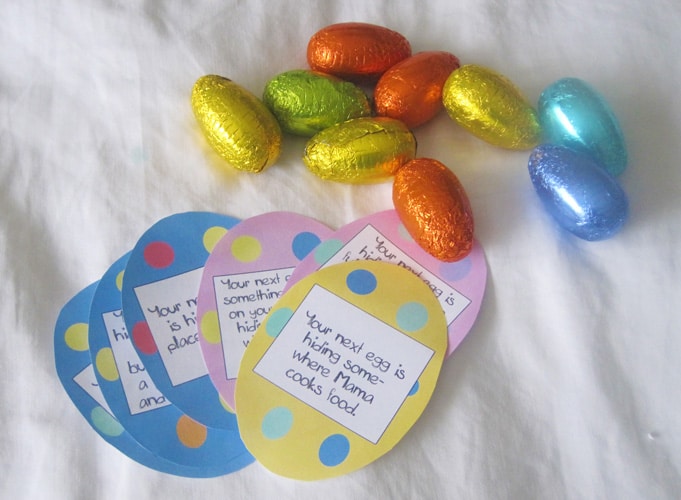 Come Join Us On An Easter Egg Hunt