Dear Busy Toddler,
I think you need to take some time off to relax and get a loving massage from your now wiser Mom. You have been really busy lately, life after all is full of colorful toys and active birds to keep you on your toes. More importantly, my dear child, it must be tiring trying to figure out how to teach your Mama some very important life lessons. I cannot believe that you, my little one year old, are so full of wisdom and knowledge!
My darling child, thank you for teaching me:
That practice makes perfect– I knew there was a reason that you kept throwing everything out of my drawers. I can now fold clothing with my eyes closed.
To appreciate the small things

– If I wasn't already amazed by your tiny fingers and toes, I can now see the beauty in that tiny insect on the floor.

To smile more

– I didn't know that being around someone who was always smiling could make people around you feel happy inside. Your smile is contagious.
That a distraction can cure a meltdown. – You and I both know that life can be stressful sometimes. Although a funny unexpected sound can stop you from crying, shopping is my cure. (Daddy, you can thank your daughter for this one and your empty wallet later.)
To love unconditionally. – You love me when you're happy and even when you're sad. You love me without pause and that makes me glad. I am secure and surrounded in our everlasting love. I thank you my dear child for showing me that love can be without a reason, it just is.
If at first you don't succeed, try again! Watching you persevere with trying to walk and crawl gave me a chance for pause. You never deterred even when you fell. You would get right back up until you reached your goal.
If you try and you fail, ask for help. – My pure little soul, sometimes we forget that others are willing to help. When you can't open that little chocolate wrapper, you bring it to me so that we can work together and then share in our triumph.
That sometimes, it's ok to be selfish– You might not want to share your sandwich and that is ok, you need to feed your body to make sure your mind and body is strong. I now understand that we have to make sure we take care of our needs too.
To not dwell on things that make you sad. A three minute cry can ease your little soul. Then you're back to smiling with no one any wiser.
That a loving hug can make things better. –When you hug me, it's as if life takes a pause. I feel jitters and butterflies in my veins and soul. Gone is a grievance that troubled my busy mind and in comes endorphins to purify my soul.
That a kind gesture can go a long way. – I know you love me, because you tell me that all the time, but when you drop everything that you are doing to unexpectedly give me a hug I feel very special and happiness fills my soul.
That actions speak louder than words– You could have used words to try and teach me these important lessons, but instead you showed me through your actions, which are now embedded in my soul.
My darling child, you make me a better person. You make me strive to be a better human being and to be more mindful in my ways. I am constantly pushing myself to be a better Mother and to set a good example for you. I will love you always and forever.
With love and warm hugs from a woman who is now wiser,
Your Mama.
Dear busy toddler thank you for teaching me these 12 important life lessons. http://bit.ly/2h4lwS4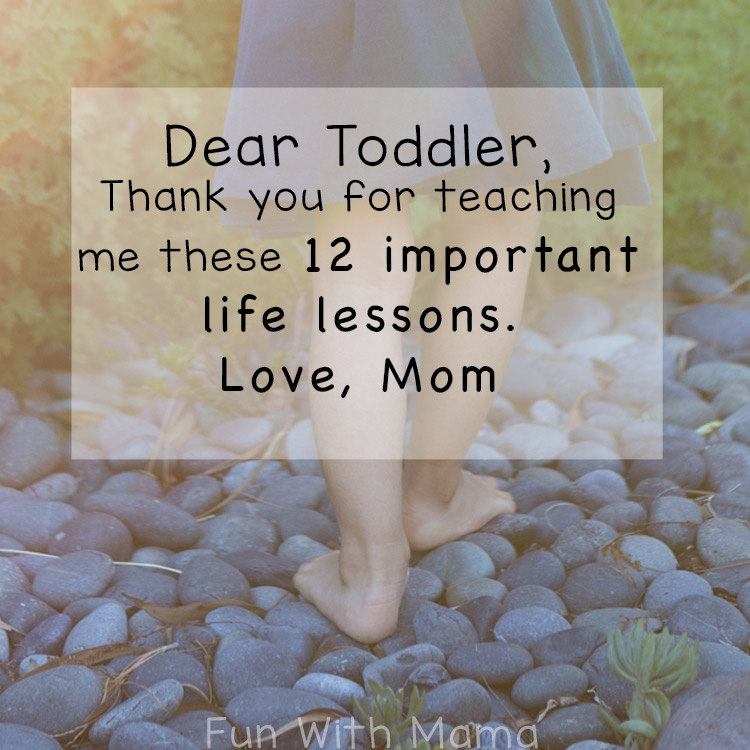 Looking for more Parenting Thoughts and Posts?