Our December Koala Crate box arrived with eager anticipation. We normally receive our boxes during the week and the kids get to do the activities on the weekend. This definitely solves the "Mom! I'm bored" chant I here every weekend. Koala crate is a monthly subscription box that is geared towards preschool, kindergarten and elementary aged kids. You can find more of my Koala Crate Reviews here.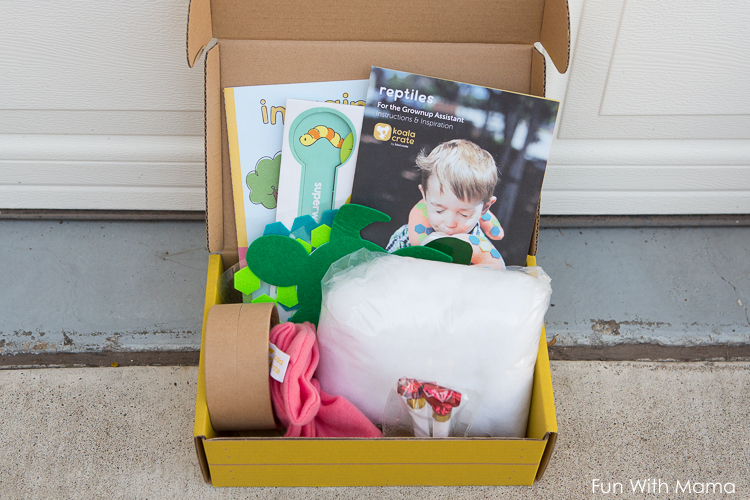 Please note that this post may contain affiliate links.
This post discusses the Reptiles Koala Crate Box.
I love that monthly subscription boxes make it easy to do fun activities with the kids without needing me to go out and buy all the materials required for each project.
Koala Crate Review – This December Koala Crate Box included three activities.

Activity #1 – Create a snake stuffed animal: This activity was most age appropriate for my 7 year old. She had to stuff the snake with the stuffing, then ad felt shapes all around it. She chose to do this as a pattern. Then she added the eyes.
Activity #2 – Create a turtle box: This simple activity was age appropriate for both my 3 year old and 7 year old.
Activity #3 – Color Changing Chameleon: My 3 year old daughter absolutely LOVED this activity. She had to place the insects upright on the table, aim and then blow them off. It was pretty cool and I loved all the giggles she had.


My thoughts on The December Koala Crate Box
We had a great time with the box. The snake activity definitely needed a lot of parent interaction with my 7 year old. My daughter had a difficult time stuffing the snake and needed me to help her. The other two activities didn't require much parent interaction but I couldn't help but join in on watching my little one blow the insect sticks down. I highly recommend this box. I have purchased a Koala Crate box as well as a Kiwi Crate Box for my three kids to share every month.
You can get the Reptiles Koala Crate Box here.
Want to get a Kiwi Crate Subscription Box?
Go to Kiwi Crates website and have a look at all the different types of boxes that they have. Choose one that is age appropriate for your child.
Kiwi Crate has four different boxes geared towards different ages and activities:
Koala Crate – is a play and learn box. It is geared towards 3-4 year olds. (My 2 year old loved it.)
Kiwi Crate – is a science, art and more box. It is geared towards 5-8 year olds. (We have done this box and ABSOLUTELY loved it! I will update this post with the review link.)
Doodle Crate– is an art and design techniques box. It is geared towards 9-16 year olds.
Tinker Crate – is an engineering and science box. It is geared towards 9-16 year olds.
KIWI CRATE COUPON CODE
If you would like to purchase a subscription to Kiwi Crate use my Kiwi Crate Promo code FUNWITHMAMA30 to receive 30% off your first crate with a subscription of 3 months or more!
WANT TO FIND MORE SUBSCRIPTION BOX REVIEWS?
Check out all of my subscription box reviews here.
Check out my review of monthly subscription boxes for kids