These Baby Penguin Alphabet Letter Matching cards allow a child to work on matching uppercase and lowercase letters using printable alphabet letter cards. By having these little baby penguins look for their Mommy (or Daddy) it makes a child even more determined to find the matching letter (and mommy). My 3 year old loves alphabet activities for kids! Plus check out 20 snow-tastic penguin activities at the bottom of the post.
Penguin Alphabet Letter Matching Cards
Materials Required:
Please note that affiliate links are used in this post.
Cardstock (If you do not have card stock you could print it on normal printer paper and laminate the cards.)

Matching uppercase and lowercase letter cards
Depending on the age of the child you will set out the alphabet cards. I have a three year old so I set out 4 alphabet card sets at a time. This keeps her from getting frustrated while also allowing her to feel accomplished when she does get it right. There are 26 alphabet letters with a total of 52 cards.
Penguin Baby and Mommy Alphabet Letter Matching http://bit.ly/2mqZVtq
Now have your child help the baby penguins (lowercase letters) find their Mommy penguin (matching uppercase letter).
Download the Penguin Alphabet Letter Matching Activity Here


Looking for more alphabet letter activities?
Have a look at 20 snow-tastic penguin activities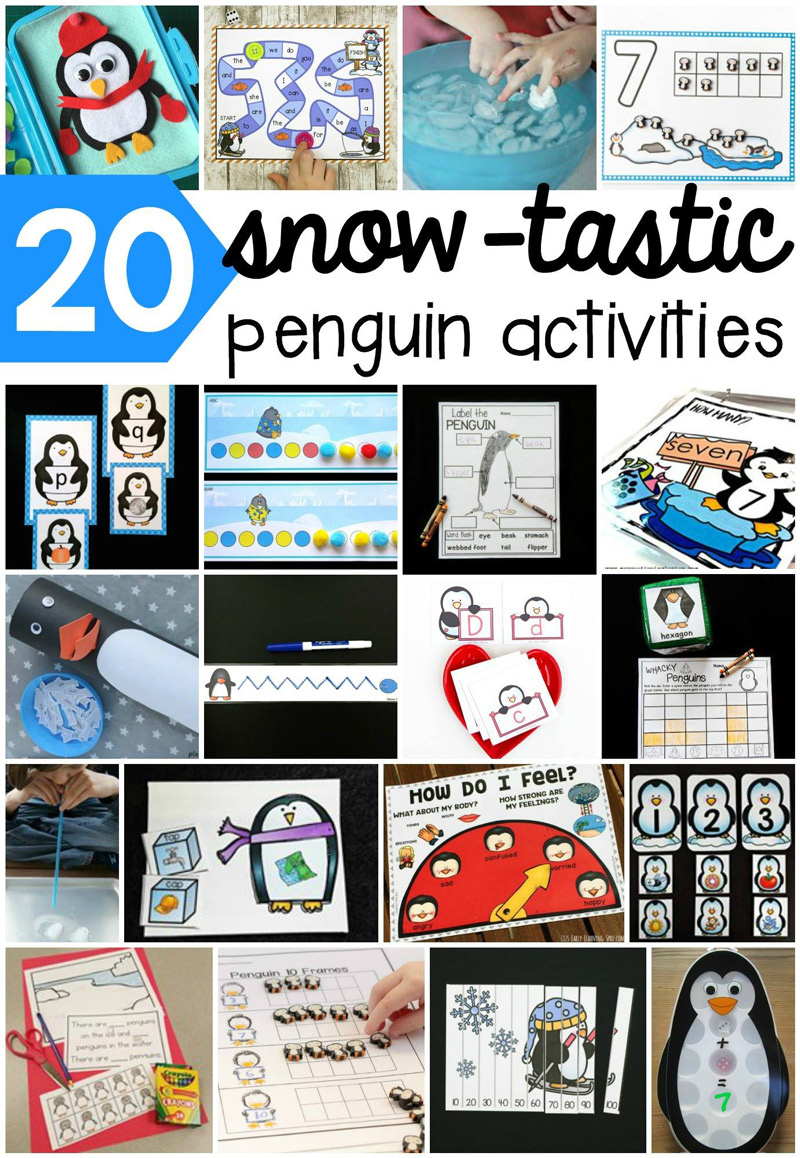 FROM LEFT TO RIGHT:
Penguin Felt Busy Box // Teach Me Mommy
Penguin Sight Word Game – Editable // Playdough to Plato
How Penguins Stay Warm // Science Kiddo
Penguin Counting Mats // Mom Inspired Life
Penguin Letter Identification Freebie // The Simplified Classroom
Penguin Patterning Mats // Fairy Poppins
Penguin Labeling Printable // Letters of Literacy
Penguin Number Words // My Creative Inclusion
Feeding the Sight Word Penguin // Play & Learn Every Day
Penguin Pre-Writing Tracing Cards // Modern Preschool
Baby Penguin Alphabet Letter Matching // Fun with Mama
Penguin Shapes Roll and Graph // The Kindergarten Connection
Penguin Ice Races // Still Playing School
Penguin Rhyming Game // Sara J Creations
How Do I Feel Emotions Chart // Liz's Early Learning Spot
Penguin Syllable Sort Printable // A Dab of Glue Will Do
Penguin Addition Problem // Recipe for Teaching
Penguin 10 Frame Worksheet // Schooling a Monkey