These alphabet activities for preschoolers and toddlers make teaching and learning the alphabet letters hands-on fun! I'm a firm believer that teaching children their alphabet letters through their five senses and especially through play is the best way for a child to learn.
Here at Fun with Mama we believe in tapping into your child's natural interest in language and the alphabet to learn through play! Below you will find hundreds of ideas to engage your toddlers or preschoolers through hands-on exploration that will teach them the foundation of their alphabet knowledge!
Please note that affiliate links may be used in this post. That means that if you make a purchase, at no extra cost to you, this site will earn a small commission.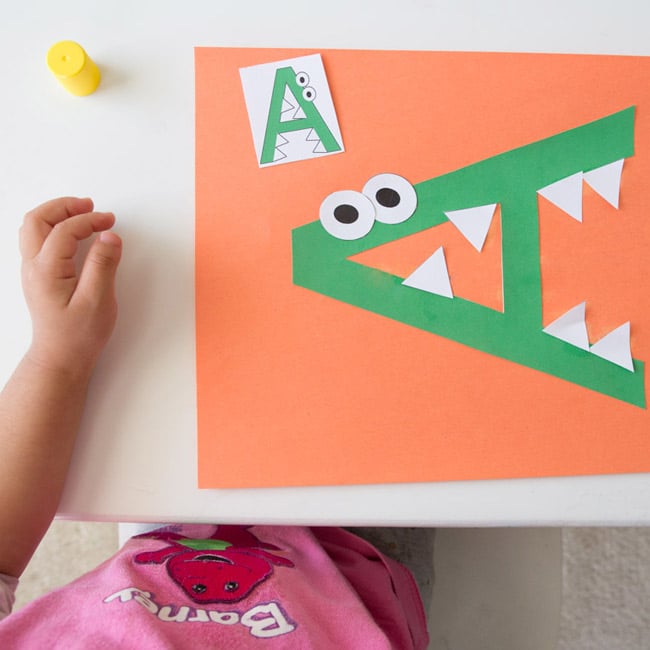 How do you teach the alphabets effectively?
Read, Read, and Read Some More! Reading to your child teaches them to get excited about books. This interest in books will be the perfect foundation for their pre-reading skills. Check out my favorite ABC Books for kids.
Notice Print in the world around you. Traffic Signs, Cereal Boxes, and everywhere else – call it to your child's attention whenever you can to help them see how print is used.
Start with the Letters in Your Child's Name. The most personalized and meaningful letters a child can learn are the ones that spell their own name.
Work through Letter by Letter Letter of the week is an easy and fantastic way to maintain structure while exploring the alphabet. If you are needing inspiration make sure to check out our Letter of the Week curriculum!
Be Flexible Every child is going to pick up different concepts at different paces. Go at your child's pace and adapt your lesson plans as needed.
Do Hands On Alphabet Activities that encourages children to use as many of their senses to learn. These senses are easy to incorporate into learning: sight, smell, and touch. Alphabet Letter Fishing and Alphabet Playdough Mats are great starting points.
Have Fun! Kids this age learn the best through play and you know your child the best. Pick activities that you know they will love and play!
You will be able to find free printable preschool activities on this page along with some printables from our shop.
Alphabet Printables in Our Shop
Alphabet Activities for preschoolers
The alphabet activities for toddlers I'd suggest you start with are finding good alphabet books, creating some fun alphabet sensory bins, and exploring alphabet clip cards. The alphabet calming jars are wonderful for babies too!
For preschoolers, I'd suggest you work on letter matching activities.
Alphabet Toy Favorites
Alphabet Letter Crafts
Some of these alphabet crafts include printables but you can easily recreate them by drawing on paper or cutting out construction paper in these shapes.
Letter of the Week Activities
The letter of the week alphabet activities encourages not only alphabet recognition, but also phonological and phonemic awareness. The preschool activity packs work on a child's fine motor skills, cutting skills, letter recognition, and more. There are alphabet coloring pages, playdough pages, alphabet art pages, puzzles, etc. Make sure to print out only the pages that interest your child each week and change up which activities you do.
Alphabet Games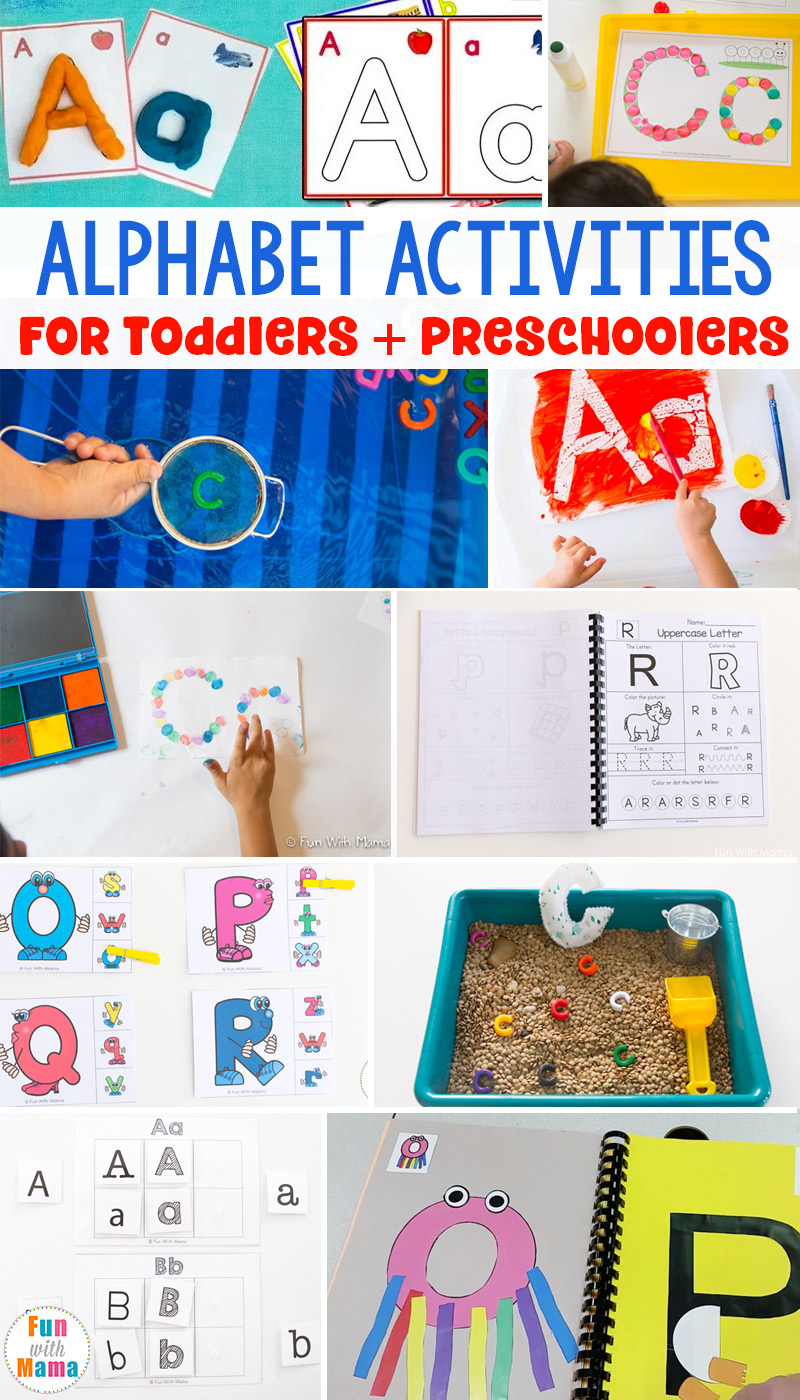 Hands On Alphabet Activities for Preschoolers
Alphabet Song
Learning the ABC song is actually a helpful way of learning the alphabet.
Check out the Alphabet Song on our YouTube imaginary play and kids toy channel. The ABC Song is paired with an imaginary play activity.
What Does a Preschooler Need to Know About the Alphabet Before Kindergarten?
Recite/Sing the Alphabet Song
Indentify Upper Case Letters
Indentify Lower Case Letters
Match Uppercase Letters to Lower Case Letters
Identify Letter Sounds
Trace Letters
Write Some Alphabet Letters
FAQ
Why is letter recognition important?
Letter recognition forms the base of learning to read. Children will learn letter sounds and/or letter names first. In Montessori, children learn letter sounds first and then learn their names. This makes it easier for them to start reading. In traditional school's children learn the letter name first and then their sounds.
By Kindergarten, under the Common Core curriculum, children need to be able to identify uppercase and lowercase letters. You can find some letter recognition suggestions and activities here.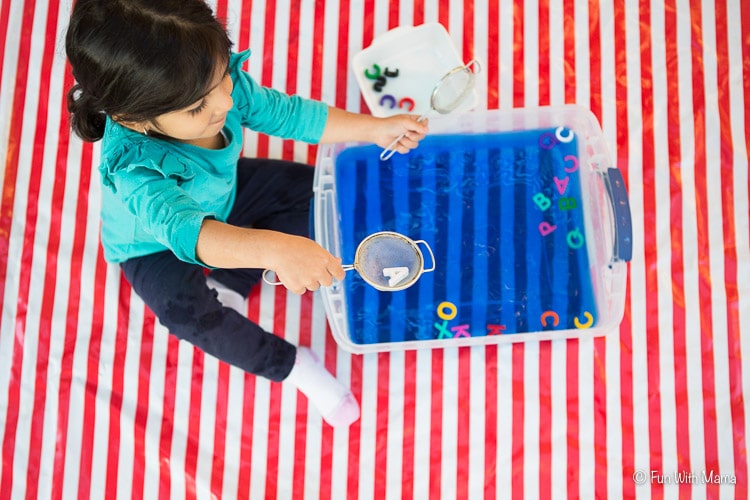 What is phonological awareness?
Phonological awareness is the ability to notice, hear, and manipulate the individual sounds, or phonemes, in spoken words. Thus it involves being able to break up words into their component sounds, both within a word and between words. This concept is sometimes described by experts as the most critical precursor to reading, with the ability to decode written words into their component sounds being a close second.
Individuals can be phonologically aware if they are able to rhyme, count syllables, blend phonemes together, or delete them from words.
Some research suggests that, to develop phonological awareness, young children should be engaged in activities which highlight the initial and final sounds of words, as well as those in the middle, such as: nursery rhymes; songs; chanting; and reading books about rhyming words or nonsense words.
What is phonemic awareness?
Phonemic awareness is the ability to detect, pronounce, and even manipulate individual sounds within words. Phonemic awareness can be seen as a subset of phonological awareness, with its focus being on smaller components of language rather than an entire word. It involves recognizing that words are made up of syllables and other small units of sound, and that sounds can be changed, removed, or added without altering the meaning of a word. You can learn more here.
Learn more here about phone about phonemic awareness.
This page was originally published on June 14, 2017 and updated on January 7th, 2022.