Try this fun science experiment and make a lemon volcano with your kids today! A straightforward but fascinating scientific experiment mixes the thrill of volcanoes with the sour taste of lemons. This activity is one of our favorite science experiments!
Engage kids in learning about volcanoes and simple chemical reactions in a playful way. The supplies needed for this experiment are affordable and you probably already have them in your kitchen!
A few lemons, baking soda, dish soap, and optional food coloring are all you need to make a spectacular explosion.
Activities involving the lemon volcano not only give kids a fun experience but also give you a great chance to educate them about chemical reactions, acids and bases, and other natural wonders of the planet.
Kids' Lemon Volcano Experiment
The easy science experiment lemon volcano, which mixes the excitement of volcanoes with the tanginess of lemons, is now available. Children will like this hands-on exercise very much while learning about chemical reactions and the beauties of nature.
Children may make a captivating eruption with just a few cheap and basic supplies like lemons, baking soda, dish soap, and food coloring (optional). They see a frothy eruption that resembles a volcano by watching how baking soda and lemon juice react.
Lemon volcanoes are useful educational tools in addition to being entertaining. They provide a useful technique to explain ideas like acids and bases while arousing interest and promoting scientific inquiry.
So gather your young scientists and go off on this exciting adventure to learn more about this amazing smelling variation on the classic baking soda and vinegar experiment.
Our Favorite Science Experiment Kits
Tried, tested, and loved by us here at Fun With Mama.
Video of the erupting lemon volcano
Baking Soda and Lemon Science
The lemon and baking soda volcano experiment, one of the many fascinating experiments, stands out because it blends the exhilaration of volcanic eruptions with the tart flavor of lemons.
Children may learn about chemical reactions in an engaging and exciting way by delving further into the science behind these eruptions. Lemon volcanoes provide a starting point for comprehending the basic tenets of chemistry and the production of carbon dioxide (CO2).
Children may build a captivating eruption that mimics the powers of nature by using common items like lemons, baking soda, dish soap, and optionally food coloring.
In terms of the science, the transformation is brought about by a chemical reaction between the lemon juice and baking soda (sodium bicarbonate).
An effervescent eruption is produced as a result of the reaction between these two chemicals, which produces carbon dioxide gas (CO2).
Lemon Volcano Supplies
Lemons (you can also use limes or oranges, grapefruit, or any type of citrus fruit)
Baking soda
Food coloring (you can use a variety of colors)
Knife
Spoon
Tray or large plate (to catch any spills)
Paper towels (for cleaning up)
Safety goggles
How To Make A Lemon Volcano
Start by cutting off the top of the lemon and the bottom of the lemon. This should be done by an adult or under responsible adult supervision.
Removing the top and bottom of the lemon will keep the lemon steady as the kids do the experiment.
Cut the upright lemons in half through the center of the lemon. You can do this by using a knife and carefully slicing through the middle.
Squeeze each half of a lemon slightly to loosen the juice. Be careful not to squeeze too hard, as you don't want to remove all the juice from the lemon.
You can also poke holes into various sections of the lemon to release more carbonic acid.
Add some color to your lemon volcano, you can add a few drops of food coloring to each half of the lemon. Use multiple colors to create a rainbow of volcanoes.
Place the lemon halves on a tray or plate to catch any spills or overflow.
Take your spoon and scoop baking soda on top of one of the lemon halves. Start with a small amount and add a generous amount of baking soda into the lemon as needed.
Create a mound of baking soda on top of the flesh of the lemon.
Now, it's time to watch your lemon volcano erupt which is the best part of this science experiment!
Put on safety goggles.
Slowly pour some lemon juice onto the baking soda mound. Use your best judgement for how much juice to use.
As the lemon juice reacts with the baking soda, it will create a fizzy and bubbly acid base as the reaction starts the first round of erupting the citrus volcano, to form carbon dioxide bubbles, which resembles the eruption of a volcano.
The Science Behind Lemon Volcanoes
Lemon volcanoes teach kids about chemical reactions with science fun and make a delightful aromatic science activity.
Kids see a change take place and learn how lemons and baking soda can interact to make new compounds by watching the reaction between the citric acid in lemon juice and the baking soda.
Their knowledge of fundamental scientific concepts is improved by this practical experience. Children can examine the characteristics of acids and bases through the experiment, in addition.
They discover that the combination of baking soda and lemon juice can produce a neutralization reaction since baking soda is a base and lemon juice is an acid.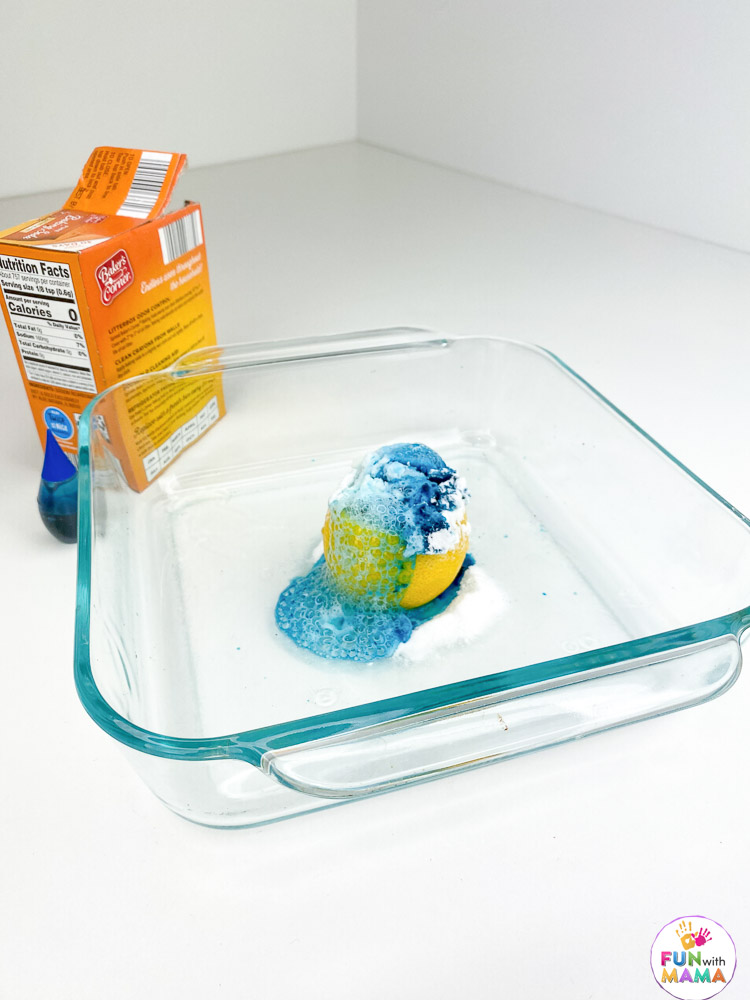 The analysis of the cause-and-effect relationship between the elements and children's predictions are an important part of this experiment.
Children an alter the amounts, alter the variables in the lemon volcano experiment, or experiment with other materials to see how the eruption changes, developing their analytical understanding. Adding dish soap is one easy variable to test to make big reactions.
This experiment also fosters a sense of wonder and interest about the natural world.
When children learn about volcanoes and how they erupt, their interest in geology and the laws of nature grows. It promotes research and education beyond the experiment itself.
Try the activity with multiple lemons at a time.
Check out more science experiments for kids.