The Very Hungry Caterpillar printables activity pack is a great extention to the much-loved storybook The Very Hungry Caterpillar, written by Eric Carle. From a very young age kids love this book, and there are lots of learning activities that can be incorporated to extend the story. The Very Hungry Caterpillar activities pack allows children to explore storytelling, sequencing, and math and literacy skills while also working on their fine motor skills too.
This activity pack is suitable for toddlers, preschoolers, and kindergarteners.
From sequencing, literacy activities, and even a mini book printable 2-year-olds all the way up to 7-year-olds can explore the story through a variety of exercises and printables. It also includes crafts for the very hungry caterpillar, including a caterpillar craft and a butterfly craft.
All 3 of my kids have always loved The Very Hungry Caterpillar Book and that's probably why it is on my list of the best board books for kids. After we went through the real-life caterpillar to butterfly life cycle activity, the book was loved even more. I wanted to find more ways to explore the concept. For my older kids, we worked through the Caterpillar Butterfly Life cycle pack but, I wanted to explore this much-loved story even more with my younger daughter!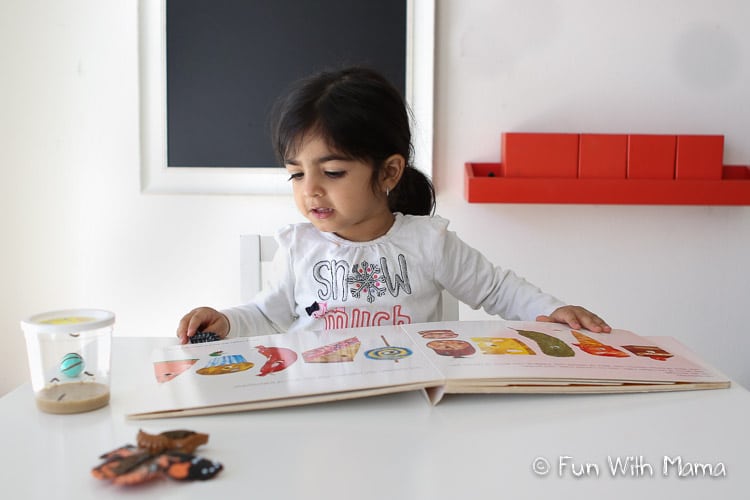 THE VERY HUNGRY CATERPILLAR Activities
This caterpillar was indeed very hungry, but was everything he ate good for him? Ending up with a stomach ache, maybe they weren't, or maybe he just ate too much. In the very hungry caterpillar printables pack, kids will learn about the names of different foods that the caterpillar ate as well as about the life cycle of a butterfly.
Children will work on counting and matching numbers in a fun way like in the apple picture below.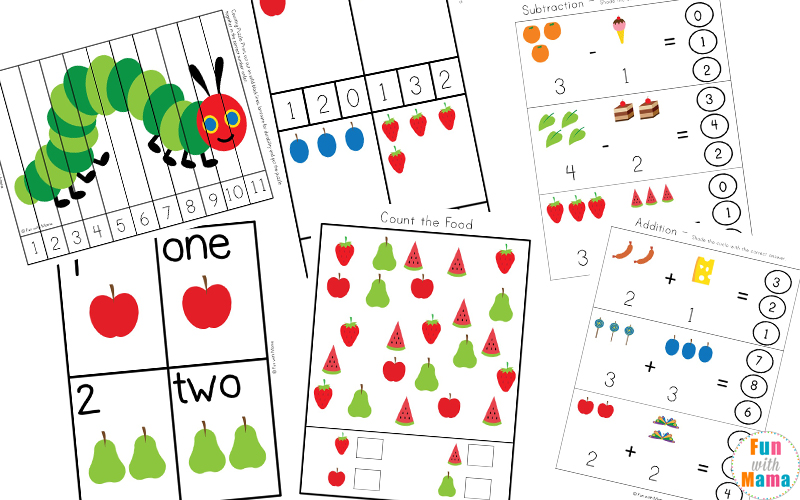 Materials Required:
Please note that affiliate links are used in this post.
Tools We Use
Tried, tested, and loved by us here at Fun With Mama.
I would suggest that you get a copy of The Very Hungry Caterpillar for your home library. You can also use a laminator to make the activity reusable.
Here are some items that pair well with these activities.
Suggested Storytelling Supplies
Here is a closer look at some of the activities inside the pack
The Very Hungry Caterpillar Activities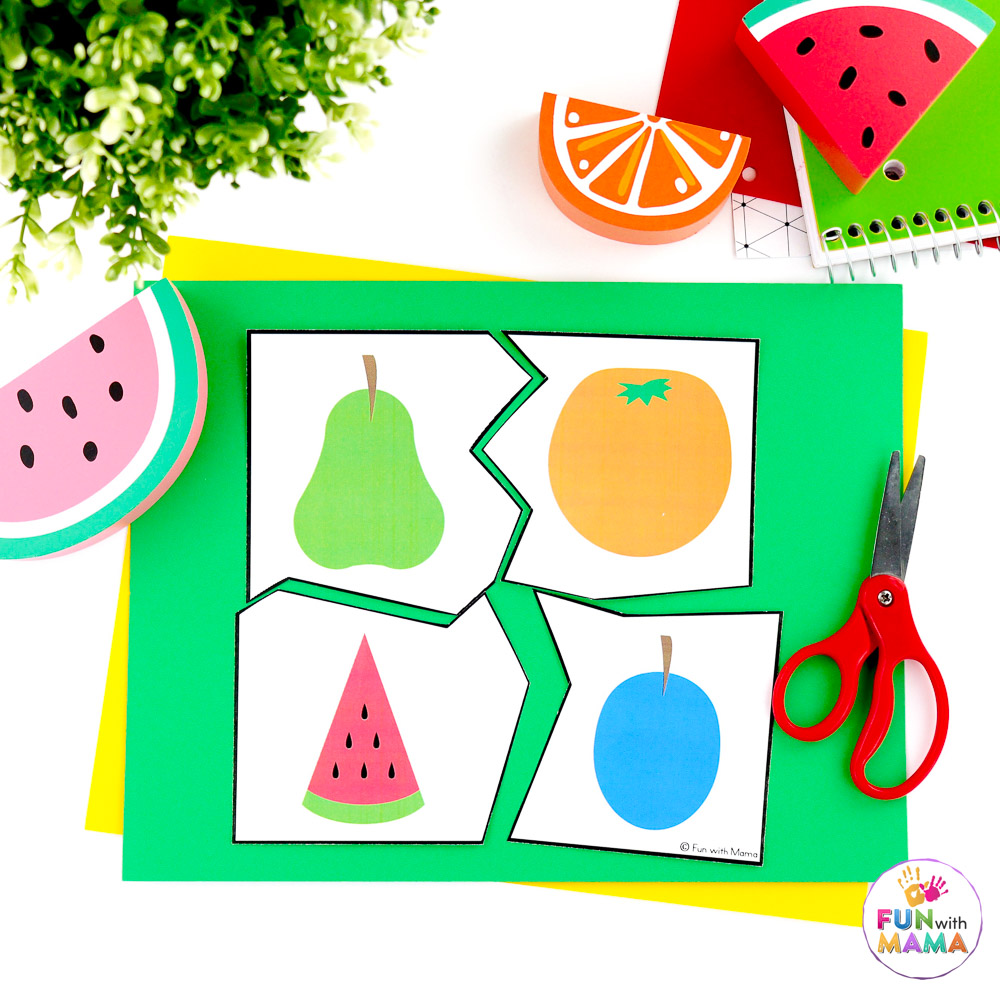 Puzzles
There are 2 piece puzzles as well as four-piece puzzles. Students can identify which fruit is on the puzzle piece and then put them together.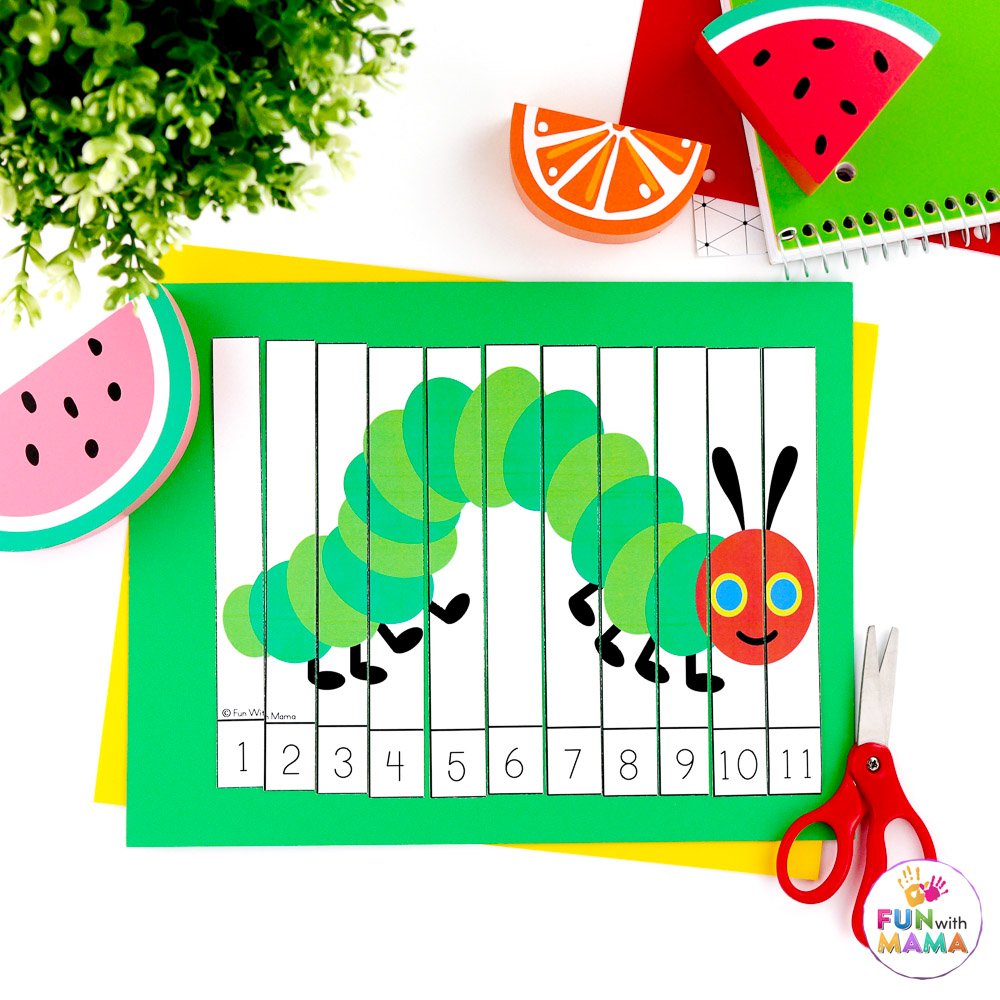 Number Puzzles
Work on number recognition + counting skills by having students put together the number puzzle. They can glue the puzzle onto a piece of paper and if using the black and white copy, they can color it in to create their own unique puzzle.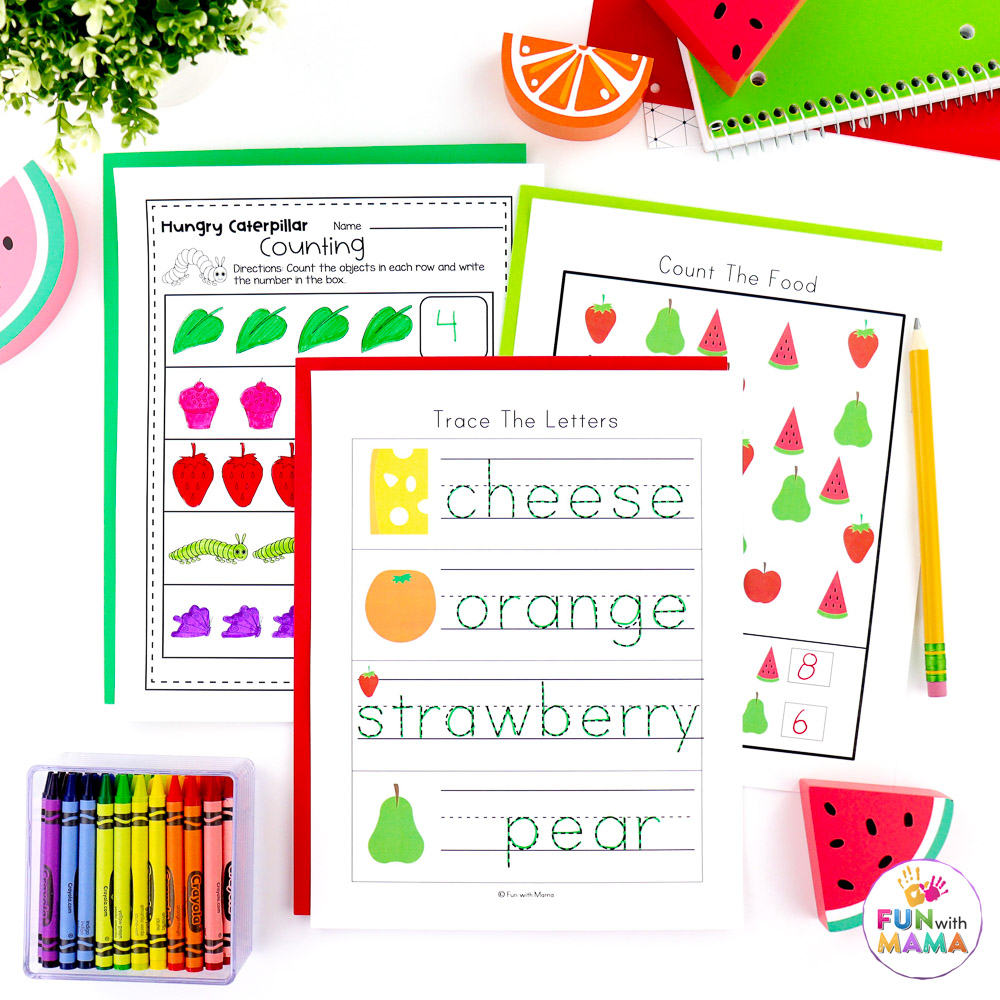 Worksheets
The pack includes multiple activity sheets and worksheets that come in black and white. Students can color in the pictures and complete the worksheets.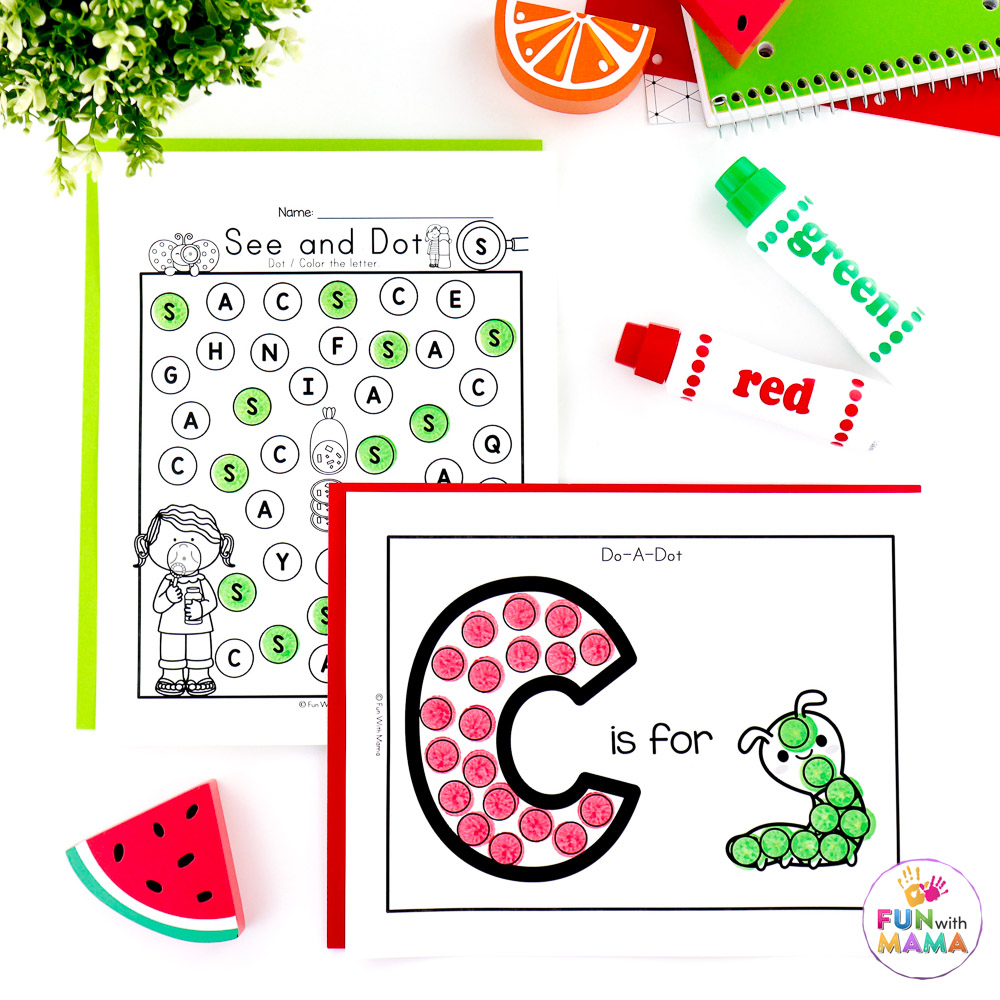 Do A Dot Worksheets
Dot marker activities are always popular with the kids, and this activity includes 6 dot marker activity pages.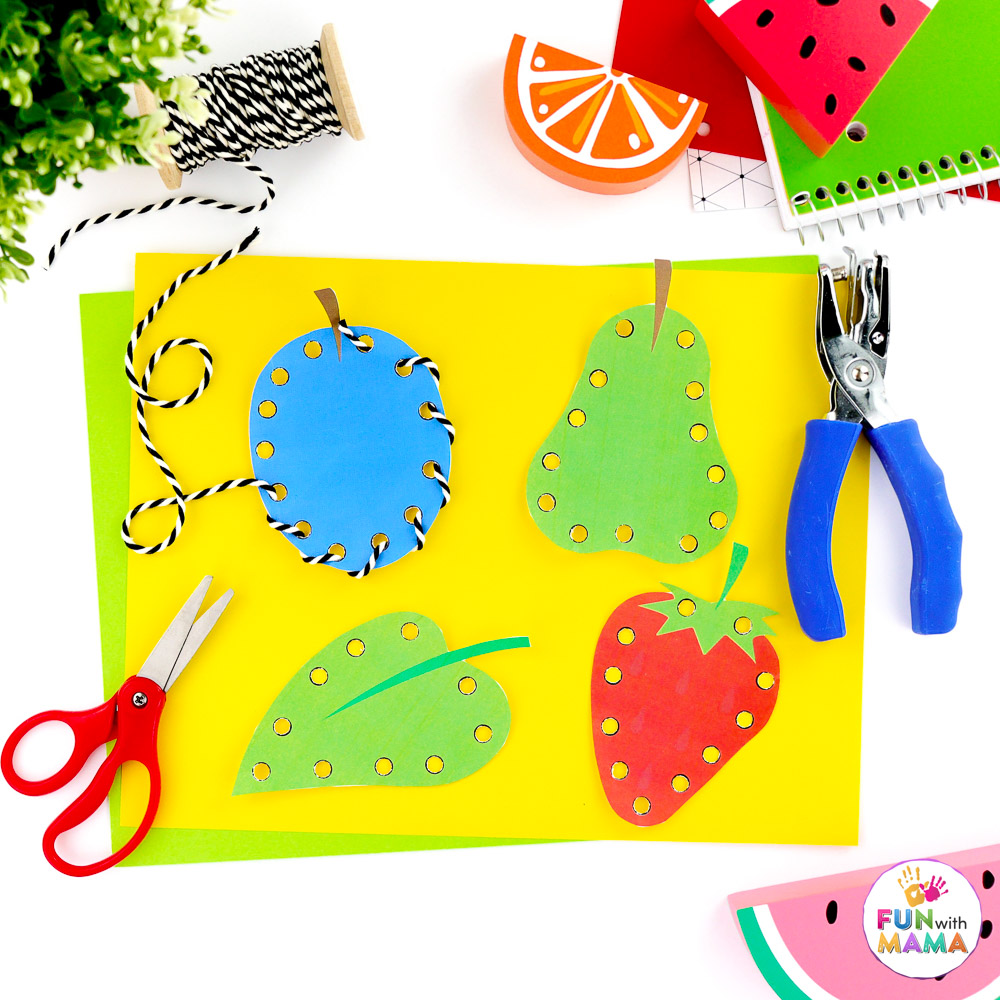 Hole Punch Activity
Students can help the caterpillar eat the fruit by using a hole punch to punch out the circles. This activity is great for fine motor skills. They can also use the pieces for threading. Eat through the leaf, plum, pear, and strawberry.
Play Dough Mats
Working with play dough is so helpful to strengthen students' fine motor skills. Students can create the letter C for caterpillar with play dough and roll out play dough balls to create the C.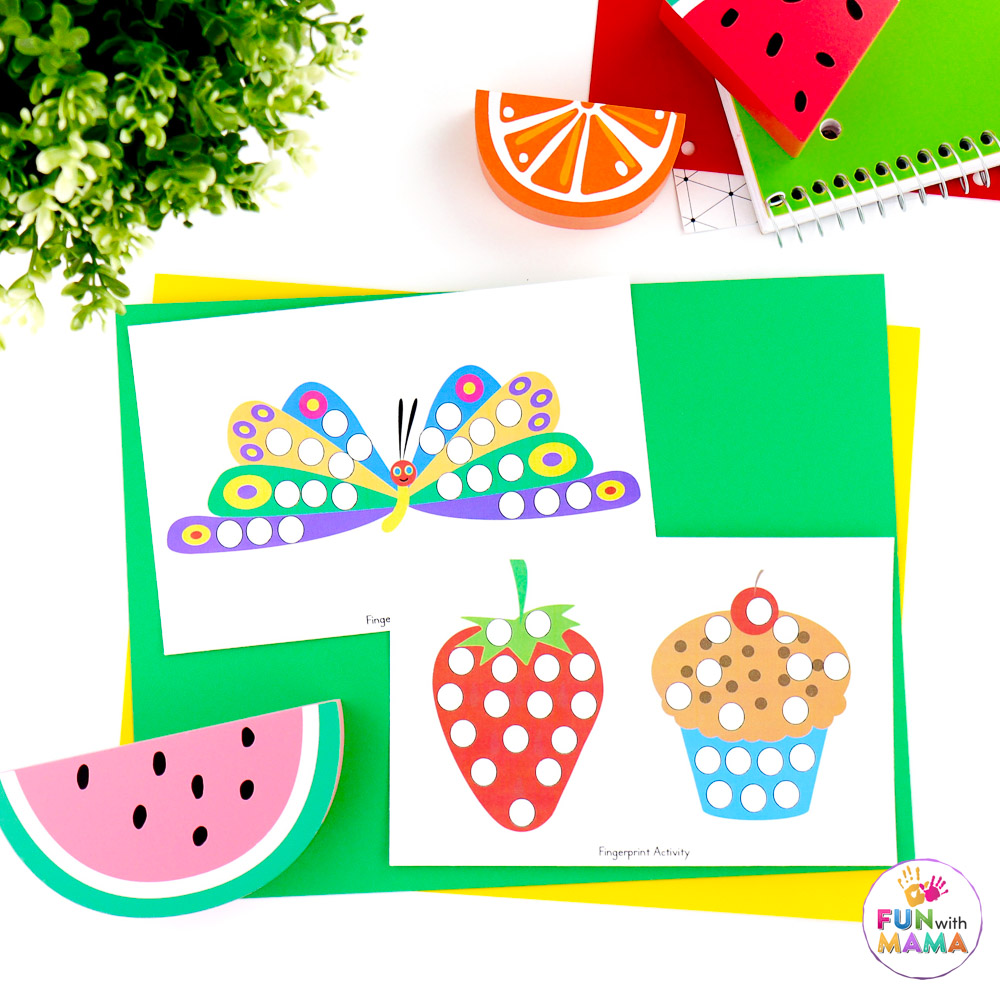 Fingerprint activity
Students can use stamps or paint on their fingers to stamp the colors that match the picture.
Very Hungry Caterpillar Crafts
Add in your own googly eyes for a more fun caterpillar.
The Very Hungry Caterpillar Worksheets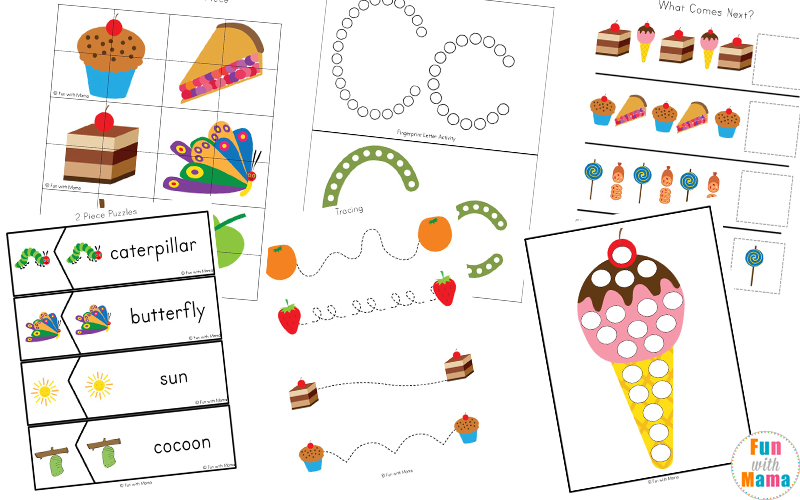 Included in this printable pack you will find a printable storybook which can be printed out and stapled together. They can also use this in conjunction with the story sequencing strips and pages.
Also included is a fun word mat to help kids with their vocabulary and spelling. Other literacy activities include see and stamp pages, creative writing pages, matching the word to the picture and tracing the uppercase and lowercase letters of the alphabet.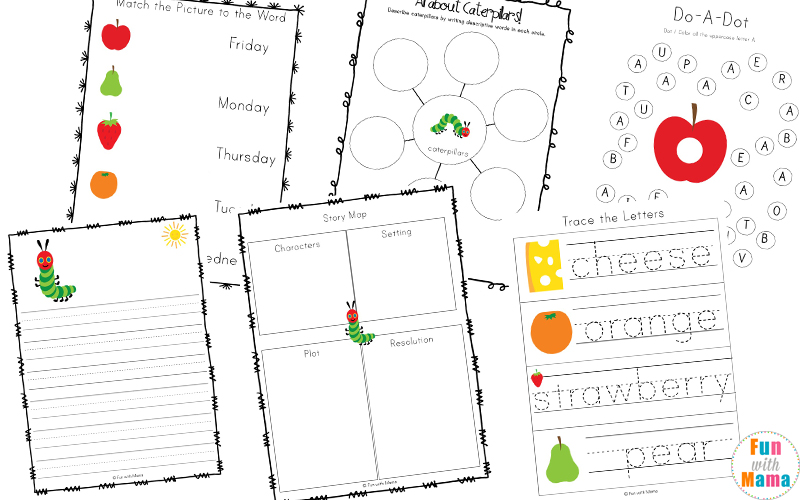 There are many math activities in this printable pack that will help children learn and practice counting from 1 to 10. They are able to do this with the number matching cards, clip cards and I Spy fun.
This massive printable pack also comes in two versions: One is in color and the other is in black and white for those who have limited ink for their printers.
You may also like this butterfly life cycle printable pack.
Looking for free printables? Download the free caterpillar craft here: Letter C Caterpillar Craft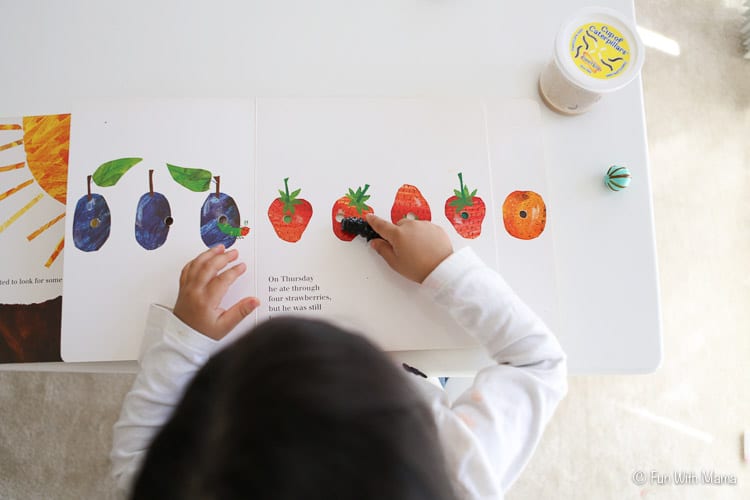 Children will love re-enacting this much loved story with The Very Hungry Caterpillar literacy activities for kindergarten.

In the above picture we used the book with the butterfly garden to watch the real life cycle.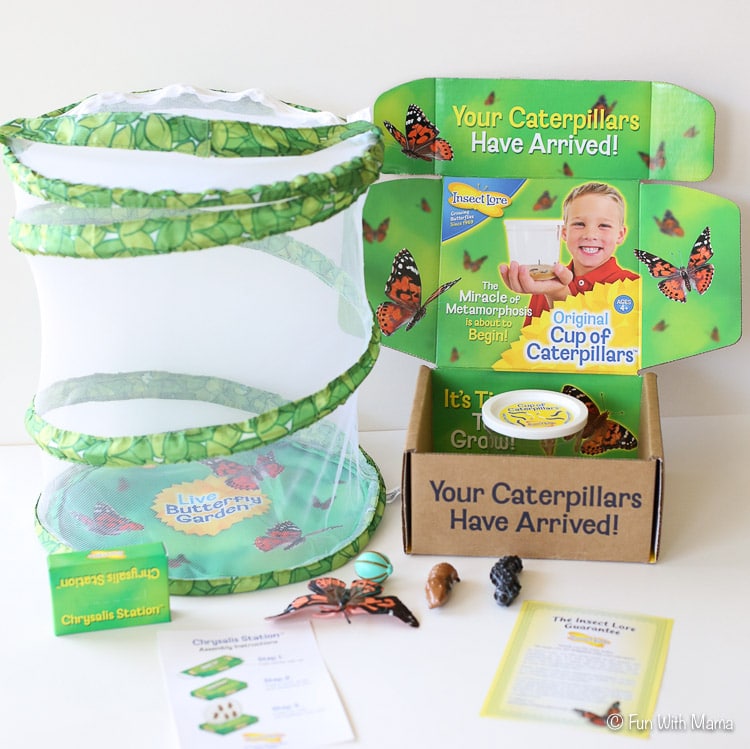 It was so amazing to see our caterpillars grow!
Another simple craft was to draw a butterfly shape on a piece of paper. Have your child paint on one side and then fold it… Look what happens..
You can find more of the butterfly themed crafts we did here:
More Caterpillar and butterfly activities we did this week: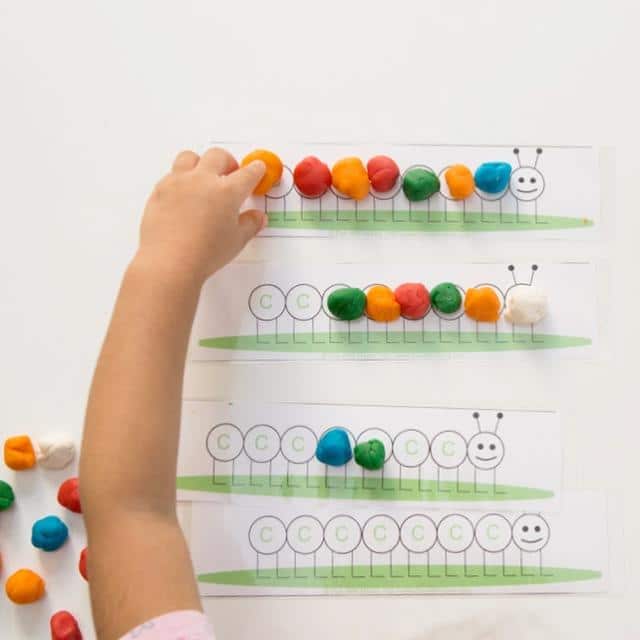 These letter c caterpillar play dough mats are SO much of fun plus it works on those fine motor skills!
You can click the image to go to the below activities.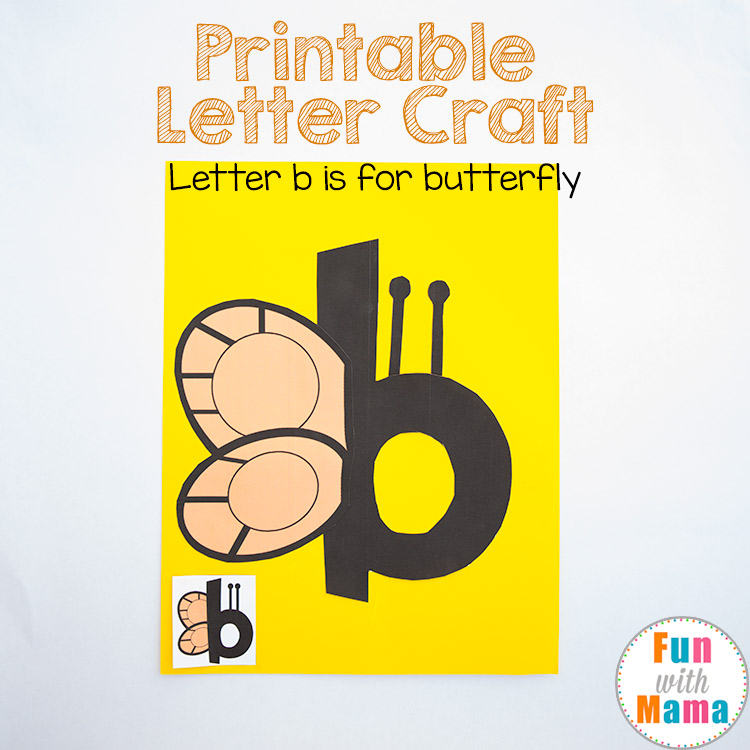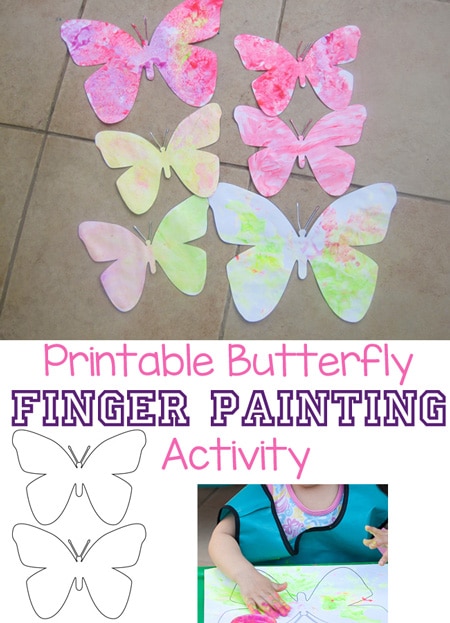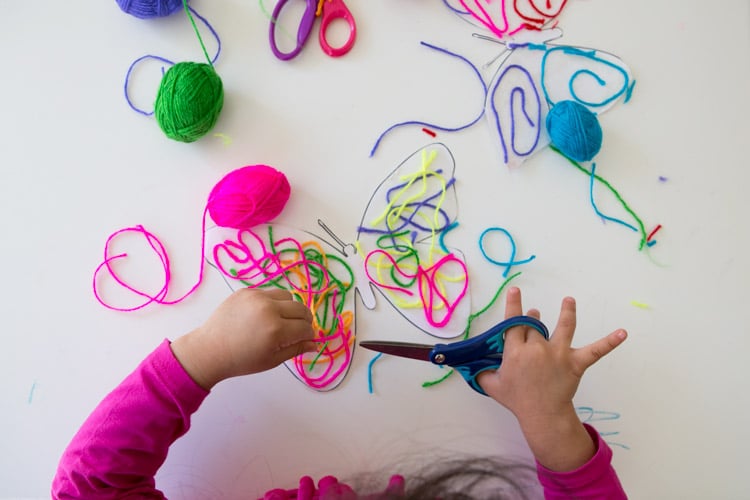 WHERE TO GET THIS ACTIVITY
GET THE HUNGRY CATERPILLAR ACTIVITIES PACK
Learn more about the caterpillar to butterfly life cycle through math and literacy activities as well as through storytelling activities. Students will learn vocabulary words, work their fine motor skills, and more!
More Butterfly activities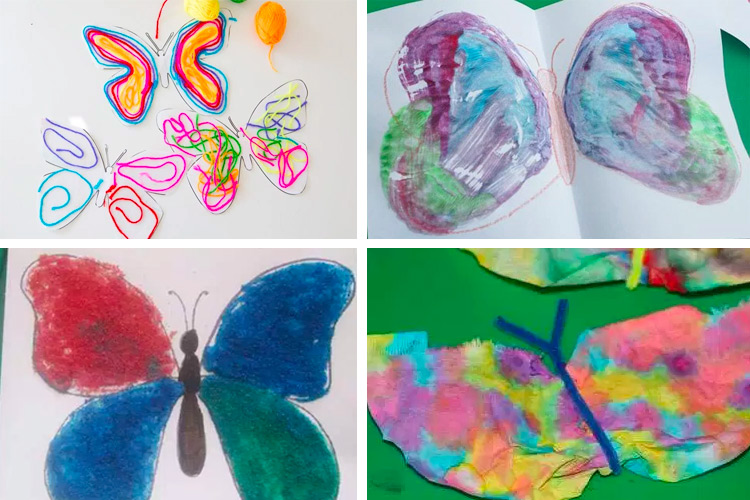 You can find all of our butterfly crafts here.