A fun way to learn about the bat life cycle is with this Bat Facts for kids science unit pack. Learn about the bat habitat, more about the bat species and more information about bats It is also a fun activity pack that would be great to use as part of an October or Halloween unit.
Bat Facts For Kids
Children will love learning about the life cycle of bats with this amazing bat life cycle learning pack that contains real photos! Sure, I know how much you guys love our science centers within each pack but this is a way to take each preschool/kindergarten activity pack and make it even MORE interesting while teaching children REAL bat facts for kids. You can use the fact cards with upper elementary age students too.
Did you know that bats are considered an adult when they are one year old? They also have the best hearing of all land mammals.
Are bats mammals? Yes! You can also learn about the popular vampire bats too!
Materials Required:
Please note that affiliate links are used in this post.
Here are some items that pair well with these activities. You will use each of these items over and over during all my printable preschool activity packs.
This Bat Fact for kids + Life Cycle Learning Pack contains 40+ pages of fun and learning activities for children in preschool and kindergarten.
The following activities included in this 40+ page printable pack are available. They are: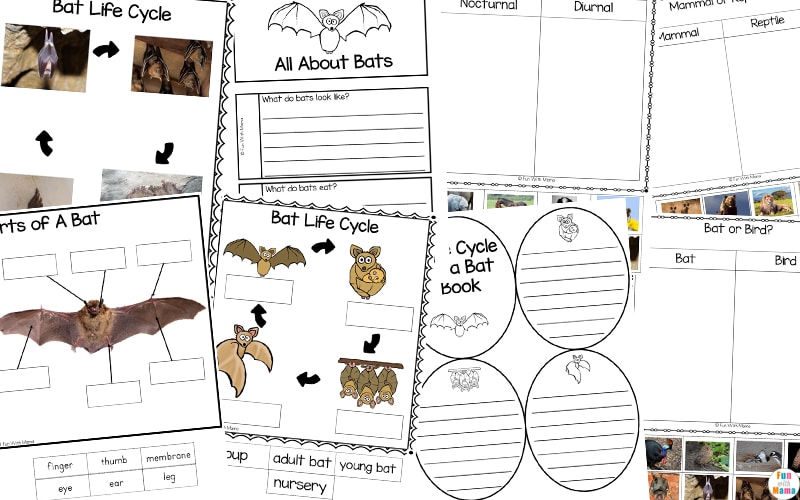 Cards containing real life photos of the bat life cycle
Posters of the characteristics bats as well as their life cycle which may include the following topics: baby, young, adult, appearance, prey, predators, nursery, nocturnal, echolocation, and mammals.
Bat can, have, are.
Bat – what I know, what I think about, what I learned.
Parts of a Bat –a poster and a cut and paste activity
Bat Life Cycle –a poster and a variety of different cut and paste activities
Bat –Venn diagram
Bat –What they each can have and what both can have.
All About Bats – Bat Facts For Kids –A book for children to complete about what they have learned about bats.
Bat Life Cycle –A book for children to complete about what they have learned about the life cycle of a bat.
WHERE TO GET THE ACTIVITY
GET THE BATS ANIMAL STUDY ACTIVITY PACK HERE
These Bat Animal Study Activities include nonfiction information cards, life cycle printables, real photos, mini book templates and a wide range of printable worksheets. Perfect for a Halloween themed unit or for use during literacy or math centers, this bat animal study packet is ready to use with no prep required.
This activity is also included in the Halloween Bundle.
See more Halloween activities units: