If you're looking for some fun Halloween activities, crafts, and printables, you've come to the right place. You'll find some of the best Halloween activities for kids of all ages here! With Halloween coming up very soon, it's time to hop on board and embrace all things Halloween.
Halloween time is always a lot of fun. And while most places tend to focus on all things spooky and scary, why not take a different approach and introduce your children to some really fun Halloween activities instead?
These fun and creative Halloween printables and crafts are a great way to get your child excited about Halloween and learning at the same time!
Halloween Activities for Kids of All Ages
Make certain that you keep this page bookmarked and ready later use as well. These activities, printables, and crafts can be done over and over again.
And with several weeks until Halloween, you have time to get through all of them and possibly even more!
Halloween Family Traditions
Check out this Halloween Activities For Families + Kids post as well. It's another huge list of even more Halloween fun and annual Halloween traditions.
Printable Monster Match Halloween Bingo
This Monster Match Halloween Bingo is so much fun to play! It's great for all ages and is super simple and easy, too. Grab a few prizes and get ready to shout "bingo!"
Halloween Printable Pack
You can never have too many Halloween printables. There are matching pictures and even letter writing in this pack, all with a Halloween theme.
Halloween Activities Bundle
The Halloween activities bundle includes the following:
Color + Black and white copy of the Halloween activities pack.
Color copy of pumpkin shape mats
Black and white copy of Pumpkin life cycle pack.
Halloween Puzzles
Halloween color by number
Bat Life Cycle Activities in black and white
For a limited time: Halloween Bingo Color +BW
Halloween Bookmarks
We love to read in our house so these Halloween bookmarks are a must! They're so cute and festive and every time it's used, your child will be pumped up about Halloween.
DIY Halloween Charms
These are just the cutest! Kids love to trade charms so making and trading their own Halloween charms just might be the newest obsession and tradition.
Halloween Bingo
You can get the Halloween Bingo game to work on vocabulary or just have fun! The Halloween Bingo game is the perfect addition in your classroom for Halloween activities for kids of all ages.
Trick or Treat, Smell my Feet Halloween Craft
Do you have a little one in your house? Let them get in on the Halloween as well. This Trick or Treat, Smell my Feet Craft is adorable and a fun way for them to create some non-spooky fun, too.
DIY Halloween Slime
Making your own homemade slime is always fun, but when you add in the aspect of Halloween, it takes on a whole new meaning.
Halloween Toilet Paper Roll Craft
Don't throw away those empty toilet roll holders. Instead, keep them for this fun Halloween Toilet Paper Roll Craft. Your child can make a wide variety of Halloween characters with them.
Spooky Orange Faces
Even though the word spooky is in the name, there isn't anything spooky about these adorable Orange Faces. It's just a fun way to make a simple Halloween snack.
Halloween Word Search
Word searches are the best. And in this word search there are a ton of great Halloween words to find. Just print out and let your child see how well they can do.
Frightfully Easy No-Carve Pumpkin Monsters
One of the most fun things to do during Halloween time is to decorate pumpkins. This year, why not try a no-carve approach instead? It's a simple way to let everyone have their own fun without the worry and use of knives.
Pumpkin Bowling Halloween Game
Being outside during Halloween is always a good idea. And this Pumpkin Bowling Halloween Game is so much fun to play together as a family.
How to carve a pumpkin
Learn how to carve a pumpkin in this simple step by step tutorial. Kids of all ages would love to work on their pumpkins.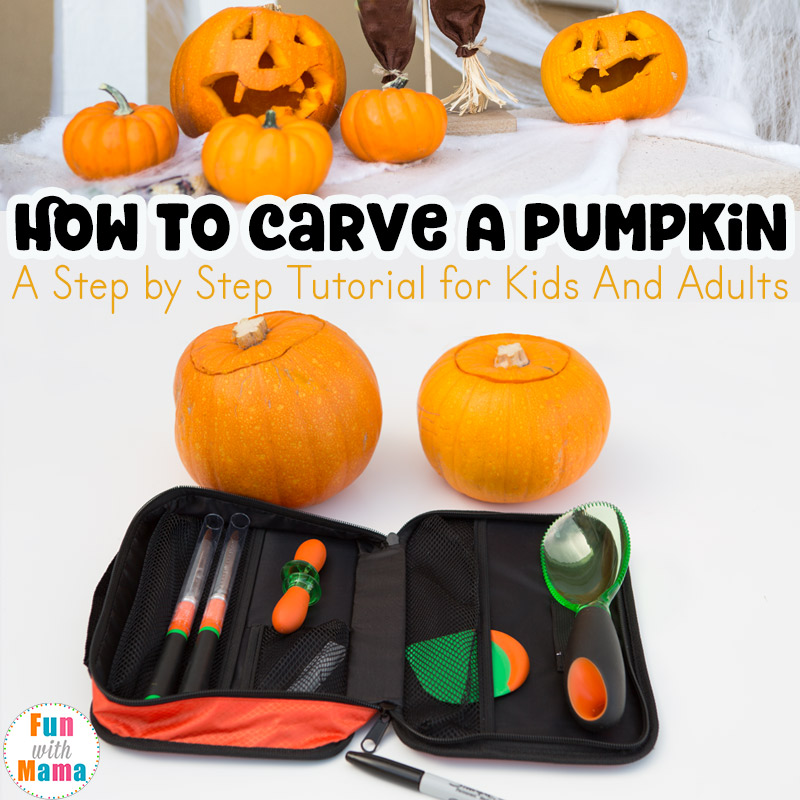 Halloween books for kids
Check out our favorite Halloween books for kids including board books and picture books.
Halloween Sensory Bin
Create a simple Halloween sensory bin for children to play with. Halloween themed sensory bins are definitely one of our favorite Halloween activities for kids of all ages.
Halloween Easy Reader Books
Helping your child create their own books is a great idea. Not only does it give them something to read but it also shows them that they can do anything they want if they put their mind to it. These Halloween Easy Reader Books are perfect.
Witch Paper Craft
Witches are super popular for Halloween and it's no surprise why. Even though they might ride around on brooms and wear big hats, they're still super cute, too. This Witch Paper Craft proves just that.
As you can tell, Halloween time opens up the opportunity to create some really fun ideas. Let your child be creative and use their imagination and see what they can come up with. When it comes to creating, there really are no wrong ways to do so!
One other simple way to introduce even more Halloween fun into your home is to have your child write down some ideas about what they want to do as well. That way, you can dive in and tackle all the fun Halloween activities together and create them all!
Do you have a favorite Halloween activity from the list of ideas above?