This sweet Mermaid activities (and Mermen) Printable Pack is aimed at preschool and kindergarten aged kids. They will love learning alongside the cute mermaids, mermen, seahorse and other sea creatures, while working on their math and literacy skills.
MERMAID Activities
Oh which little girl does not love mermaids? I remember as a child being so in love with life under the sea and mermaids because of my all time favorite movie The Little Mermaid.
Hence why I lived through my children and turned them into mermaids at the Disney Cruise Bibbidi Bobbidi Boutique.
How fitting then would it be to incorporate some learning opportunities with mermaid activities?
This Mermaid Activities Printable Pack contains a variety of math and literacy activities for every day learning, like number and letter recognition, colors, counting, patterns, prewriting and scissors skills and much more.
Materials Required:
Please note that affiliate links are used in this post.
Here are some items that pair well with these activities. You will use each of these items over and over during all my printable preschool activity packs.
This Mermaid activities pack contains over 80 pages and includes many activities.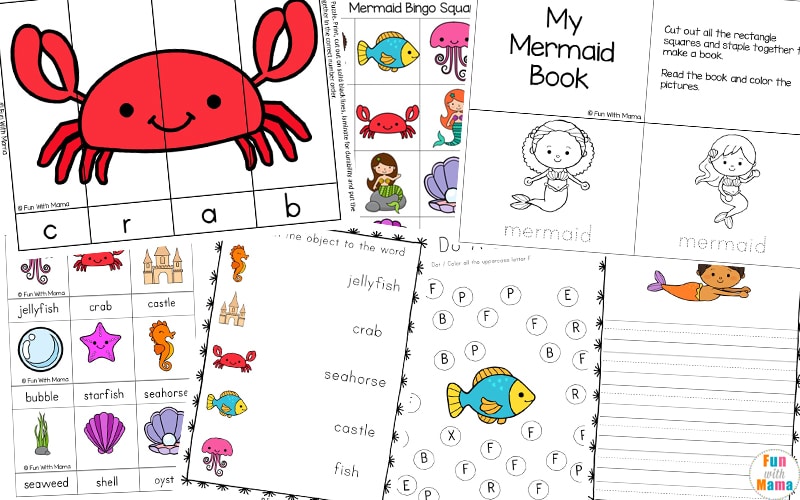 Some of the activities included in this massive Mermaid activities pack are:
Puzzles
Line Tracing Page
Count and Clip Cards
Cutting Practice page
See and Stamp Fingerprint activity
Montessori 3 Part Cards
Size Sequencing Cards
Number Puzzles
Word Building Puzzle
Number Cards
I Spy Fun
pages
Trace the letters
Story / Creative Writing Pages
Color by Number / Letter Pages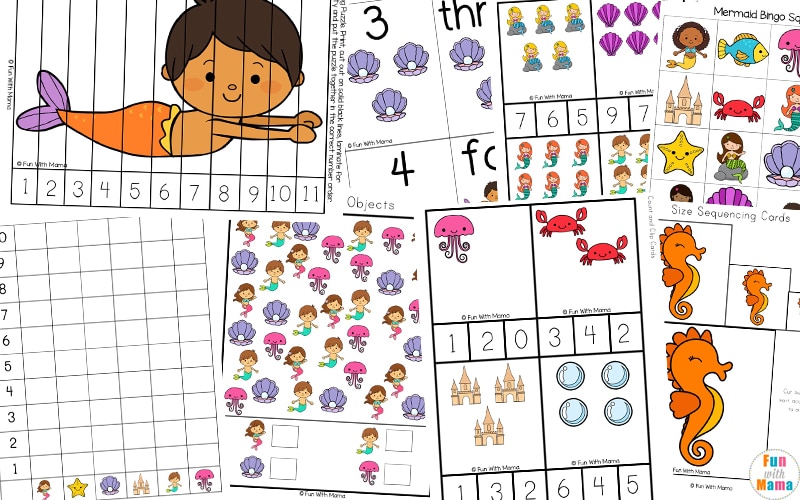 Also included are some fun Mermaid and Mermen puppets which are easy to create, just print out, laminate and paste a paddle pop stick to the back. Kids will love to create their own scenes or stories with these fun puppets.
As always, there are a variety of math and literacy activities that help children with counting, skip counting, graphing, size sequencing and more.
WHERE TO GET THE ACTIVITY PACK
GET THE MERMAID ACTIVITY PACK HERE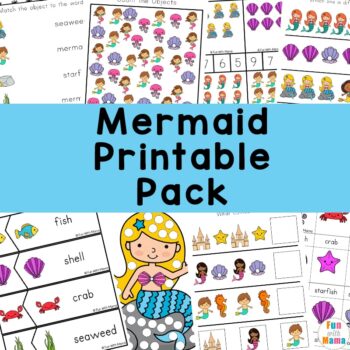 These mermaid activities come in color and black and white and incorporate math and literacy activities. The activity pack is low to no-prep and requires simple materials you will already have around your home/classroom.