Enjoy the fun story "Snowmen at Night" with your preschooler. Then try some snowmen learning and play activities. We have some easy color sorting mats for Winter Fun featuring the cutest snowmen ever. Click over to get your FREE printable.
Combining reading and learning is one of our favorite winter fun activities! If we can find a book to use and learn from in our house, we are all about doing so!
Winter has arrived in our part of the world and we are already seeing the first snowmen. Have you noticed how much kids love snowmen? There must be something magical about creating your own person out of snow. This month's post is full of snowmen and the best part? You don't need snow to do any of them, everyone can join in.
Snowmen at Night: Free Color Sorting Mats for Winter Fun
Let's start the fun with a fabulous snowman book. Snowmen at Night by Carolyn Buehner.
A little boy builds a snowman and the next day he notices that the snowman looks somewhat disheveled. The young child poses an interesting question
What do snowmen do at night?
All kinds of things apparently! Every night, after dark, snowmen sneak out to join their friends for nighttime adventures. They make snow angels, enjoy all kinds of snowmen games, and even enjoy iced cocoa.
This is a fun book to read and explore. The bright colors and joyful snowmen are a delight. I love all the expressions on the snowmen's faces. Children enjoy learning about snowmen adventures, and you can expect all kinds of giggles.
In the back of the book is a reminder to look for hidden shapes painted into the wintry scenes. If you look carefully, you will see a cat, rabbit, Santa face, and a Tyrannosaurus Rex figures hidden in the shadows, clouds, and snowdrifts. It is a clever way to get children to pay attention and look at the details.
The fun rhyming pattern makes the book easy to read aloud. The text works beautifully with the pictures and there is so much to look at on each page. It is an engaging book to read to preschoolers and a good story for young readers.
This is the first book in the series, there is also (Snowmen at Work, Snowmen at Christmas and Snowmen at Halloween).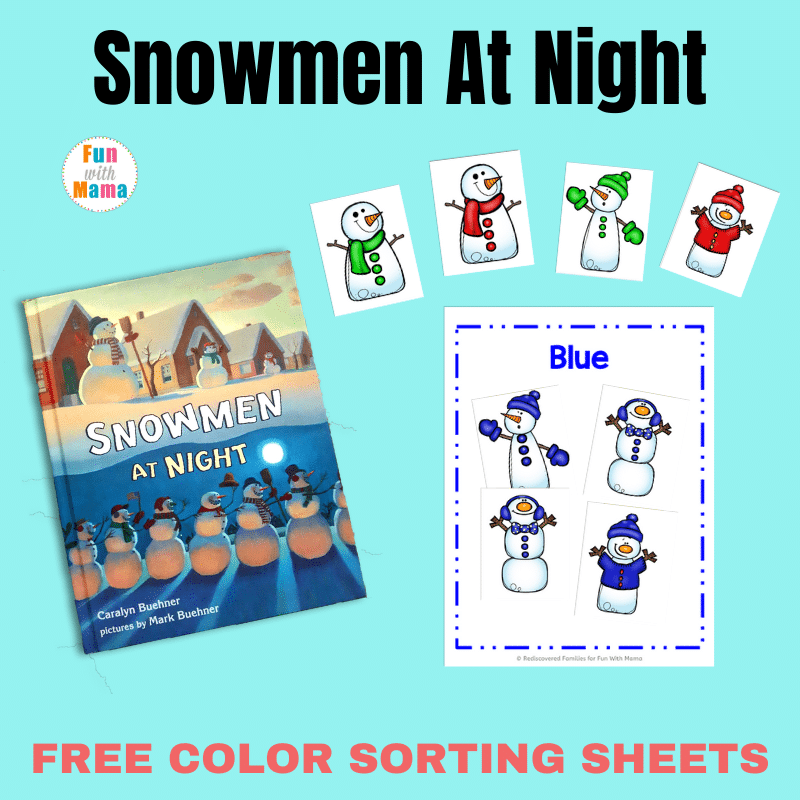 AS YOU READ THE STORY
At the start of the story compare the snowmen on the first two pages. Ask
How did the snowman change?
The pages are full of detail, so stop every so often to enjoy looking at all the things the snowmen are doing. Ask what
If you could play with the snowmen, what would you do?
What looks the most fun to you?
What kinds of things do we do at night?
The snowmen drink iced cocoa. What do you like to drink at night?
What other things might the snowman do at night?
If you could stay up all night, what would you do?
Don't forget to look for the hidden pictures!
AFTER THE STORY
Enjoy some fingerplays and songs
You can find some great snowmen songs and fingerplays here.
My favorite is
I Built a Little Snowman
I built a little snowman ( make a circle with hands )
He had a carrot nose (point to nose)
Along came a bunny (hold up two bent fingers)
And what do you suppose?
That hungry little bunny ( make bunny again )
Looking for his lunch ( hop bunny around )
Ate the snowman's nose ( pretend bunny is eating nose )
Nibble! Nibble! Crunch! ( pretend to be eating a carrot )
Read some more snowmen books.
Check out our list of 23 Snowmen Books For Preschoolers
Have a snowman snack
there are some really cute snowmen snacks I loved the one made with banana and pretzel sticks and this one made with cucumbers and raisins .
Related: 6 Sensational Winter Activities For Families
Enjoy a snowman color sorting game for more winter fun
This FREE Color Sorting activity includes 3 sorting mats each one for a different color. There are also 6 snowmen cards for each color. We are featuring the colors
EASY TO MAKE
Download the file and print onto cardstock
Laminate the sheets for durability (optional).
Cut out the sorting mats and the individual color cards.
Shuffle the snowman cards
Directions for Snowmen at Night: Free Color Sorting Mats for Winter Fun
Help your child choose a sorting mat. Read the color word and point to the color outline.
Help your child sort through the cards to find the snowmen wearing the correct color.
Place the cards on the mat. You can say, "This Snowman is wearing a (color) (name item)"
ADAPTATIONS
Ask your child to find other toys that have the same color.
Hide the snowmen cards around the room and invite your child to find the snowmen wearing (color).
Encourage your child to draw a picture of a snowman wearing the same colors.
Invite your child to pick out a snowman and make up a story about them.
MORE SNOWMEN ACTIVITIES FOR WINTER FUN