Learning the alphabet is a critical part of being a preschooler. That is why we have a whole page dedicated to alphabet activities for kids. It is important for children to learn letter recognition. This is for both uppercase and lowercase. After letters are recognized the next step is reading, which is the ultimate goal, right? We can help our kids recognize letters with flash cards and showing them in books, which can be great, but helping them learn each letter can be done just as easy in a much more interesting way. This is why we love using tools such as this Printable Baby Owl ABC Matching Game. This Owl Babies inspired activity is a great way to tie into the theme of a book and gather natural interest in a child.
Printable ABC Matching Game
Every week we go to the library and get a stack of new books to read. Sometimes we just read them, maybe twice and return them. Other times, we will bring one home, read it and it will sour to the top of our list. The last one that soured was Owl Babies. If you haven't read it, you should. It's a sweet book about little owls and their mama. We loved it so much that I knew I needed to keep the story alive by creating an activity to go along with it.
If you are looking for printable Owl Babies preschool activities then definitely grab these!
Materials Required:
Please note that affiliate links may be used in this post:
This fun printable ABC Matching Game is an excellent hands on way to help encourage letter recognition. This can be done in pairs, in a group or even individually. It can be helpful to have the child name the letters throughout the course of the game.
How To
Print the free printable, available below.
Cut out each letter card.
You may optionally laminate the cards to preserve their life.
Choose the letter set up you would like to have. The options are matching uppercase with uppercase, uppercase with lowercase or lowercase with lowercase. Also, choose how many letters you would like to include. Choose an amount of cards that allows your child to learn without feeling overwhelmed.
Turn the chosen cards face down. I like to set my squares up forming a larger square or rectangle. This helps keep the cards in the same place every time.
Have the first person in play choose two cards and turn them face up. If they match, take them out of the game. If they don't, put them back into play.
The game ends when all of the matches have been made.
Owl Babies Alphabet Matching Game http://bit.ly/2vd9hxl
This game is a hands on way to encourage letter recognition and help kids be able to identify each letter in comparison to the others.
These printable cards can also be used, face up, to create sight words. If your child is like mine, and loves flash cards, these could make perfect flash cards.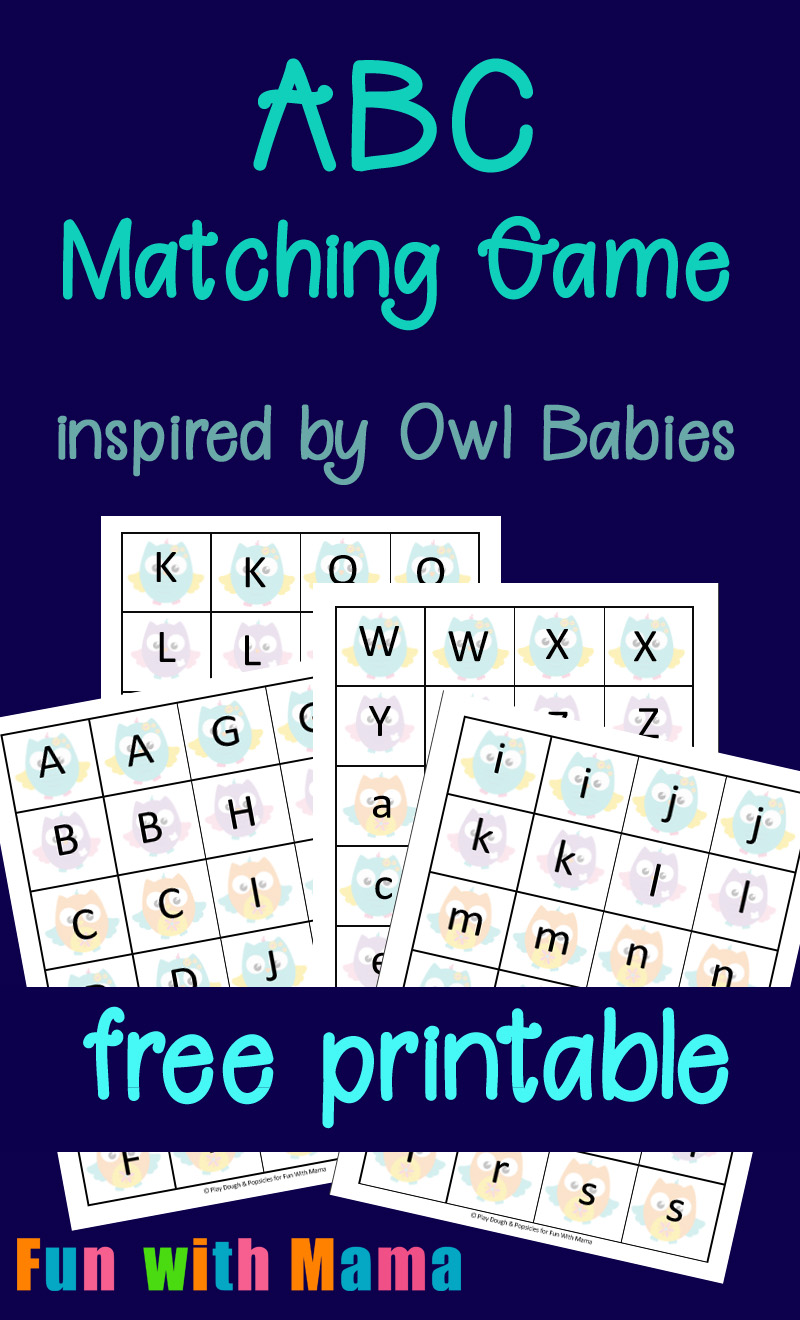 Download the Alphabet Matching Cards here
More Alphabet Matching Card activities: