Learning the uppercase and lowercase letters of the alphabet is so much fun with this cool Ice Cream Alphabet Matching Printable Pack.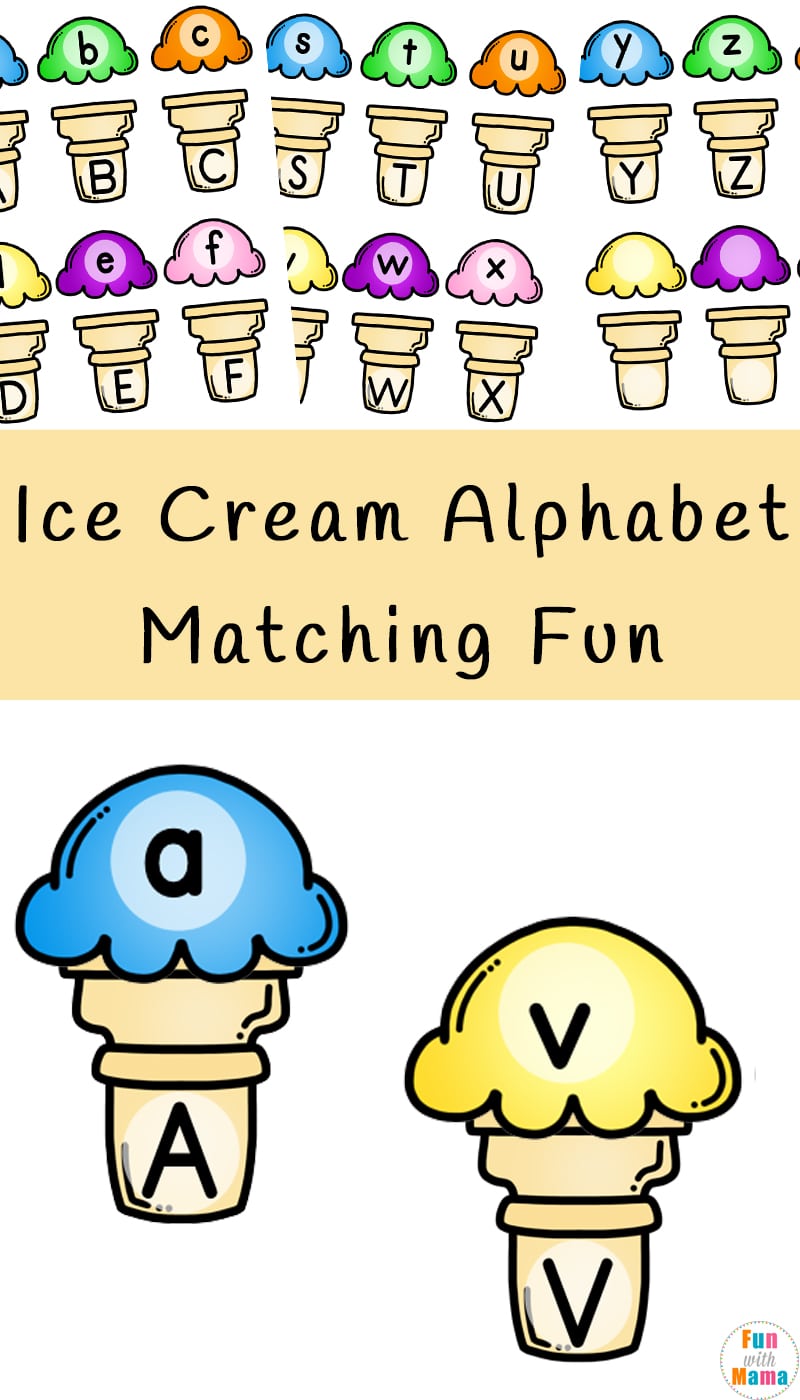 ICE CREAM ALPHABET MATCHING Letters FUN
Aimed at young children who are just starting to learn the letters of the alphabet, these Ice Cream Alphabet Matching Fun printables are great fun and can be enjoyed anywhere when added to busy bags. They can also be used to practice building simple words, like CVC words.
Materials Required:
Please note that affiliate links are used in this post.
Here are some items that pair well with these activities. You will use each of these items over and over during all my printable preschool activity packs.
Check out the activity in use by one of our readers children, Check her out @kickstartreading on Instagram.

Watch my prep video below:
This Ice Cream Alphabet Matching printable pack contains 7 pages of ice cream printables.
I recommend printing this printable pack out on white cardstock and then laminating the individual pieces of the ice creams for durability before using them. You could even store them in busy bags that can be used during outings and appointments.
I have included a basic matching activity printable so that you can place the ice cream cones on the table and have a child match the ice cream cones to the ice cream scoop.
I have also included some file folder pages or basic velcro pages. These are the pages that have just the ice cream cones on one page.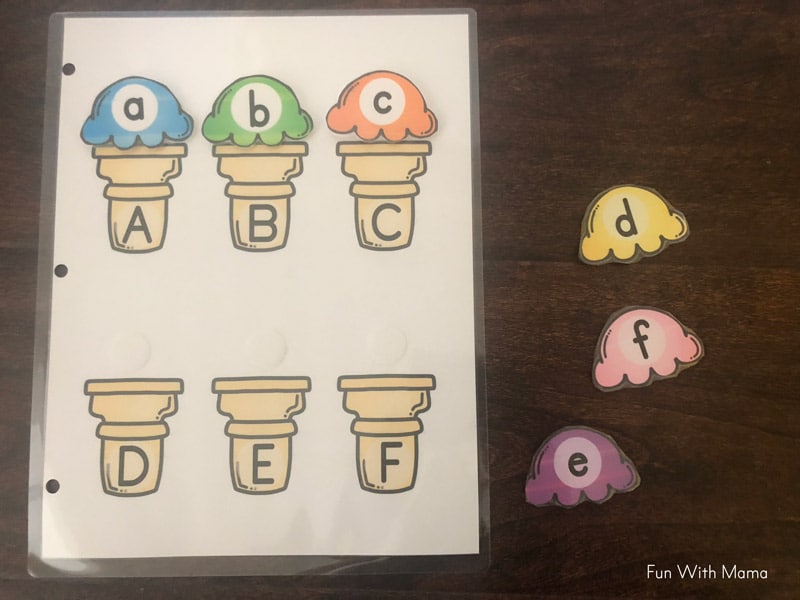 To put the above activity together: Print out the ice cream cones. Laminate the cone page. (The ones with just the cones.) Then cut out the alphabet scoops, laminate, cut again. Add velcro dots.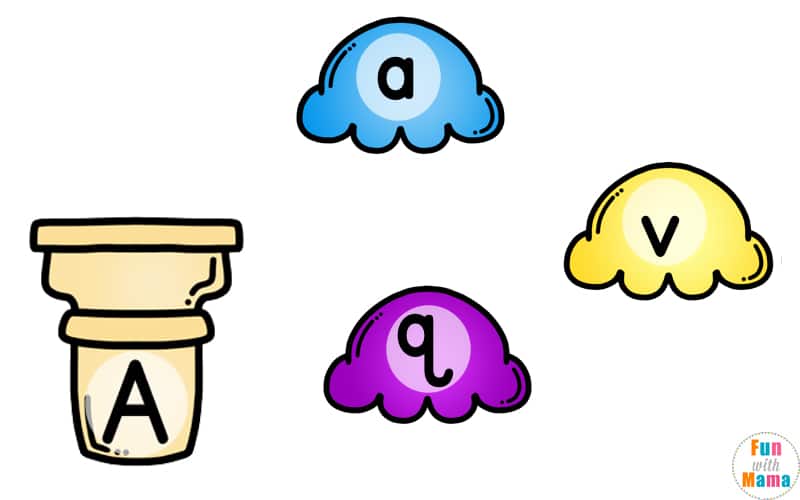 To use them as matching cards:
When you are ready to use these ice cream printables, spread out the cones and the ice creams in two separate piles. Have your child choose a cone. After reading and making the sound of the uppercase letter on the cone, have your child search through the pile of ice creams to find the matching lowercase letter and place it on top of the cone.
On the last page of the pack, you will find some blank cones. These cones can be used to build simple words, like CVC words, on top of the cones.
You may also like to print two copies of this printable pack so then the ice cream and cones can be used in memory and matching games.
Where to get the FREE activity
GET THE ALPHABET ICE CREAM MATCHING ACTIVITY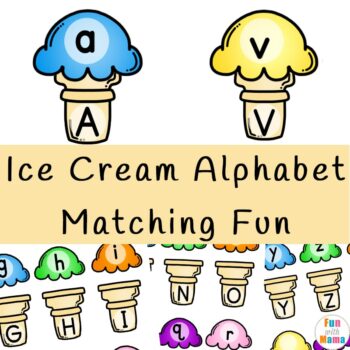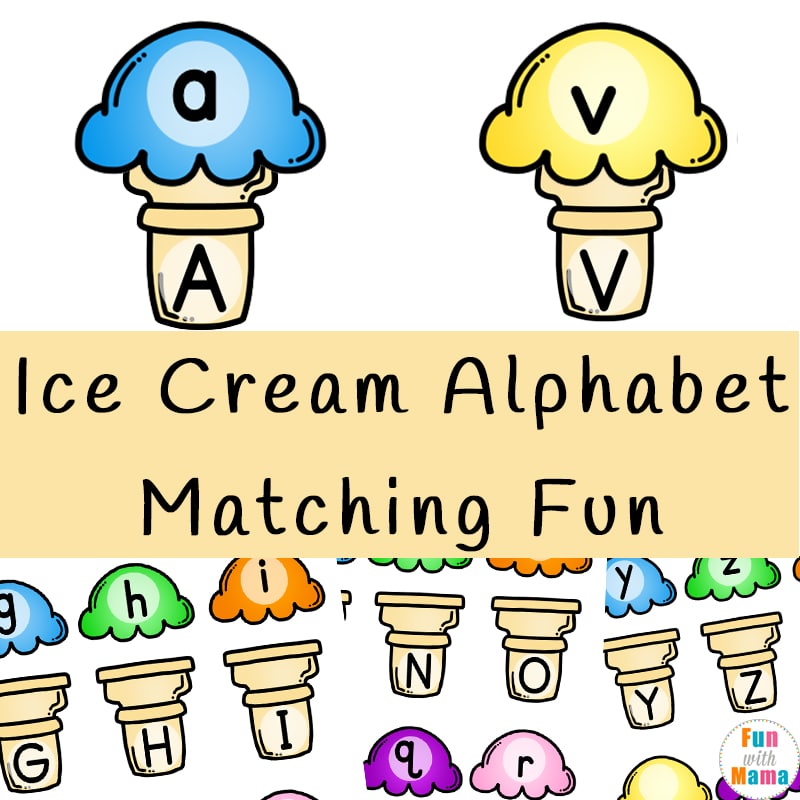 Already a subscriber? No problem. Just enter your details above so we can send this printable directly to your inbox.
WHERE TO GET THE FULL ACTIVITY PACK
GET THE ICE CREAM ALPHABET LETTER MATCHING ACTIVITY HERE
This Ice Cream Alphabet Matching Game includes cones and bowls to hold the ice cream scoops. There are 26 uppercase bowls & cones, 26 lowercase bowls and cones, as well as scoops for beginning sounds and extra letters all in bright, fun colors. Children will match the scoops to the bowls and cones. This is helpful for practicing letter recognition as well as beginning sounds.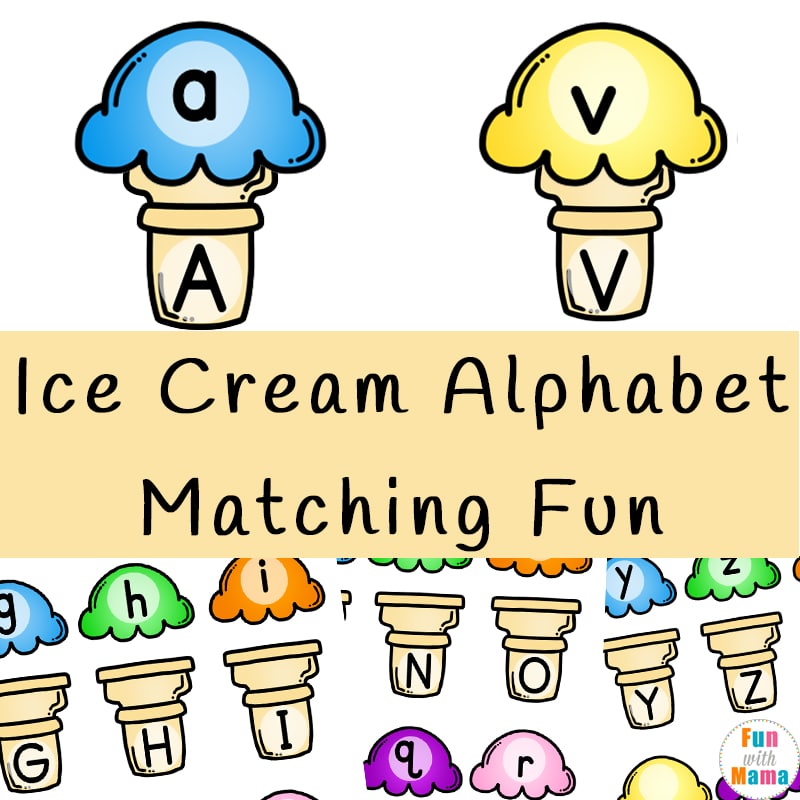 Find all of our Alphabet Activities for Kids for more fun printables.