This art themed preschool printable is a simple activity that doesn't make a mess. All you need is a few simple supplies that you probably already have at home . Then you are good to go with a watercolor art activity for preschoolers. This activity is great for working on color recognition, visual perception and fine motor skills and is perfect for occupational therapy activities.
Please note that while this post is not sponsored, I did receive the art supplies in this post for free from Prang.
I am constantly looking for ways to incorporate occupational therapy activities within my blog. Why? Because the activities are beneficial for ANY child, it's not just for children who have been referred to an occupational therapist or who can afford to go for therapy. Occupational therapy activities should be integrated into children's daily activities to strengthen foundational skills like fine motor skills, visual perception, auditory processing, gross motor skills and MORE.
When I came up with this activity, I was excited because my daughter thoroughly enjoyed it while working on the following important skills:
Fine Motor Skills – Painting within the shape and trying their best not to go out of the lines.
Visual perception – In the paint palette, children will need to put the correct color within the correct circle by matching it according to either their paint palette or to the master color sheet.
Color recognition – Children will match color boxes to the correct color paint.
Plus, do you know that painting is therapeutic? It is soothing to a child. That's why you should always remember to offer a blank piece of paper afterwards.. so that a child can just enjoy their brush strokes without the "work" aspect of the activity like I did in the plastic egg painting activity.
Watercolor Palette Painting Activity For Preschoolers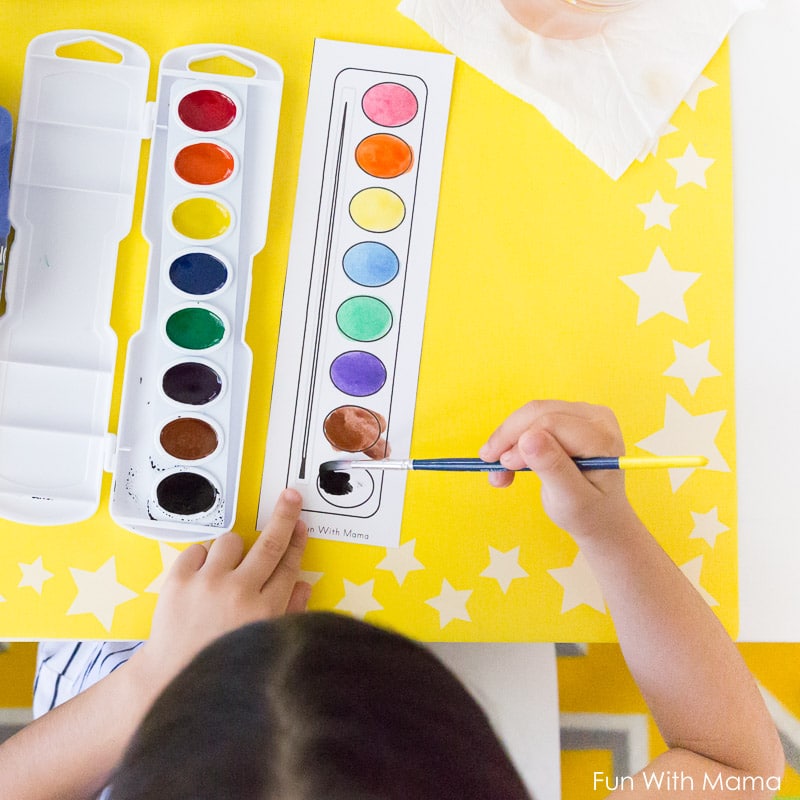 Materials Required:
Please note that affiliate links are used in this post. Please see my disclosure policy for more information.
Watercolor paint palette (8 colors) with a paintbrush
Printable activity (found at the bottom of this post)
Paper towel
Plastic cup/container filled halfway with water.
Tray is optional to contain mess. I used a mat.
Check out my Favorite Art Supplies For Kids. This includes art supplies that I think every child should have at home and is perfect for toddlers, preschoolers and elementary students.
How to set up the activity:
Print the appropriate page on to card stock paper. Then cut out the sheets. There are 3 sheets per page. Make sure to have some water and paper towels near by. I placed an art mat underneath but you could also use a tray to protect your surface and minimize potential mess.
I have included a few different options here depending on whether this activity is for a child at home or for children in a classroom setting.
Page 1 includes the watercolor palette for a child at home who does not need to write his/her name.
Page 2 includes an area for a child to write his/her name. You could also send this activity home as homework. It can be colored with markers too.
Page 3 includes a copy template. If you do not have a lot of watercolor paint palettes you could give the child this template and they can copy the colors as they see it on the "master sheet".
Page 4: Circles and squares in color.
Page 5: Circles and squares in black and white
Page 6: Circles and squares in black and white without words to prompt color choices.
Get the preschool printables here:
More color mixing activities:
More fun painting activities: