What is it with Washi Tape and kids? My kids are somehow always in my personal stash of washi tape. I went out and purchased my kids their own set. (It rivals mine in cuteness). I then set out to come up with some washi tape crafts for kids. Combining washi tape with Valentine's day crafts was so simple and fun. This I love you banner painting activity for kids allowed them to use this colorful tape creatively and to be able to paint too. My 3 year old, 7 year old and 10 year old loved this activity! (I loved it too! Especially the part where I got to use THEIR Washi Tape.)
We have this DIY I Love You Sign hanging in the house now as a gentle reminder to each of us about how much we love each other.
Valentine's Day Crafts I Love You Painting Activity for Kids
We made a few different Love cards and signs. Here I had each of my children make one piece of the sign. My three year old made the "I" picture. My seven year old did the "You" part and my 10 year old did the "Love" part. They are each an integral part of our family and a major part of each of our hearts. I wanted to figuratively display this to them by having them each fit a certain piece of this frame. I suppose I'm just really sappy like that.
Materials Required:
Please note that affiliate links are used in this post.
Washi Tape (I bought ours from Michaels because it was cheaper. Use whatever Washi tape you have at home.)
Paint brushes
Circle Punch or hole punch. We used a 1 3/8 inch heart cutter and the kids love it. You could also use a star punch.
Yarn – You can use whatever you have at home that fits the purpose.
The Washi Tape Craft Step
First have your children create the letters using the washi tape. Then allow them to place their letter pieces on the paper.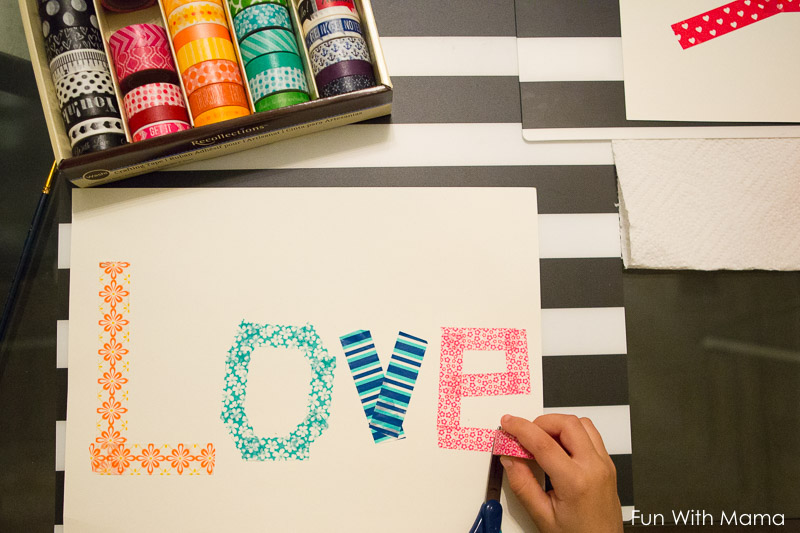 The "o" part can be a little tough and adult help may be required here. I showed my 7 year old how I did the "o" on my paper and then had her place hers using my example. (I placed small little pieces of washi tape in a circular motion.)
The kids watercolor painting part!
We tried big brushes and small brushes. We tried mixing colors and placing colors. This was their time to experiment, play around and paint however they pleased. I did not guide them at all here. This was the perfect Valentine's Day Craft Activity.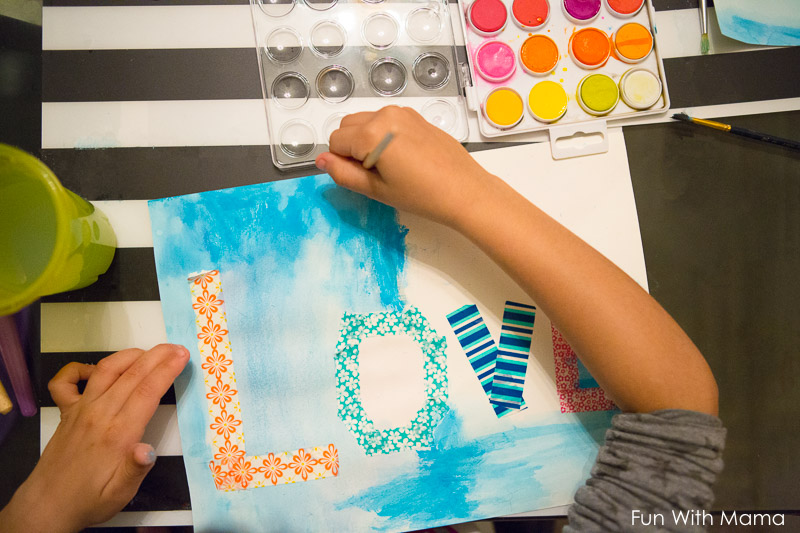 When they were dry we cut holes using our heart punch and threaded some warn through it. We tied it off and then hung up our sign.
Don't you just love washi tape crafts for kids?
I think this craft turned out so beautiful and my daughter said we need to add this activity to our birthday traditions. Every year she wants to make a Happy Birthday Banner for their birthdays. I think that would be such a special touch!
You can find more kids painting activities here:
More Valentine's Day Crafts and Activities for kids: