Ramadan is right around the corner and will begin in just a few days. I decided to go all out with the decorations and add lights all over the house. Check out my Ramadan decoration ideas for kids and your home here.
Whether you celebrate the month of Ramadan or want to showcase a little bit about Ramadan in your home or classroom, which I believe is really important for understanding, inclusion, and understanding of cultural diversity, this post will be filled with fun ideas!
Here are some Ramadan Activities for Kids too!
Decorating for each season has been something I've done with my girls for the last few years. Each year we add on a new holiday and re-use the decorations we bought in the previous years. We also add on things here and there. It keeps our home lively and is a wonderful family tradition that we cherish.
I like expanding my children's minds and understanding's about the cultures and traditions around them. We also have so many books so I've chosen to theme our decor around books. We do most of our decor around our book nook area. I post about these book nook decorations and themes a lot on my Instagram account, you can follow me on Instagram here.
Here is the Valentine book nook from this year and here is the Halloween one from this year (it's so cute.)
Ramadan decoration ideas
To set up this adorable area I first purchased a new rug (it's currently on sale too!) I wanted to add some lush neutral creams into the setting because I knew I wanted to bounce off those gorgeous jewel tones against them and pull the whole look together with golden lanterns. I also like that the rug can be interchanged and used throughout the year.
I then found this beautiful tent that I am SO impressed with. It came with those twinkle lights, a bag, and a padded mat. This is the first time I've been happy with a tent purchase. It was the perfect addition to our Ramadan decorations and can be used with any theme throughout the year.
I purchased the golden light lanterns, the large colorful lanterns, the mosque advent calendar, moon and sun lights, and a whole bunch of things from here and now I wish I bought more! My son was super smart and connected it to our Alexa with these plugs… so now to turn the lanterns on and off we just tell the Alexa, "Alexa turn off the tent lights. Alexa turn on the tent lights." (This is the Alexa Echo device we use.)
Who would have thought Alexa plugs would be one of my favorite Ramadan decoration ideas? It makes lighting so much easier!
The purple mosque advent calendar and Ramadan banner was purchased at Crate and Kids. They don't often have stock of it. It was a collaboration with a company called Hello Holy Days. You can message her on Instagram to find out about stock if you like.
I purchased the pillow case cover from this company. It matched the theme perfectly.
I got the Ramadan Kareem banner here. The chair is from Ikea.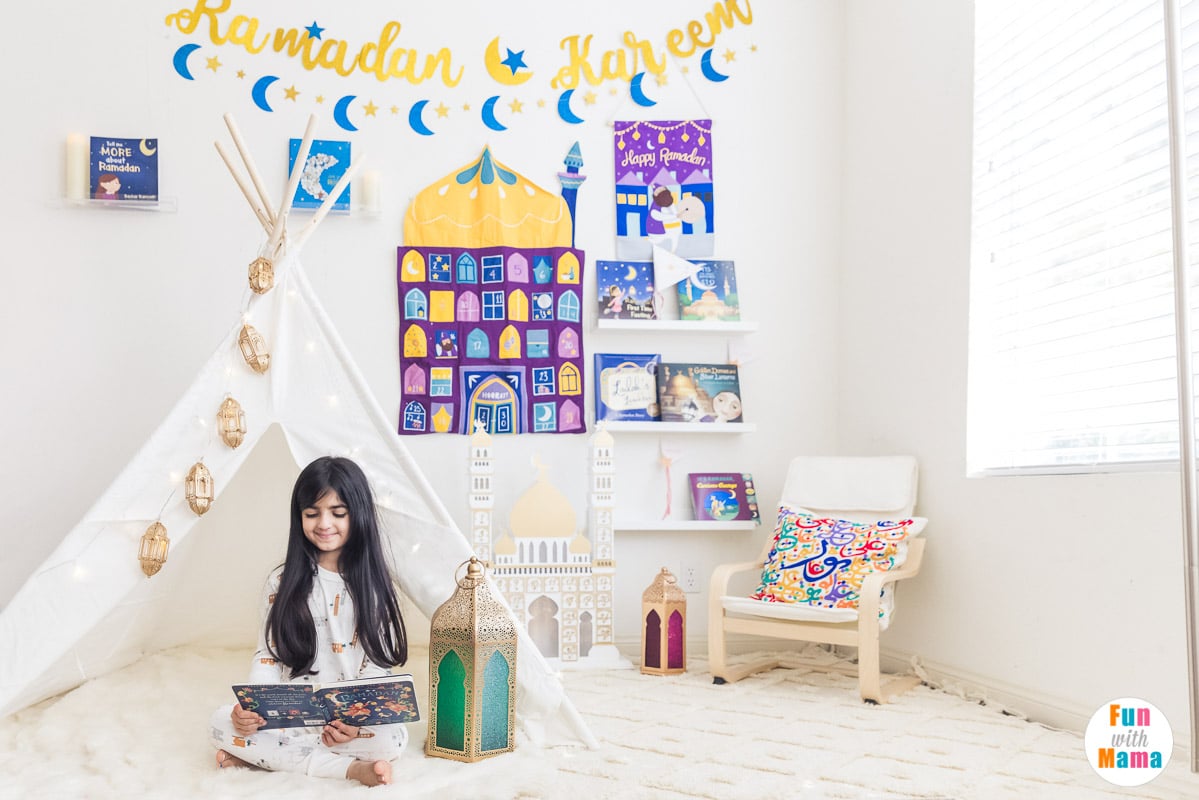 I added in our Ramadan book collection and some banners from NunieZ. I bought her Ramadan pajamas here.
Here is how it turned out.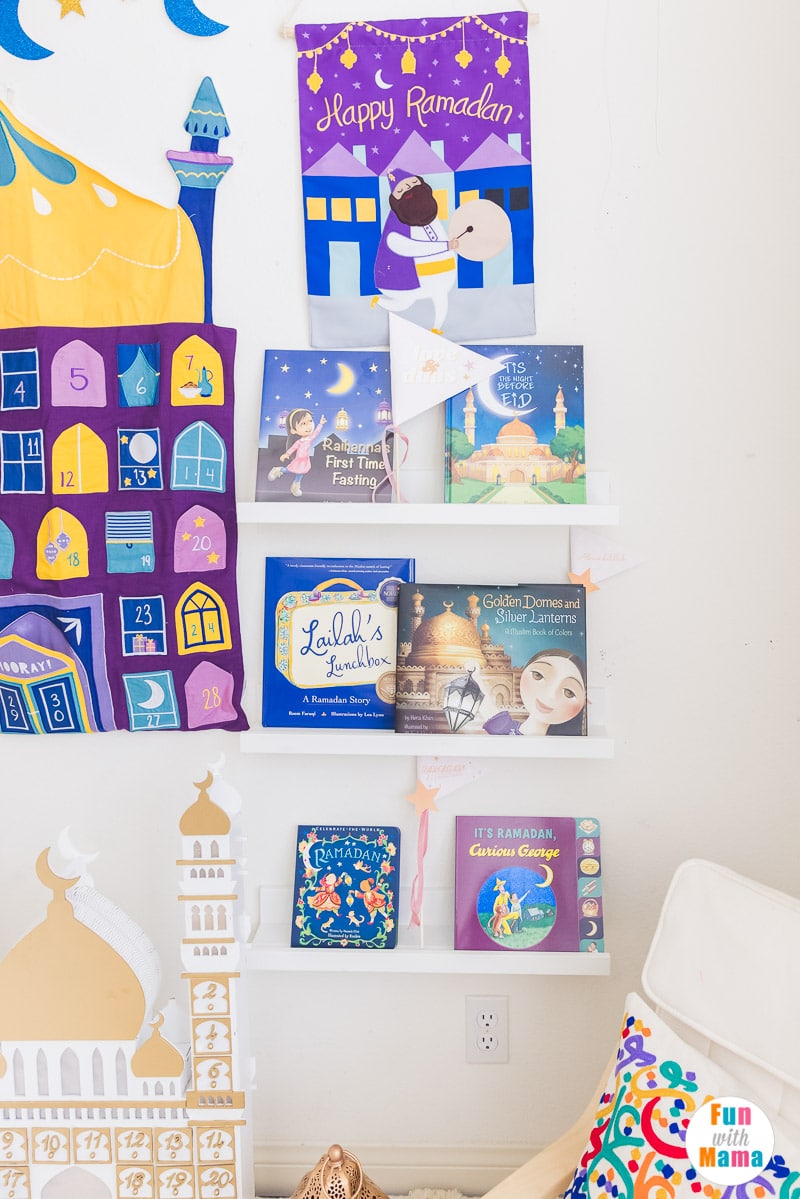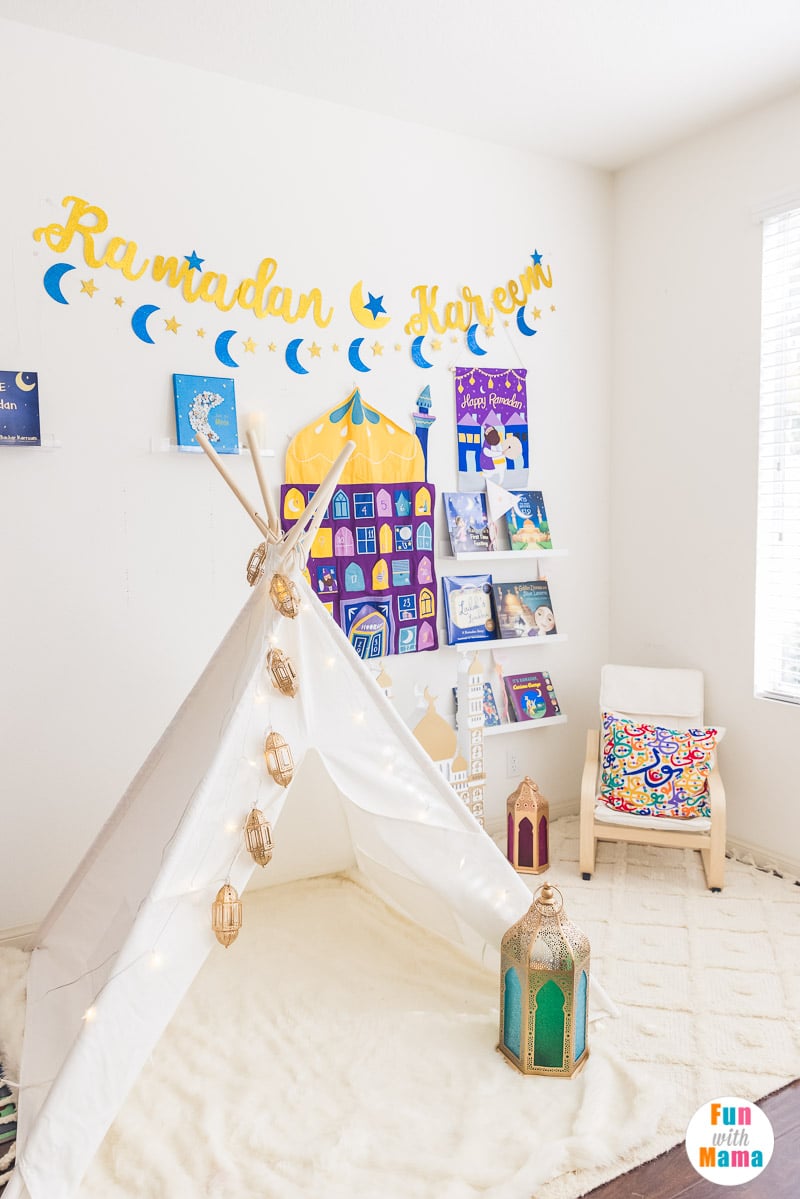 Lanterns are essential to Ramadan decor, in my opinion.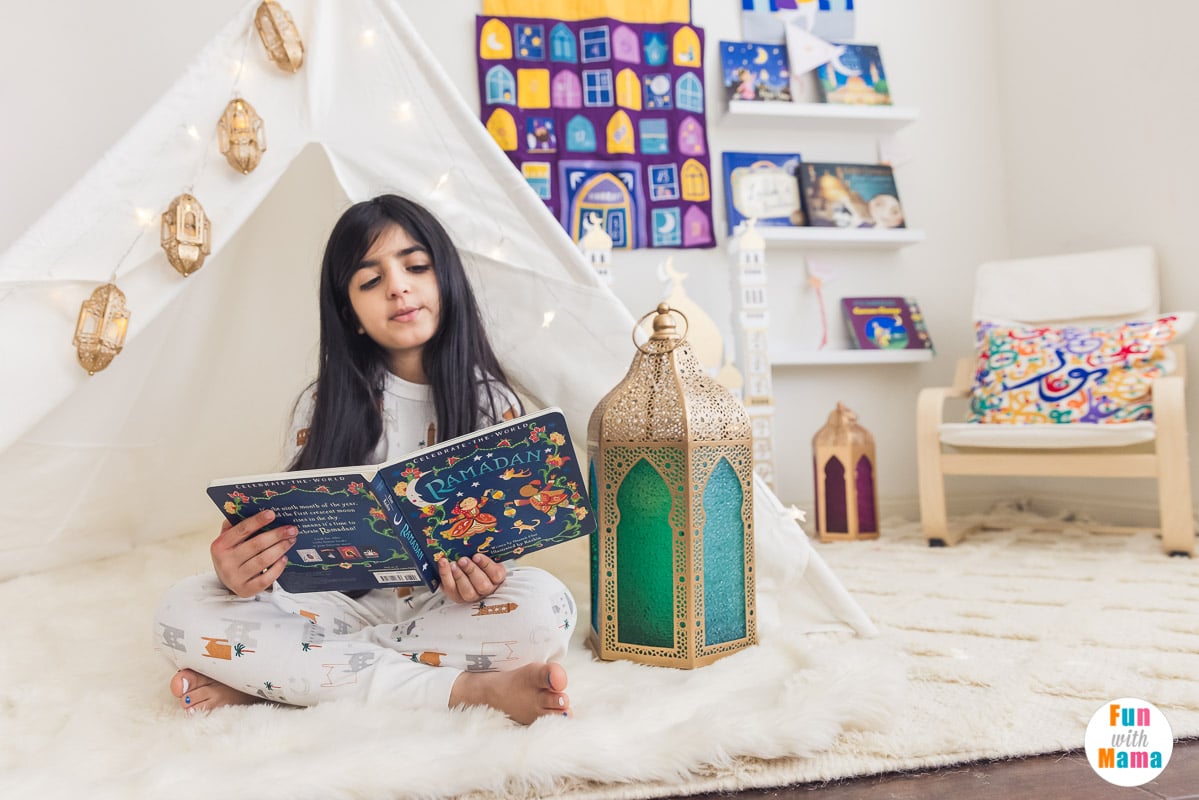 I love these golden lanterns with lights so much and wish I had more!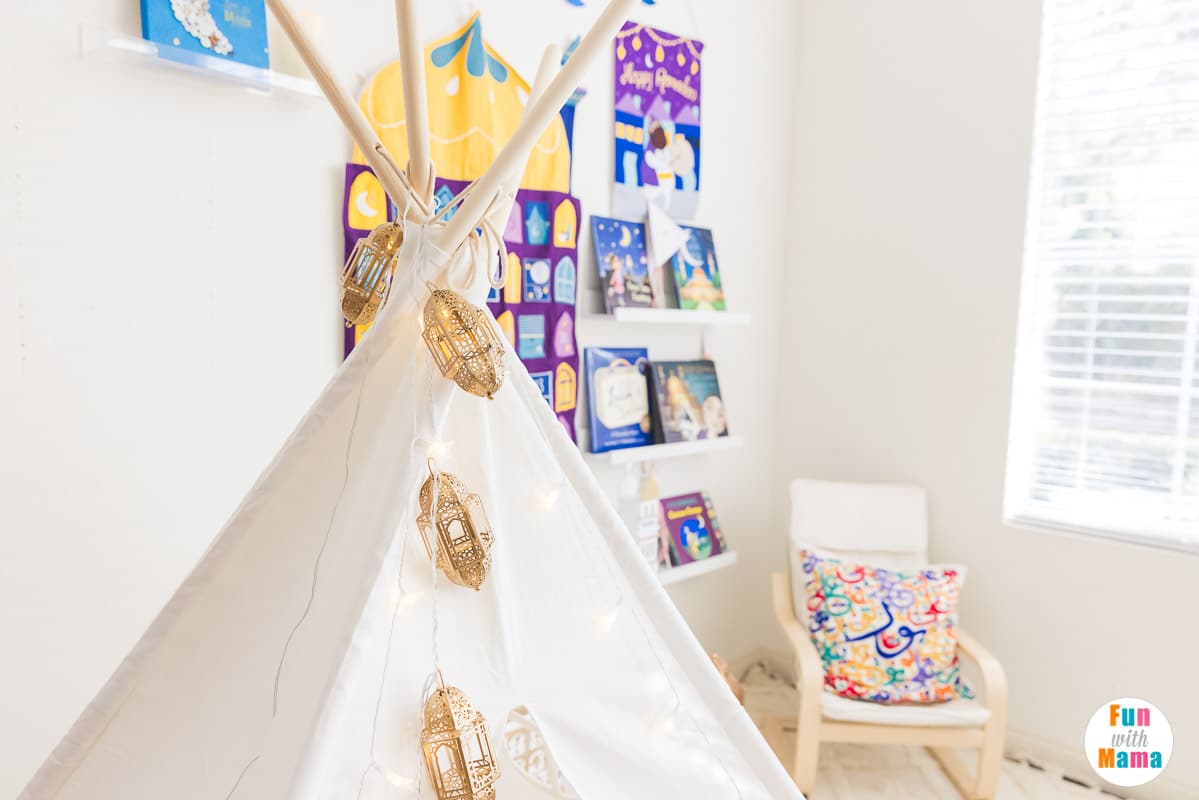 I think the area filled with Ramadan Decorations turned out magical!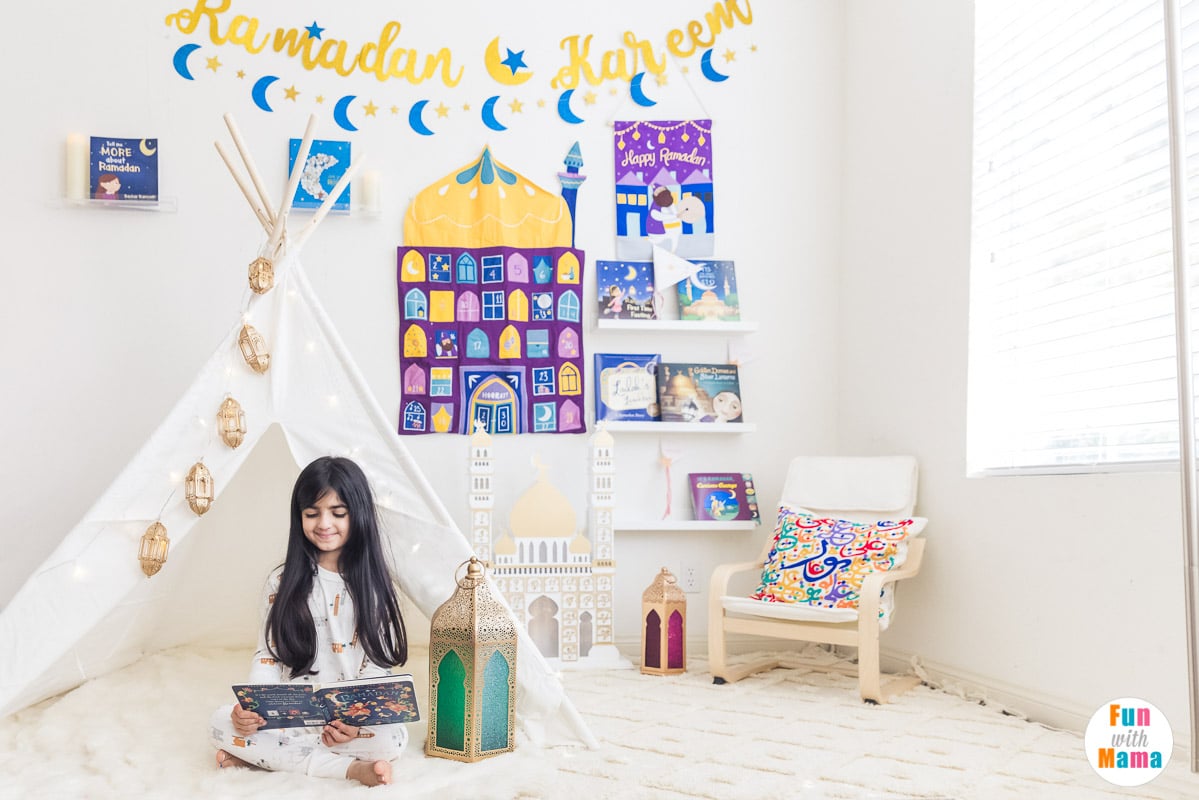 It looks really pretty at night when the lights dim in the house… the pictures don't do it justice:
Happy Ramadan everyone! I hope you have a wonderful month ahead filled with love, blessings, and family togetherness.
Shop the Ramadan Decor here: