Looking for some fun and engaging Ramadan books for kids? These books will help to talk to your child and answer some of the questions that they might have surrounding Ramadan. If you have a child that is celebrating Ramadan or if you would like to introduce children to learn more about Ramadan these books are perfect.
Children will learn more about what a day for a fasting person looks like, why Muslims fast and it will encourage a greater understanding of this special and holy month.
For children of other faith's these books can expand their minds and bridge their understandings of cultures, traditions, and experiences for people around them. This set of books is great for encouraging cultural diversity and is included within my 10 Cultural Diversity Activities For Elementary Students suggestions. Of these books, the books that I feel would be great for non-muslim children are also recommended below.
This list of Ramadan books for kids will help them to understand the importance of Ramadan, encourage good deeds and also help them to explore their faith even more.
10 Ramadan Books For Kids
Here are some of our top choices for Ramadan Books for Kids. The books below will be for varying ages.
I've included some pictures of how we have our books set up in our reading room as well to give you more inspiration. Check out our Ramadan Decorations Ideas For Kids to get the same look!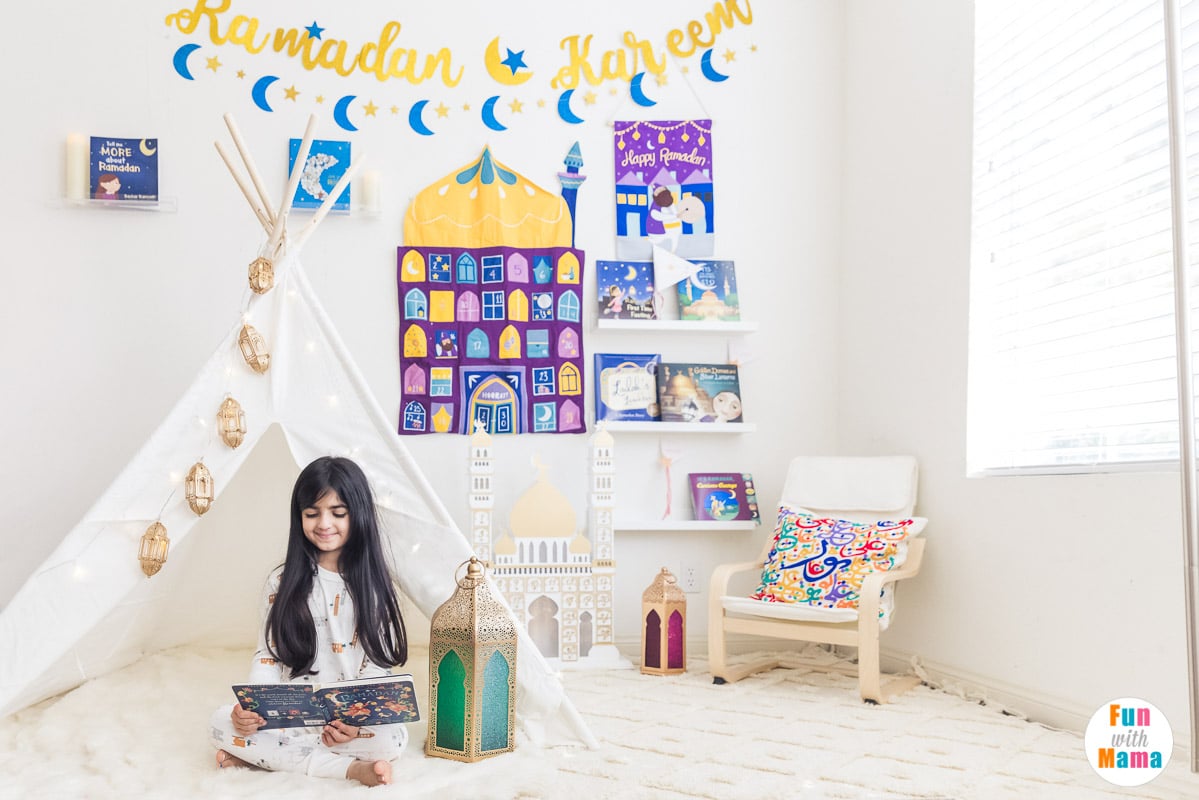 You can also pair these Ramadan books for kids with these great printable Ramadan Activities for kids as well.
This post contains affiliate links where I'll earn a commission for items purchased through the links, at no extra cost to you.
In Tell me more about Ramadan: (Islamic books for kids) your child will learn from Laila and go along with her in her journey to discover more about the Islamic faith. This book is great for children 3+. It is also a great book for non-muslim's to introduce the concept of Ramadan. The text is simple and it does a great job of introducing the month of Ramadan.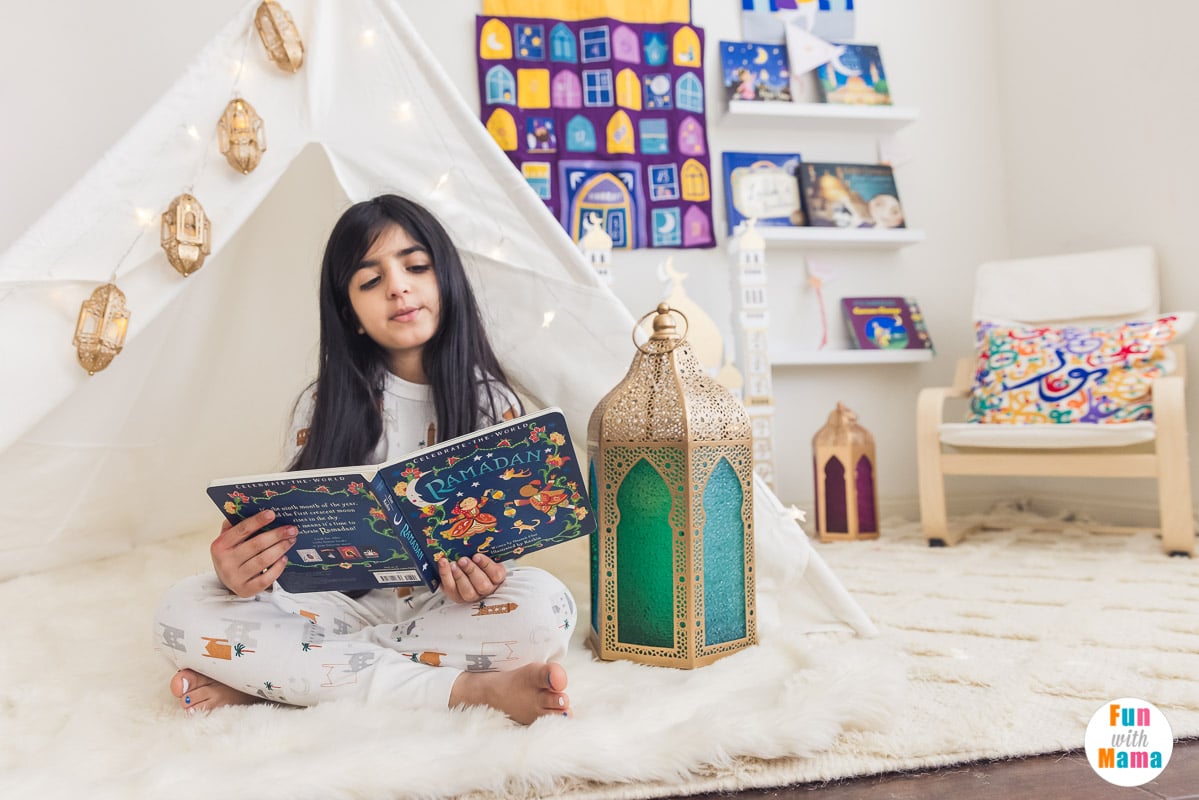 Don't miss out on It's Ramadan, Curious George! It's the first day of Ramadan, and George is celebrating with his friend Kareem and his family. George helps Kareem with his first fast and joins in the evening celebration of tasting treats and enjoying a special meal. This book is a great way to learn all about Ramadan from the adorable little monkey that we've all come to love and enjoy. Great for early learners and young readers.
For children of other faiths, this book can expand their minds and bridge their understanding of other people's traditions and experiences. Curious George does not join the fast, but rather he helps his friend Kareem is fasting so Curious George tries to help Kareem keep his mind off food until it is time to break his fast.
Under the Ramadan Moon is a lyrical story about how Muslims wait and watch the moon and then begin their month of praying and fasting.
30 Days of Learning with Good Deeds is a wonderful book for muslim kids ages 4-12. This book invites children to take action daily with good deeds, learn more about the Prophet, about His personality traits, discover more about Islam and read a simple Surah of the Quran in English.
Each page includes 5 parts:
Learn to become a good citizen and do well through good deeds. The book includes one good deed a day – for example helping with chores at home, helping a neighbor and other simple actions for 30 days so that it hopefully becomes a daily habit.
Learn more about Islam. It includes a small snippet that will help children learn more about Islam.
Learn about the essence of Ramadan and EID
Learn more about the Prophet Muhammad (Peace be upon him). This will include general facts and good habits.
Read Surahs of the Quran.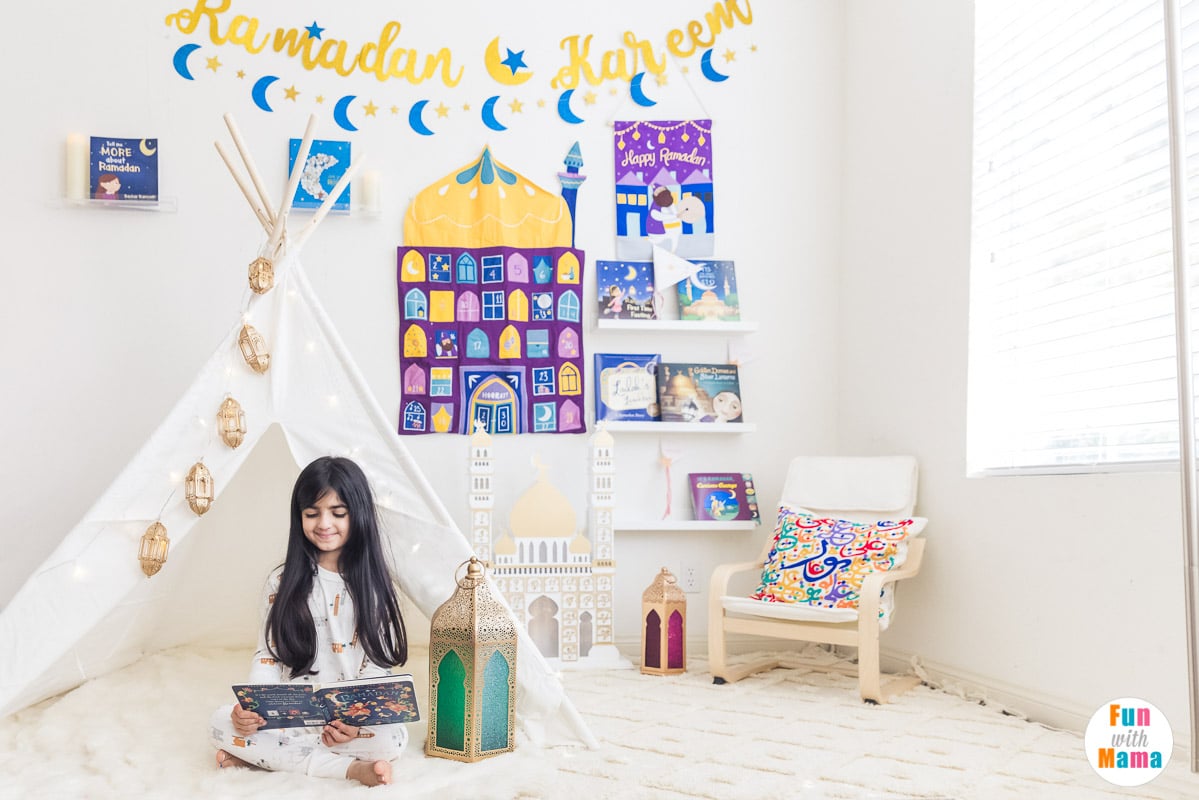 We all know the classic story of Cinderella and this Cinderella: An Islamic Tale is a story that is well done and rewards with prayer and goodness at the end of the book. In this version of Cinderella, we follow the trials and tribulations of the sweet, gentle, and pious Zahra when her parents die and she is left at the mercy of an uncaring stepmother and stepsisters.
Ramadan (Celebrate the World) is a great first board book to teach your kids all about the celebrations from all over the world. This book is not only great for muslim children, but also for non-muslim children too. The colorful illustrations are so cheerful, warm, and really reflect Muslim people of all walks of life and all different parts of the world. Ramadan is a time to reflect, be thankful, and help others. The values of family, gratitude, and generosity, and compassion for others are values we can all relate to, no matter our religious beliefs.
When Lailah moves and starts a new school, she's wondering how her fasting and faith will be perceived by her friends. Lailah's Lunchbox: A Ramadan Story follows her along in her journey at school and how she learns about friendships and faith. This book is great for bringing up discussions in a classroom too. Muslim children will hear the story being told within their classroom and will definitely be able to relate to the feelings Laila has. They can then share their own experiences with the class, while their classmates can ask questions too. This book is a great mirror for Muslim kids and a great window for their classmates. The book explains Ramadan's purpose and the real-life emotions that many little children in the U.S.A feel during this time.
In Ilyas & Duck – Ramadan Joy!, – Ilyas and Duck need to learn more about Ramadan before they can save the neighborhood from the evil villain, Mr. Mean, who is wanting to destroy the blessings of Ramadan. This is kind of like a Mr. Grinch story concept.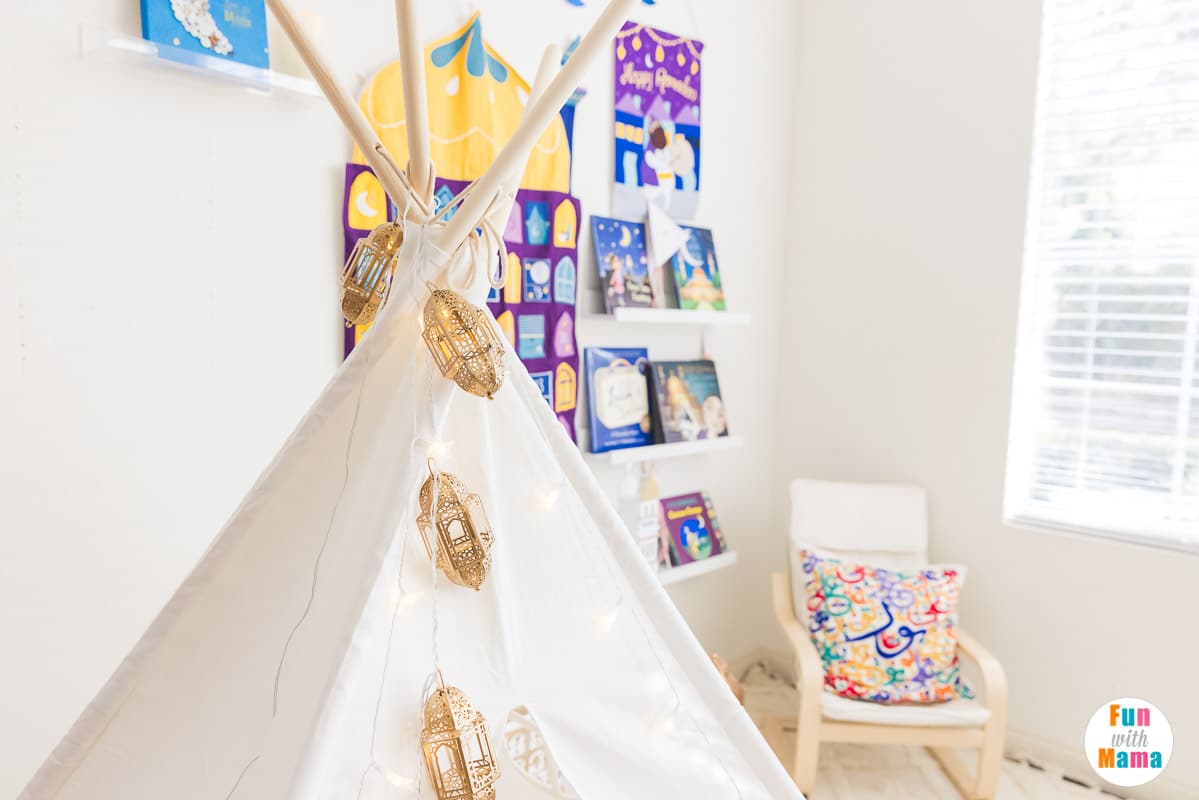 Respecting Your Mother: Good Manners and Character showcases two children who learn that respecting their mother around the house is important because it's helpful and will also give them the best rewards. It explains to children how to be nice to Mothers and to love Mothers in a realistic and practical way.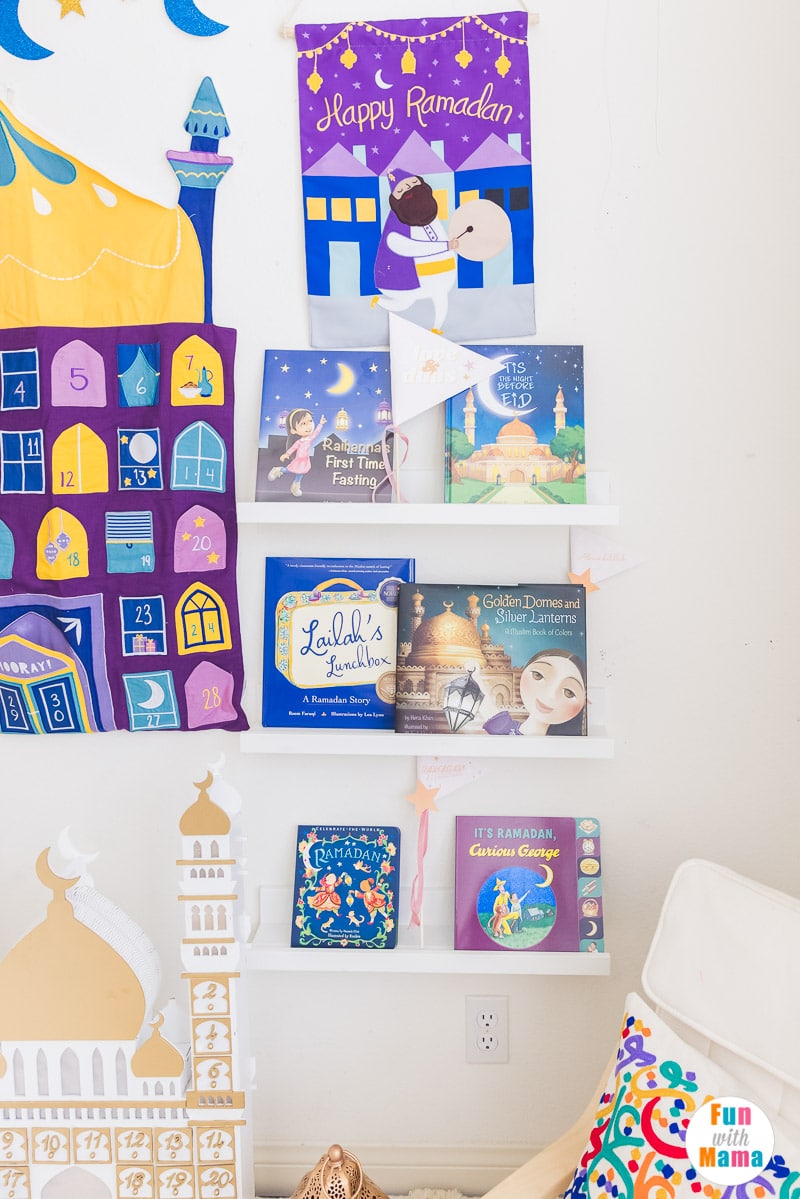 These 10 Ramadan books for kids are a fun and engaging way to learn together and dive deeper into your faith. There's something magical about being able to sit down and go through a book cover to cover and have conversations as a family once the book is done.
Golden Domes and Silver Lanterns
is a book filled with beautiful illustrations and a wonderful rhyme. This book is great for Muslim children as well as non-muslims.
Raihanna's First Time Fasting
is a story about a young girl's first experience fasting for the month of Ramadan. Raihanna learns the meaning of Ramadan, why her family fasts, and how important it is to help those in need.
More books for kids: