Art can mean something different to everyone. The art we create can express our emotions and share important messages and lessons. The books included on this list teach readers about the importance of art, and the incredible ways that it affects our lives.
Your child will love to explore these books about art! Cozy up next to them and join in on the fun!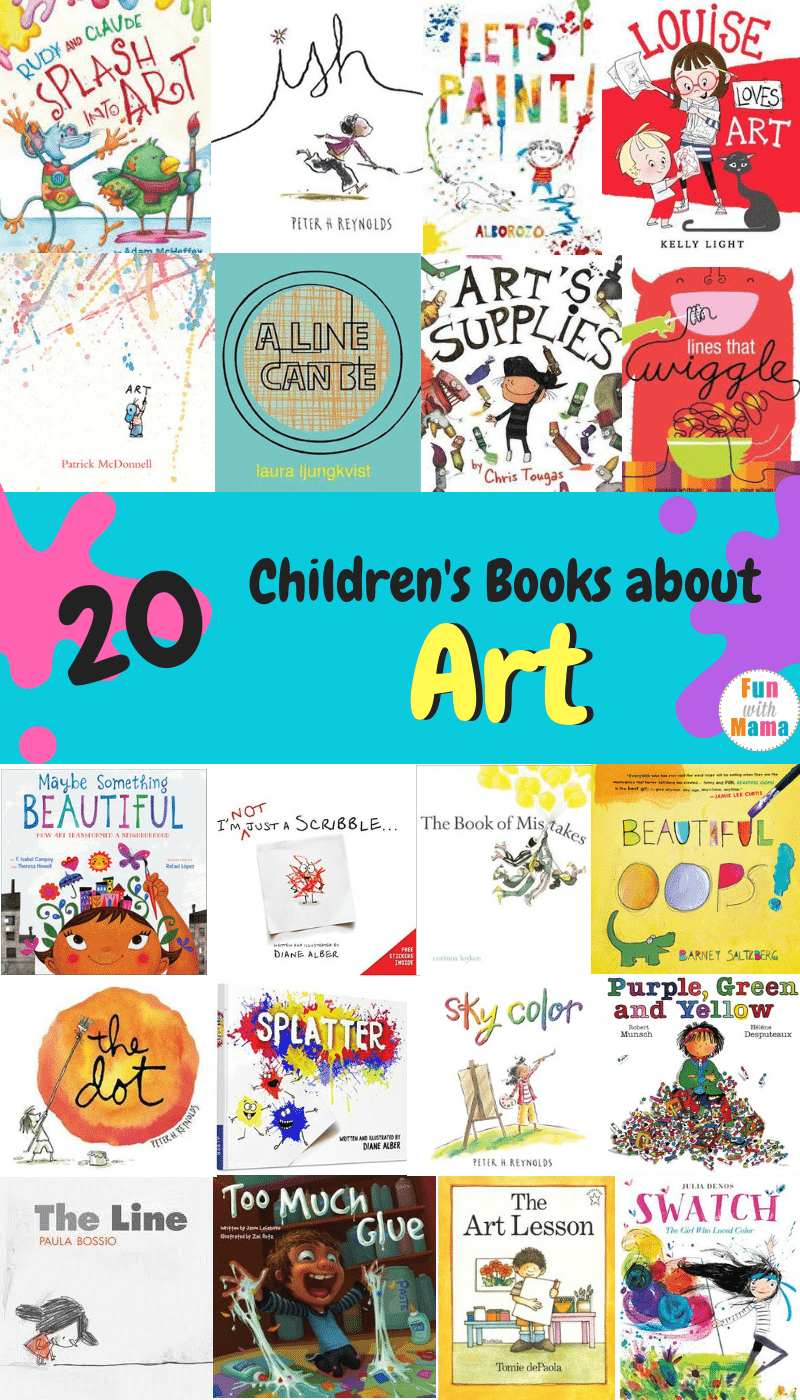 20 Children's Books about Art
The great thing about these books about art is that they're each so different in their own way.
Turning Mistakes into Something New

Beautiful Oops!
was written and illustrated by Barney Saltzberg. This interactive book is a fun way to teach kids about turning mistakes into opportunities. Each page shows a small fault, including a torn page or a drip of paint, and turns it into something new. The colorful illustrations and fun flaps are sure to keep kids entertained, while inspiring them to look at their mistakes differently.

The Book of Mistakes
was written and illustrated by Corinna Luyken. This creative story shows how small mistakes can be transformed into something new and different. Follow along as an artist uses the various splotches and mistakes on the page to change the direction of the artwork. The simple text allows the creative illustrations to shine, showing the reader how overcoming mistakes can sometimes create something better.
Art Isn't Perfect

Ish (Creatrilogy)
was written and illustrated by Peter H. Reynolds. This story follows a young boy named Ramon who loves to draw. When his brother makes a comment about his drawings, he gets frustrated that they aren't perfect. Luckily, his sister shows him that things don't have to be perfect to be beautiful. This lovely message is complemented by simple and colorful illustrations.

Too Much Glue
was written by Jason Lefebvre and illustrated by Zac Retz. Matty is a young boy who loves to create with glue. His art teacher reminds the class to only use a little bit of glue, but Matty doesn't listen. He creates a giant mess and ends up becoming an art project himself. This silly story is a fun exploration of creativity that is sure to be a favorite for kids who love to create messy artwork.
Finding Creativity

Sky Color
was written and illustrated by Peter H. Reynolds. Marisol is a young girl who loves to draw and paint. When her class starts creating a mural for school, she volunteers to paint the sky, but gets stuck when there isn't any blue paint. She draws inspiration from the world around her and comes up with a creative solution. This sweet story shares the message that sometimes thinking outside the box can have incredible results.


Maybe Something Beautiful: How Art Transformed a Neighborhood
was written by F. Isabel Campoy and Theresa Howell and illustrated by Rafael Lopez. This beautiful book shares the story of the Urban Art Trail in San Diego. When a young girl named Mira meets an artist who creates murals, they join forces and unite the neighborhood to transform their gray city.

Art's Supplies
was written and illustrated by Chris Tougas. In this fun story, art supplies come to life to create beautiful art together. As each art supply is introduced, the text explores the ways that they can add to artwork, and includes jokes and humor between the supplies. The vibrant illustrations are full of personality and humor, showing how creativity can lead to a masterpiece.

The Dot
was written and illustrated by Peter H. Reynolds. Vashti doesn't believe that she can draw. With a little encouragement from her art teacher, she discovers that she has more abilities than she thinks. The simple pen and ink and watercolor illustrations show Vashti's transformation as she discovers the artist inside.
Creating Art out of Lines

The Line
was written and illustrated by Paula Bossio. In this wordless picture book, a simple line opens a world of creative possibilities. When a young girl stumbles onto a simple line, it transforms into a variety of things, creating a fun and imaginative story. The simple illustrations illustrate the idea that creativity can change everything.

Lines That Wiggle
was written by Candace Whitman and illustrated by Steve Wilson. This fun and colorful book shows all the ways that lines can become other things. From wavy to crisscrossed, the lines travelling through the vibrant illustrations are used in a wide variety of ways to create fun images.

A Line Can Be . . .
was written and illustrated by Laura Ljungkvist. As a line winds from the cover of the book through the pages, it takes on a variety of characteristics. Each opposing page shows opposite pairs through simple text and stark illustrations. The sweet ending of the story ties it together with a great message.
Kids Who Love Art

Art
was written and illustrated by Patrick McDonnell. Art is a young boy who loves to create art. He draws and doodles, creating colorful creations that transport him. The colorful illustrations show the fun artwork created by Art, which may inspire kids to create their own.

Swatch: The Girl Who Loved Color
was written and illustrated by Julia Denos. Swatch is a young girl who adores colors, and wants to collect and tame them all. However, not all of the colors want to be tamed. The story is accompanied by beautiful illustrations that make the swirling colors look alive.

Louise Loves Art
was written by Kelly Light. Louise is a little girl who loves art. As she is setting up her own art show, her little brother uses her masterpiece to create his own artwork. When she discovers what he has done, will she see be able to forgive him and see the creativity in his masterpiece? This sweet story of collaboration and creativity is accompanied by bold illustrations that use color sparingly.

The Art Lesson (Paperstar Book)
was written and illustrated by Tomie dePaola. This story follows a young boy named Tommy who wants to be an artist when he grows up. When he goes to school and finds out that art lessons are full of rules, he struggles to follow them. Luckily his teacher finds a way to encourage his creativity. This story on individuality and perseverance is accompanied by illustrations done in dePaola's signature illustration style.

Purple, Green and Yellow
was written by Robert Munsch and illustrated by Hélène Desputeaux. This silly story follows a young girl named Brigid who really loves to draw. She begs her mother to buy her some new markers, but her mother fears that Brigid will use them to color on everything. As Brigid continues to prove that she is trustworthy, her mother buys her better markers. But what happens when Brigid slips up and decides to color on herself? Kids will enjoy the funny story and the colorful illustrations.
Learning Through Art

Rudy and Claude Splash Into Art
was written and illustrated by Adam McHeffey. Rudy is a mouse who wants to learn about art, so he asks his friend Claude the bird to teach him. This fun story explores simple art terms and examines the concept of being an artist, with colorful and engaging illustrations.

I'm NOT just a Scribble…
was written and illustrated by Diane Alber. This story follows a colorful scribble that wants to join the other drawings. The drawings don't think that Scribble has a place with him, but they soon learn that they can make beautiful art together. This rhyming story not only teaches about art and collaboration, but also about inclusion.

Splatter
was written and illustrated by Diane Alber. When Red, Yellow and Blue decide to work together to create art, they struggle at first to share the spotlight. However, once they learn to work together, they discover that they can create beautiful artwork. This book is a great way to teach kids about primary colors, and also show the importance of working together.

Let's Paint!
was written and illustrated by Gabriel Alborozo. Everyone can be an artist, and art can be all kinds of things. This colorful book explores all the things that art can be, and reminds us that art is essential. The illustrations are full of white space and vibrant colors, paying tribute to a variety of art styles and artists.
These children's books about art are great for encouraging their creativity and art skills!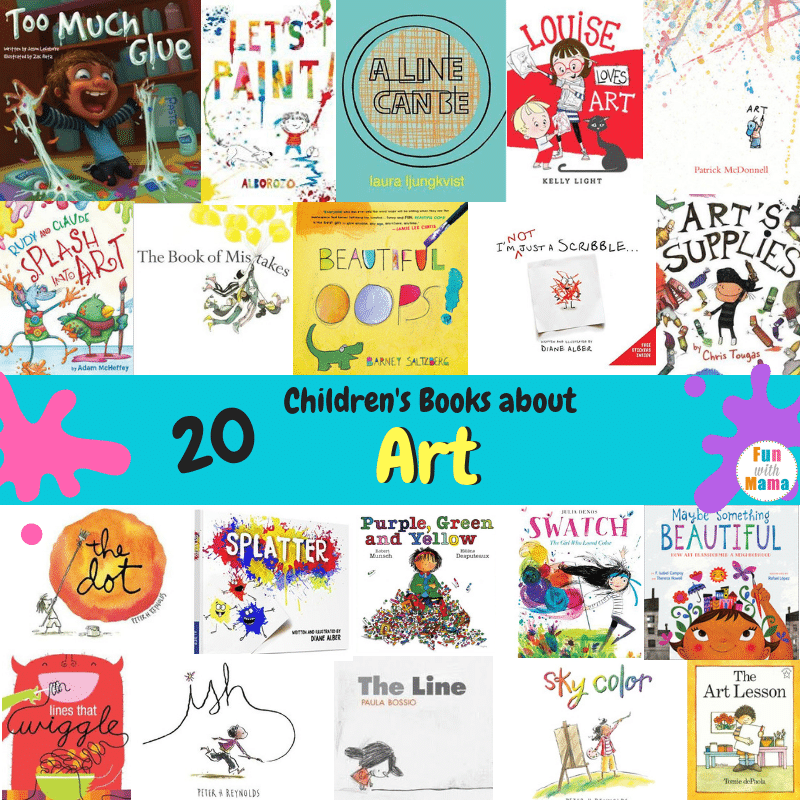 Like these Children's books about art? Here are more great book options!