Need a bit of fun for recognizing letters of the alphabet? Your little one will love learning with this fun Magic Letters Activity!
A great way to learn to recognize the letters of the alphabet is with these Magic Letters Activity Mats. These mats can be used to help children learn to recognize the uppercase and lowercase letters of the alphabet.
This free printable will help your child learn about upper case and lower case letters and help them identify and use them in sentences. Starting early and studying the importance of recognizing letters is such an important learning block for kids!
Magic Letters Activity – Recognizing Letters of the Alphabet
These Magic themed alphabet mats are great for kids who enjoy learning about the letters of the alphabet. They can practice learning their uppercase and lowercase letters while building on their handwriting and pencil holding skills.
Once they realize how recognizing letters isn't hard to do, they'll be wanting to learn more and more! Good thing this printable comes with lots of fun recognizing letters activities!
Materials Required for this recognizing letters activity:
Please note that affiliate links are used in this post.
Here are some items that pair well with these activities. You will use each of these items over and over during all my printable preschool activity packs.
Card stock (to print everything out on.)
Laminator
Scissors
This Magic Letters Activity Mats printable pack contains 50+ pages of printables all about recognizing letters.
In this pack, you will find a card for each letter of the alphabet. These cards are a great way to introduce the uppercase and lowercase of each letter to children.
Print two of each of these cards and they can be used in memory and matching cards.
Don't forget about these important recognizing letters activities:
Also included in this pack are one mat for each letter of the alphabet. With each mat, children will learn to recognize either the uppercase or lowercase of each and every letter.
Once printed out, these pages could be laminated and children use a dry-erase marker to complete them. Once they have finished, the pages can be stapled together to make a book or they can be laminated and held together with a binder ring.
To use these mats, children will read the instructions at the bottom of the page. These will help them to understand what letter they are looking for. They could also color in or trace the letter in the upside hat at the bottom of the page. They could also place the letter cards at the top of the pot to help them recognize the letters.
Then they will circle all the matching letters in the right-side-up hats at the top of the page. They could also trace or color in these letters as well.
This printable pack comes in color and in black and white. Your early learner is going to have so much fun learning about recognizing letters!
DOWNLOAD THIS FREE ACTIVITY PACK HERE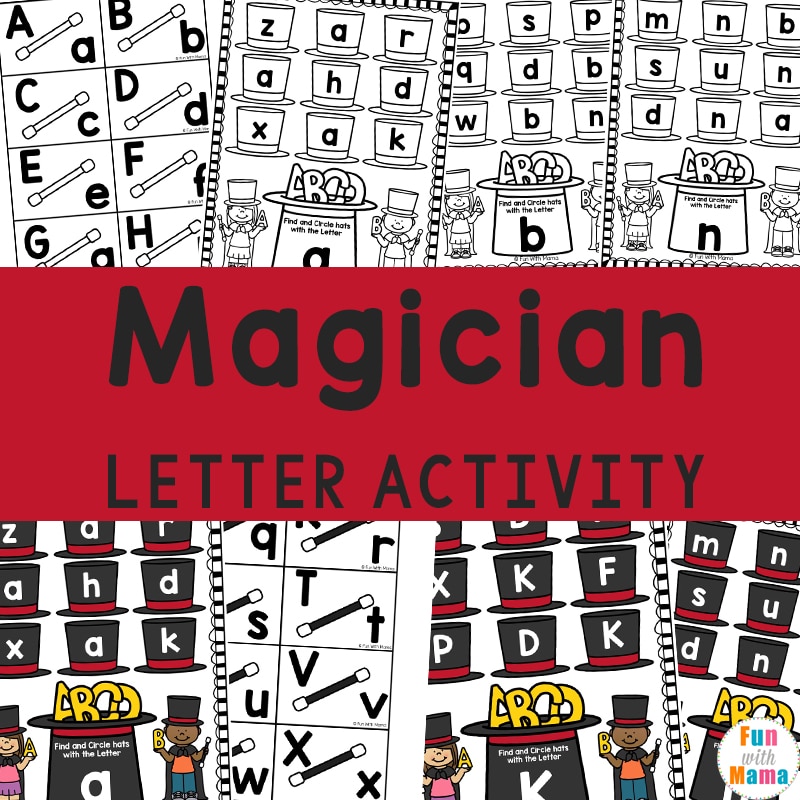 Like this fun alphabet letter activity? Make certain to help your child learn more about learning letters with these printable ideas, too: