Wait until your child sees their magic capabilities with this Magic Milk Experiment. It's a fun STEM activity that will have them wanting to do it over and over again.
Have some full cream milk that is about to expire? Then try out this magic milk experiment! This fun science experiment needs full cream milk, dishwashing liquid, food coloring, and water. Watch what happens to the food color when you touch dishwashing liquid to the full cream milk.
Your kids are going to be amazed when they can do this trick to show all their families and friend. It's such a fun and simple activity that they can easily do.
Magic Milk Experiment – Creative and Fun Activity for Kids
Have you ever had one of those activities that just have your kids in awe and totally amazed? This Magic Milk Experiment is one of them! All you have to do is gather up a few simple supplies to get started and they're going to have a blast.
All you need for this milk food coloring experiment is the following:
Materials used:
Start by setting up all your supplies for the Magic Milk Experiment to get started. Once you create a space that is perfect for your child, they're all ready to get started!
Let your kids be the ones to take control of this simple experiment. Have them start by adding full cream milk to their plate
Once that is done, have your child drop colors onto the milk.
Once they are done with adding in the colors, they can take a QTip or their finger into the dishwashing liquid and then put them right onto the milk.
Magically, the colors will "run away". Your child is certain to get a kick out of this!
This is such a simple activity that the kids can do over and over again. (Just make certain to buy enough milk from the store!)
What are the positive aspects of this Magic Milk Experiment?
Not only does it teach your child to learn how to follow directions on their own but it also gives them confidence that they can accomplish this experiment as well.
Just make certain that you're there for parental guidance but this is one science activity that they can totally do!
And don't forget to have them try this fun Marble Painting For Kids, too. It's another fun messy play activity that will showcase their creativity.
Aren't those colors just wonderful and magical?
Set up their experiment station in their playroom and let them have so much fun!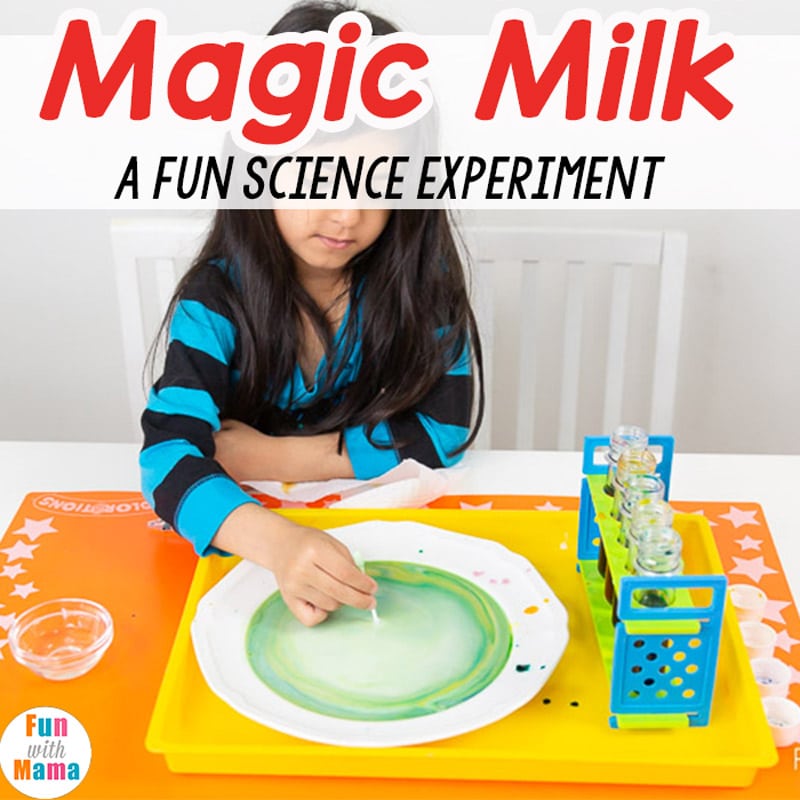 Make certain that you share this fun experiment with other moms and kids. It's a great way to have some simple Science fun!
Like this Magic Milk Experiment? Check out these other great science activities: