Teaching kids about colors can be so fun. It's exciting to see all the ways that colors play a part in our world, and how they mix together to create new shades and colors. This list is full of children's book about colors to help you bring them to life for kids.
Please note that affiliate links are used in this post. That means that if you purchase from one of these links, I will make a small commission from the sale.
20 Children's Books About Colors!
Board Books

Elmer's Colors
was written and illustrated by David McKee. Elmer the elephant is made up of all kinds of colors, making him the perfect one to teach kids about colors. The illustrations are full of bright colors, while the simple text offers examples of colors in the world.

Colors
was written and illustrated by John J. Reiss. This vivid board book is full of real world examples of colors in the world. With very simple text and vibrant illustrations, this is a great early introduction to colors for little ones.

Mouse Paint
was written and illustrated by Ellen Stoll Walsh. When three white mice stumble into three jars of paint, they begin to have some fun with colors. This book is a great introduction to primary colors, secondary colors and color mixing, as the mice have fun mixing their colors together.

Steam Train, Dream Train Colors
was written by Sherri Duskey Rinker and illustrated by Tom Lichtenheld. This calming bedtime book explores colors, animals, and different train cars through rhyming text and vibrant illustrations.

Colors (Bright Baby)
was written by Roger Priddy. This simple board book uses bright, clear illustrations and large, simple text to introduce babies and toddlers to colors. This is a great way to start introducing colors to very young readers.

My Very First Book of Colors
was written and illustrated by Eric Carle. This interactive book offers kids an opportunity to learn about colors and find real examples of that color in the world. The reader is tasked with matching the color word at the top of the book with the items pictured in the bottom half.

Colors with Ladybug
was written by Dawn Sirett and illustrated by Rachael Parfitt Hunt. Join a little ladybug on a journey to collect beautiful boots in every color. A wide variety of brightly colored animals are happy to offer colorful boots to the ladybug on each page. The illustrations are vibrant, and the story is told in a peppy rhyming pattern.

Brown Bear, Brown Bear, What Do You See?
was written by Bill Martin Jr and illustrated by Eric Carle. This classic story introduces kids to a variety of colorful animals, through a repeating refrain and large, colorful illustrations.

How Do Dinosaurs Learn Their Colors?
was written by Jane Yolen and illustrated by Mark Teague. This fun board book introduces simple colors through rhyming text and fun illustrations of dinosaurs participating in a variety of activities.
Picture Books

Lemons Are Not Red
was written and illustrated by Laura Vaccaro Seeger. This fun book explores colors through vibrantly colored artwork, and fun paper cut outs. The simple text informs the reader that everyday objects are not a certain color. As they turn the page, the die cut pages show the true color of the objects, ending in a tranquil nighttime message.

Dog's Colorful Day: A Messy Story About Colors and Counting
was written and illustrated by Emma Dodd. Dog starts out all white, with one black spot on his ear. As the day goes on, he finds himself covered in all kinds of colorful things. The fun story reviews both colors and counting, and is accompanied by vibrantly colored illustrations of the adorable dog.

Cat's Colors
was written and illustrated by Jane Cabrera. The cute cat at the center of this story asks the reader to guess his favorite color. He reviews all of the colors, sharing things that he loves in each vibrant hue. The illustrations are bright and cheerful, and the story has a sweet ending.

Mix It Up!
was written and illustrated by Herve Tullet. This colorful interactive story encourages the reader to tap, rub, and interact with the colors on the page to create new colors and make items move around. Kids will love feeling like they are controlling the illustrations.

Monsters Love Colors
was written and illustrated by Mike Austin. The fun monsters in this story love colors. Join them as they celebrate their favorites and learn to make new colors. The energetic illustrations are sure to keep kids entertained while they learn about mixing colors.

Bear Sees Colors
was written by Karma Wilson and illustrated by Jane Chapman. The adorable Bear and his friends are back in this fun exploration of colors in the wild. The descriptive rhyming text uses a repeating refrain to encourage readers to search for colors along with Bear.

Blue vs. Yellow
was written and illustrated by Tom Sullivan. This entertaining clash of the colors asks the reader whether blue or yellow is the best color. Both sides offer interesting arguments, but is there a possibility that a new color may beat them both? The illustrations are especially interesting, creating artwork out of the two battling colors on their own.

A Day With No Crayons
was written by Elizabeth Rusch and illustrated by Chad Cameron. This descriptive story follows a young girl named Liza as she fills her world with vibrantly colorful artwork. When her mother takes away her crayons, Liza finds new ways to bring color to her world. The illustrations are vibrant and bold, especially as Liza starts finding colors in her gray world.

The Day the Crayons Quit
was written by Drew Daywalt and illustrated by Oliver Jeffers. Duncan's crayons have all decided that it is time to stand up for themselves. Through a series of hilarious letters, the various crayons share their complaints, leading Duncan to make a few changes in the way that he creates artwork. This fun story encourages the reader to look at colors a little differently.

Wow! Said the Owl: A Book About Colors
was written and illustrated by Tim Hopgood. When an owl decides to stay up and see what the world looks like during the day, she is surprised to find that they world is full of color. The vivid collage style illustrations showcase all the bright colors the Owl sees around her.

Green
was written and illustrated by Laura Vaccaro Seeger. This book takes a look at all different shades of green. From the green of different fruits and vegetables, to the way that green impacts our lives, this book is a tribute to all things green. The text is simple, but the illustrations are lush and full of texture.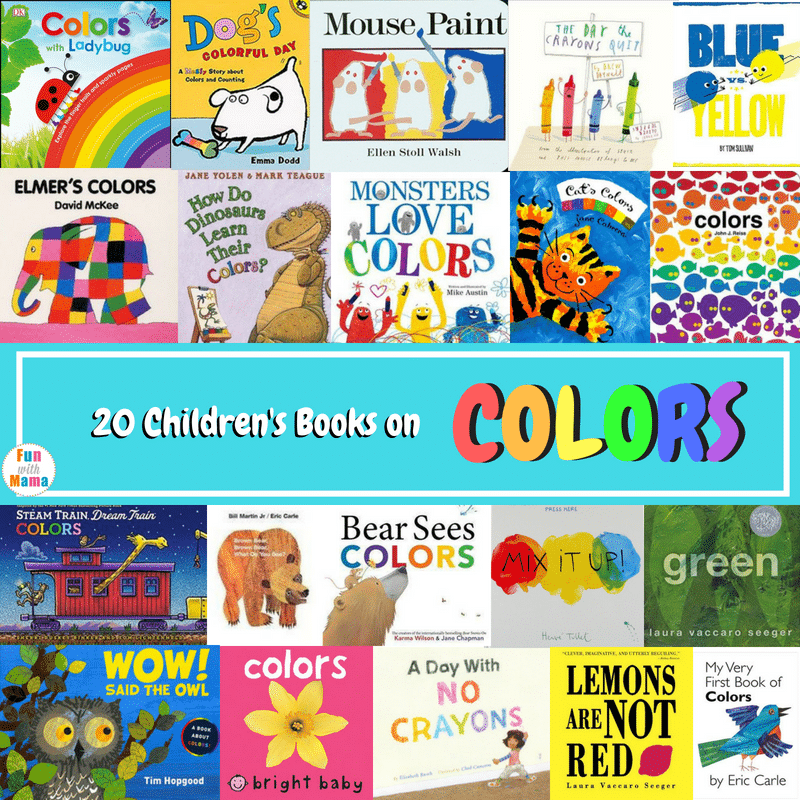 Want some color activities? Then check out: