Pumpkins are not only yummy to eat and can be used in a variety of different recipes, but they are also easy to grow. This Pumpkin Life Cycle Printable Pack can be used while growing your own pumpkins or to just learn about the life cycle of the pumpkin. Children will learn about the pumpkin growing stages. It is also a great activity to complete around Thanksgiving as well.
PUMPKIN LIFE CYCLE
The great thing is, many of these activities in this Pumpkin Life Cycle Learning can be enjoyed multiple times and in a variety of ways and by children of varying ages.
Materials Required:
Please note that affiliate links are used in this post. This means if you purchase from one of these links this site will make a small commission on the sale.
Tools We Use
Tried, tested, and loved by us here at Fun With Mama.
Here are some items that pair well with these activities. You will use each of these items over and over during all my printable preschool activity packs.
This Pumpkin Life Cycle Learning Pack contains 62 pages of fun and learning activities for children in preschool and kindergarten.
The activities included in this 62 page printable pack are:
Alphabet Flashcards. Once these cards have been printed out and laminated, they can be used for teaching the letters of the alphabet, alphabetical order, spelling simple words and matching the lower case letters to the uppercase ones.
Number Flashcards. Again, print these out and laminate before using them for learning to count from 1 to 10. They can also be used to match the number with the word number, and for learning simple addition or subtraction. They can be used in conjunction with the alphabet flashcards, by having your child spell out the numbers with the alphabet cards.
Pumpkin Life Cycle. Included is a printable poster of the pumpkin life cycle as well as a cut and paste page for your child to complete while learning the order of the events that take place during the pumpkin life cycle.
Do-A-Dot pages. Find the letter and dot them out.
I Spy. How many of the pictures can you find?
Simple Handwriting Practice. Great for helping kids learn to spell while practicing their letter formation while learning the different phases of the life cycle.
Number Puzzles. Print out and laminate for repetitive use. Learn to count in 1's, 2's, 3's, 4's and 5's while making the puzzles.
3 Part Puzzles. Print out and laminate and then have fun matching the pieces of the puzzles.
Cut and Paste Missing Numbers. Learn to count and practice scissor skills at the same time. Cut out the numbers and paste them in the correct places.
Size Sequencing Cards. Cut out and laminate for durability. Place the cards in order from smallest to largest or largest to smallest. They can also be used to place in sequence of the events of the butterfly life cycle.
Count and Clip Cards. Count the pictures and clip the answer with a paperclip or peg or place a pom pom on the answer.
Simple Addition and Subtraction. Color or clip the correct answer.
Vocabulary Cards. Included are 3 part cards as well as information cards that can be used to learn about the turkey life cycle. They also include pumpkin facts.
You will love the life cycle of a pumpkin book.
The story writing pages are a great activity for children to express what they learn as they grow their own pumpkins. A great activity for this is to grown your own pumpkin in a pumpkin.
WHERE TO GET THIS ACTIVITY
GET THE PUMPKIN LIFE CYCLES PACK HERE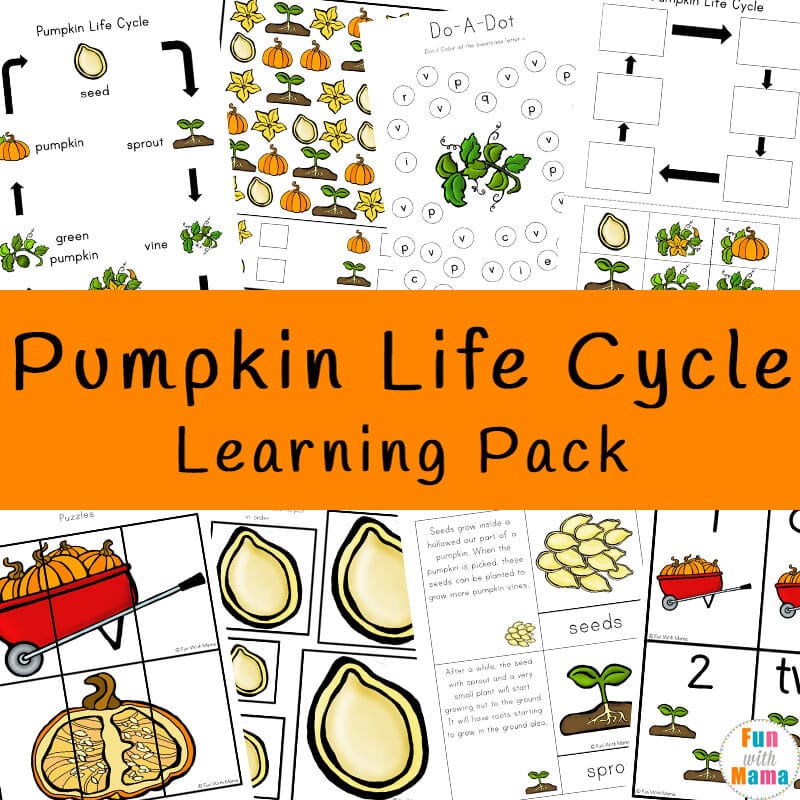 Explore the pumpkin life cycle with this pack of engaging math and literacy activities this fall and Halloween season. Choose from cut and paste activities, themed alphabet and number flashcards, puzzles, do-a-dot pages and much more. Both color and black and white formats are included, where possible, to suit your individual printing needs.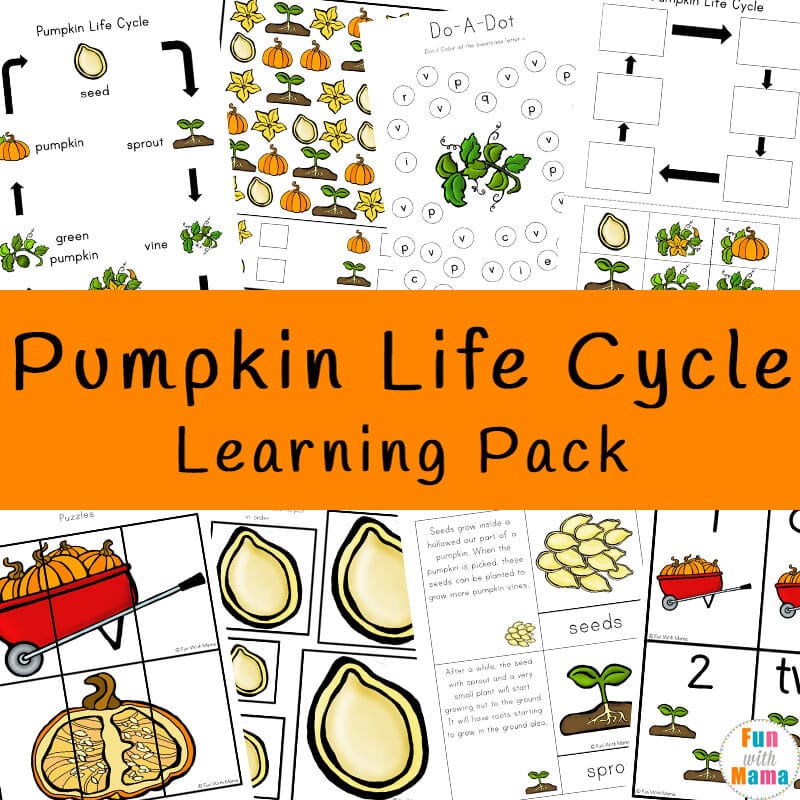 If you are looking for the black and white copy or want the full Halloween bundle that includes the Pumpkin life cycle pack (in color and black and white), the Halloween pack in color and black and white, color by number pages, puzzles and MORE… then go to: Halloween Activities For Kids Bundle.
Want more life cycle activities? Then check out:
– Frog Life Cycle Pack
– Butterfly Life Cycle Pack
– Watch a real life butterfly life cycle activity!
– Praying Mantis Life Cycle