This life cycle of a frog for kids is great fun printable pack for preschoolers and toddlers. With 68 pages of fun, hands-on and written fun, your children will enjoy learning about the different stages of the frog life cycle. The great thing is, many of these activities can be enjoyed multiple times and in a variety of ways. Your child will learn how the frog begins as an egg, then becomes a tadpole, how the legs then emerge , then the frog becomes a froglet and then finally into a frog. They will also work on counting, number recognition, and more!
Life Cycle Of A Frog
The frog life cycle is very interesting. From a tiny frog egg all the way to a tadpole to frog.. the life cycle of a frog is very interesting. These printable activities and worksheets allow a child to explore this process through fun hands on learning.
Materials Required:
Please note that affiliate links are used in this post. Please see my disclosure policy for more information.
As always, I ordered all these products on Amazon using my Prime account. You can Try Amazon Prime 30-Day Free Trial
.
Great Additions to this learning unit:
Grow a real frog to watch the whole process in real life!! Please note that these frogs cannot be released into the wild because of dehydration and that they can live for 15-20 years.

The life cycle of a frog worksheet is a cut and paste worksheet. If you would like to use it over and over, laminate the pages and use velcro dots.


Frog Life Cycle
The activities included in this 68 printable pack are:
Alphabet Flashcards. Once these cards have been printed out and laminated, they can be used for teaching the letters of the alphabet, alphabetical order, spelling simple words and matching the lower case letters to the uppercase ones.
Number Flashcards. Again, print these out and laminate before using them for learning to count from 1 to 10. They can also be used to match the number with the word number, and for learning simple addition or subtraction. They can be used in conjunction with the alphabet flashcards, by having your child spell out the numbers with the alphabet cards.
Frog Life Cycle. Included is a printable poster of the frog life cycle as well as a cut and paste page for your child to complete while learning the order of the events that take place during the frog life cycle.
Do-A-Dot pages. Find the letter and dot them out.
I Spy. How many of the pictures can you find?
Simple Handwriting Practice. Great for helping kids learn to spell while practicing their letter formation.
Number Puzzles. Print out and laminate for repetitive use. Learn to count in 1's, 2's, 3's, 4's and 5's while making the puzzles.
3 Part Puzzles. Print out and laminate and then have fun matching the pieces of the puzzles.
Cut and Paste Missing Numbers. Learn to count and practice scissor skills at the same time. Cut out the numbers and paste them in the correct places.
Size Sequencing Cards. Cut out and laminate for durability. Place the cards in order from smallest to largest or largest to smallest. They can also be used to place in sequence of the events of the frog life cycle.
Story Writing Pages. Write about what you have learnt about each part of the frog life cycle or make up your own stories.
Count and Clip Cards. Count the pictures and clip the answer with a paperclip or peg or place a pom pom on the answer.
Simple Addition and Subtraction. Color or clip the correct answer.
Vocabulary Cards. Included are 3 part cards as well as information cards that can be used to learn about the frog life cycle.
Where to get the activity pack
GET THE FROG LIFE CYCLE AND LEARNING PACK HERE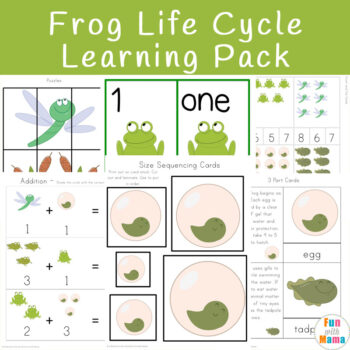 Explore the frog life cycle with this fun learning pack that will teach more about frogs using real-life pictures as well as clip art images. Students will also work on counting, sorting, size sequencing, and more.
Children will love working with the life cycle of a frog for kids pack.
More frog themed activities: