Fall is my favorite time of the year! The brilliant colors of the orange leaves as they change and fall from trees create so many fun activity opportunities. This enjoyable printable fall activities for preschoolers activity pack uses the colors and vocabulary of fall to teach children shapes, sight words, vocabulary words, alphabet letters, numbers, and more.
Fall Theme Activities For Kids
Aimed at children ages three through eight, this massive Fall Printable Pack includes a variety of math and literacy activities as well as some exciting animal activities. Add the activities to your fall lesson plans. Kindergarteners will also enjoy this pack.
Whether you use this pack at home or within your Kindergarten preschool classroom, I know your student will LOVE it.
Materials Required:
Please note that affiliate links are used in this post.
You can find all my favorite items in my Amazon shop and specific activity pack supplies here.
Here are some items that pair well with these activities. You will use each of these items over and over during all my printable preschool activity packs.
Watch the fall activities for preschool video to see the activity in action
Fall Preschool Activities Printables
I've included a wide variety of hands-on activities in the fall activity printables pack.
I placed items on a tray so that I could hand out items to me daughter as we need throughout the week.
Fall words included in the preschool fall activities pack are:
leaf
squirrel
sunflower
pumpkin
mushroom
acorn
pumpkin
hay
apple
corn
wagon
crow
rake
scarecrow
and MORE
Fall scarecrow feelings activity
Fall sunflower craft
Fall nature hunt
Fall shape matching activity
Fall play dough mats
Fall pumpkin number matching activity
Fall sunflower craft with students picture
Fall fine motor acorn
Fall uppercase lowercase matching acorns
Fall sight word activity
The sunflower fall craft was a true highlight for my daughter. She loved seeing her face on the sunflower. You can also build the sunflower without a child's face. It is such a fun fall craft. The craft comes in color as well as black and white so students can color the yellow sunflower on their own or can make it any color they prefer.
Children will love building the pumpkin, basket and scarecrow as art of the number puzzles as well as a dog and acorn as part of the word building puzzles.
Just like us, Mr Scarecrow has some big feelings. Can you help draw and identify those feelings?
You can make it a sensory activity. Throw the cards in a sensory bin and have your child find a card and then identify the matching feeling.
Check out 23 Favorite Fall Books for Kids.
This activity pack is adaptable for kids ages 2-7.
My 2-year-old adores shape and button themed activities. She loved the sunflower shapes garden. Toddlers LOVE this one.
Flip the shape and then find the matching shape leaf. Then cover it.
The play dough mats will work on their fine motor skills and strengthen their hands.
Create some Fall Playdough using my fall playdough recipe to go with the mats.
Work on size sequencing using the squirrel cards from biggest to smallest or smallest to biggest. There are also many other math activities like skip counting puzzles.
I have set up the activity below in two different ways. On day 1, I will give my daughter this activity and have her use it with the Pom Poms. You can add velcro dots to the white parts of the circle so the pom poms stick.
On day 2, I will give her the same activity with the stickers.
Stickers are always a win with the little ones. These types of activities work on their fine motor skills.
The counting cards can be used with clothespins/pegs to target more fine motor and hand strength. Or you can use a mini eraser to cover the correct numbers. You can also use pumpkin seeds instead of the erasers.
I printed out a few puzzles for my daughter to work on. She started with the two piece puzzles and then moved onto the 4 piece puzzles.
Match the uppercase acorn to the lowercase matching piece.
Here are some optional sight word activities. Choose a leaf, pumpkin or acorn. Then build it. Then identify it on the included mat. For sight words, we want to practice it by having students look at the word many times so that they can then remember it quickly by sight.
The activities come in color and black and white. Students can color the black and white sheets in and they also save ink too.
Don't forget to check out all of our preschool printables and activity packs.
Fall Worksheets
I know how much my readers enjoy having no-prep worksheets with our activity packs. I've included a variety of them below.
Color the fall leaves with the letters of your name.
Fall coloring Page
Work on patterns.

Work on sight words.
Color the leaves with the color under the leaf.
Fall picture matching
Graph the numbers.

Draw the feelings on the scarecrows.
Count the pumpkins in the wagon then mark the answer.
Acorn Tracing
Cut and paste the alphabet letters
Cut and paste from shortest to tallest.
WHERE TO GET THIS ACTIVITY
GET THE FALL ACTIVITIES PACK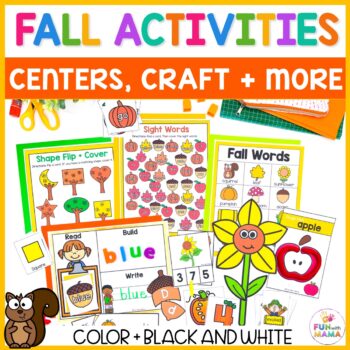 Your literacy and math center activities are taken care of this fall season including fine motor skills worksheets, a fall mini book, letter tracing and letter identification worksheets, counting activities and so much more! Both color and black and white formats are included to cater for your individual printing needs.
Looking for some autumn activities and freebies? Check out these free printable fall activities:
Here is a question for you… do you call this season fall or autumn?