Do you love fall? It definitely is my favorite season with its lovely colors and the amazing changes that start to happen to the trees and nature around. This fall prepositions printable activity is a perfect fall centers for your kindergarteners and preschoolers. This is the perfect way to teach prepositions for preschoolers!
Learn all about prepositions and positional words with this fun and hands-on set of positional words activity in a fun fall theme! Grab this printable for a fun Fall Kindergarten Center with your learners!
Fall Prepositions Activity for Kids
As kids grow and develop, so does their vocabulary. They are constantly exploring and looking for different ways to explain and describe things and objects around them. Positional words or prepositions are very helpful in helping young kids build their vocabulary and describe things around them. Featuring fun fall themed clipart, learners will have fun exploring and identifying the different positions of the squirrel with respect to the basket.
Positional words are an important mathematical concept that preschoolers and kindergarteners need to learn about. It helps with identifying positions of objects as well as also helping to develop a sense of spatial understanding.
Teach prepositions to young learners, and young children help them with parts of speech. Having a small group of words to work on or to play a fun game with helps their language kills.
What is Included in This Prepositions for Preschoolers Printable
These printable worksheets include:
A poster containing all the prepositions or positional words
12 clip cards for learners to practice and firm up their knowledge of positional words
Black and white copies of the printable
Black and white copies are included to provide a printer-friendly version. If you are opting to print the black and white versions, you can opt to print them onto colored cardstock for an extra pop of color!
Free Printable (download it at the end of this post)
Printer
Laminator
Scissors
Wooden clothespin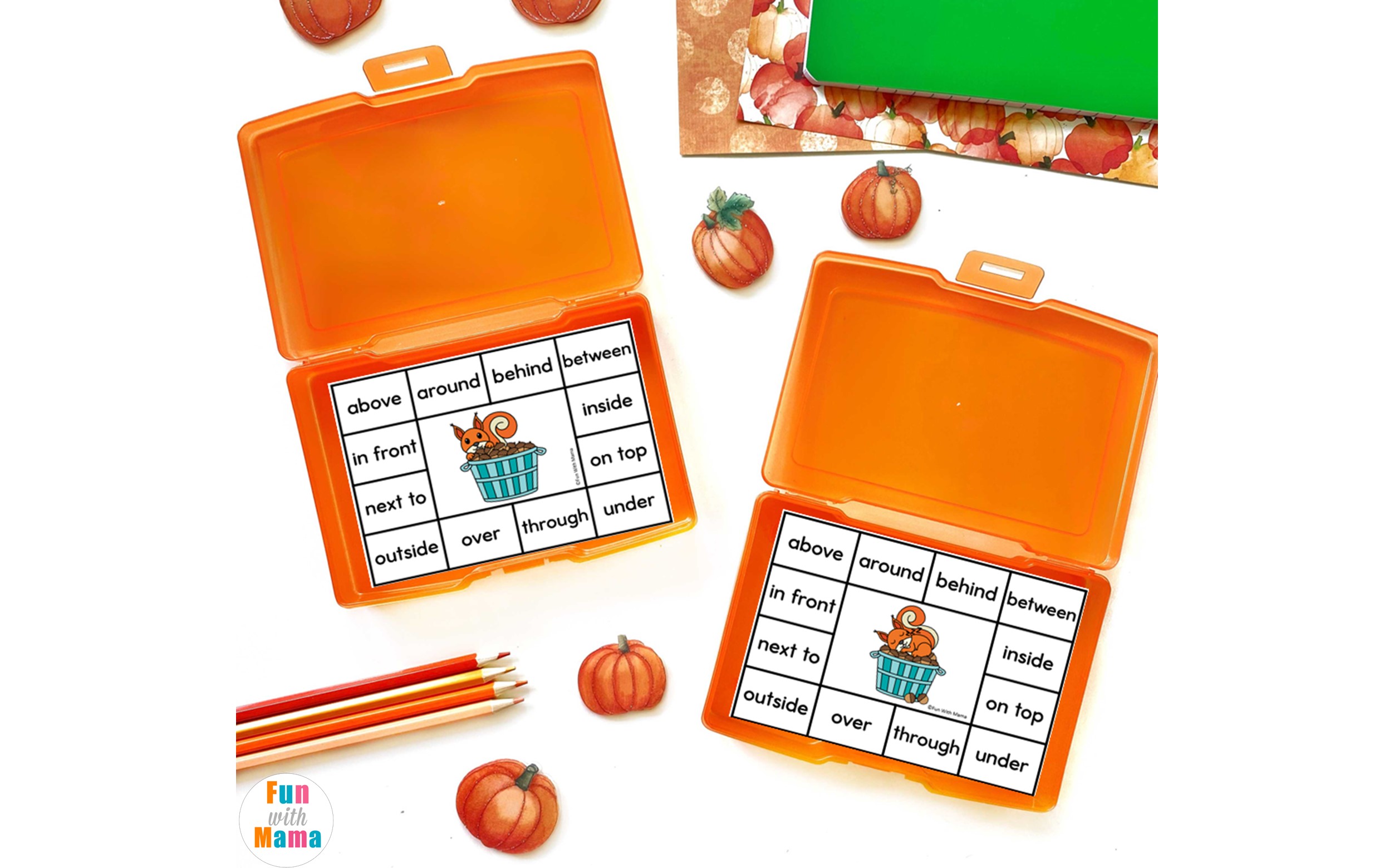 To Prep the Positional Words Activity
Print and laminate the pages. The printable comes in color and a printer-friendly black and white version as well. The black and white version can be printed onto orange construction paper for a fun fall themed look.
Cut apart to create the clip cards. Provide learners with wooden clothespins to clip the correct answers on the cards.
The task cards can be stored in a photo box for easy storage. You can pack up this list of common prepositions to take with you for learning on the go or use them for classroom activities. You'll find these useful prepositions are helpful for preschool children and other early learners to learn all kinds of words.
Use this list of prepositions as fun preposition activities for hands-on practice. Teach prepositions with easy instructions to make for fun lessons! Resources like this make it simple!
Using the Prepositions Printable Activity
Present the learners with the clip cards and some wooden clothespins.
Learners can use the 'Positional Words' poster as a reference or a learning tool to learn about the different prepositions.
Students will pick up the clip cards and figure out what preposition or positional word can be best used to describe the position of the squirrel with respect to the basket. They will then clip the correct answer using their wooden clothespins.
Students will work their way through the pile of cards, clipping each card until they finish off the pile. This set covers a total of 12 prepositions or positional words.
Fall Kindergarten Math Center
This fun and hands-on printable activity are perfect for a Kindergarten Math Center! You can even use this activity with preschoolers or first graders for a fun activity! Simply place this activity in a math center, and let your learners have fun practicing their positional words!
Where to get the Fall Prepositions Clip Cards Printable
GET THE FALL PREPOSITIONS CLIP CARDS PRINTABLE HERE
Already a subscriber? No problem. Just enter your details above so we can send this printable directly to your inbox.
More Fun Fall Activities