This fall activity for preschoolers and kindergarteners focuses on letter recognition, both upper and lowercase, as well as beginning sounds through a variety of different fall-colored leaves and cute fall-themed children.
Fall Alphabet Matching Activity
Imagine this:
You spend hours raking up the crunchy leaves in your yard, and even though it's chilly outside, you still have sweat on your brow.
You have two or three piles scattered around your yard, ready to be put in yard bags. Your kids come running into the yard and scream, "LEAAVVVEES". They are stoked to jump in the piles.
Even though you spent hours cleaning up the yard, you stand back and smile because this is a core memory.
The sound of crunchy leaves under their little feet, the 'wahooo' as they jump into the pile, and their big smiles make all your extra hard work worth it!
Your children will have the same excitement on their faces when they are learning and practicing the ABCs with this Fall Leaves Alphabet Matching Activity.
Check out the video of how we used the activity below:
Video Of The Alphabet Matching Activity
Let's rake up these alphabet leaves, but before we do that, I want to give you a look at what is included in the activity pack.
This alphabet-matching activity includes a variety of leaves in different colors, as well as some children dressed up like they are playing outside in the fall.
Learning the various parts of letter recognition and beginning sounds is incredibly important for preschoolers and kindergarteners. They are learning the beginning steps of reading and writing. This activity encompasses all of this and more.
In this activity pack, I've included large kids with larger leaves and smaller kids with smaller leaves in a rectangular cut layout.
I know that cutting out small pieces can be tiring, so the smaller kids with smaller leaves pages make it easier for you.
Or, if you want to, feel free to cut out the leaves without a white border like below. If you are using it in a classroom, you will prep once and re-use the pieces over and over if you use a laminating machine.
This kindergarten alphabet activity is full of versatility to ensure your child learns at their own pace. You can apply differentiation by only having children match some elements or extend as far as matching all the pieces at one time.
While children pick up the various pieces and set them down in place, they are also strengthening fine motor skills that are necessary for skills such as zipping a zipper and tying their shoes. Not to mention holding a pencil correctly.
Check out my Fall Printable Activities Pack as well! There are art activities, counting, clip cards, and so much more!
Some of the leaves have uppercase letters, while some have lowercase letters. Additionally, there are also leaves with a variety of different pictures to help with beginning sounds.
How to prepare the activity
Have a look through the printable pack to see which pieces suit you best. My personal preference is the easier-to-cut leaves and smaller children.
I also love the alphabet matching cards.
Once you are ready, print the pages out onto cardstock.
Thereafter cut the pieces out.
To preserve the life of this activity pack, I would suggest laminating each piece. When it is all ready, lay out the activity for your child.
You can start off small by strictly offering some of the letters and pieces. For instance, just start with upper and lowercase letters. If your child is ready, you can present all of the parts.
Suggestions On Using This Fall Leaves Alphabet Activity
This alphabet matching game can be used in preschool, kindergarten, or first grade.
It is a great activity for literacy centers, morning tubs, or for early finishers.
Hide the cards around the house, place them in a sensory bin, or on a table for children to sort through.
Where to get the Fall Tree Leaf Alphabet Matching Activity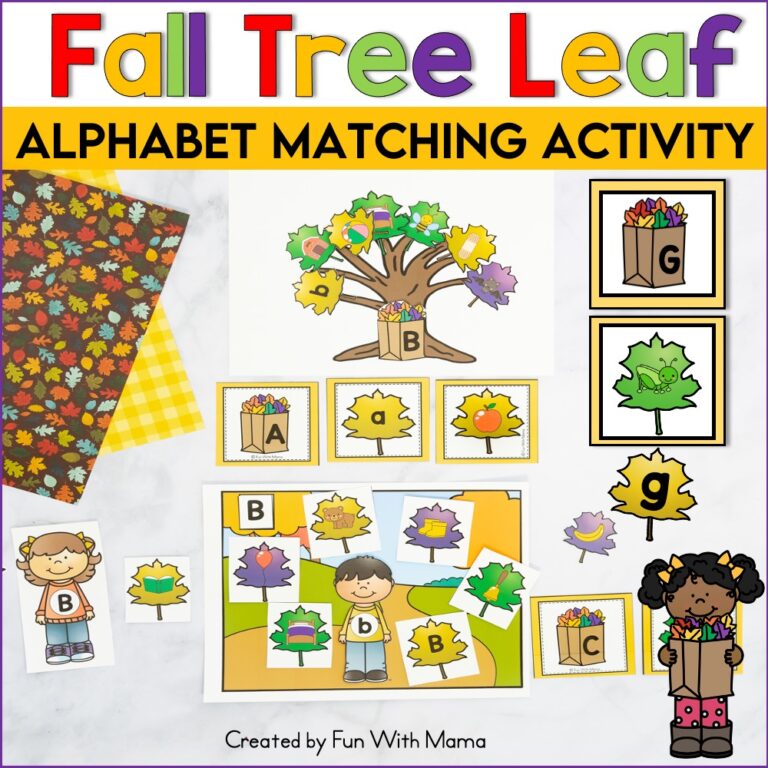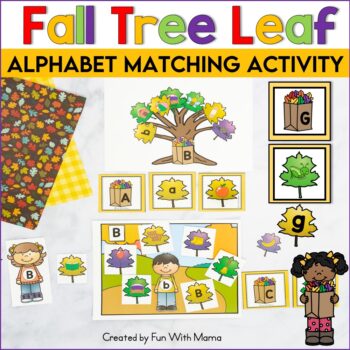 Get the Fall Tree Leaf Activity Here
$4
This alphabet activity includes uppercase, lowercase, and beginning soudn matching. Children can match the letter to the corresponding alphabet using the cards, mat, and tree.
More Alphabet Matching Activities