A fun way to learn about St Patrick's Day is with this exciting new St Patrick's Day Bingo pack. These St. Patrick's Day themed Bingo cards are great for getting everyone, families, homeschoolers, and classrooms, together and having fun while learning at the same time.
And who doesn't love Bingo? It's such a fun way to let every one of any age join in on the fun! Since these Bingo cards have the words and pictures on each square, even little ones who are still learning to read can join in on the fun.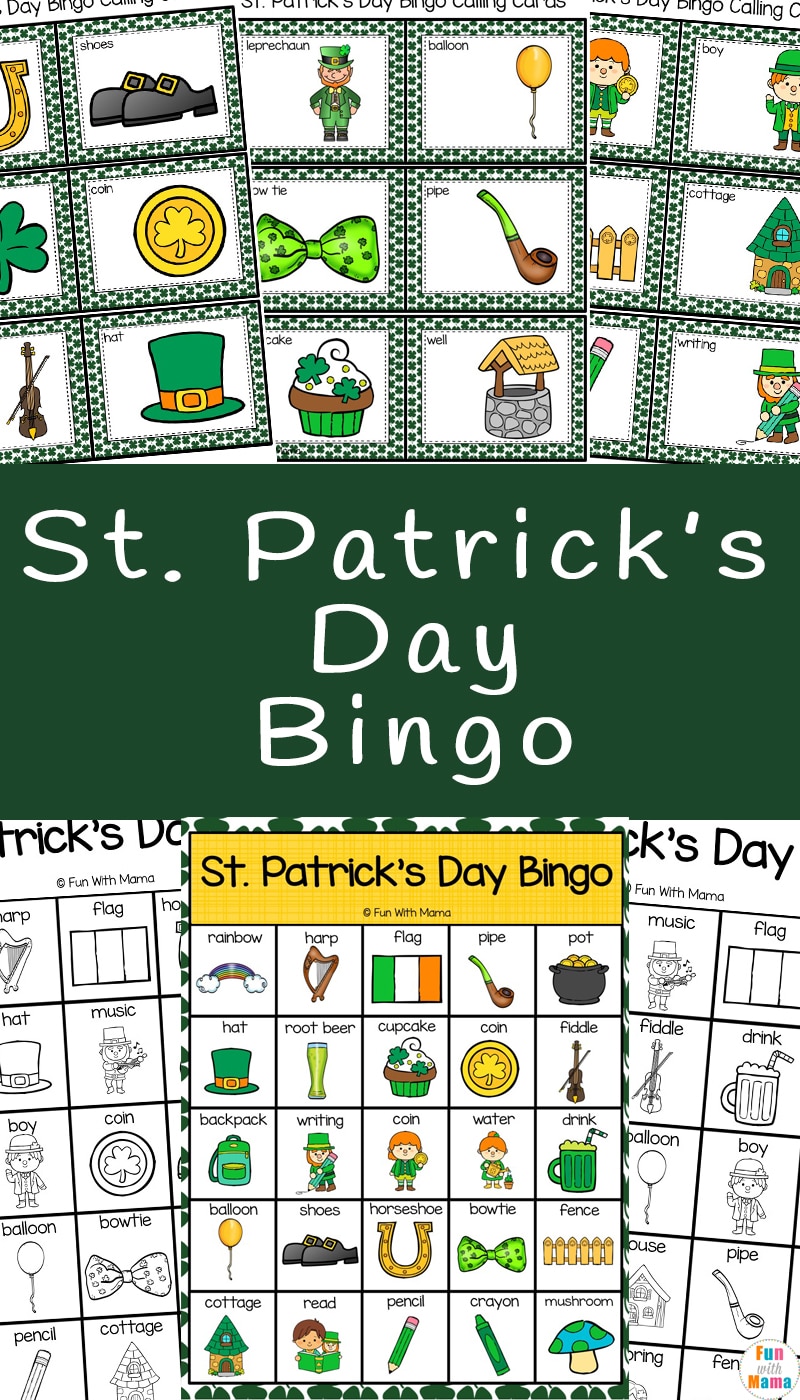 ST. PATRICK'S DAY BINGO
This St. Patrick's Day Bingo pack contains all you need to have fun this St. Patrick's Day playing a simple, yet fun game that people of all ages can enjoy.
Materials Required:
Cardstock ~ to print the cards and boards out on
Laminator ~ to laminate the cards and boards
Bingo chips or markers to place on the boards
This printable pack contains calling cards as well as thirty different bingo boards all with a St. Patrick's Day theme.
With thirty-two calling cards containing all different St. Patrick's Day-related images, there is lots of fun and learning to be had. Also included are thirty different bingo boards, each containing twenty-five different images. These boards contain the name of the image as well to help children with matching the images to the words.
While playing this fun St. Patrick's Day-themed bingo, children will be reviewing their vocabulary, word recognition, and fine motor skills while using manipulatives to mark their images and of course, picture and word recognition.
Obviously, this activity does not take a lot of time or effort to put together. To prepare, print out the calling cards and the bingo boards in white cardstock or paper. Laminate the bingo boards, cut out the calling cards and laminate them too.
Store together in a clear document folder with the calling cards held together in a zip lock bag as well as a zip lock bag containing manipulatives that can be used as markers on the boards.
There are two options available for this St. Patrick's Day Bingo pack; a very pretty, colorful version and a black and white for those who want to save their color ink.
The black and white version can be used creatively by having children color in their bingo game board mat.
Other fun ways to use this St. Patrick's Day Bingo Printable
Another fun way to use this printable is to use it as a memory game. You can cut out the pictures and turn them upside down to make another game that everyone can play as well.
As long as you're planning and playing together as a family, you really can't go wrong. Have fun celebrating St. Patrick's Day with a family-friendly game of Bingo!
Don't forget to check out our other fun Bingo printables as well: