This Fall tree painting activity was exactly what we needed to start the new season. I love that the template can be used in different ways so that it is most age appropriate for children (and even adults too!)
Having the kids create red leaves and yellow leaves using variations of fall colors is such a fun way to create trees of any colors!
Be sure to check out my Fall Activity Cards – Fun Fall Activities for Kids! for even more fun learning activities and ideas.
Watch the video of the activity to see how we used it. Learning how to paint tree leaves doesn't have to be hard at all.
Activity Video
Materials We Used: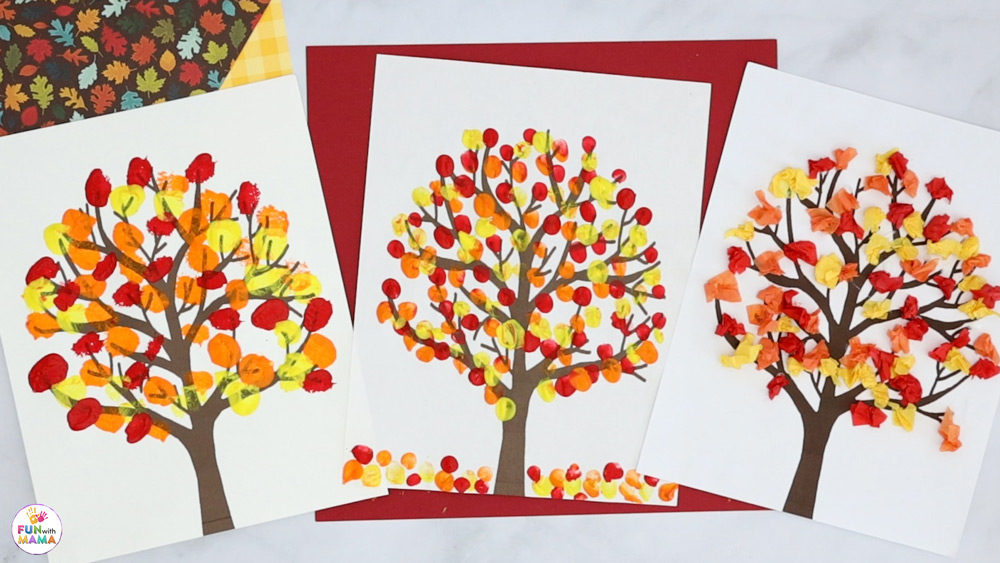 Fall Tree Leaf Painting Ideas
Before you begin, I suggest choosing a color palette. My fall-themed color choices were: yellow, red, and orange. You can use three colors, two colors, or more!
Fall Tree Leaf Painting With Pom Poms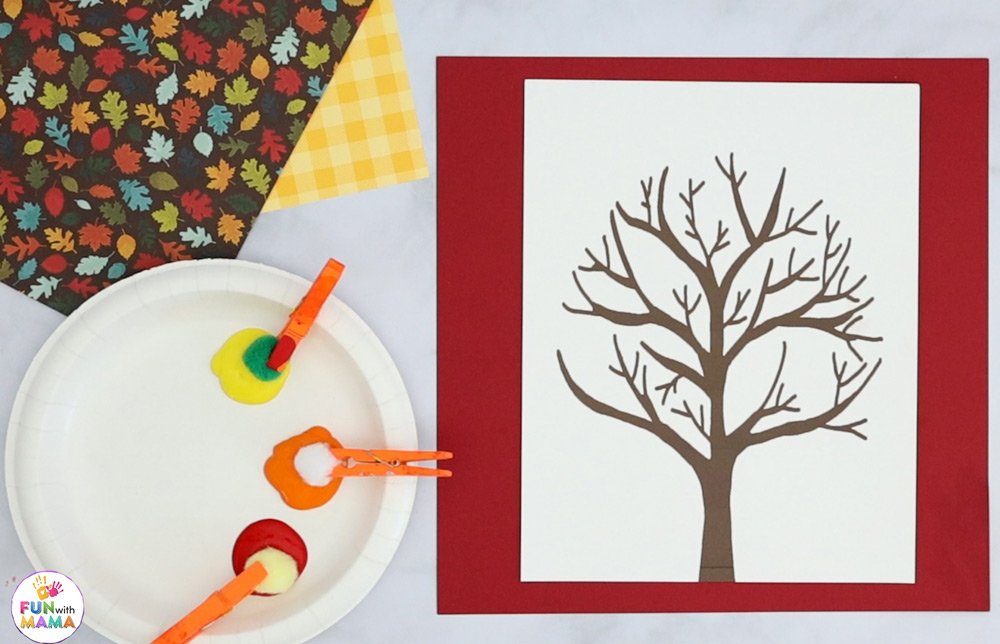 To paint with the pom poms, we attached pom poms to clothespins. You can glue them on if you want it to be more sturdy, but we were fine without needing to do that. (If you don't glue it, the pom poms may pop out every once in a while.)
After adding the pom poms to the clothespins, add some paint to your palette and then begin dotting the different colors onto the tree.
This is what the effect will look like. This version is a pretty fast painting activity and is most suitable to younger kids like toddlers and preschoolers.
Fall Leaves Fingerpainting Activity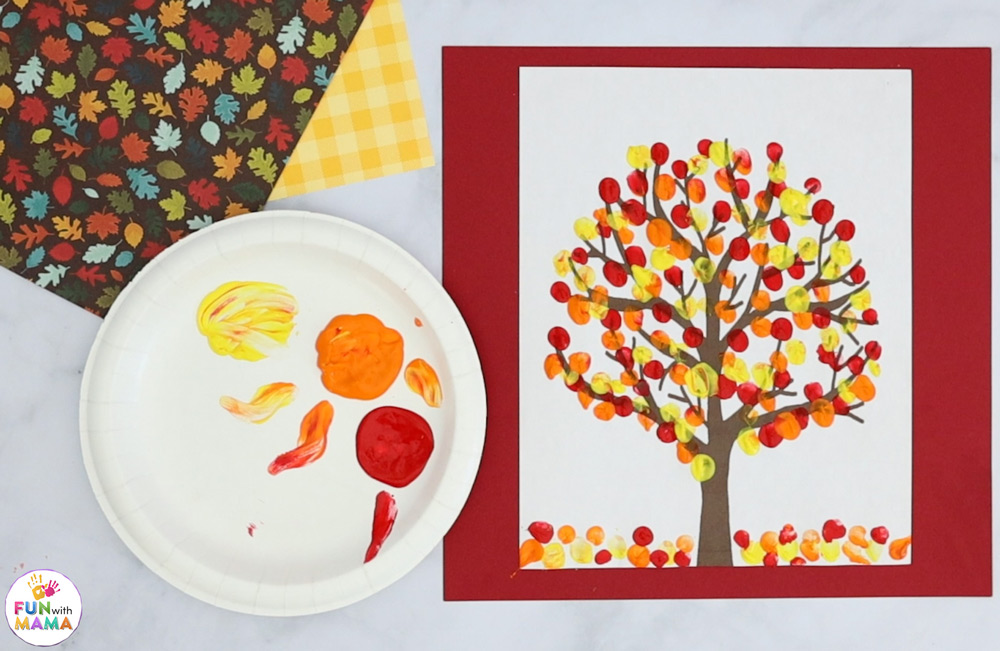 An older child may want to extend the activity and make it a little longer. Fingerpainting is a great way to do this because their fingertips are smaller than the pom poms and the painting will take a little longer.
Fall Tree Leaves With Tissue Paper
Use glue and square-cut tissue paper to create your leaves. This is great because you don't need brushes and they use the tree trunk to be their guide.
Having a particular focus on just the leaves when you don't have to worry about painting tree trunks means that they're learning how unique art can be.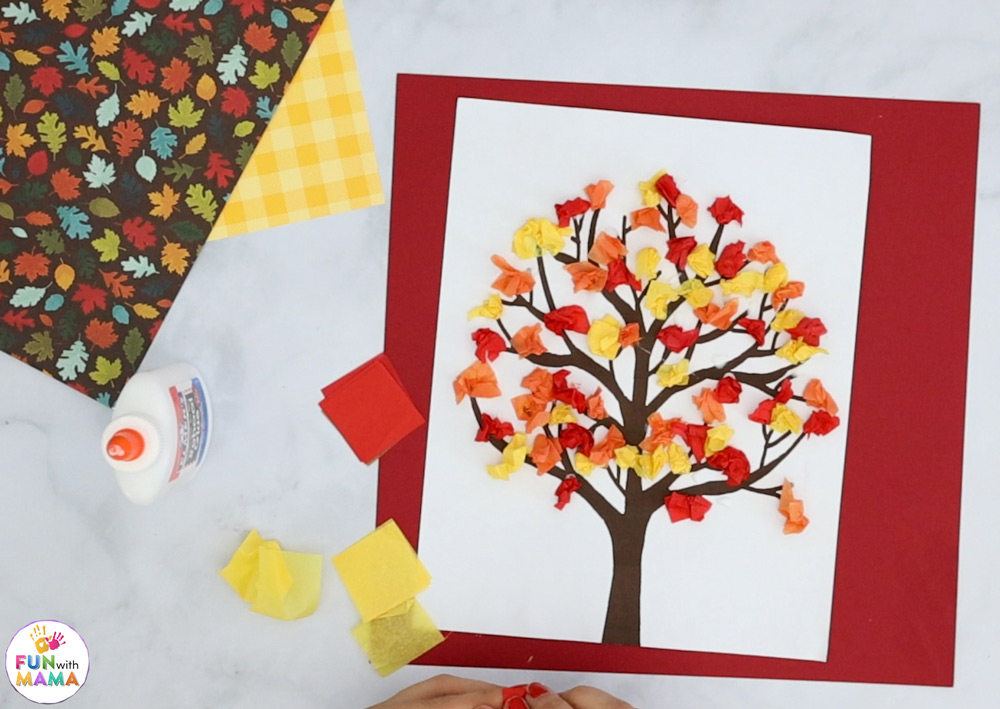 Add glue to the paper and then squish the tissue paper together with your fingers. Keep adding to the tree until you are satisfied.
What are some good art tips for this project?
Let the kids have fun! They can follow the video tutorials above or even add to it by creating a landscape or painting landscapes along the bottom of the tree trunk as well.
While these aren't technically full art lessons, use these fun painting tutorials as a way to help them have creative fun. They can add sunlight, an exposed blue sky, or anything else in the picture to make it a positive space.
I would recommend doing the activity of each method of painting leaves so that they can see and create various details of the leaf. The bright yellow with red and orange are a lot of fun to create with.
What kind of paint works best?
You can use acrylic paint or even make it a watercolor painting as well. Just be sure that your little one knows that they need to keep the paint away from their mouths and clean their hands well if they are using their fingers to make the leaves.
Can I use different colors of paint for this leaf activity?
Absolutely. You can use a medium yellow, green mixes, or bright oranges and reds- or any other colors that they want.
Download the tree template here
You'll have two options for the template. One will have the tree trunk colored on, and the other is just an outline of the tree trunk. You can use the tip of your brush to paint it in, or have the kids color the trunk in with a marker.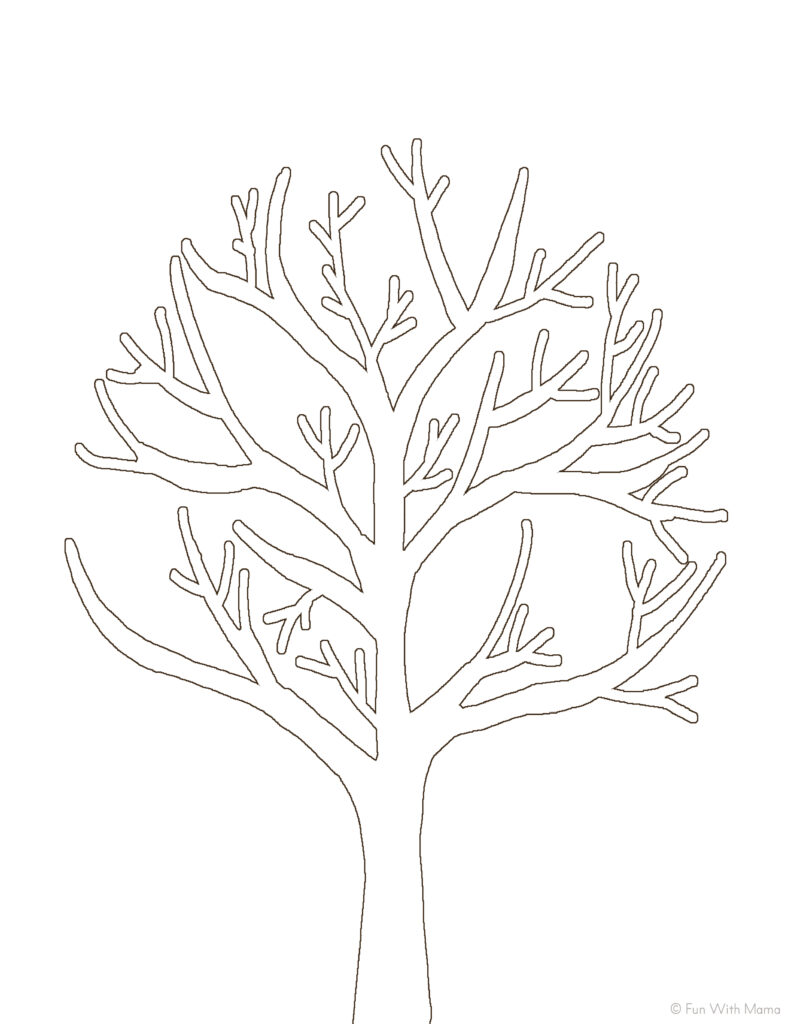 Make sure that you let the paint dry completely before displaying it! It's such a beautiful piece of art!
Where to get the Free Fall Tree Painting Printable
GET THE FREE FALL TREE PAINTING PRINTABLE HERE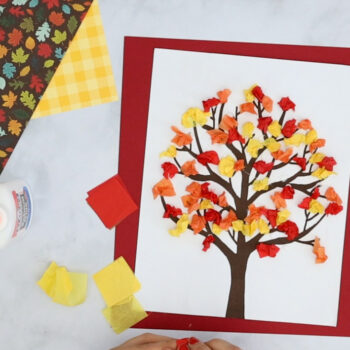 Already a subscriber? No problem. Just enter your details above so we can send this printable directly to your inbox.
More Creative Art Activities for Kids