Do your kids love drawing? I have yet to encounter a child who doesn't enjoy filling sheet after sheet full of drawings!
This step-by-step drawing guide will show you and your child how to create your own monkey drawing. The easy steps in this tutorial are perfect for beginners, so even young children can join in the fun. Let's swing in!
If you find this a little challenging or want to work on something a little easier (or are doing this activity with a child, check out my post on Fingerprint Art Drawing. It's a wonderful start to a larger drawing activity like this.)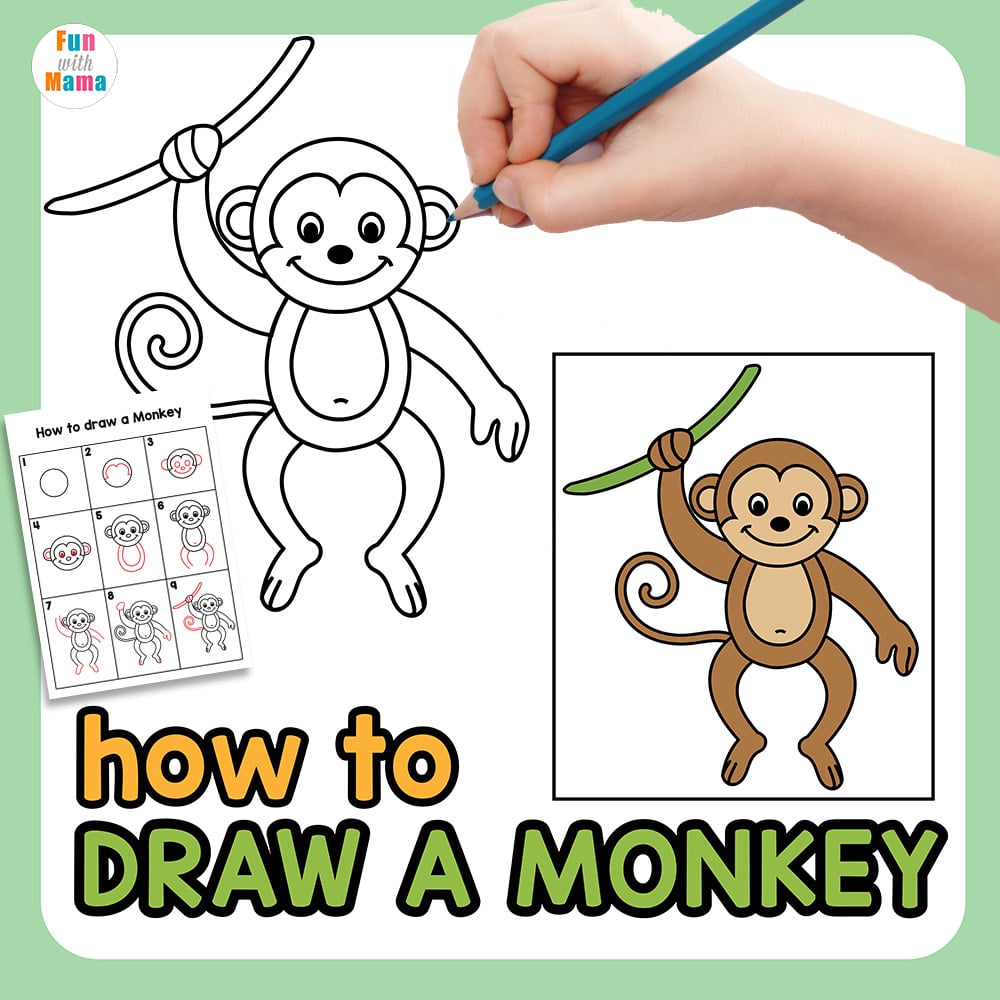 How to draw a monkey
We've learned How To Draw A Lion and How to draw a Spider Web. Now it's time to learn how to draw a monkey with this simple directed drawing guide.
This step-by-step guide will break down the monkey drawing process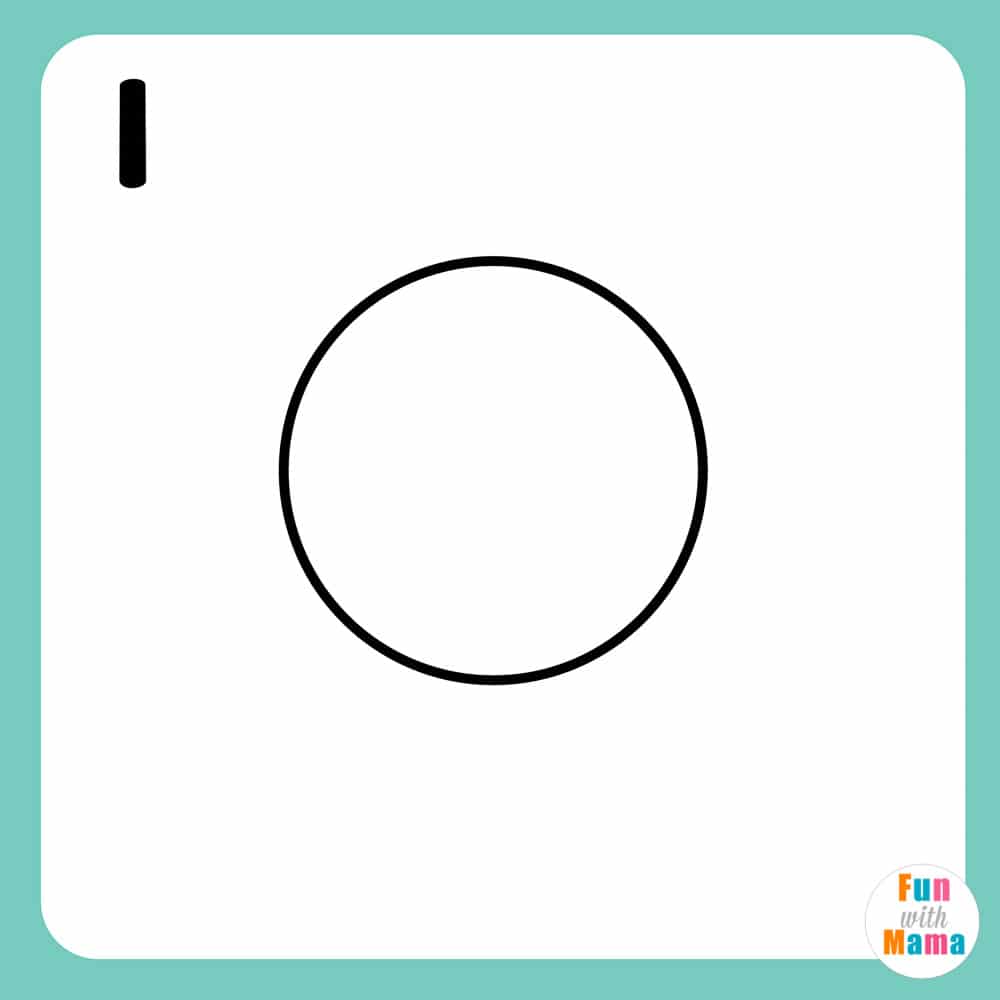 Step One – Monkey's Head
Draw a circle. If your child needs help with this part, challenge them to find something circular nearby they can use.
Using a cup or even a round toy, have them trace around it to make their circle. (Find something with a round shape.)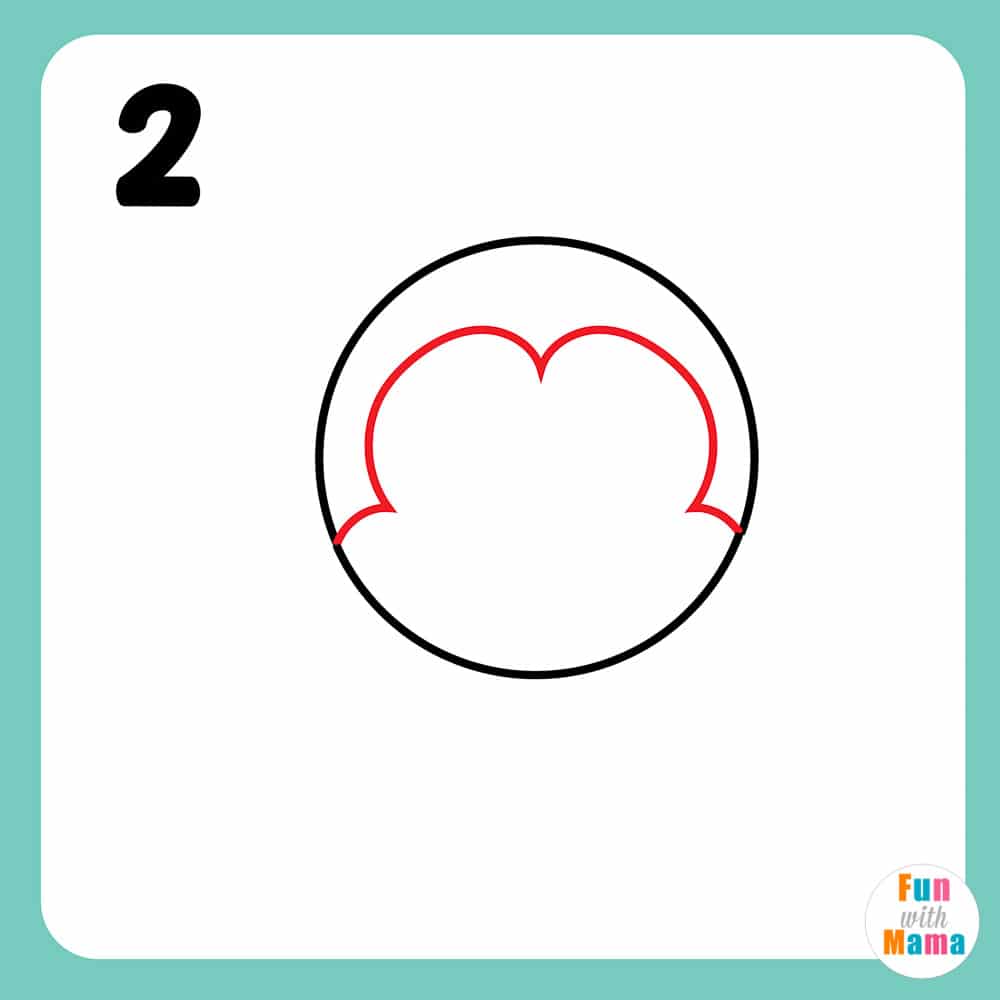 Step Two
Next, you will draw a heart shape, minus the pointed part on the bottom.
Draw a line across on each side to make the monkey's face.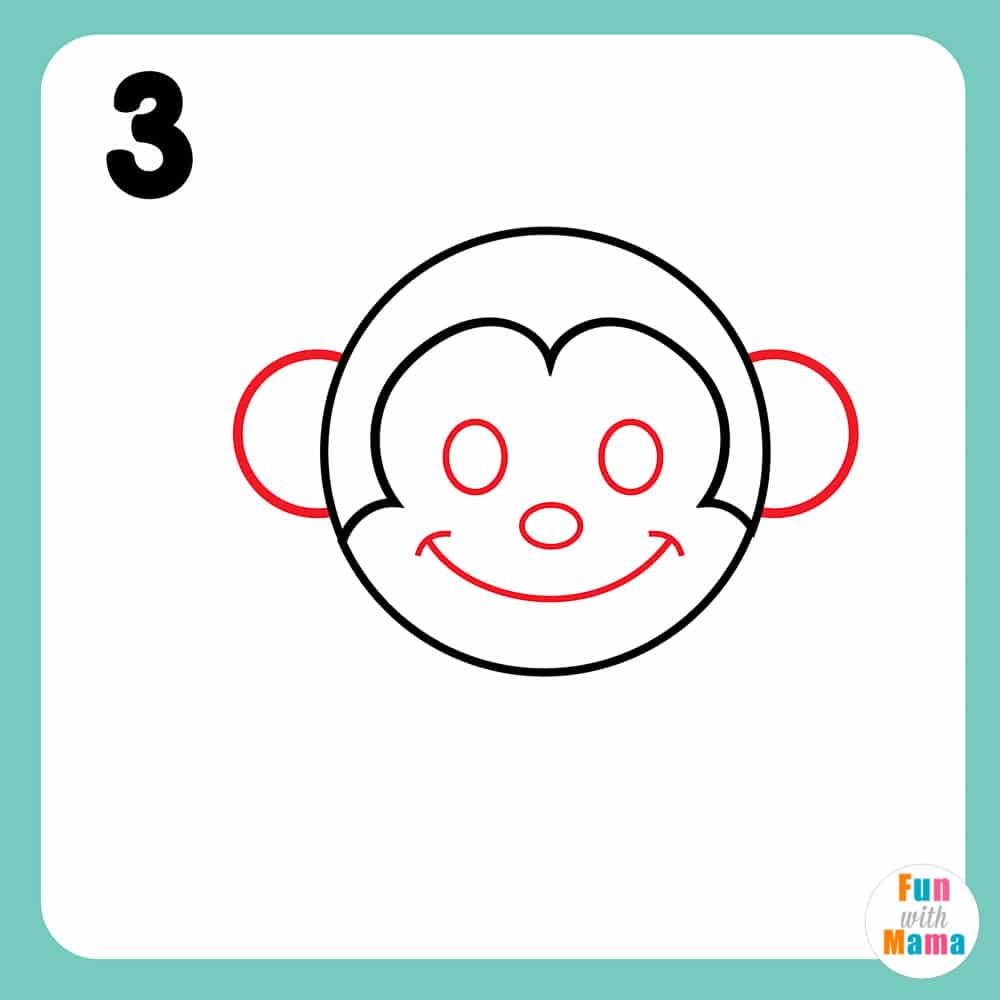 Step Three – Monkey Ears + facial expressions
Add more of the monkey's facial features.
Half circles on the sides of the head will form his ears.
Two larger circles will make up his eyes with a smaller one a bit lower for the nose.
Then you can add a big smile!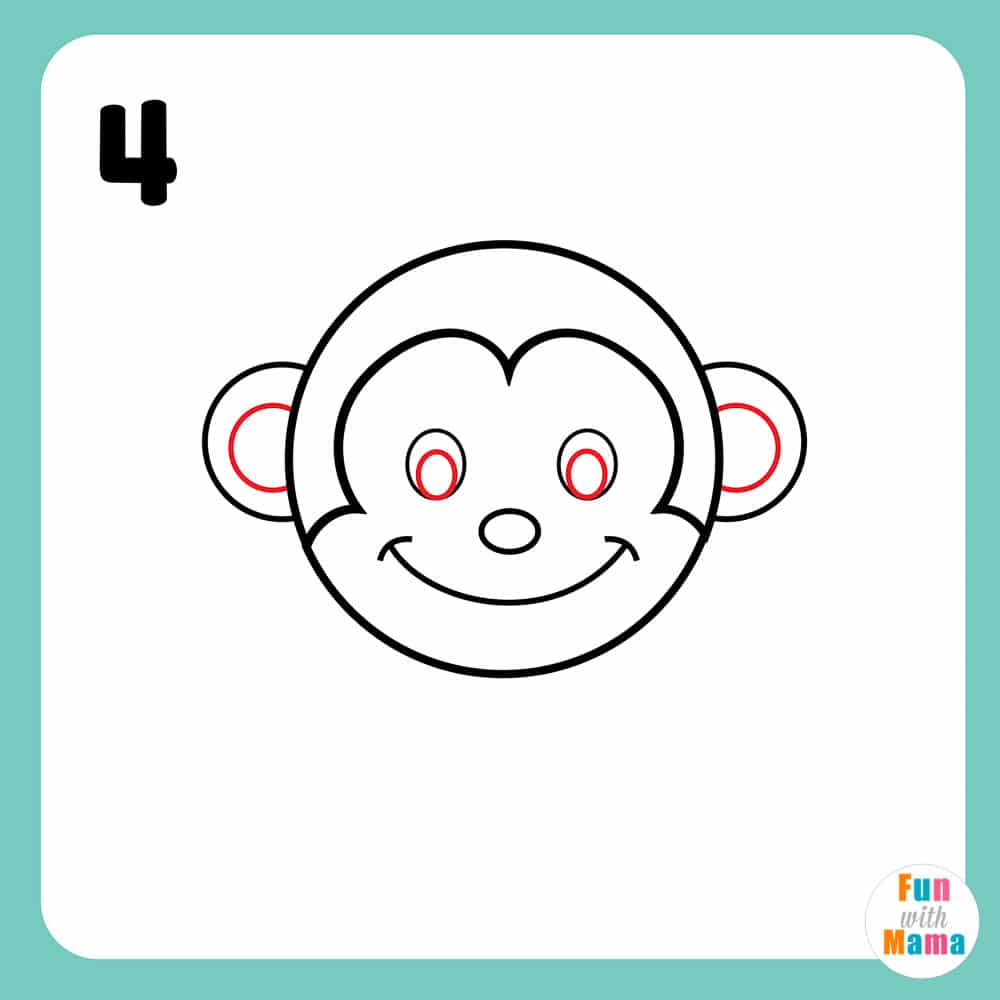 Step Four
Let's add some more detail to our little cartoon monkey by detailing the inner ears and iris of the eyes.
Be sure to encourage children that their lines do not have to be perfect!
As long as they are using round shapes, and doing their best, the drawing will look great and unique to their own style!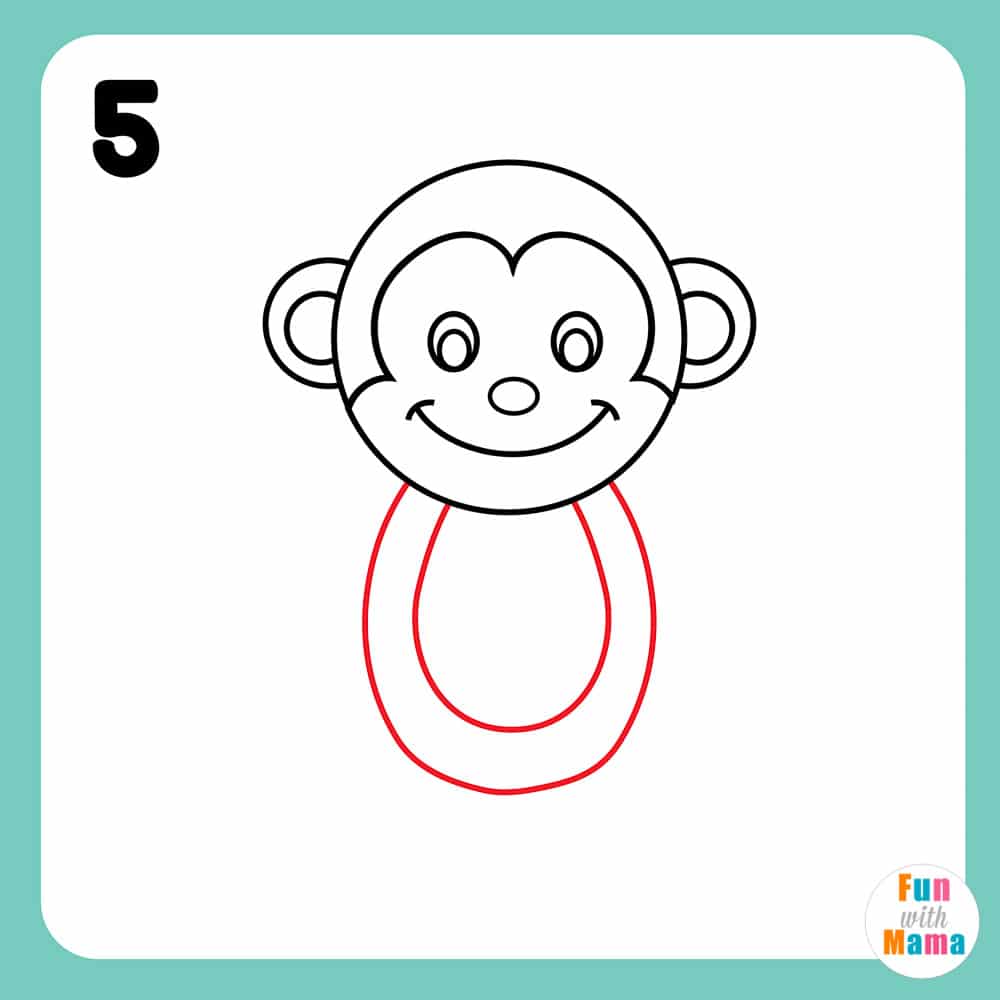 Step Five – Monkey's Body
Our monkey drawing is really starting to come together!
Now we can move on to the monkey's body.
Two long oval shapes, one nested in the other, will make up the torso and belly.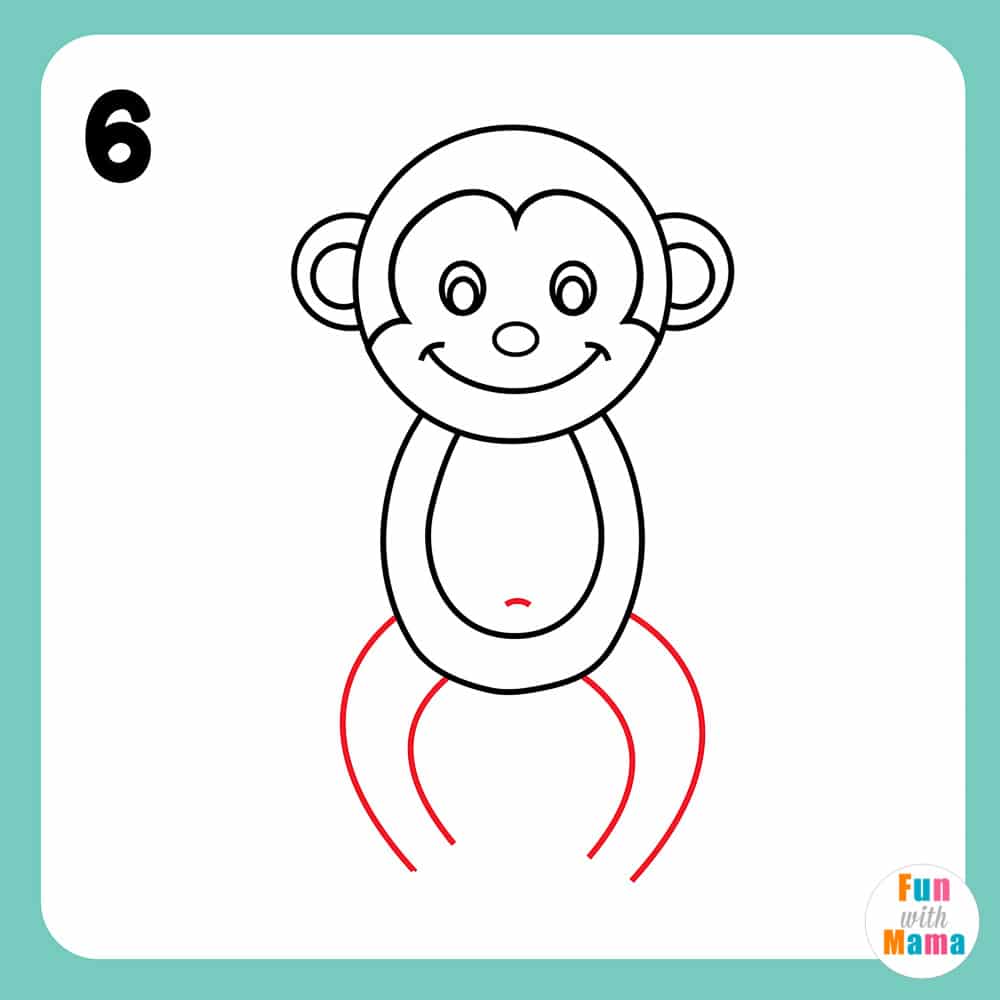 Step Six
Now we'll move on to the limbs, starting with the legs.
You'll need two curved lines coming from the sides of the monkey's body.
The second line should be drawn about half an inch or so below the first one.
An optional step here is to draw a short, curved line in the lower belly for a belly button.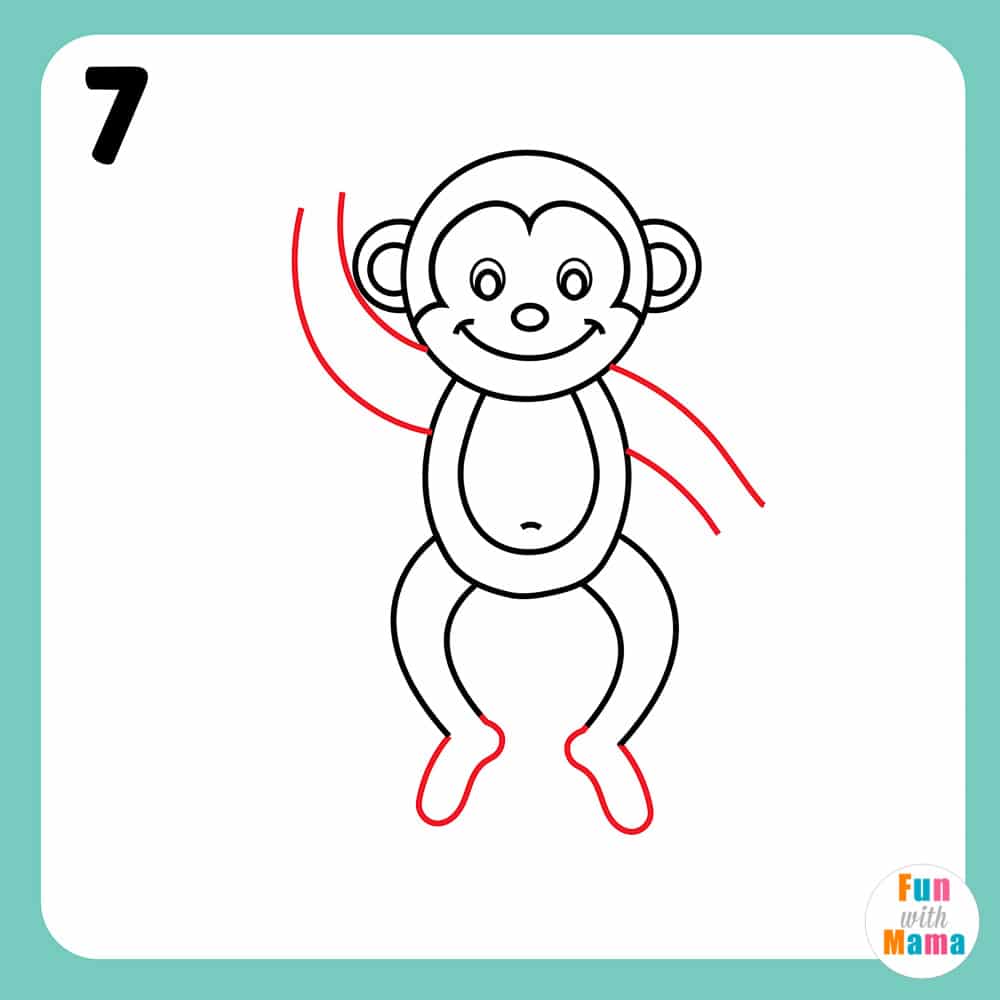 Step Seven
Close up the legs by drawing feet with rounded toes.
Moving on to the arms, children may choose to draw both arms lowered or both raised, or one of each! You will repeat the steps for the legs, but higher up by the head.
Remind children that if they want their monkey drawing to include the animal swinging from a vine, one arm must be drawn raised.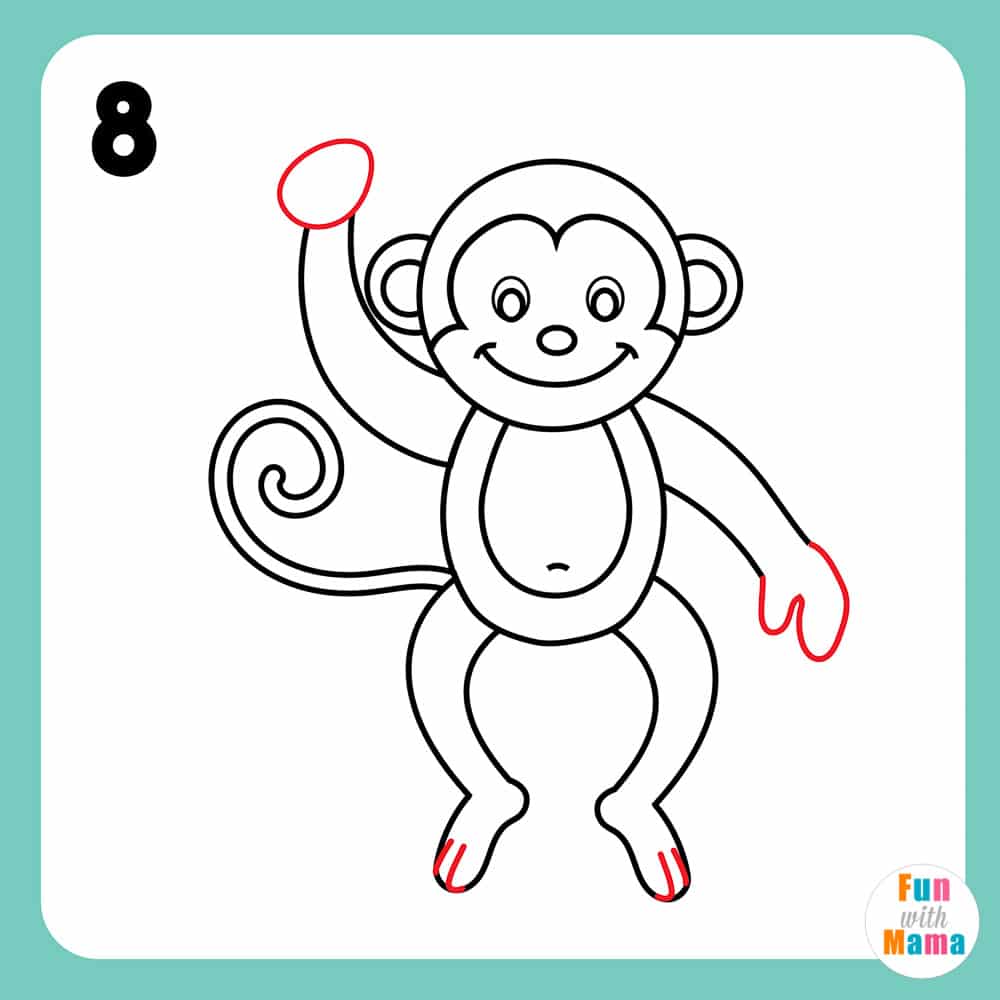 Step Eight
We're almost there! Now it's time to draw hands and detail the toes.
For the toes, two short lines are all that is needed.
A curved "w" shape will give you a simple hand with a thumb. For a raised arm, an egg-shaped oval shape will complete the other hand.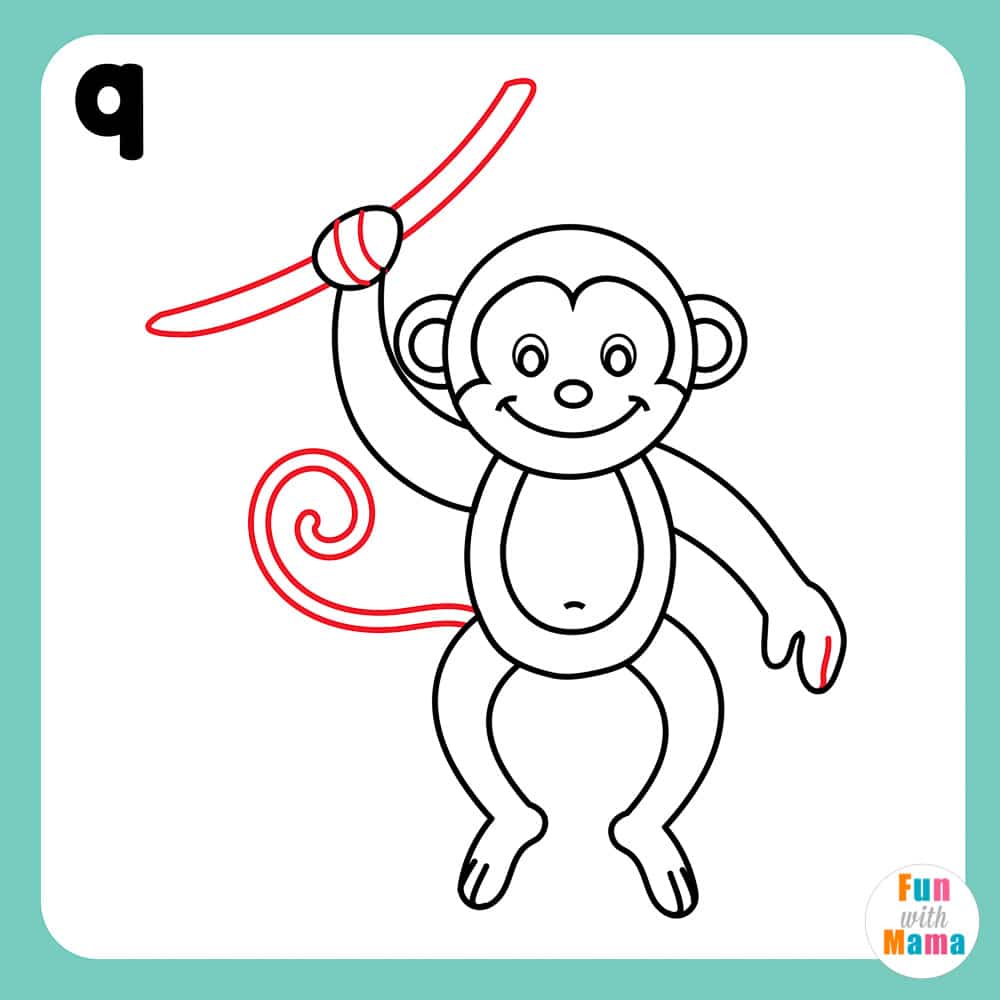 Step Nine
The last step will be adding the vine and a tail, along with fingers.
Add some curves to the hand. Lines across the hands (similar to the toes) will be his fingers.
A long line with a curl at the end will make up a tail. It can be a long tail or a shorter tail.
Children can make the tail longer or shorter, curlier or straighter, let them be creative!
For the vine, a line will go across the raised hand and come out the other side. Make sure not to draw the line through the hand!
WHERE TO GET THE FULL ACTIVITY PACK
GET THE LEARN TO DRAW ACTIVITY PACK HERE
This set of drawing worksheets features of 200 pages of drawing guides in various formats to help your students draw a variety of animals and more. Perfect for centers or as a homework task, these drawing worksheets will keep your students engaged and keen to learn more.
And there you have it! All you need to be able to draw an easy monkey picture or give a simple drawing lesson to a child or group of children. An adorable drawing in just nine easy steps!
When children are all done drawing, I always like to encourage them to draw an outline around their pencil sketch with a black marker.
The monkey drawing will really pop after being outlined. Then it makes it easier to add color.
Is it a silly monkey? Can children try to draw the monkey in different positions?
What sorts of details will your child add to the background? Maybe some bananas would be helpful.
A jungle full of trees? A waterfall? There are so many possibilities!
Save this easy drawing tutorial for any time you need a quick and easy drawing activity!