Are you looking for fun fall activities for kids? There are so many great fall ideas to do once the leaves start to turn! You'll find great outdoor fall activities for kids here as well as some that you can do indoors, too!
We absolutely love doing autumn-themed activities, but it can be tricky remembering all the great ideas that are out there! That's why we're so excited to share these printable cards that are packed with fun fall activity ideas for kids (and adults!). They're easy to use and oh-so-adorable.
Fall Activity Cards – Fun Fall Activities for Kids!
The best part about fall is that the weather is perfect to get out and explore! While a lot of these are great October activities for kids, there are many autumn physical activities that you can do many of the months, too!
These fall activities for school age children are great for getting them up and moving! (they're also fun for younger kiddos, too!)
Fun Fall Activity Cards
Please note that affiliate links are being used in this post.
Materials Required: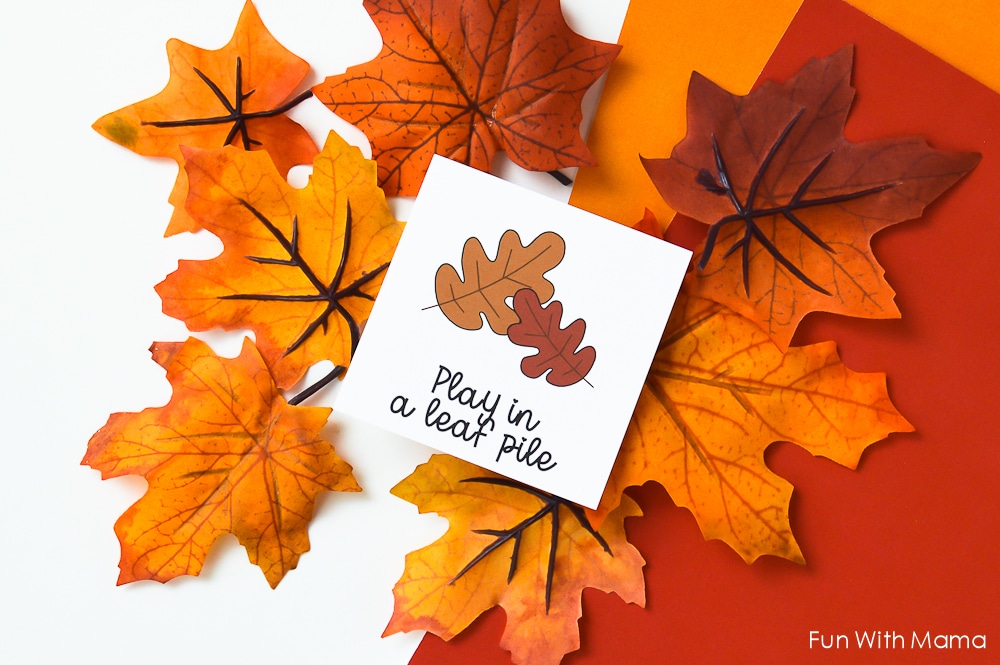 How To Print Out Fun Fall Activities for Kids
Getting your cards assembled and ready to use is super easy. All you need to do is print them out, trim around each of the card edges, and you are ready to go. You could leave the cards as is, or you might choose to take things a step further and create your very own board of fun fall activity ideas. To do this, grab a few push pins or some tape, and use them to place your cards on a corkboard.
We love this method because it allows your kiddos to see all of the fun fall activities displayed at once. They will have so much fun picking a card each day from the board. You could even have them place a sticker on each completed activity!
In addition to the fall activity board, you could choose a simpler route and hole punch the top corner of each of your cards. Then, slip them onto a binder ring so you can flip through them easily. Finally, you could choose to simply stack and tie the cards together with a ribbon. This option is not only easy but would also make a great fall gift idea for friends!
There are so many great fall activities for kids to do right here!
Are you curious about which types of fun fall activities for kindergartners (and other ages) are included in your cards? Take a peek below!
Play in a leaf pile
Paint a pumpkin
Bake cookies
Build a scarecrow
Visit a farm
Go puddle jumping
Go to a corn maze
Drink apple cider
Have a movie night
Roast marshmallows
Make a blanket fort
Take a nature walk
We've made sure to include options for both indoors and outdoors, as well as crafts, food-related fun, and ideas for the entire family. It really is the perfect fall bucket list!
But that's not the best part – we've also included a set of blank cards so you and your little ones can come up with your very own fall activity ideas to try. Need some inspiration? Check out some of our favorite tried and true options below.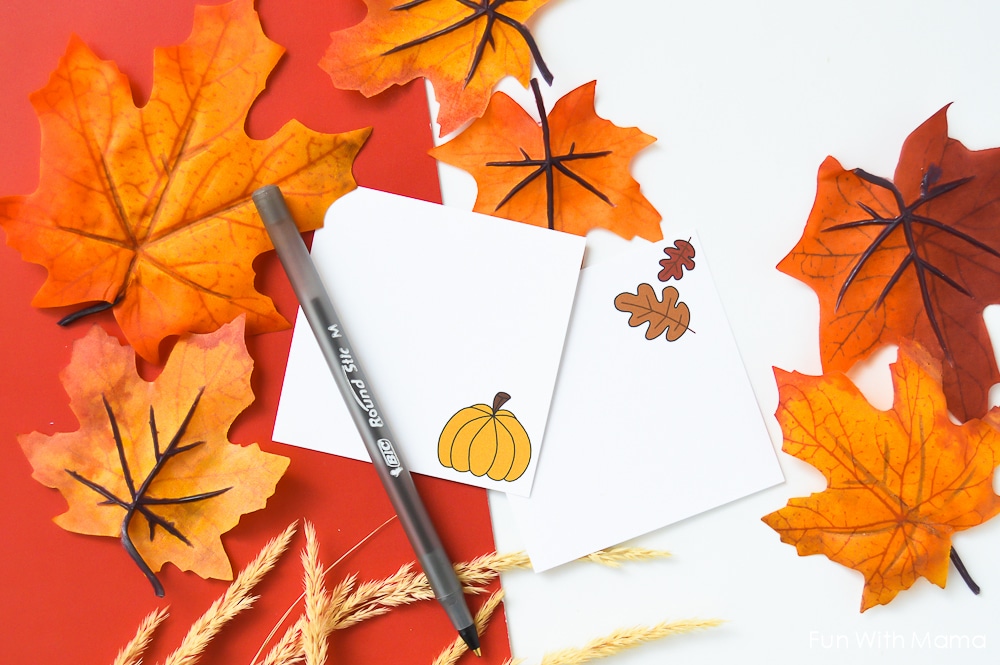 Grab the Fall Activity Cards for Kids Here!