My daughter is just beginning to learn to read and it is the most heart warming thing. I can almost see the wheels in her mind turning as she tries to sound out words that she isn't familiar with and when she doesn't even skip a beat to read and speak the words that she is familiar with.
These printable Nursery Rhyme Easy Reader Books are great for children who are just starting to read. They are quick and easy to prepare and will be loved by all children in preschool and kindergarten.
NURSERY RHYME EASY READER BOOKS
These easy reader books contain just a few words per page as well as bright, colorful pictures. The fun nursery rhyme theme makes them fun and engaging for little ones. You can also download the cute Nursery Rhyme Posters to decorate your playroom or classroom.
Materials Required:
Please note that affiliate links are used in this post.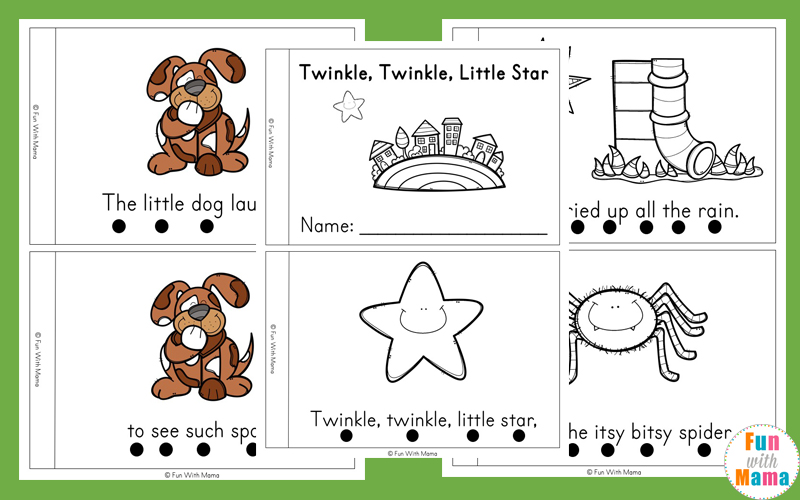 This printable pack contains Nursery Rhyme Easy Reader Books for ten of the most well-known nursery rhymes. They are:
Hey Diddle Diddle
Humpty Dumpty
Itsy Bitsy Spider
Hickory Dickory Dock
Little Miss Muffet
Jack and Jill
Twinkle Twinkle Little Star
Baa Baa Black Sheep
Mary had a Little Lamb
Row, Row, Row Your Boat
The nursery rhyme books are available with and without a tracking dot. By placing their finger on the dot, the children are able to track their progress on the page.
Once the easy readers have been printed out, you can staple the left hand side together to make your book. For durability, you could laminate the pages, punch a hole in the top left hand corner and keep them together with a binder ring.
This massive printable pack also comes in two versions: One is in color and the other is in black and white for those who have limited ink or have children that love to color in.
Nursery Rhyme Easy Reader Bookshttp://bit.ly/2z4qmKK
GET THE NURSERY RHYME EASY READERS HERE
Nursery Rhyme Easy Reader Pack in Color and Black and White
The Nursery Rhyme Easy Reader Book Pack includes the following Nursery Rhyme books: Hey Diddle Diddle, Humpty Dumpty, Itsy Bitsy Spider, Hickory Dickory Dock, Little Miss Muffet, Jack and Jill, Twinkle Twinkle, Baa Baa Black Sheep, Mary Had a Little Lamb, and Row Row Row Your Boat.
If you are looking to go more in depth with specific nursery rhymes then check out our fairytale printable packs. Our latest pack is The Little Red Riding Hood packet.