This collection of 10 different Nursery Rhymes Printables PDF Posters can be added to your homeschool, preschool or kindergarten nursery rhyme unit, calendar time or language center. Decorate your classroom with these adorable Mother Goose Nursery Rhymes posters. Print them in color or use the black and white versions as coloring pages.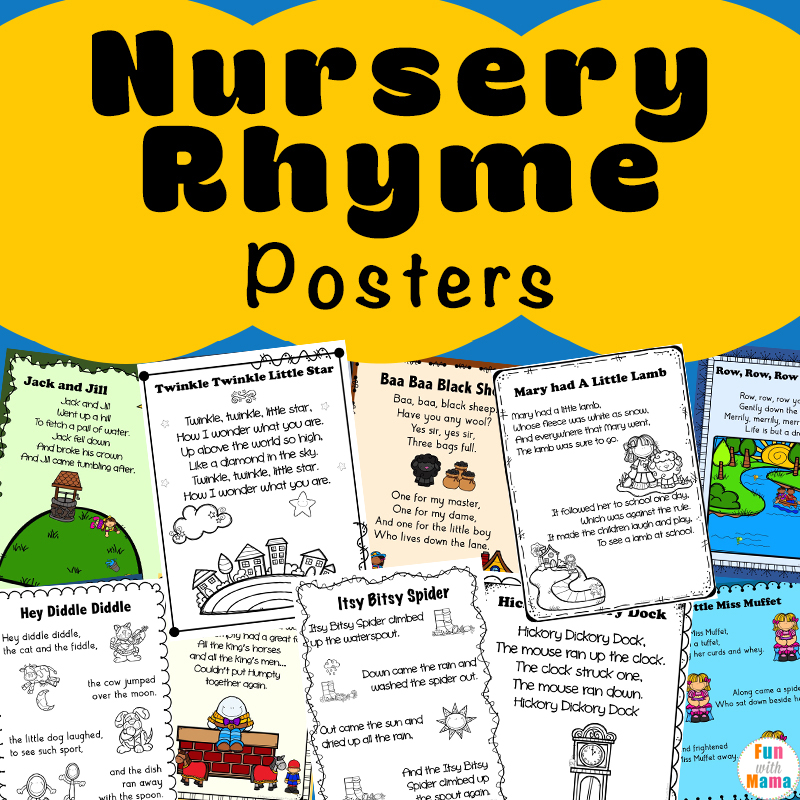 NURSERY RHYMES PRINTABLES POSTERS
There is a total of ten different nursery rhyme posters of the most popular nursery rhymes. They have been designed to be used in a fun, engaging and educational way, to help students practice recognizing rhymes.
I have also included different nursery rhymes pdf versions depending on how much ink you would like to use.
Materials Required:
Please note that affiliate links are used in this post.
This 29-page printable pack contains large posters for ten different nursery rhymes that can be printed out, laminated and used on your walls. These posters are also available in a small size which, once laminated, can be held together with a binder ring. This size is better for smaller hands to hold and use.
The ten different nursery rhymes available in this printable pack are:
Hey Diddle Diddle
Humpty Dumpty
Itsy Bitsy Spider
Hickory Dickory Dock
Little Miss Muffet
Jack and Jill
Twinkle Twinkle Little Star
Baa Baa Black Sheep
Mary had a Little Lamb
Row, Row, Row Your Boat
This pack also contains nursery rhymes printables coloring pages in black and white.
These posters can be used in multiple ways. Some examples are:
For reading and memorizing nursery rhymes
Searching for letters of the week in the nursery rhyme
Finding sight words in the rhymes
Finding rhyming words
WHERE TO GET THE NURSERY RHYME POSTERS
GET THE NURSERY RHYME PRINTABLES HERE
Unlock the fun and playfulness of nursery rhymes with this set of Nursery Rhyme Posters and Cards for kindergarten. This resource features ten famous nursery rhymes provided in three color formats – full color, minimal color with a white background, and black and white – and in two size formats – full page and 4-to-a-page card format.