I spy with my little eye…someone looking for an activity to occupy the kids this Thanksgiving! If this is you, you're in luck. This free printable Thanksgiving I Spy game is a fun activity that kids and adults of all ages can enjoy!
Holiday-themed activities are an ideal way to entertain kids whilst also getting them excited for the upcoming festivities. Searching for turkeys and pumpkins is all part of Thanksgiving fun, and this activity reinforces that. You could also use it as a classroom activity or send it home with the kids over the Thanksgiving break.
If you love this game, you'll love our FREE Thanksgiving Bingo game, which also helps with visual recognition so you can pair these activities!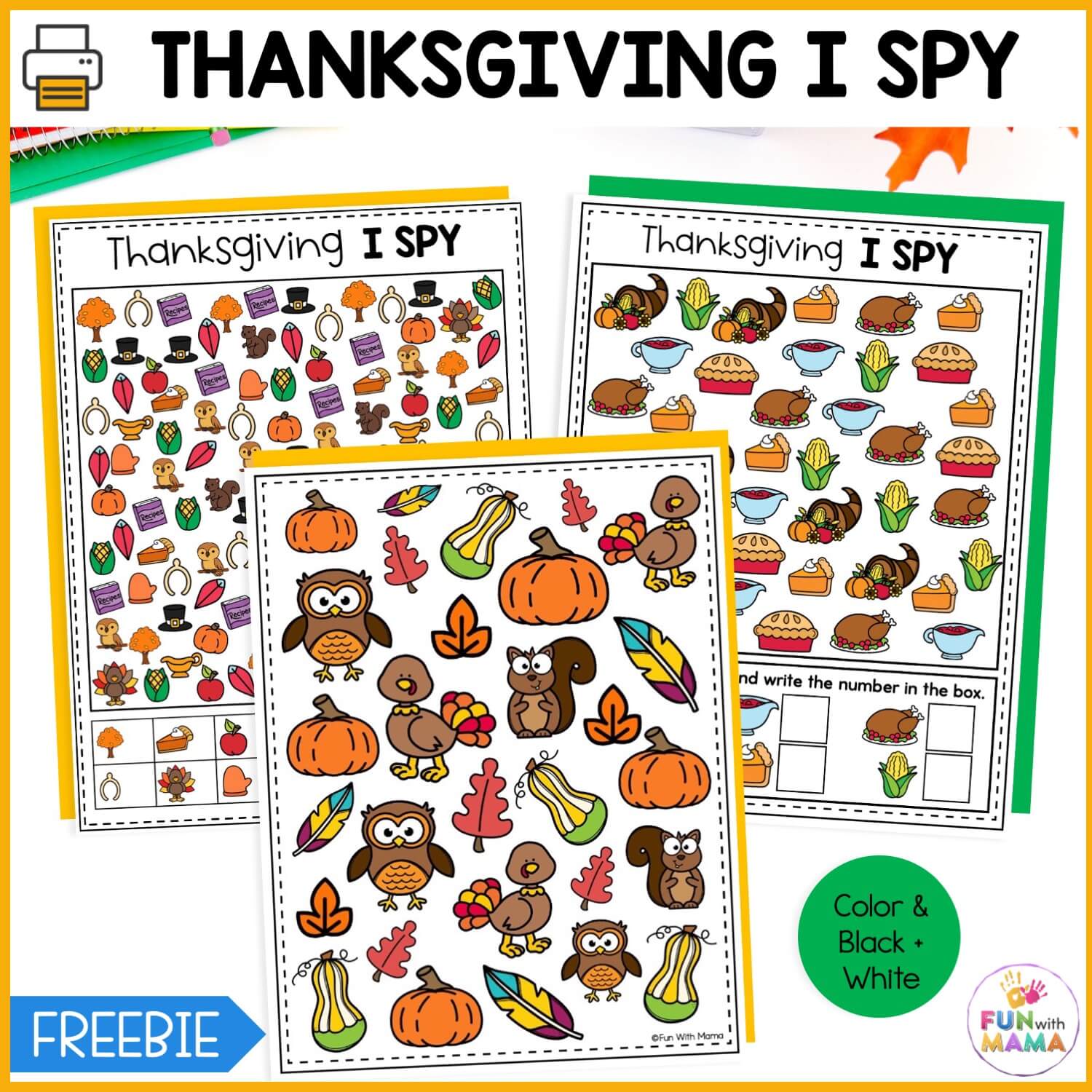 This freebie includes 4 versions of the I Spy Game:
Difficulty level: Hard – the pictures are smaller, and there is more to count. You can have older children or adults color these in.
Difficulty level: Medium – this version is a little more advanced but suitable for tweens.
Difficulty level: Easy Version – Suitable to preschoolers and pre-k students, this version includes counting the pictures and writing the numbers.
Preschool Version – this printable does not include counting and is more about a child's visual perception. Children will look at the picture key and then find the picture on their sheet. Once they identify it, they will checkmark (or add an X) to the item. I included a 2-page version and a single-page version of this.
The image pictured above is the easier version. It is spread across two pages or on one page. I preferred to cut out the one-page version which my 2 year old LOVED! She wanted more, and I loved that it was great for her visual perception.
How to Play Thanksgiving I Spy
Suggested Supplies
These are our favorite color supplies.
This game works best with children who already know how to count or are in the process of learning. You might have to help younger kids with this game.
I love how low prep this activity is! Simply print as many copies of the game as required. There are 4 different versions of I Spy available with varying difficulty levels according to easy, medium and hard. Choose the most appropriate game for the kids' age categories.
Let the kids find and count the pictures that are listed. Thereafter, allow them fill in the corresponding number in the boxes at the bottom of the page.
To prevent counting the same object twice, they can cross off the picture with a marker or crayon as they count it.
Another fun twist is to use Thanksgiving-themed treats which kids can place on the objects as they count them.
Pro-Tip: If you prefer not to use candy, try buttons instead!
Check out this post for more ideas on How to Play I Spy in a more traditional way!
When to Play Thanksgiving I Spy
These types of printable activities are fun to use at any time, even though they're holiday-themed. Here are a few suggestions of when to use it:
Thanksgiving day: This is a wonderful opportunity to play fun and educational games with your kids. It is exciting and stimulating at the same time.
Rainy Days: It can be a challenge to keep kids entertained indoors. These worksheets are a great way to occupy the kids at home or during indoor recess.
Sensory Bin: Cut out some of the images. I recommend using the black and white images from the checkboxes from the hard and medium I Spy printable as they're easier to cut. Hide them in a sensory bin which you can fill with all things Thanksgiving-related like pumpkins, cotton that looks like 'stuffing', and colored rice. They will love the fun game of finding the objects and coloring in the pictures once found. Check out How to Make a Thanksgiving Sensory Bin for Toddlers here.
The printable is available in both color and black and white (if you'd like to have the kids color them in.)
How to Make Printables Re-Usable
After you've downloaded the PDF, print the game out on cardstock. Cardstock is durable and lasts longer than paper. Then you can do one of the following:
You can let the kids play the game using dry-erase markers and when they're done, all you have to do is wipe the answers away and re-use them again at the next Thanksgiving!
How to Simplify I Spy for Younger Children
These printables are fantastic for both children and adults. However, it may be more challenging for younger children to keep track of all the pictures that they have to count. Here are a few ways to make the game easier:
Team up. The little ones will feel included, and even if they cannot count, they can identify pictures and improve their visual recognition.
Color in each picture as seen below. Our black and white printables are perfect for this and will help kids to keep track whilst engaging their creativity.
Is Playing I Spy Beneficial?
Playing I Spy is an engaging activity that enhances memory and learning skills without kids even realizing it. Check out these reasons why you should use them:
Enhances Visual Discrimination: the ability to recognize visual details in a picture helps kids to improve their observation skills. It will later allow them to discriminate between the shapes of different letters, which is a fundamental reading skill.
Builds a Working Memory: memory is like a muscle; we need to strengthen it through practice and repetition. Having a good working memory allows kids to perform and learn new tasks. As your child searches for images, they build their working memory by remembering the list of items they need to find.
Improves Vocabulary: it allows children to identify the objects, describe them, and practice sight words and phonics.
Improves Math: the best way to teach kids how to count is by practicing. This fun activity allows the kids to do just that in a stress-free manner.
Here are more insight on How I Spy Boosts Memory and Visual Learning.
Need more Thanksgiving-themed activities? Check these out:
Turkey in Disguise: Save your turkey from becoming dinner by disguising it!
Thanksgiving Word Search Puzzle: This is a great way to improve your kids' vocabulary skills.