Thanksgiving is a fun time for the family, but a lot of Thanksgiving activities are geared for older kids, and toddlers are a bit too young to be helpful in the kitchen at Thanksgiving! But you can still let them in on the Thanksgiving festivities with a Thanksgiving sensory bin!
Toddlers and preschoolers will have so much fun playing in this bin. This is one of our favorite Thanksgiving sensory activities.
And if you like sensory bins, make certain to check out our Farm Sensory Bin and our Water Beads Fun Sensory Bin!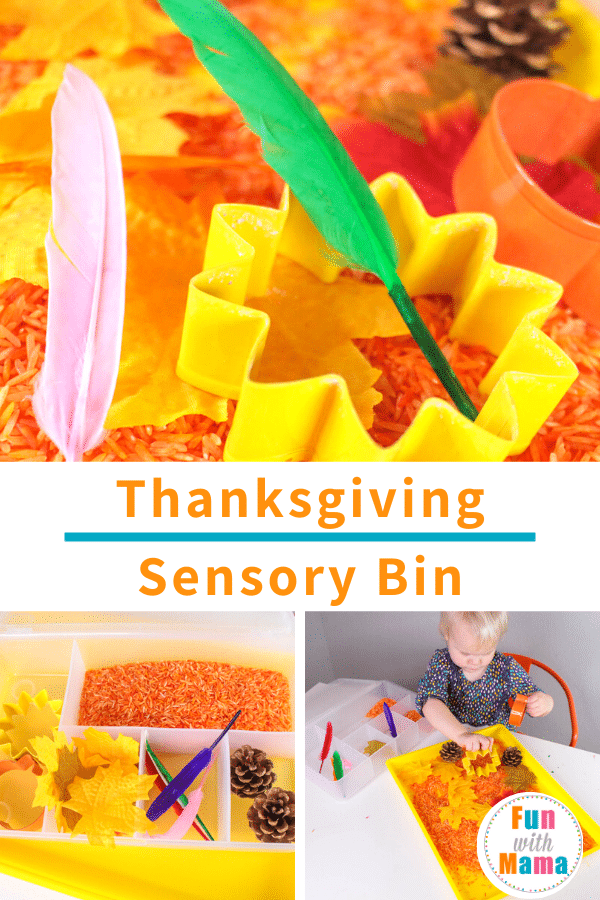 Thanksgiving Sensory Bin – One of the best Thanksgiving Sensory Activities
You can use what we did inside of your bin, or just use what you happen to have on hand after your Thanksgiving shopping to build your sensory bin.
Store the sensory bin materials in a divided box. We like to use the Ikea Glis box.
Also, use your best judgment on what items to include based on whether your kiddos are likely to try to eat something. My toddler isn't a bit chewer, but one of my other kids certainly was!
What You Need for Your Thanksgiving Sensory Bin
All you'll need below to make this Thanksgiving sensory bin is listed below. It's a simple activity for early learners and preschool-aged children.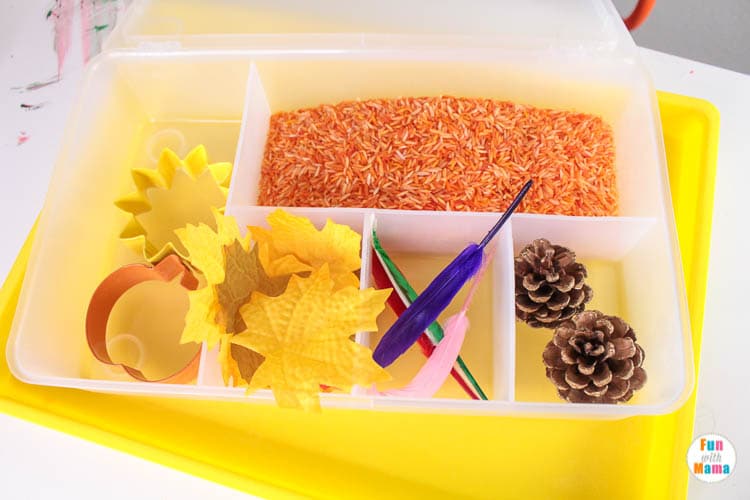 Rice
Vinegar
Yellow food coloring
Plastic baggie
Feathers
Leaves
Beans
Pumpkin cookie cutter
Googly eyes
Box or large tray
How to Dye Rice
If you want to dye rice, it's easy!
Here's how we do it:
Fill your bag ½ way with rice (we did about 3 cups). Squirt in some food coloring (if you use gel colors, it will be brighter colors). Add just a splash of vinegar (about a teaspoon).
Seal the bag, and knead until the color is evenly dispersed.
You can put the rice in a 250-degree oven for about 10 minutes to dry it out before adding it to your Thanksgiving sensory bin.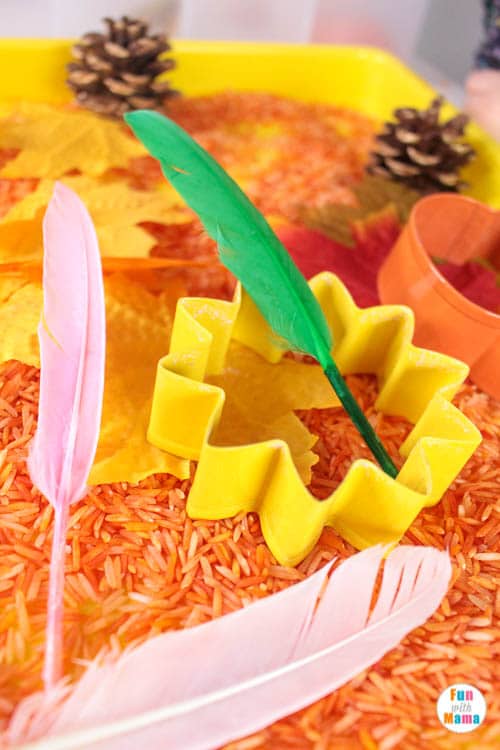 Building the Thanksgiving Sensory Bin
Put all of the sensory items into your box (we like the Ikea Glis box) and place it next to your tray.
Let your toddler or preschooler select what items to add to the tray or bin.
We found that 3-4 types of things at a time were enough to be fun, but not overwhelming.
Let your toddler experiment with scooping, stacking, measuring, and feeling the different textures of the items.
This is a fun thing to let your toddler play with next to you in the kitchen when you are doing Thanksgiving baking or cooking!
The rice can get messy though, so if you are worried about a big clean-up, you can skip the rice.
Have fun letting the kids use their senses and fine motor skills exploring this fun activity. It's a great way to have a simple activity at home.
Fun Thanksgiving Activities for Kids
More Sensory Activities for Kids