If you have a spring theme preschool learning week coming up then you definitely need to check out these spring sensory bins and sensory table ideas. You will find favorite figurines, flowers, fairy garden, trees and insects here as well as different filler ideas. You will also see an example of how to create sensory bins.
Spring Theme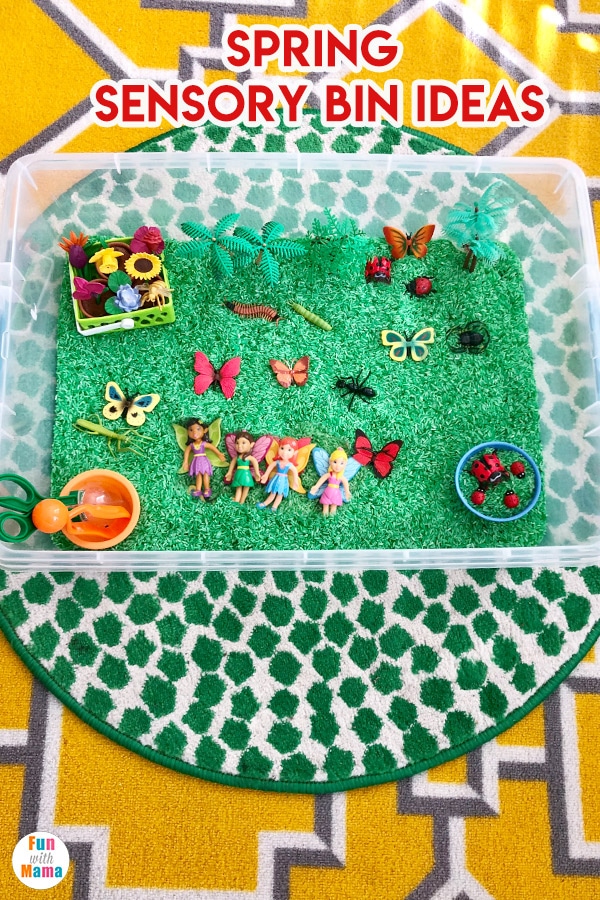 We have just began our first sensory bin challenge in our private Facebook Group. We did a vote for our first theme and it was a spring theme! All entries (who provided a spring sensory bin picture) will be entered into a hat to win an Amazon gift card.
I have created a video below showing you how to make a sensory bin. In the video you will find some sensory bin ideas, sensory bin organization and watch me create a spring theme sensory bin. Make sure to subscribe to my YouTube channel here.
Spring Sensory Bin
Please note that affiliate links are used in this post. If you purchase from the links below I will receive a small commission from your sale.
Materials I used in my Sensory Bin: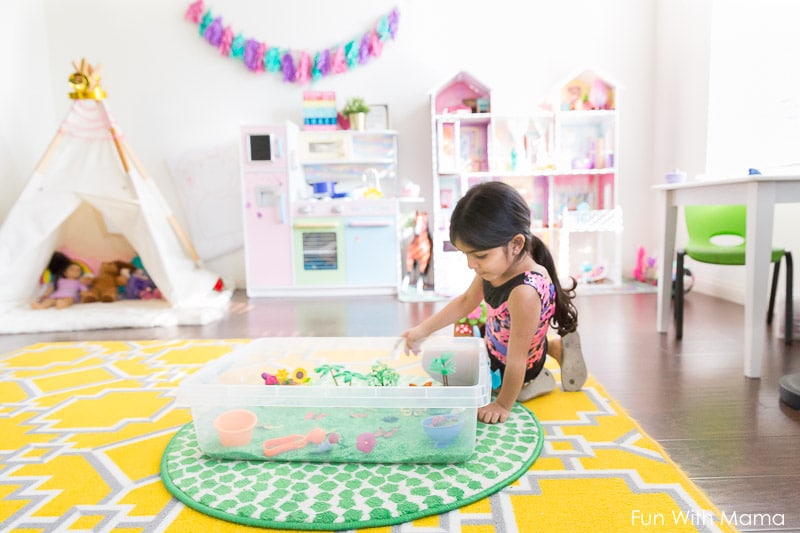 Enhance the preschool learning by adding in more activities. Here are a few activities you can add in that suits the spring theme preschool activities perfectly:
Spring Sensory Bin Challenge
If you would like to join our sensory bin challenges please do so by joining our private Facebook group and then finding the relevant threads.
Here are some spring sensory Bin challenge participants finished spring theme preschool sensory bins: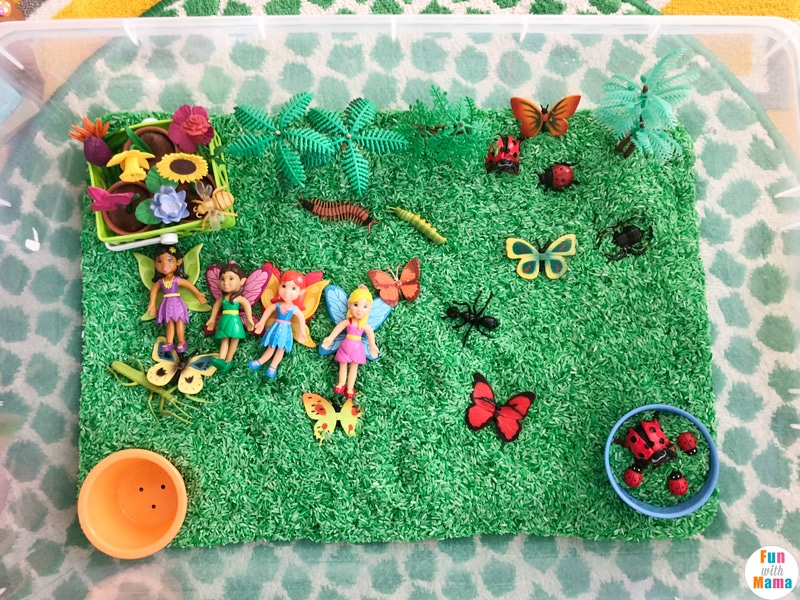 Spring Fairy Garden by Nadia T
This is my spring theme sensory bin idea. I created a little flower garden area using the flower toobs. I added homemade brown playdough inside the pots so that the flowers could stick up within them. I added in random cups, tools and plastic trees that I had at home. My daughter added in fairies because she absolutely adores fairies.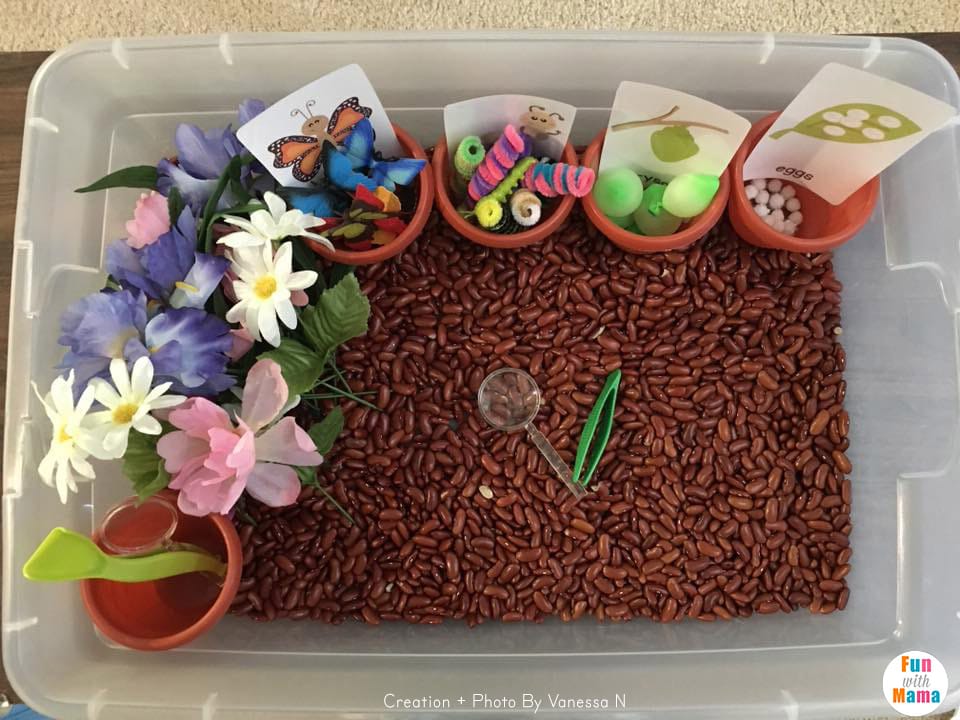 2. Butterfly Life Cycle Sensory Bin by Vanessa N.
Includes: Expired kidney beans, Butterfly toob, free printable (you can find a similar one in the butterfly life cycle packb), dollar store small flower pots, fabric flowers, scented roses with a flower perfume and essential oils- lavender, rose, lily), magnifying glasses, pipe cleaner caterpillars ( wrapped two pipe cleaners around pencil, squished together, took pipe cleaner off pencil and tucked ends in), small pompoms for eggs, and partly blew up green water balloons for chrysalis.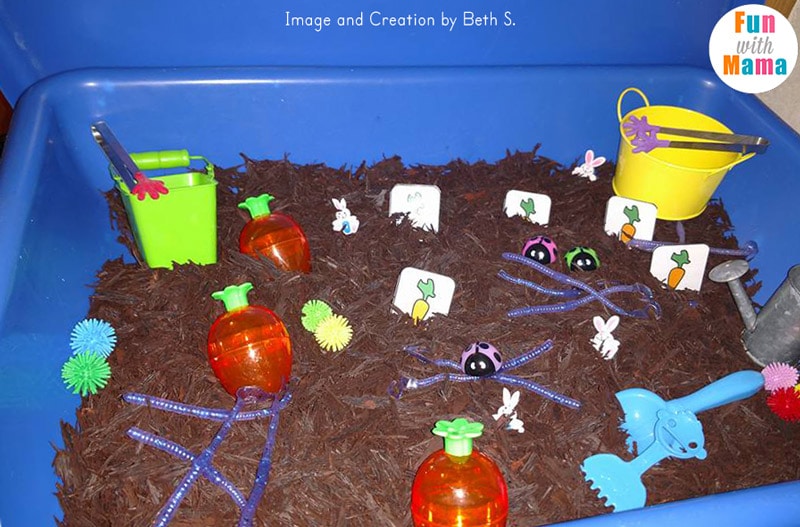 3. Peter Rabbit Garden by Beth S.
Includes: Rubber Mulch (filler), worms, carrots, ladybugs, watering can, flower bombs, Peter Rabbit and some colored buckets.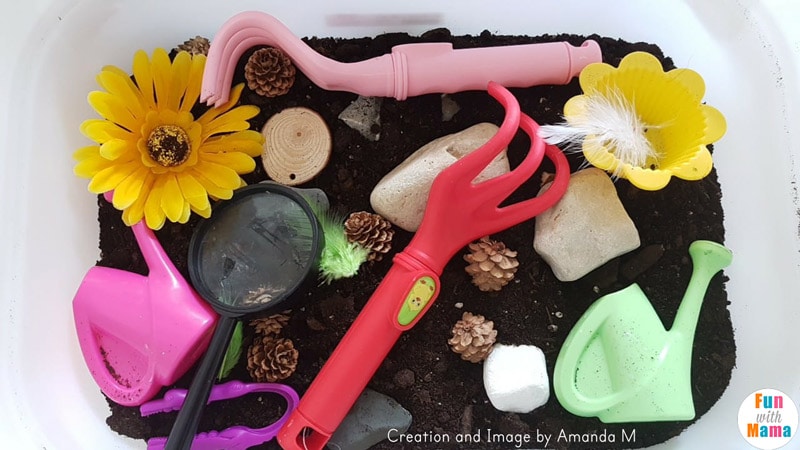 4. Spring bin by Amanda M
5.
6.
7.
8.
9.
10.
I will update this post with more spring theme preschool learning sensory bin challenge entries.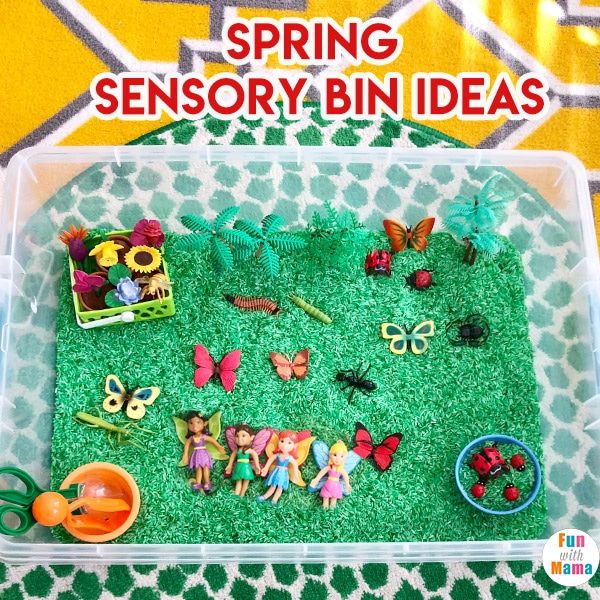 You can find more ideas on our sensory bins page.