These 12 shapes preschool sensory bins are perfect to help teach your toddler (or preschool aged child) their shapes in a way that stimulates their senses and allows them to internally process each shape. This helps them to learn triangles, squares and circles more quickly because they can feel the difference of each shape. We love preschool shapes activities!
12 shapes sensory bins to help your child learn their shapes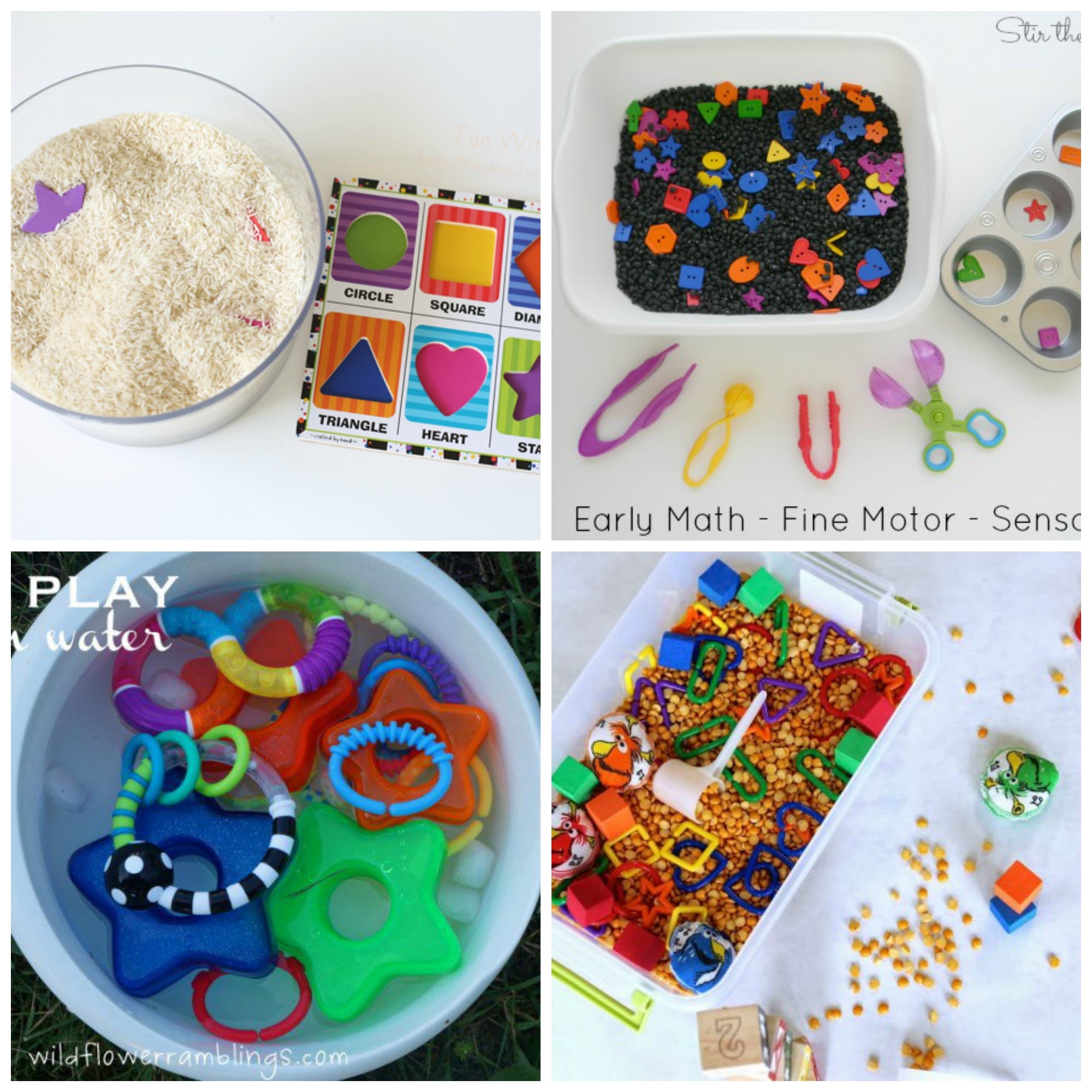 1. Try this super simple Shapes Hunt by adding your favorite Shapes Puzzle to some rice. Look at the post to see some suggestions of how kids from all ages can use this type of Sensory Bin.
2. See how Stir Wonder uses these muffin tins to create a sorting Shapes Invitation to Play. The focus on this one is exploring the use of all these wonderful tools.
3. How cute is this Baby Shapes Sensory Bin From Stir The Wonder? Babies will love to explore and mouth the goodies in here.
4. Mess to Memories created this adorable action filled Color and Shapes Sensory Bin that helped her daughter master her colors!
5.Modern Preschool took these beautifully sized and colorful stars and created a Water Play Star Sensory Bin. Toddlers will delight in 'fishing' for the shapes and sorting by color.
6. Learning 4 Kids took these button shapes and added cups inside to promote a fun filled shapes activity. I love how the cups will provide a lot of play after the sorting part of the activity is done and allow the child to explore and play with the aquarium rocks.
7. Kidedventures made a Green Shapes Themed Bin that helped teach her kids shapes AND the color green at the same time
8. This Foam Water Sensory Play Bin is super easy to put together and kids of all ages will have fun using tongs to pick up the shapes and sort them. You might even see a happy giggle of toddler pride.
9. I LOVE this Star Shaped Sensory Bin from My Life and Travels. You have to check out how pretty and beach like this one is.
10. This circle themed sensory bin is wonderful for exploration. It contains soft textures, musical items, hard textures and even tape!
11. I absolutely adore this Snowy Shape Hunt from I can teach my child it is so pretty and which child wouldn't love to explore snow (or fake snow) while being warm inside their own house?
12. Have a look at this Heart Themed Sensory Bin at Fun With Mama. This one is perfect for Valentine's Day!